Chimichurri is an Argentinian sauce made with fresh parsley that is zesty, bright and bold. It will elevate any dish you put it on.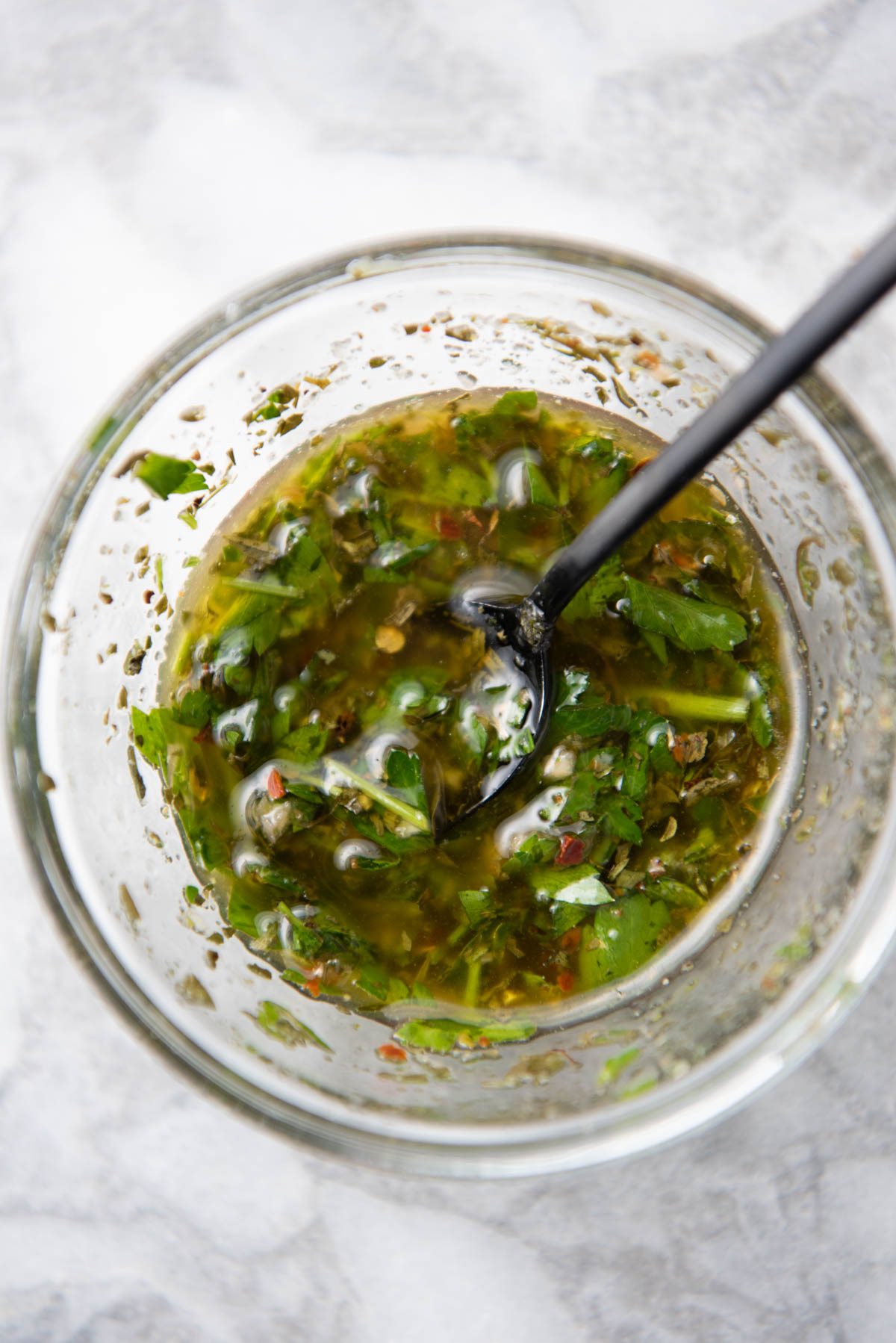 Why you will love Chimichurri
If you're a fan of the bold and bright flavors of South American cuisine, then you will love chimichurri.
It is the perfect balance of zesty, herby, bright and punchy in the best way possible.
This beloved sauce originated in Argentina, but it's now a staple in many other countries.
Growing up in Colombia, where Argentinian Tango music is so popular, a favorite of mine was the Gaucho cuisine.
Chimichurri is a versatile sauce that can be used to elevate any dish, from grilled meats to roasted vegetables.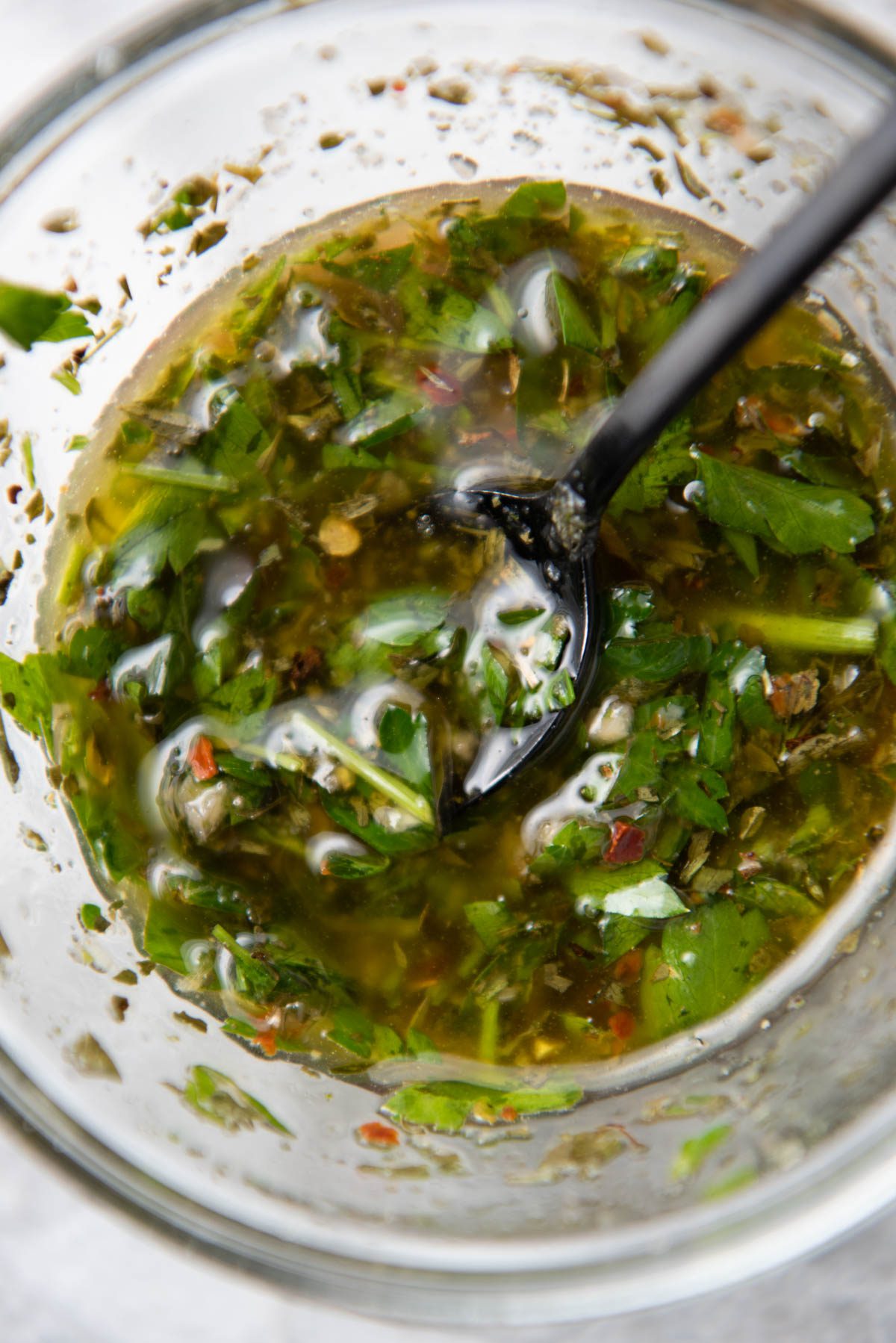 Ingredients
If you are a fan of fresh herbs, you probably have all the ingredients needed to make chimichurri at home already.
The original Argentinian chimichurri is made with parsley, garlic, oregano, olive oil, red pepper flakes, red wine vinegar, salt and pepper.
There are many variations of this sauce but the recipe that follows is the classic.
Parsley: Use flat leaf parsley to make chimichurri because it has a milder taste than curly parsley.
Oregano: We use dried oregano in this recipe because it has a more concentrated flavor.
Garlic: Use fresh garlic. I like to use a grater to make a fine garlic paste.
Olive oil: use a high quality, aromatic olive oil.
Red pepper flakes: They add a tiny bit of heat and lots of color to our sauce. You could use a spicy fresh red pepper such as a Thai chili but it would be way spicier.
Red wine vinegar: I like to use red or white wine vinegar for this recipe because it compliments the olive oil flavor nicely.
How to make Chimichurri
The key to making an amazing chimichurri is chopping up the parsley using a knife.
Do not blend the chimichurri or else it will resemble more a Mexican salsa verde or a pesto rather than the Argentinian classic condiment.
Chimichurri is one of those things that taste better as time goes by. The dry oregano and red pepper flakes get rehydrated with the olive oil and release their aroma and flavor.
This is a perfect condiment to make the day before a BBQ as the flavor will develop overnight. If making the day-of, let it rest for at least one hour.
What to serve with this sauce
Grilled meats like carne asada are the perfect pairing for this sauce. When I visited Argentina, chicmichurri was always part of the condiments at the table in every restaurant.
I love using it in my air fryer smashed potatoes. Argentinians usually serve this sauce with their famous beef empanadas.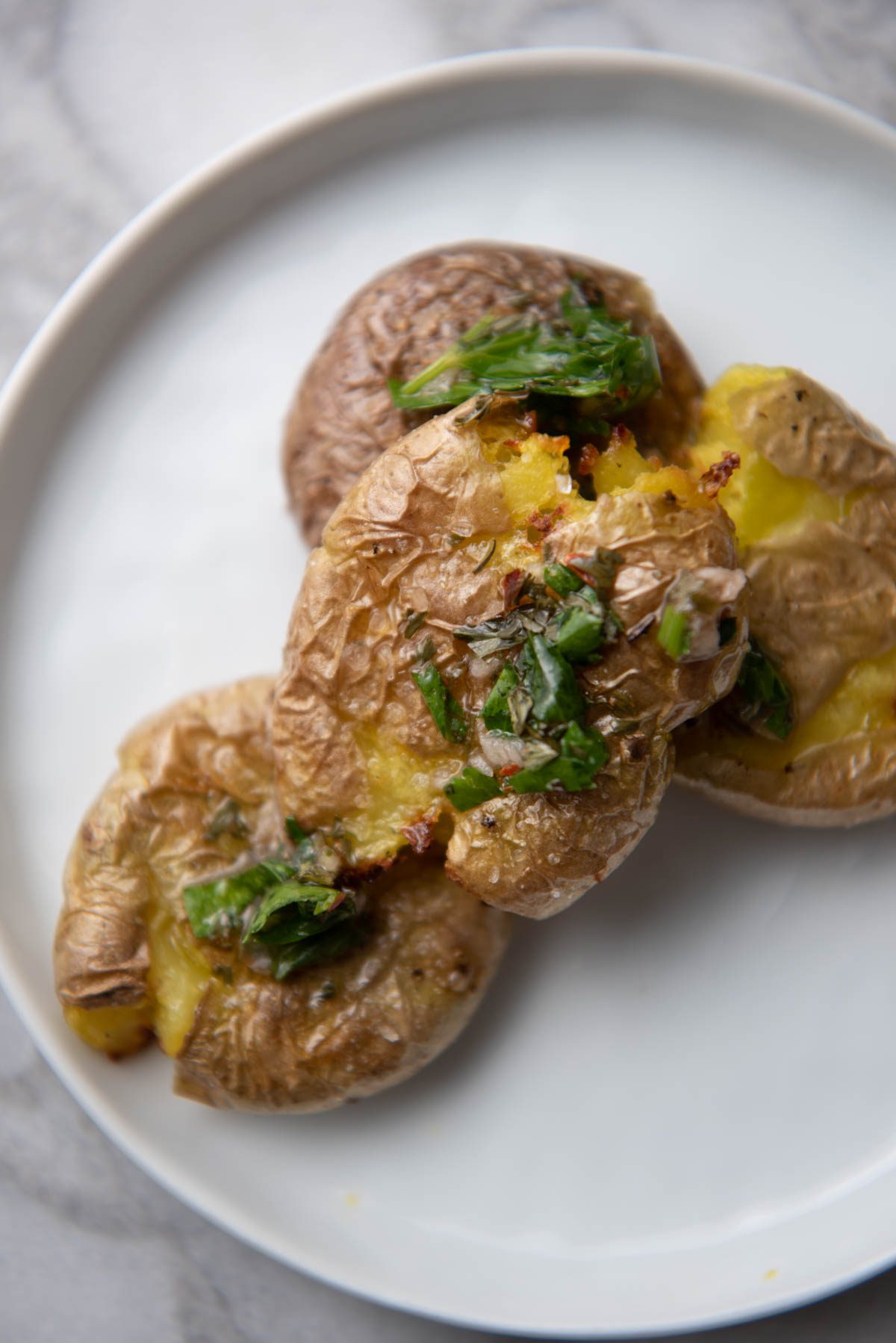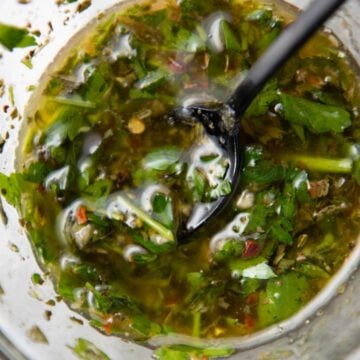 Argentinian Chimichurri
Ingredients
½

cup

Parsley

chopped finely

2

cloves garlic

minced/grated

1

teaspoon

dried oregano

¼

cup

red wine vinegar

¼

teaspoon

red pepper flakes

½

cup

olive oil

Salt and pepper to taste
Instructions
Chop the parsley finely, add to a jar, preferably once with a lid to store in the fridge.

Add red wine vinegar, red pepper flakes, salt, oregano, olive oil and black pepper.

Mix well and store in the fridge for at least one hour. If the oil solidifies just stir it well and let it come to room temperature before serving.

Use in grilled meats, roasted veggies or as a marinade.