This Asian Cucumber Salad recipe is trending on Tiktok. It is easy to make, refreshing and with unexpected flavors.
I'm using the recipe that My Nguyen from Myhealthydish posted on TikTok. Her version is a Korean inspired cucumber salad.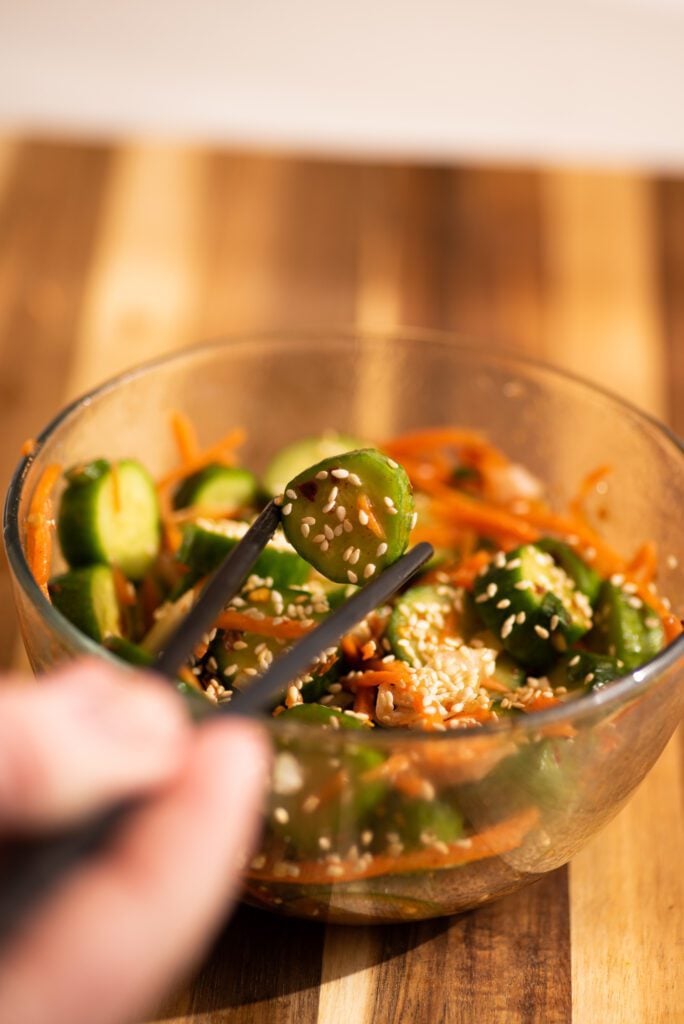 In her recipe she features a salad that uses a Korean chili spice called Gochugaru. You can find this at your local Asian market or make your own version.
For this recipe I'm using a simple three ingredient recipe to replace Gochugaru.
Why you will love this recipe
This easy cucumber salad comes together in just minutes. Although it uses some ingredients that are not pantry staples in most households, they are not difficult to source.
Besides the Gochugaru, which we will be making a substitute for, the other two ingredients required to make this salad are rice vinegar and sesame oil.
Getting these ingredients will come in handy for many other Asian-inspired recipes. I love to use sesame oil when making white rice for an added boost of flavor.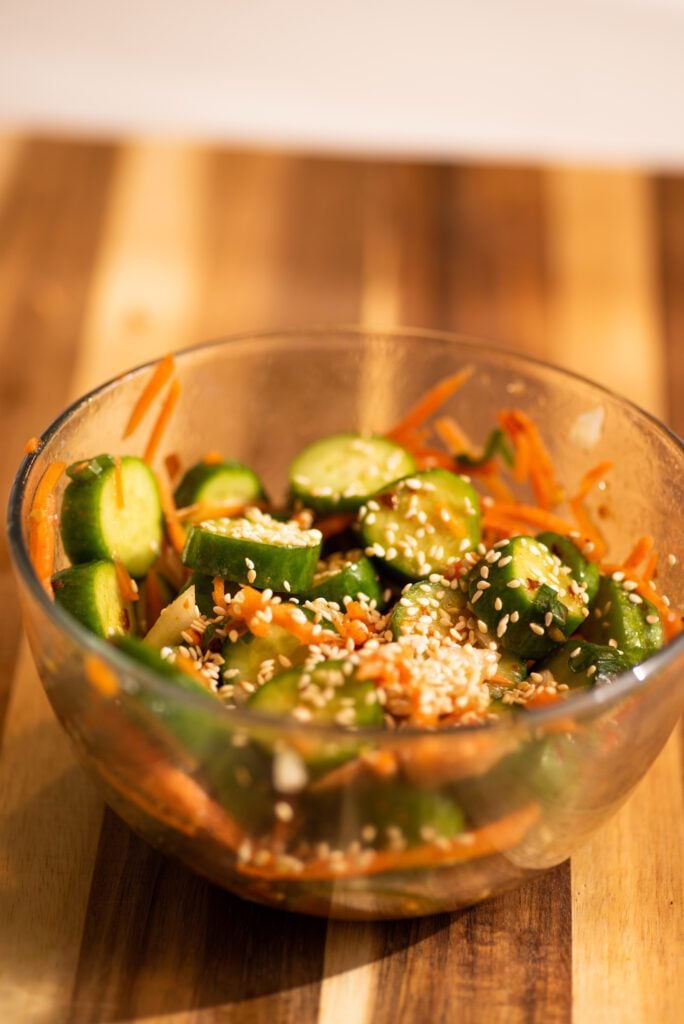 How to pair this salad
Although this salad can stand alone as refreshing snack, you can definitely use it as a side dish.
If you are eating any dish that is heavy in fat, such as beef or a fatty fish, this salad will be an excellent way to lighten up the meal.
I personally love this salad in rice bowls, in crunch wraps or on its own as an afternoon snack.
This salad is crunchy, spicy (although you can adjust to your spice tolerance) and incredibly refreshing.
Asian Cucumber Salad ingredients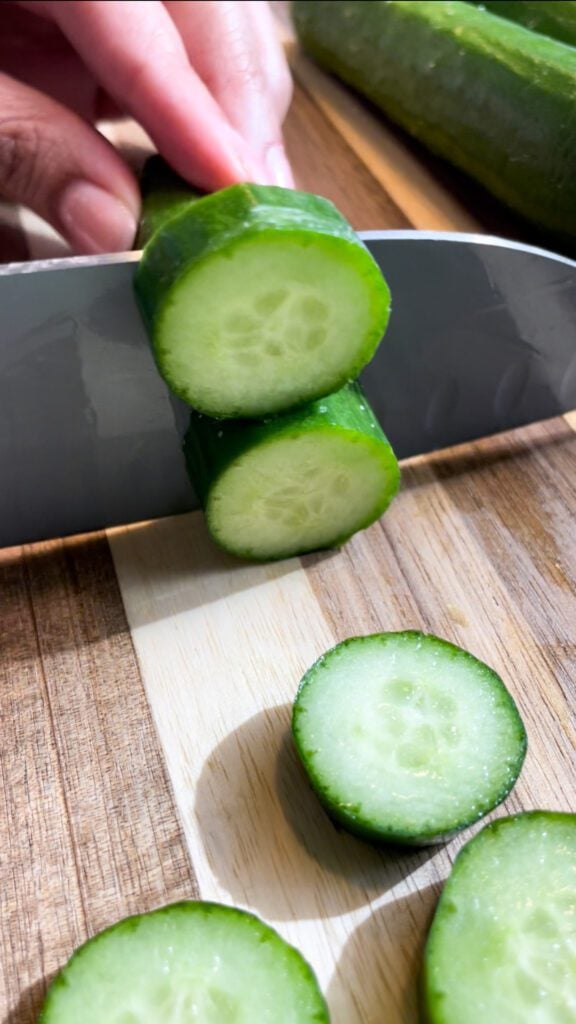 Persian Cucumbers: This smaller and crunchier cucumbers are perfect for this salad because the vinegar will pickle them a bit but they won't loose their crunch.
Carrots: Add crunchy and sweetness to this salad.
Salt: brings out the natural flavor of all the ingredients and draws moisture off the cucumbers.
Sugar: that pinch of sweetness balances out the umami flavors and ties all the ingredients together.
Rice Vinegar: has a mild, slightly sweet flavor that adds a tangy element to the recipe.
Sesame oil: This oil has a strong smokey flavor and a little goes a long way. The flavor profile in sesame oil is hard replicate so there is not substitute for it.
Sesame seeds: These tiny seeds depend the flavor in this salad and add an extra texture layer. They also add a visual element.
Gochugaru: This is a Korean red hot chili pepper powder. It is milder than cayenne pepper and it has a smoked flavor.
Green onions/scallions: Add a mild aromatic onion flavor and a nice texture to the salad.
This salad is best to eat shortly after making it. However you can chill it for 30 minutes or so to enjoy it cold.
A quick tip is to get your ingredients before hand and refrigerate the cucumbers, carrots and green onions, that way the salad will be cool without having to chill it.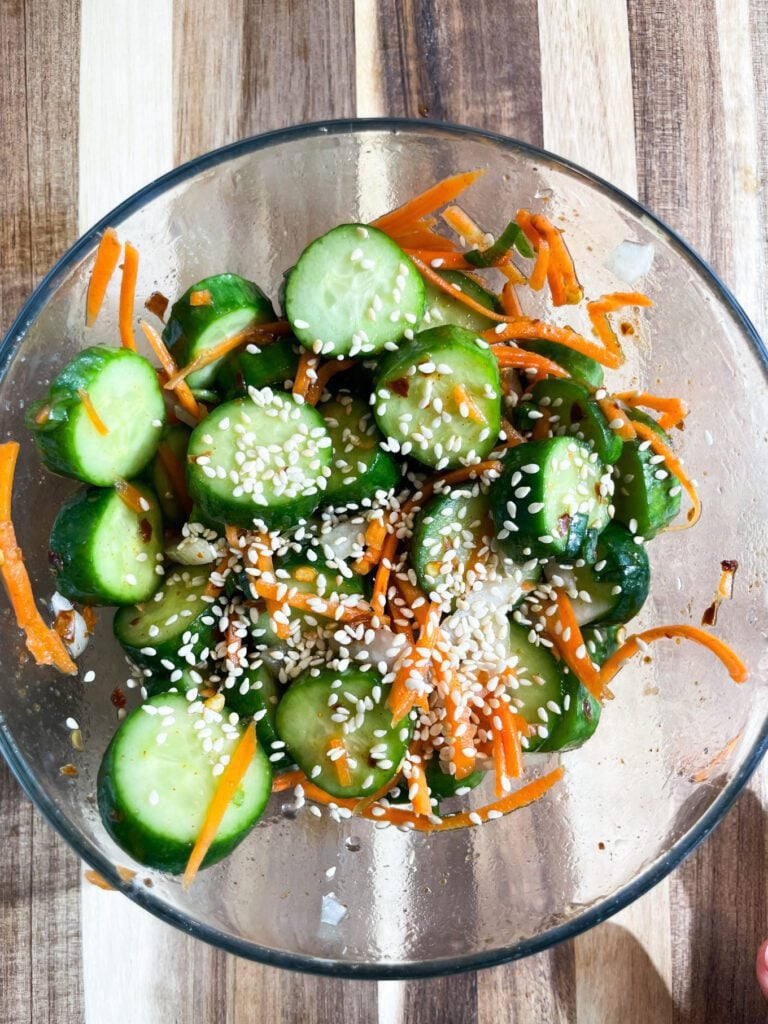 Storage tips
This salad is best fresh. If you have leftovers, they will become mushy quickly and the cucumbers will release extra liquid which will dilute the dressing and change its flavor.
If you end up having leftovers, store them in an air tight container in the fridge and eat them as soon as possible.
Asian Cucumber Salad
This refreshing Asian Cucumber Salad from Tiktok features a delicious combination of crunchy, sweet and spicy
Ingredients
4

Persian Cucumbers

Sliced

2

Green Onions

Chopped

¼

cup

Carrots

Shredded

¼

cup

Yellow Onion

Sliced

1

teaspoon

Salt

1

Tablespoon

Rice Vinegar

1

Tablespoon

Sesame Oil

½

teaspoon

Chili Lime Powder

I used Trader Joe's Chili Lime

½

teaspoon

Red pepper flakes

1

teaspoon

Sugar

1

teaspoon

Sesame seeds
Instructions
Slice the cucumbers and add the salt.

4 Persian Cucumbers,

1 teaspoon Salt

Add your onions and carrots and mix well

2 Green Onions,

¼ cup Yellow Onion,

¼ cup Carrots

Add the rice vinegar, sesame oil, chili powder, sugar and red pepper flakes and mix well until combined

1 Tablespoon Rice Vinegar,

1 Tablespoon Sesame Oil,

½ teaspoon Chili Lime Powder,

1 teaspoon Sugar,

½ teaspoon Red pepper flakes

Top with sesame seeds and enjoy
Nutrition
Calories:
113
kcal
Carbohydrates:
11
g
Protein:
2
g
Fat:
8
g
Saturated Fat:
1
g
Polyunsaturated Fat:
3
g
Monounsaturated Fat:
3
g
Sodium:
1187
mg
Potassium:
293
mg
Fiber:
2
g
Sugar:
6
g
Vitamin A:
3059
IU
Vitamin C:
8
mg
Calcium:
49
mg
Iron:
1
mg