Colombian buñuelos are one of the most traditional holiday foods. These deep fried cheese bread uses few ingredients, requires little prep and yields a delicious end product.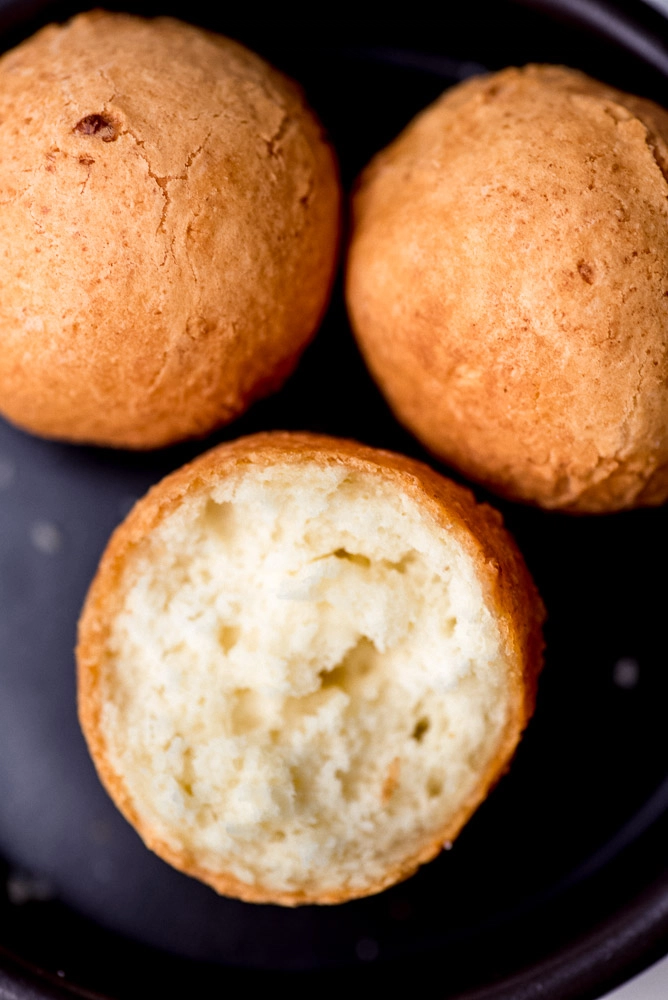 Before you make this recipe, please read through the entire post. Buñuelos can be dangerous to make, as they can burst open when frying and splatter hot oil, causing serious burns. Follow the instructions and use your best judgment when cooking this recipe.
I outlined my best tips and tricks to make buñuelos-making as safe and fool proof as possible. Again, read all the instructions and follow them closely.
Making Colombian buñuelos can be a feat. However if you follow the right steps and use the correct ingredients, you too can achieve authentic Colombian cheese fritters.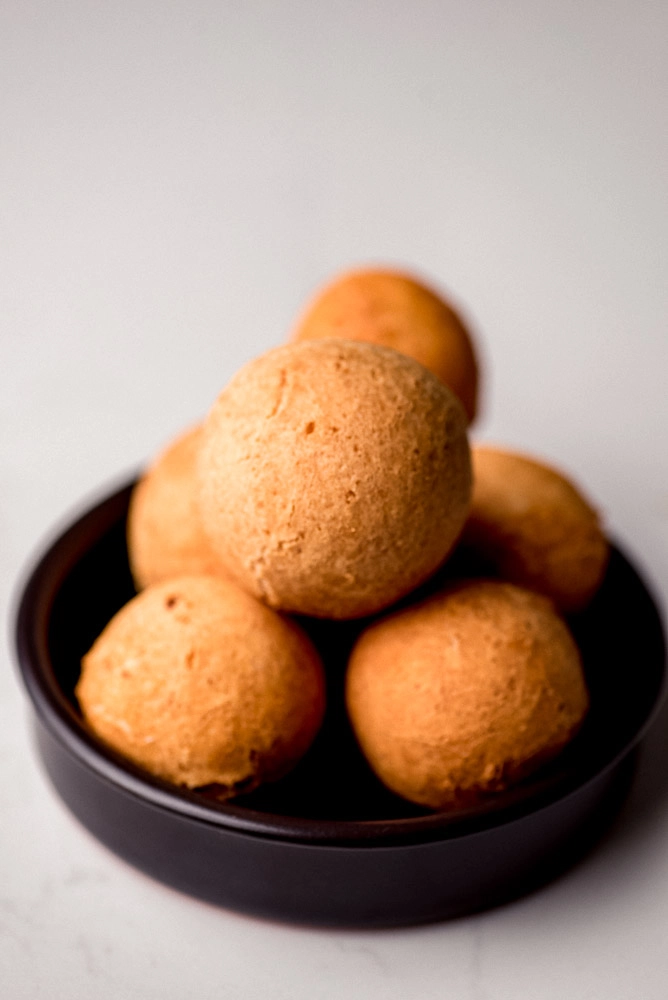 In the Disney movie Encanto, Julieta Madrigal makes buñuelos. These are, after Colombian Empanadas, one of my favorite foods.
Buñuelos are a Christmas staple. They are paired with Natilla; a flan-like dessert that is sweet and compliments well with the salty flavor of buñuelos.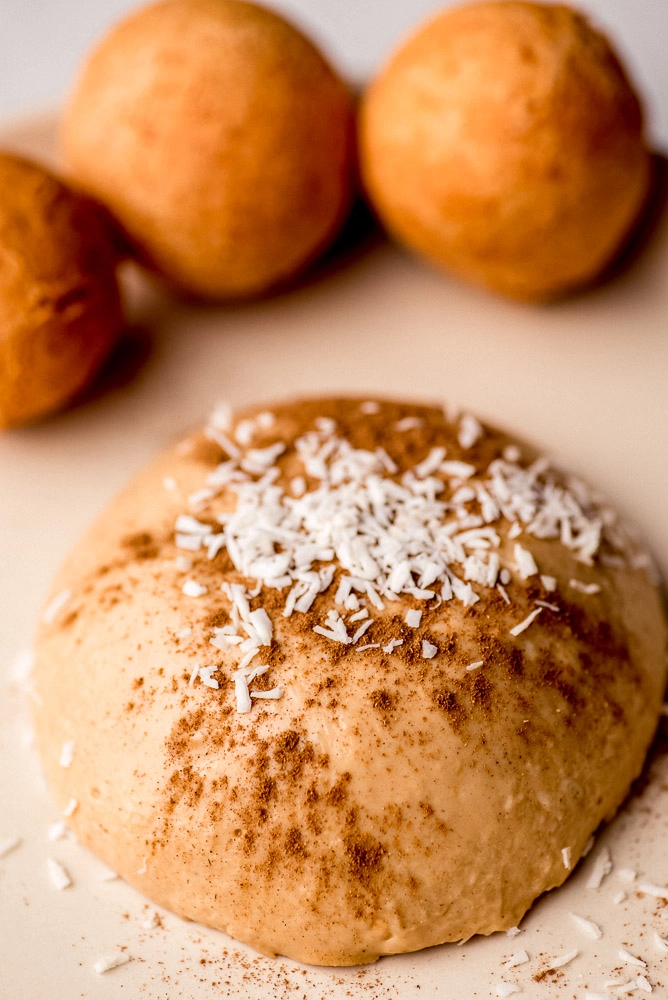 Authentic buñuelos use Queso Costeño; a hard, salty, fresh cheese. Unfortunately, this cheese is hard to come by outside of Colombia, but don't worry, I found a perfect substitute for it.
There is also a pre mix flour blend (Mezcla lista) that is hard to find unless you have access to a Latin market, however, using the correct ratios of corn starch, cassava flour (or tapioca starch) and baking powder will yield the exact same results.
Buñuelo making tips
The cheese needs to be very finely grated, otherwise the dough won't be smooth and your bunuelos could burst open when frying.
The oil temperature needs to be the same throughout the frying process. Too hot and your bunuelos will crack, and again, burst open which could cause serious burns.
It is important to have the perfect ratio of flour to cheese. Too much flour will make your bunuelos tough on the inside, too much cheese and your bunuelos will turn very greasy.
How do Buñuelos taste like?
The perfect Buñuelo is slightly salty, crunchy, golden-brown shell on the outside with a pillowy, bread-like consistency in the inside.
Your buñuelos should not be greasy or feel like fried cheese. They should be easy to bite into but have a perfect crunch similar to that of a French baguette crust.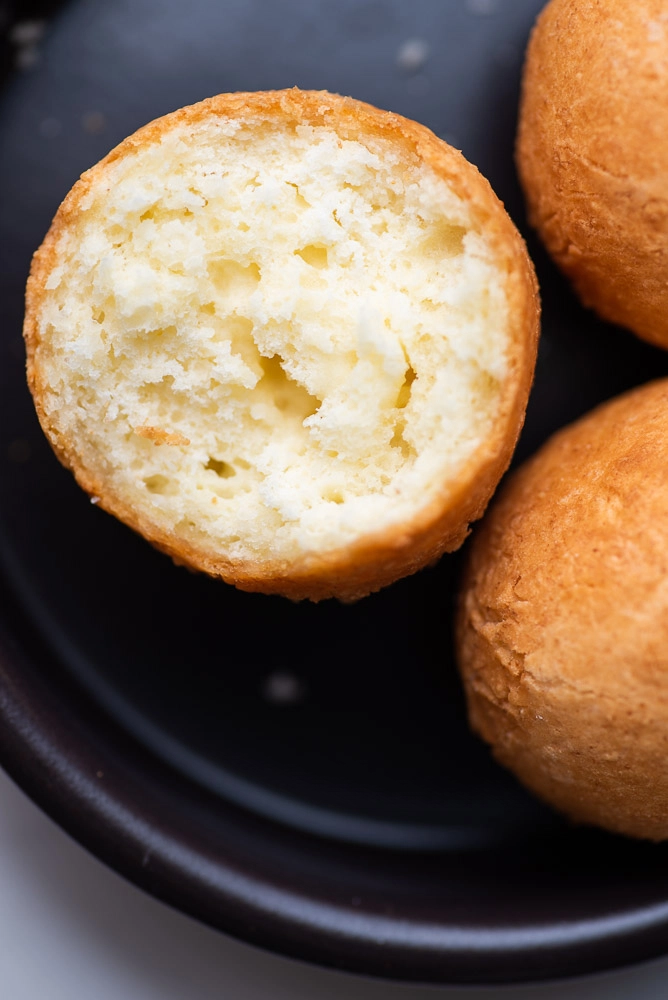 How to store and reheat buñuelos
If buñuelos are done right, they reheat very well. You can use the microwave for about 10-15 seconds but my all time favorite way to re heat my leftover buñuelos (if there is any!) is the air fryer.
To reheat, add your buñuelos to the air fryer at 250 Fahrenheit (120 celsius) for 6 minutes.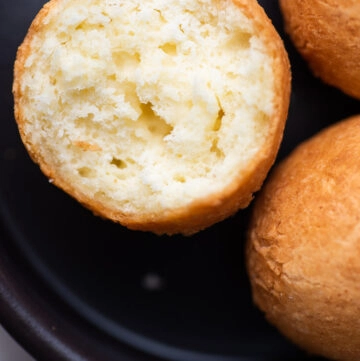 Colombian buñuelos from Disney's movie Encanto
Colombian cheese fritters (buñuelos)
Ingredients
3

cups

vegetable oil for frying

1 ½

cups

grated cotija cheese

I used the ALDI brand (about 125 grams)

1

cup

corn starch

100 grams

2

Tablespoons

Cassava flour

about 25 grams

1

egg

4

tablespoons

whole milk

1

teaspoon

baking powder

1

teaspoon

sugar
Instructions
In a frying pot (I use a 2.5 quart dutch oven) add the vegetable oil and heat over medium heat until it reaches 350 Farenheit or 175 celsius

In a bowl mix the corn starch, cassava flour, sugar and baking powder. Whisk until well combined

Add the cheese and mix well

Add the egg and milk and start kneading the dough until a smooth play dough-like consistency is achieved

Form small round balls, about 1.5 inches in diameter r about 30 grams each

Add them to the frying oil, making sure the oil conserves the temperature. If the oil starts getting hotter than 350 farenheit, reduce the heat until it is the desired temperature

Fry the buñuelos for about 6 minutes, until golden brown

Remove from the oil and place them on a plate with a paper towel to drain excess oil

Allow them to cool down for about 10 minutes
Notes
If your oil starts getting too hot, reduce the heat. Use a food thermometer to make sure the oil stays at 350 Fahrenheit (175 celsius).
If you see your buñuelos getting cracked, remove them from the oil ASAP, this is a sign that the oil is too hot or the dough needs to be kneaded for a smoother consistency.
The oil you use for buñuelos should be new oil, not one that you have previously fried something else in. I used canola oil.
I bought my cheese already grated finely. If grating your own cheese make sure it is very fine to achieve a smooth dough