TJ's cauliflower gnocchi is a healthier alternative to the beloved Italian gnocchi that is made with potato and flour.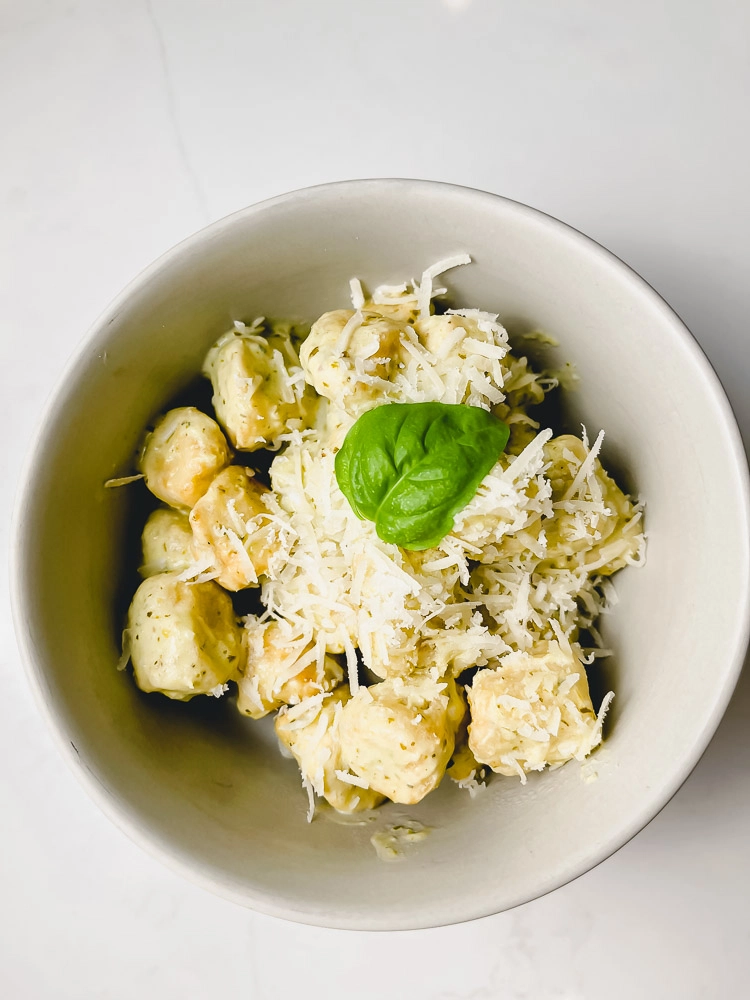 These are low-carb, the cauliflower taste is not overpowering and the ingredients are complaint with diets like Whole30.
It can be tricky to cook, but I tested different methods and hands down, the air fryer is the best way to cook them.
Cauliflower Gnocchi from Trader Joe's is the only brand I use but there are similar brands that you can use. The ingredients on the TJ's brand are cauliflower, cassava, potato starch, olive oil and sea salt.
The first step to cook this dish is to defrost your gnocchi. This is a product that you find in the freezer section and I usually freeze them for a long time before I use them.
If you buy them and cook them the same day, yours might not be as frozen as mine usually are, so you can go straight into cooking them without defrosting.
Creamy Pesto Sauce
For this creamy sauce I combined Boursin cheese and basil pesto to make a creamy sauce to go with the gnocchi. It was absolutely delicious and I will be making a larger batch of this sauce for other pastas.
If you would like to use marinara or any other creamy sauce, feel free to substitute. This cauliflower gnocchi goes well with red sauces, pesto based sauces and creamy cheese-based sauces.
Cooking Methods
I tried the stove top method for the cauliflower gnocchi following the package instructions. The gnocchi were chewy and gummy and they stuck together once I served them.
I do not recommend following this method. I believe it shouldn't even be on the package! The best way to cook the TJ's cauliflower gnocchi is the Air Fryer or the oven.
The air fryer on the other hand, yielded perfectly pillowy gnocchi, slightly crispy and they worked perfectly with the sauce.
I add a dash of avocado oil spray to get a little crispy crust on the outside, that way when I add the sauce the dish doesn't turn mushy.
If you'd like to try a pasta recipe, using traditional pasta, I highly suggest this amazing creamy tomato pasta.
Also, another great Trader Joe's recipe that is great to cook in the air fryer is this Orange Chicken.
Trader Joe's Cauliflower Gnocchi with Creamy Pesto Sauce Air Fryer Recipe
Ingredients
1

bag

cauliflower gnocchi

1

tablespoon

Boursin cheese or cream cheese

½

tablespoon

Basil Pesto

1

tablespoon

water or milk

Oil spray

Avocado

Parmesan Cheese for garnish
Instructions
Add your cauliflower gnocchi to the air fryer basket

Air fry at 350 Fahrenheit for 3 minutes to defrost

spray gnocchi with avocado oil spray

Air fry at 350 Fahrenheit for 10 minutes without flipping

flip the gnocchi, add one more dash of oil spray and cook for 2 more minutes
For the Creamy Pesto Sauce
Mix the Boursin cheese (or cream cheese) with the pesto until well combined

Add the water or milk to thin out the sauce to your desired consistency

Serve the gnocchi and top with the creamy pesto sauce. Garnish with parmesan cheese and enjoy