Birria de res is easy to make in the instant pot, a traditional Mexican recipe with a bit of a spin. In Mexico, Birria is cooked with goat or lamb, but chuck roast works perfectly in this recipe.
You can use any method to cook birria; instant pot, dutch oven, slow cooker. Whatever you have available works fine but I find the instant pot to be the quickest way.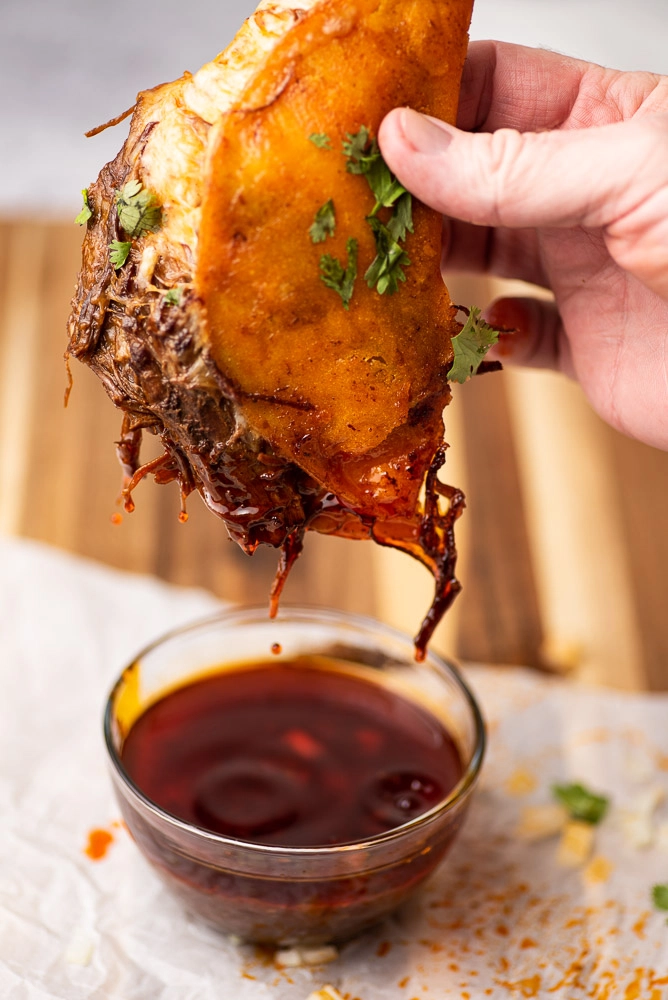 What is Birria?
Birria (pronounced Bee-Ri-Uh) is a Mexican meat stew (originally goat), in a chile-laden broth that yields tender and flavorful meat.
Is birria spicy?
This is the number one question people ask when they see the ingredients. This dish uses Guajillo and Ancho chilies which are mild with more of a warm, flavorful heat.
One key thing is that, the chilies are deveined and deseeded before we add them to our meat, that way we prevent excessive heat.
If you follow the recipe accordingly, I promise this dish won't burn your mouth or be overwhelming at all.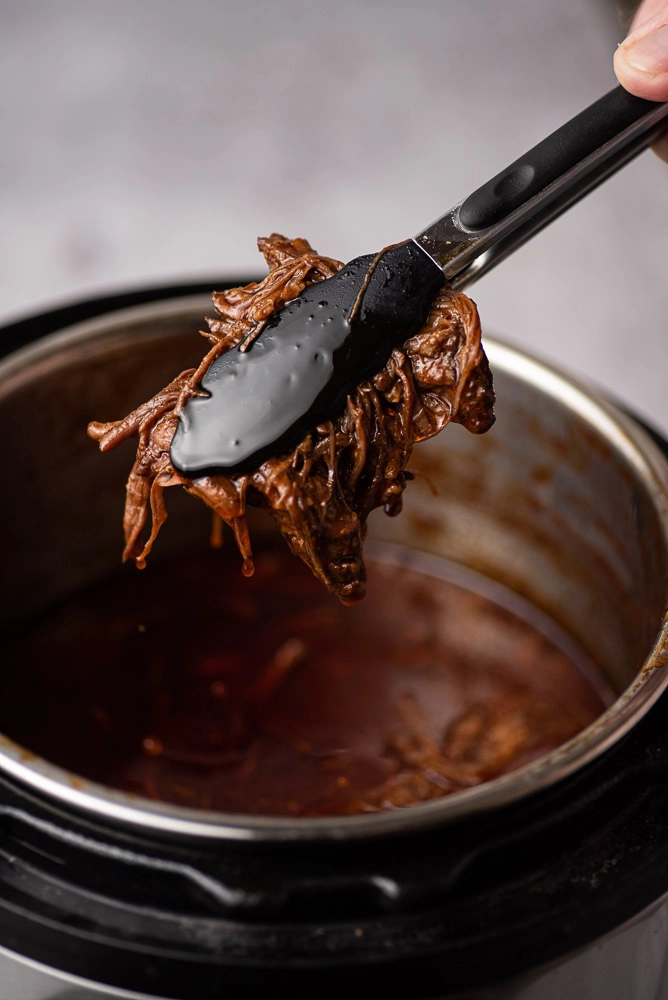 Can you use chicken for this recipe?
Absolutely! Any meat that can be shredded would work in this recipe. If you are to use chicken, I would use a combination of thighs and chicken breast for more flavor depth. Also I would use some of the chicken skin (crisped up to render some fat) for additional flavor.
Let me know in the comments if you'd like to see this variation of the recipe.
For making barrio, the best cuts of beef are those that can be shredded easily such as chuck roast or short rib.
What do you eat with this dish?
You probably have seen it all over the internet served as tacos con queso (cheesy tacos) AKA Quesa-Birria. They are crispy tacos stuffed with cheese and birria and served with caldo o consome (the juices from cooking).
You can always serve it with rice and beans and tortillas on the side for a traditional dish. It also is great in enchiladas, taquitos and even grain salads.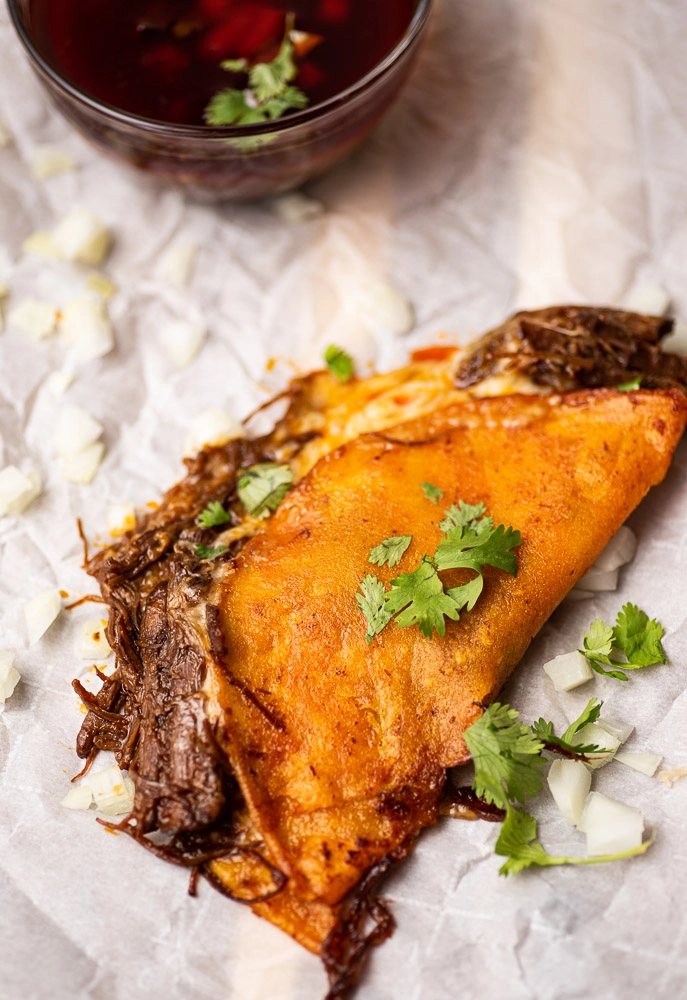 Ingredients
The ingredients for this dish are easy to come by. Most grocery stores carry dried chilies in their Hispanic Food isles.
If you have a Mercado (Hispanic market) nearby, you will find these chilies there, otherwise Amazon carries them as well.
Chuck Roast
Dried Guajillo Chile
Dried Ancho Chile
Onion
Chipotle in adobo
Tomato
Cumin
Oregano
Garlic
Bay leaf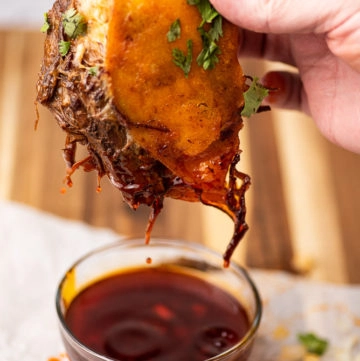 Birria Recipe
Ingredients
2

pounds

Chuck Roast

2

Dried Guajillo Chile Pods

2

Dried Ancho Chile Pods

2

Chipotle Chiles in Adobo

1

teaspoon

salt

1

teaspoon

dried oregano

½

teaspoon

cumin powder

1

clove

2

bay leaves

½

yellow onion, roughly chopped

2

roma tomatoes, sliced

4

cloves of garlic, minced

1

tablespoon

destilled white vinegar

2

tablespoons

Vegetable oil
Instructions
Soak the Ancho and Guajillo chiles in boiling water for 20 minutes. Once cooled down, remove the seeds from the chiles. Reserve the soaking water.

Add salt and pepper to your chuck roast and sear it on a cast iron skillet or hot pan for about 2 minutes on each side. Set aside and let it rest.

in the same skillet, add the 2 tablespoons of vegetable oil, onions, tomatoes, cumin, salt, bay leaf, clove and oregano and cook until onions are transluscent

Add the garlic cloves and cook until fragrant. About 1 minute

Add the Ancho and Guajillo chiles and cooke for 1 more minute

Add the chipotle chiles with adobo and 1 cup of the water that was used to soak the chile ancho and guajillo

Remove from the heat and let it cool down enough to add to your blender and blend on low speed to create a marinade

Cut the chuck roast in 5-6 chunks and add them to your instant pot

Add the blended spices and chiles and make sure to cover all the meat with the marinade

Set instant pot to high pressure and cook for 45 minutes

Once time is up, allow 10-15 minutes of natural pressure release. After that do a quick release of the remaining pressure

Remove the beef and separate from the au jus or caldo that has formed in the instant pot

Reserve the juices from cooking to dip your tortillas or add to the meat when served

Shred the beef and serve as desired. Highly reccomend to make Quesa-Birrias using corn tortillas and Oaxaca cheese