This Fig Jam and Brie Appetizer is the ultimate easy holiday snack that everyone will love.
For this recipe I used Trader Joe's fig jam. This is a seasonal item but it's by far my favorite.
You can find it at TJ's during the holiday season (Nov-Dec), and if you find it, stock up because it sells out quick.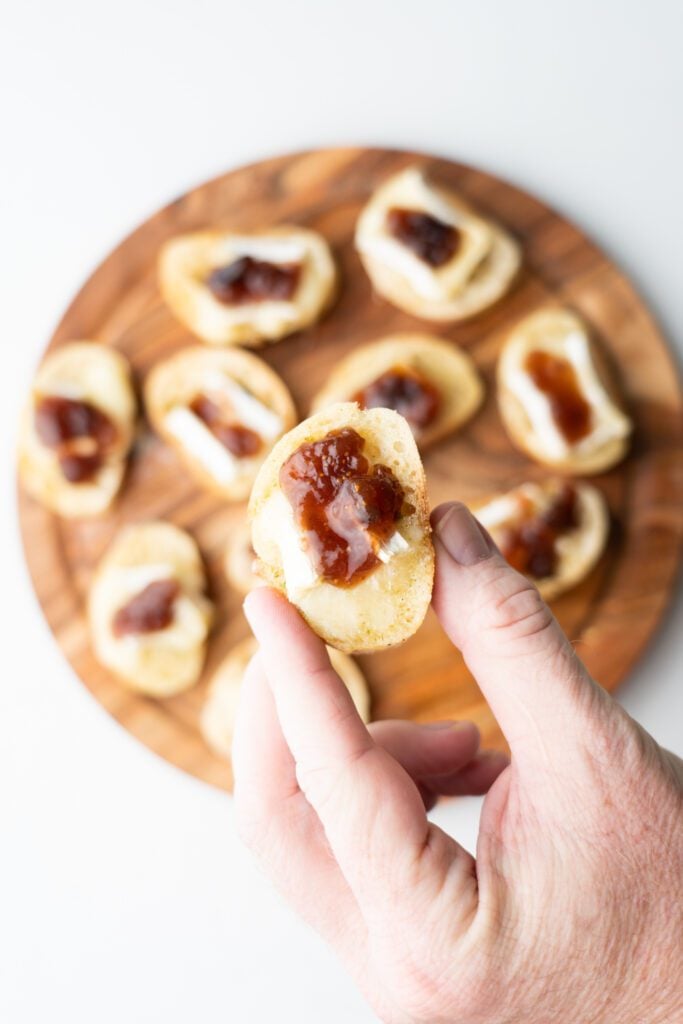 Ingredients for Fig Jam and Brie crostini
This recipe is super easy to make and requires just a handful of ingredients.
I highly recommend making your own crostini instead of buying pre-made ones.
All you need to make this appetizer are these ingredients:
Wheel of Brie cheese: You can use any variety. There is a handful of varieties, from regular, light and triple cream brie.
Fig jam: Store bought or homemade.
French bread loaf: This will make all the difference in the crostini. We want a bread that will toast and be crispy.
Butter: To get our crostini nice and crispy. I love using a garlic butter.
Where to find Fig Jam and how to make it
If you are making this appetizer during another time of the year, you can find fig jam at any supermarket.
It will usually be by the deli section, where the specialty cheeses are but also check your international (European) food isle.
If unable to source made fig jam, you can definitely make your own either with dried or fresh figs.
If using dried figs, check for sugar content. If the figs have added sugars, all you need is to boil them in water until they are soft and then puree them.
When using fresh figs, you need to cut them in half, boil them in water with sugar and puree them.
What do you put fig jam on?
Fig jam is great on all sorts of appetizers. It is delicious on toasted bread like this this crostini but also on crackers.
It is sweet and balances sharp cheeses very well. On charcuterie boards I love to add fig jam as part of the accoutrements (extra dips, nuts etc.).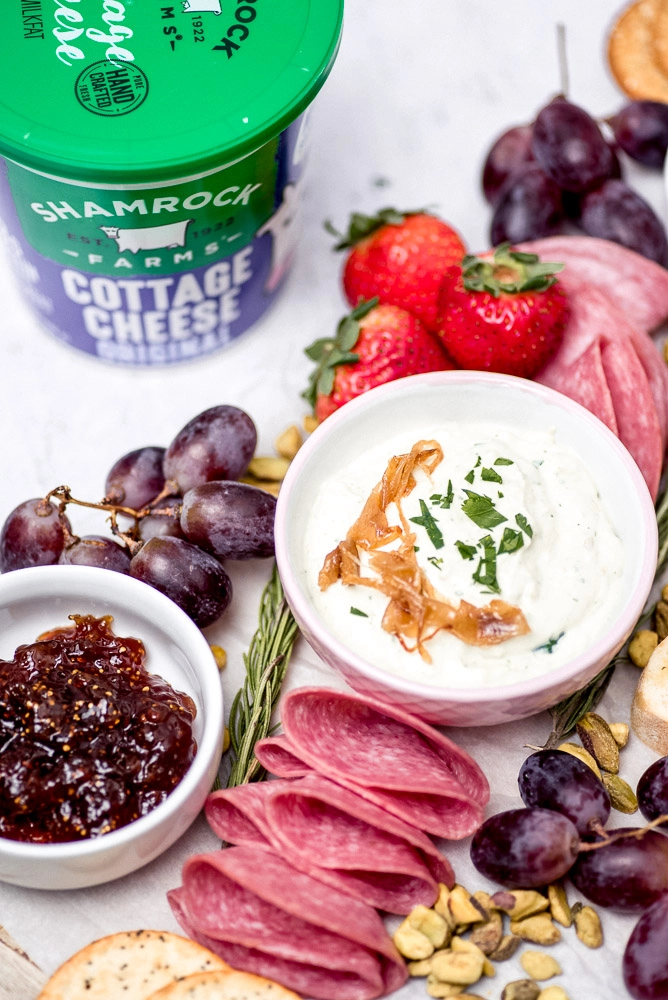 What is Brie Cheese and How to Eat it
Brie is a type of French soft cheese. It is mild in flavor, buttery and easy to spread.
This cheese is great for baking. It doesn't take long to melt and it is delicious in breads and crackers.
Brie comes "wrapped" in a white rind and people often times wonder if they should eat it or not.
The rind from Brie cheese comes from the process of aging and it is edible. It is personal preference to eat it or not but it definitely enhances the cheese flavor.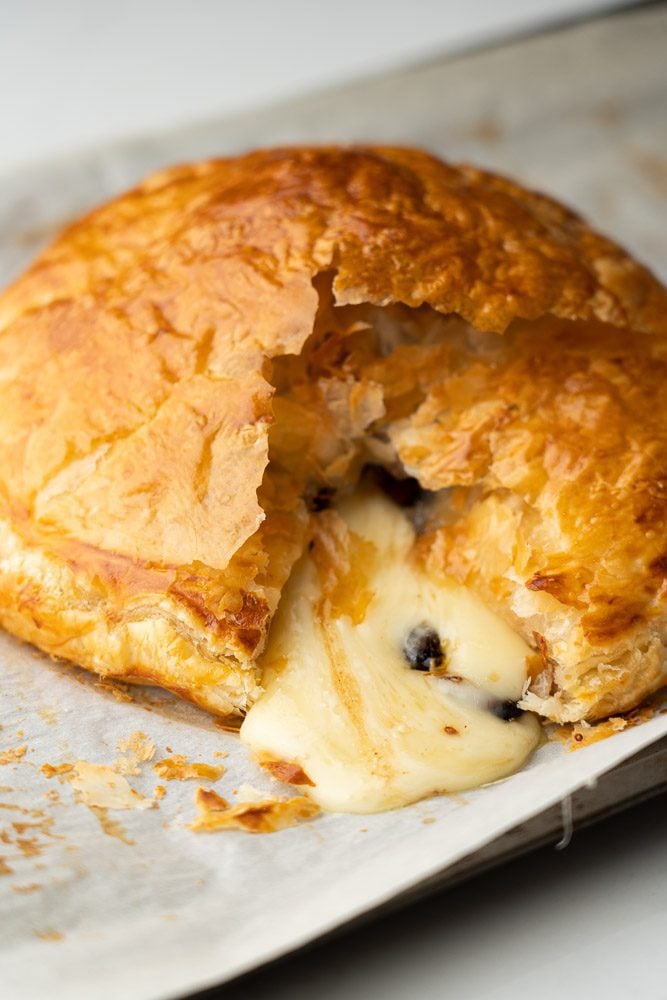 How to make the crostini
For the crostini or base crispy bread, I like to use a good French bread loaf.
I add a compound butter that I make by adding roasted garlic and onion salt to room temperature butter.
Bake the crostini for 2-3 minutes to get it crispy before adding the brie and fig jam. Brie melts quite easily and if you don't bake the crostini first the brie will melt and your bread will still be soft.
Fig Jam and Brie Appetizer
Easy appetizer with fig jam and brie cheese over toasted bread
Ingredients
8

OZ

Brie Cheese

One wheel

5

Tablespoons

Fig Jam

1

loaf

French bread
For the Compound Garlic Butter
3

tablespoons

Butter

at room temperature

1

teaspoon

Onion powder

TJ's brand is my favorite

2

cloves

Garlic

minced
Instructions
Compound Garlic Butter
Make the compound butter by mixing together the butter, garlic and onion powder

3 tablespoons Butter,

2 cloves Garlic,

1 teaspoon Onion powder
Make the crostini
Cut the French bread into 1 inch thick slices and spread the garlic butter

Bake 3-4 minutes at 350 Fahrenheit

Slice the brie and cut pieces that fit the crostini

Place the brie on the crostini and top with fig jam

Bake for 2 minutes at 350 Fahrenheit until the cheese is melted

5 Tablespoons Fig Jam,

8 OZ Brie Cheese

Enjoy warm. Can reheat as needed by placing in the oven for 1-2 minutes
Nutrition
Calories:
202
kcal
Carbohydrates:
23
g
Protein:
8
g
Fat:
9
g
Saturated Fat:
5
g
Polyunsaturated Fat:
1
g
Monounsaturated Fat:
2
g
Trans Fat:
1
g
Cholesterol:
26
mg
Sodium:
317
mg
Potassium:
80
mg
Fiber:
1
g
Sugar:
4
g
Vitamin A:
199
IU
Vitamin C:
1
mg
Calcium:
53
mg
Iron:
1
mg