Let's talk about the "Cheese Pull" for a minute. It is a foodie word that describes the elongation of the cheese whenever the food that contains it, breaks apart. You get a good cheese pull from a quesadilla, an extra cheesy grilled cheese sandwich or an amazing pizza.
Talking about pizza and cheese pull, I have never experienced a pizza like Giordano's before. The Chicago style pizza is one of my most favorite foodie discoveries and Giordano's was the first place I had the pleasure to try.
The Food
To start we ordered our pizza and we got the Giordano's sampler to munch on while we waited. I could tell from trying this appetizer that I was going to love every bite of my meal. The Giordano's sampler consists of a variety of their appetizers and includes Cheesy Garlic Bread, Mozzarella Triangles (so cheesy!), Bruschetta and Boneless Wings with your choice or BBQ or Buffalo sauce.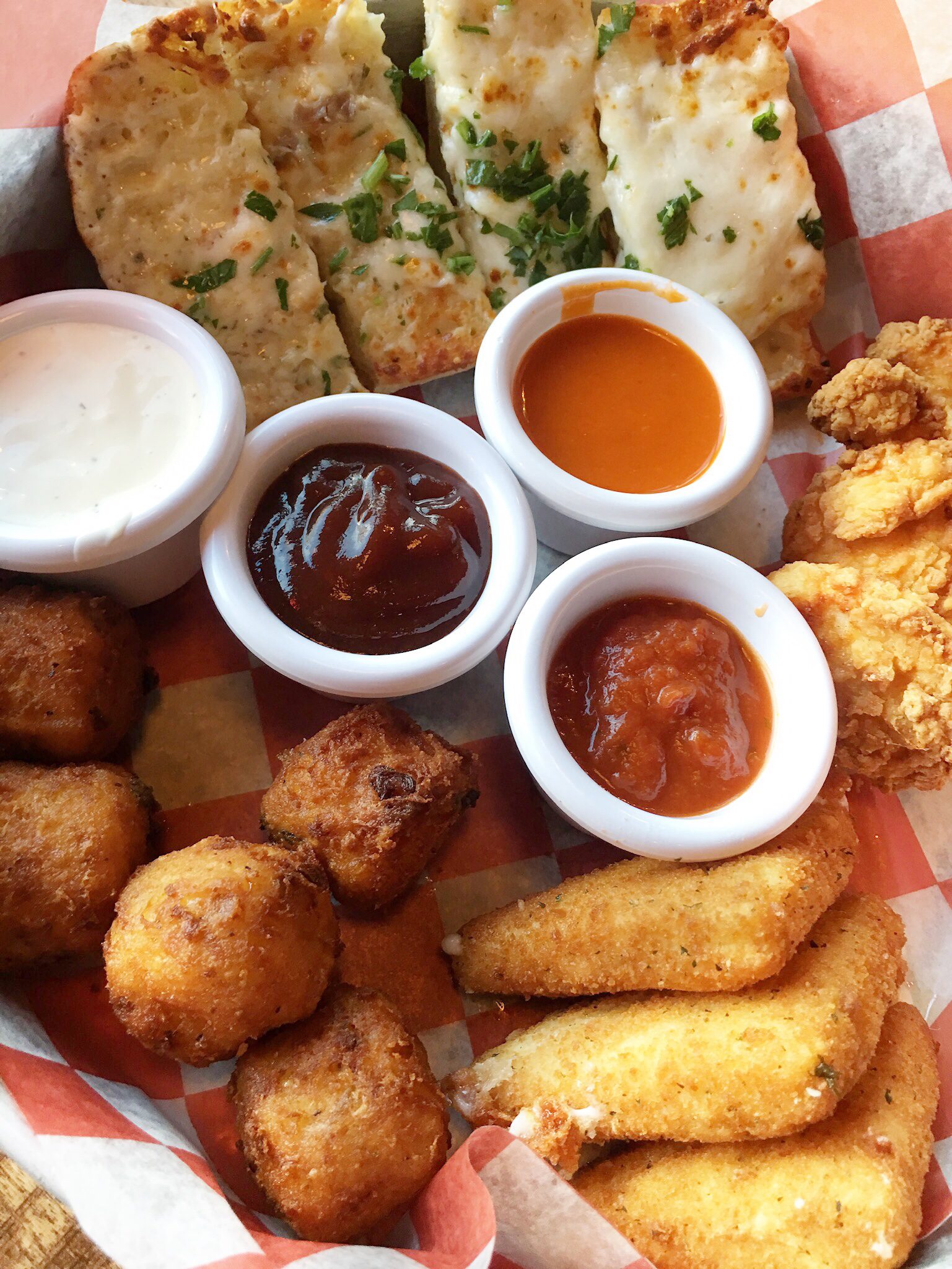 From the minute you take your first bite you can tell the quality of the ingredients they used is top notch; they use California tomatoes and Wisconsin cheese. The cheese has an incredible freshness and amazing taste to it and all the food feels like an elevated version of your favorite Italian foods.
The appetizer kept us busy just enough time for our pizza to arrive. Since our family can't agree on a topping that makes everyone happy, we usually order two pizzas. I love pineapple on my pizza (you either love or hate this) and my husband and my son love pepperoni and meat on theirs.
We got our Meat and More Meat pizza for my husband and my son and I ordered the Super Veggie pizza with pineapple. From the moment we got that first slice of pizza and saw the copious amounts of cheese we were fans of Giordano's. We never experience such quality ingredients in a pizza, not only generous amounts of cheese and meat but also the great quality of the ingredients.
The crust on Giordano's pizza is also remarkably delicious, the dough is baked to perfection and it's seriously addicting. It has the right amount of crunch on the outside and the perfect gooeyness in the inside.
Of course, we couldn't end such an amazing meal without dessert. You all know I always save a little room for something sweet at the end, especially at an Italian restaurant, how can you say no to Tiramisu? am I right?!
The ambiance
Another thing that I loved about Giordano's was the ambiance. Exposed brick wall, super fun signs and lots of cool lighting fixtures make the perfect backdrop for an amazing Italian meal. I love the upbeat vibe that Giordano's exudes, for me, it is a perfect place for fun date night, meet up with friend or Happy Hour.
One of the coolest things about Giordano's is that the ship nationwide. Yes, you read it correctly! If you don't have a Giordano's near you, you can get your pizza shipped.
This week I will be visiting my local Giordano's to try some of their new seasonal items and I couldn't be more excited. I can wait to have their Famous Stuffed Deep Dish pizza and their new Street Taco Pizza. Follow along on my Instagram for all the details about the new items at Giordano's.
In Arizona, Giordano's has two locations:
Peoria, AZ:
16222 N 83rd Ave
Peoria, AZ 85382
Paradise Valley:
12811 North Tatum Blvd
Scottsdale, AZ 85254