London was somewhere I had very few expectations of, in fact, I didn't have it in my near future travel plans.
However, an unexpected business trip for my husband ended up being a vacation for me and I'm not complaining.
London surprised me in all the best ways. The weather while chilly was extremely benevolent. Very little rain, sunny days and a city dressed in yellow and orange leaves were the perfect scenario for our visit.
This post is a part guide and part photo diary. I feel like a week was not enough time to see London and I already can't wait to be back.
Covent Garden Market
We hit the ground running in London with breakfast in Covent Garden. This area is a well-known shopping and entertainment destination thanks to the abundance of theatres, restaurants, opera houses, and street performers.
Our hotel concierge recommended a restaurant that I already had on my list so we headed there for breakfast. The Ivy Market Grill, a classic English restaurant in the heart of Covent Garden (they have other locations).
I tried the eggs Benedict with shaved ham and the house pastries (very few of them but delicious). The eggs were of a bright orange yolk, they tasted like nothing I've had before, really delicious. Overall breakfast was good but not life-changing.
By the time we were done with breakfast, we were able to check in to our hotel. We stayed at the historic Royal Horseguards hotel, which served as the MI6 operations center in WWII.
We took a brief nap and headed out to walk around the area. Our hotel was conveniently located near the London Eye and we found a Christmas market nearby alongside the Thames River.
For dinner, we headed to Covent Garden again (shocker!). This time we visited Hawksmoor. I can say this was our favorite spot. So much so, we visited it twice.
Hawksmoor is a Steakhouse, well known for their Sunday roast but we decided to give it a try for dinner.
The cocktails were excellent and their steak is among one of the best we have had. Also, the staff was extremely friendly and accommodating which was a huge plus.
Hop-on, Hop-off tour bus
The next day, we decided to go on a hop on hop off bus tour. London is a big city and we figured this would be the best way to see as much as possible in the shortest amount of time.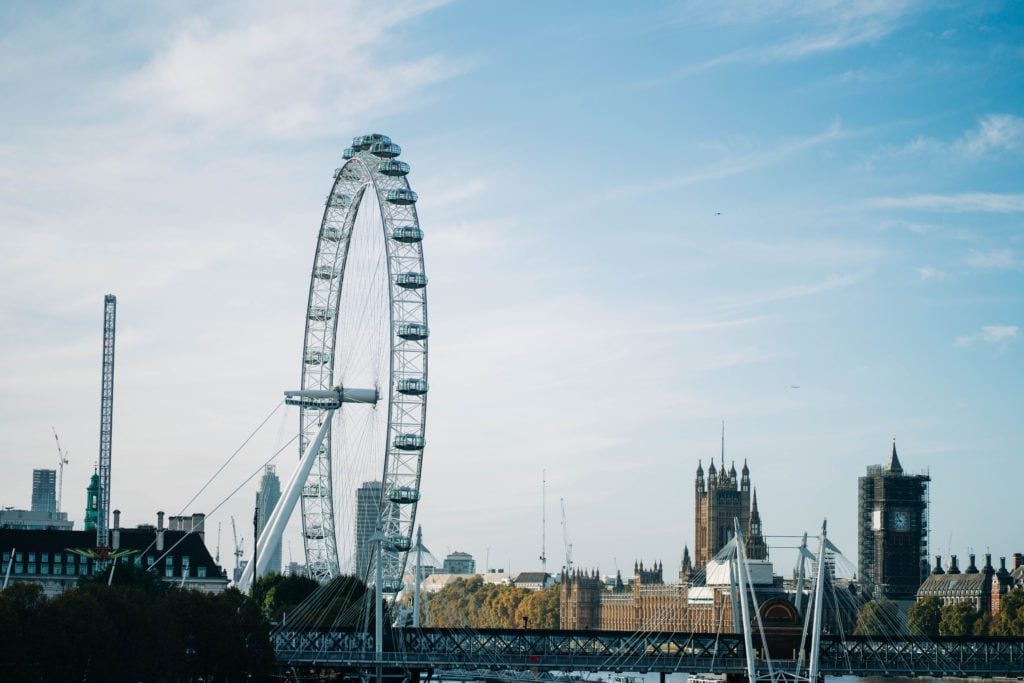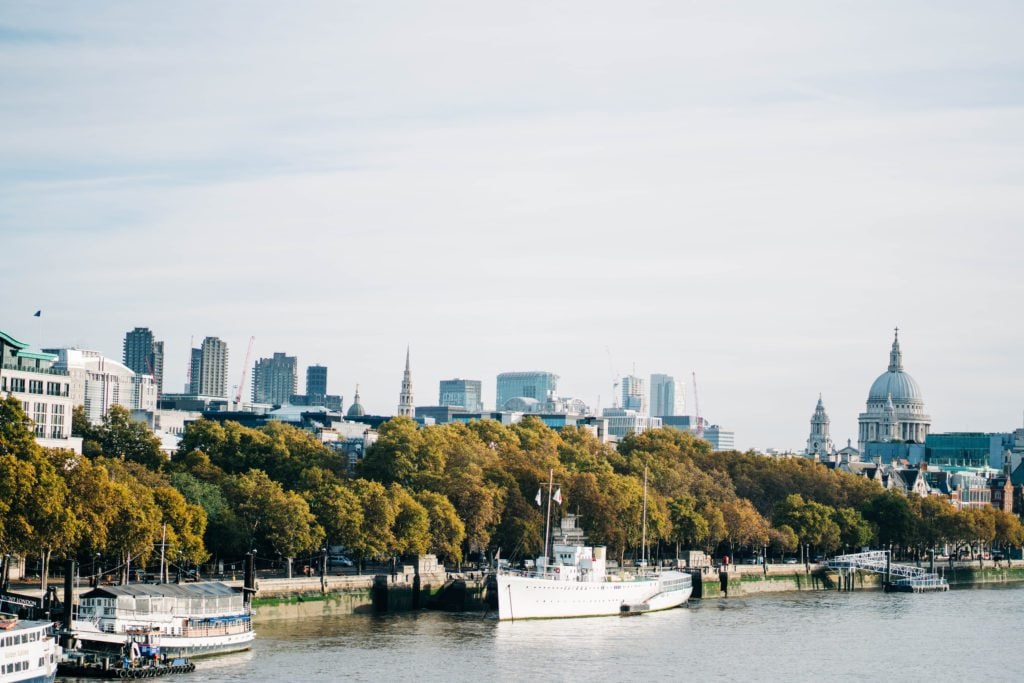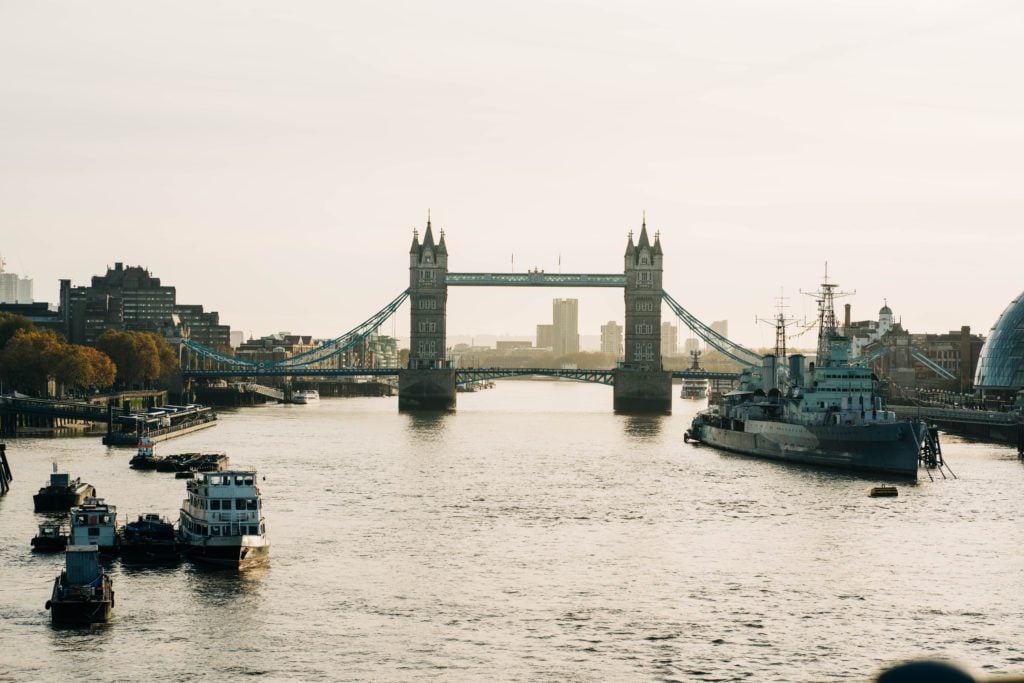 We spent 4 hours on the bus sightseeing and we really think is the most efficient way to see the city when you are in a time crunch.
Lunch at Dishoom
For lunch, we headed to Dishoom. It's an Indian classic and you will see it as the go-to in every foodie guide.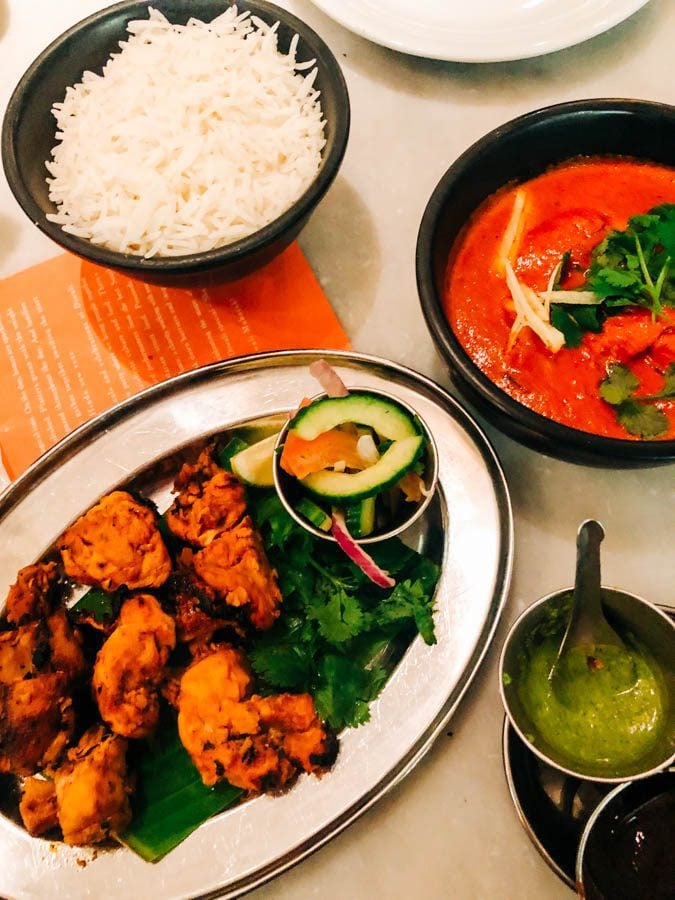 It was no surprise that there was a line out the door. The queue was 50 minutes we were told, but the line moved much quicker. They offered hot chai while you wait in line and they try to move you inside as soon as possible. Once inside we waited at the bar for a few minutes and then got our table.
The service was quick. The restaurant is really busy and fast-paced. We arrived a bit after they stopped serving brunch so I couldn't try their famous bacon naan but the garlic one was still pretty good (we ordered seconds).
We had the chicken tikka and a red curry (this was my fave). A couple of cocktails and 2 servings of naan with a red spicy sauce, a sweet tamarind (delicious!) and a parsley and mint sauce.
Dinner at Tuttons Covent Garden
For dinner, we went to a Tuttons in Covent Garden (I know, I know). The food was OK, I ordered the pork belly (maybe the wrong choice?) and my husband ordered the steak and he wasn't impressed either. The highlight of my meal was the passion fruit creme brûlée. Our friends that ordered the Sheperd's Pie and the Breaded Veal Medallions said they were really good and I can attest that their plates were empty.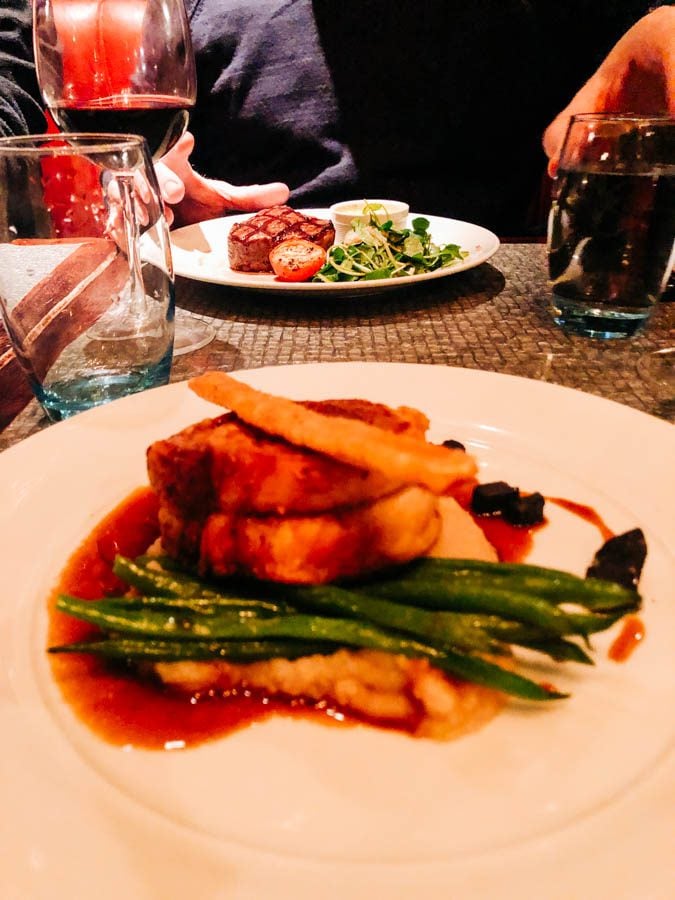 Borough Market
One thing high on my priority list was to visit Borough Market, one of the many food markets in London.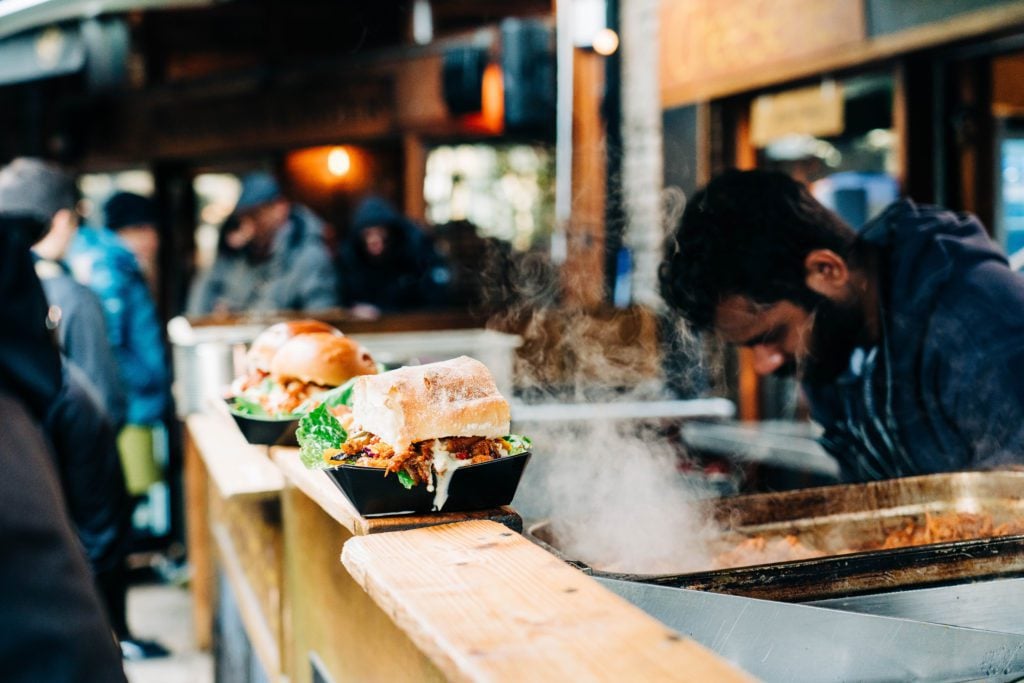 I spent the day wandering around the area and found some really delicious treats. Started my day with a chocolate filled donut. Although I wish the dough was a bit more fluffy and perhaps that the donut was warm, the chocolate filling was absolutely perfect, I couldn't stop myself from eating the whole thing.
Borough Market is chock full of artisan cheeses, spices, charcuterie, olive oil and fresh produce. In addition to that, the food stands serve street food from all over the world including Spanish Paella, Thai food, fish and chips, French duck confit and mushroom risotto.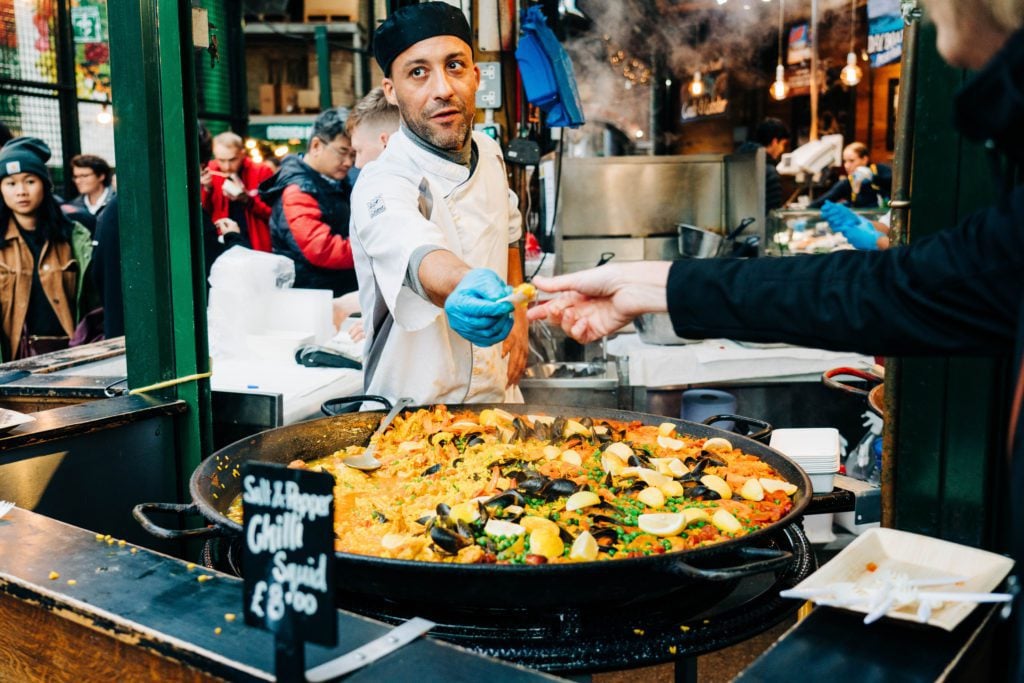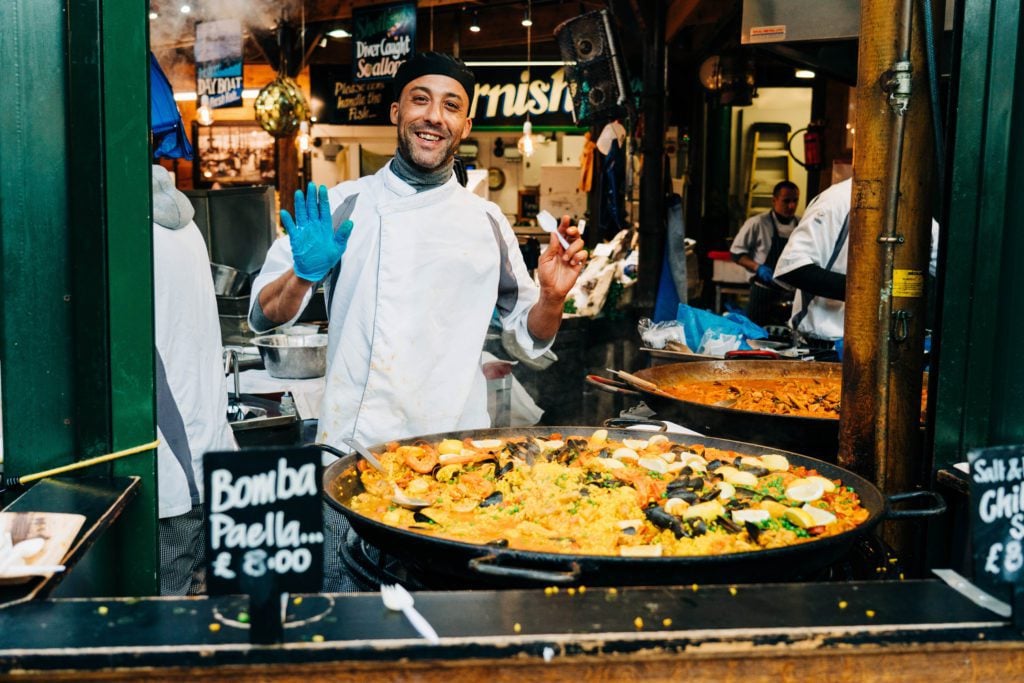 I found an Argentinian place with all sorts of empanadas. I tried their beef empanada( pretty average) and the dulce the leche alfajores (so good). The Spanish corner had a clams dish that the people next to me were eating and they were raving about. Also, the risotto stand had a long line of people so that's a good sign.
I wandered some more and ended up at the Shard, the tallest building in London and at some point the tallest in Europe. It's a very modern building and to go up all the way, there is a £25 fee which I didn't feel like paying since the day was pretty cloudy and a bit rainy.
Then I walked back to Borough Market on my way back to the hotel when a little stand caught my eye. Cheese! I've seen this cheese grilled sandwich on Instagram before and it looked amazing. I had to have it! I ordered the toasted 4-cheese-blend sandwich with onions and it was one of the most memorable things I ate on this trip! Read my in-depth review of Borough Market
London Cafes
London has an abundance of quaint cafes. They are beautifully decorated, often with floral displays that make them so perfect for pictures.
Strolling through the streets of Chelsea in search of a street with colorful pastel houses we came across Matre Choux, a French cafe with beautiful and delicious eclairs, cappuccino and a gorgeous floral background. It was the perfect stop for a lite bite and some pink photos Ha!
London is awash with Instagramable locations, from picturesque pastel and color block streets to little cafes with adorned entrances, floral walls and pink foods that beg to be put on your Instagram feed.
Kensington Palace
Kensington Palace is the official residence of the duchesses Kate and William. While we didn't go in, it was a gorgeous stroll through the neighborhood and the adjacent gardens that were covered in orange and yellow foliage.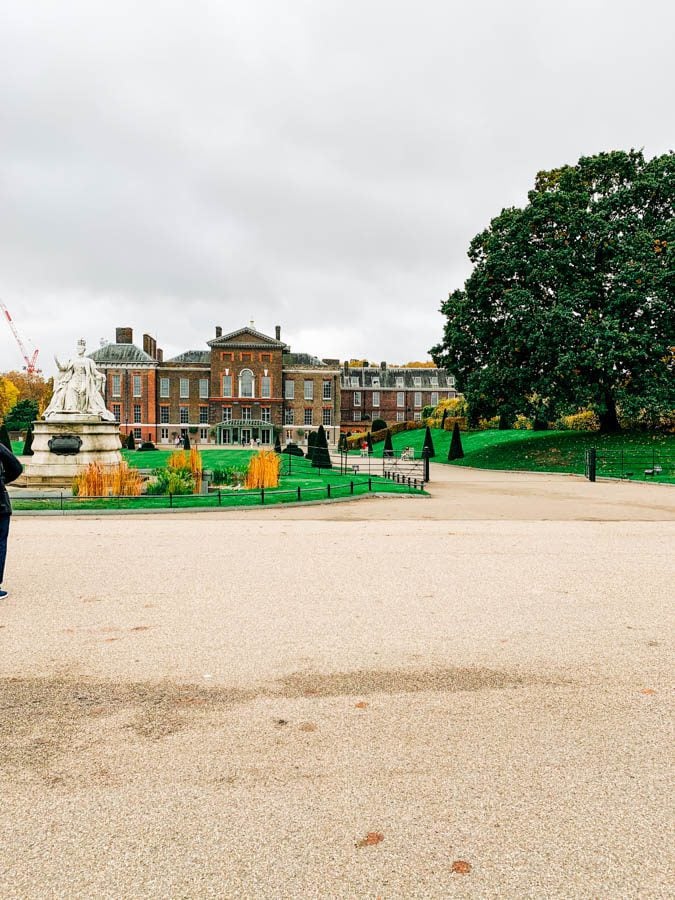 Buckingham Palace
Not far away from Kensington Palace is Buckingham palace, the political heart of the royalty. This is where Queen Elizabeth holds most of her meetings and official royal ceremonies. I wanted to see the guard changing ceremony that happens almost every day at 11:30, however, on the specific day I went, the ceremony was canceled (it happens often and without advanced notice).
Harrods and Fortnum & Mason
London is well known for being a luxury shopping destination. Every expensive fashion brand can be found at Harrods. With an impressive 5 floors full of fashion, food, beauty and anything in between, spending an afternoon window shopping at Harrods is always a fun thing to do.
We headed to their food hall (surprised?) and found an Italian sit-down restaurant with a pasta menu and had lunch there. You sit at the bar and Italian chefs (they were speaking Italian) cook in front of you. Pastas are simple with some staples like a cacio e peppe rigatoni, a classic spaghetti Pomodoro and a veal parpadelle.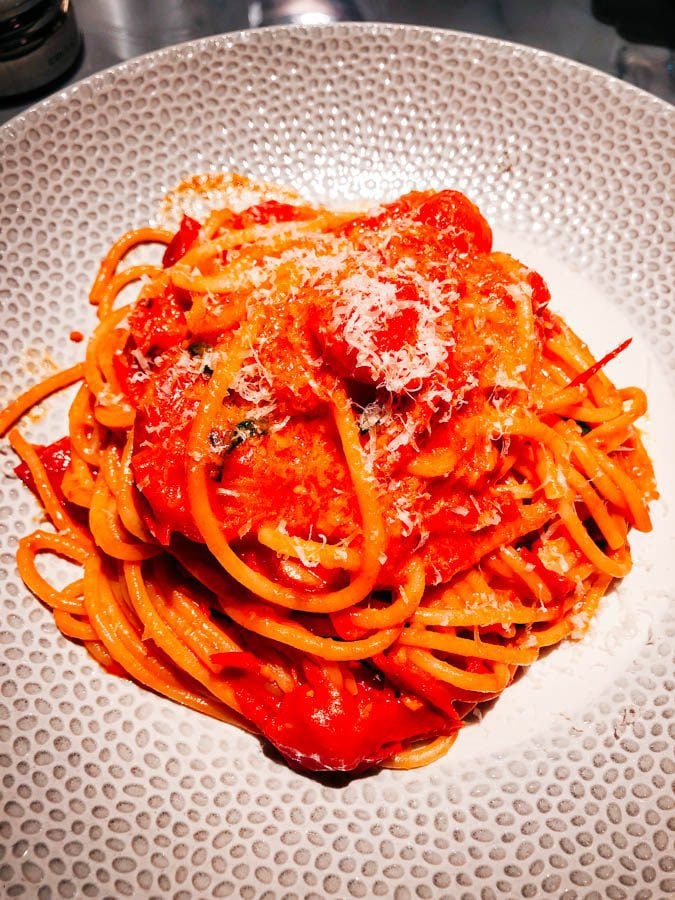 Fortnum and Mason is a smaller scale department store, well known for their selection of fine foods including tea; one entire floor of the store is just tea!
They also had a floor for Christmas decor and it was so magical! This visit to London definitely ignited my Christmas spirit.
Afternoon Tea
What is a visit to London without experiencing an afternoon tea? This was probably my top must-do thing for this trip and the only thing I regret about it is that I only did it once, I should have done this at least once a day during my stay.
There are tea salons everywhere in London. Every hotel, cafe, some restaurants offer afternoon tea. Typically between 2 pm and 6 pm and often require advanced reservation.
We were lucky enough to find same-day reservations at Sketch, one of London's hot spots for afternoon tea.
We decide to do the Champagne (I ordered rose) menu and it was so much fun! You have probably seen a lot of pictures of Sketch on the internet, their distinctive pink velvet chairs or their egg-shaped restrooms (toilette in London) might be familiar.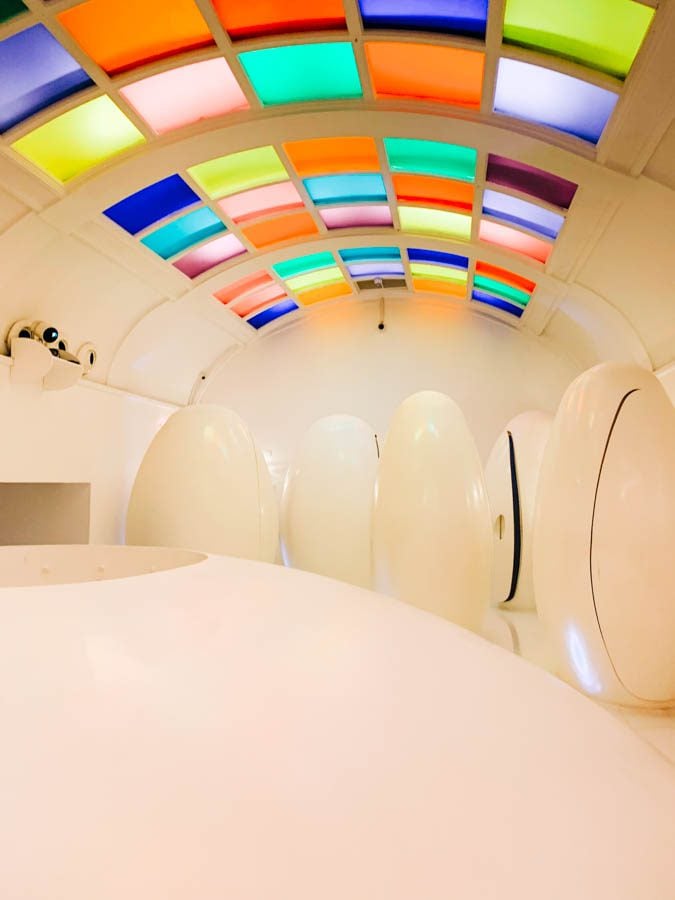 The experience starts with a glass of rosé and a cheese and egg bite topped with caviar. Super cute, tasty and pricey! If you want seconds, there is a £30 upcharge.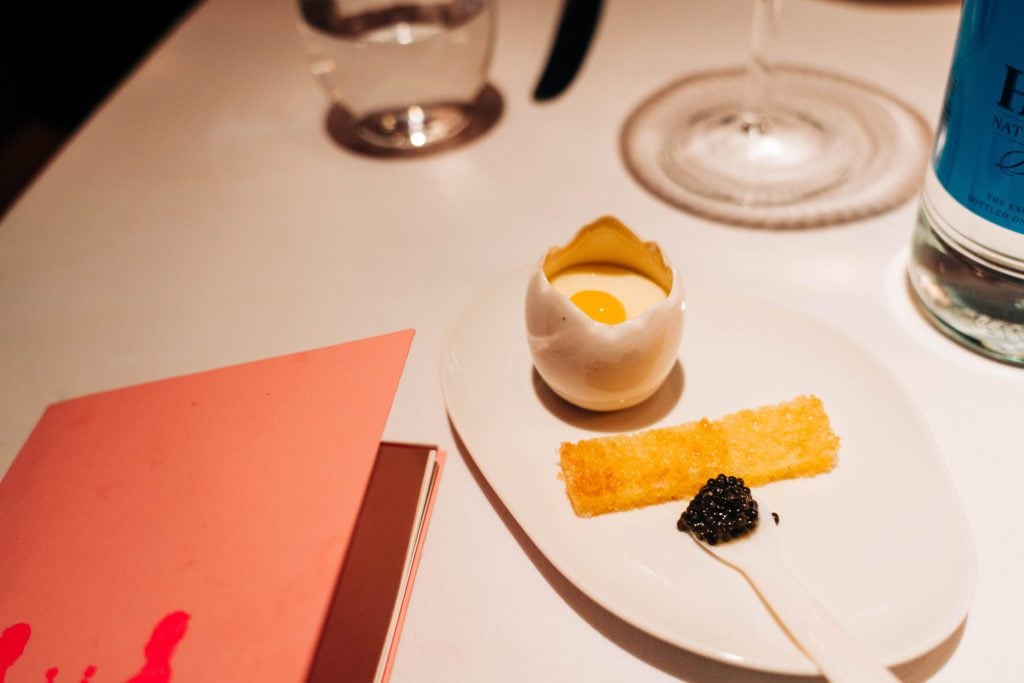 Then we moved to our finger sandwiches and pastries tray. You can order as many of these as you wish and you get unlimited refills on your tea of choice.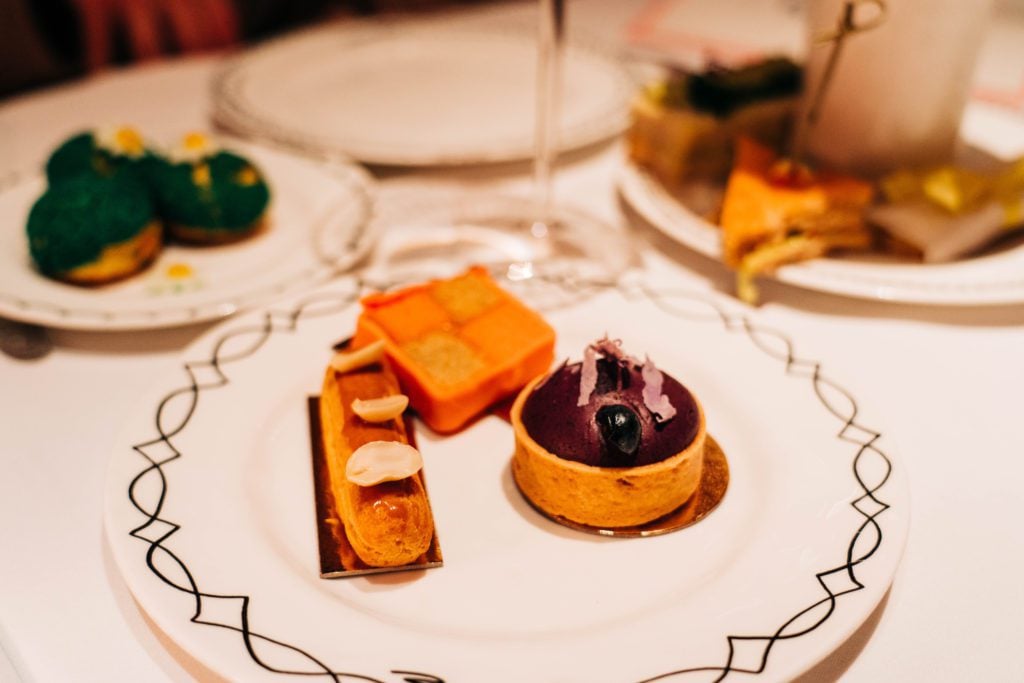 Then they bring a serving of biscuits (not so great) with clotted cream and jams. By this time we were really full and had to get our last course, the pound cake (amazing!), to go.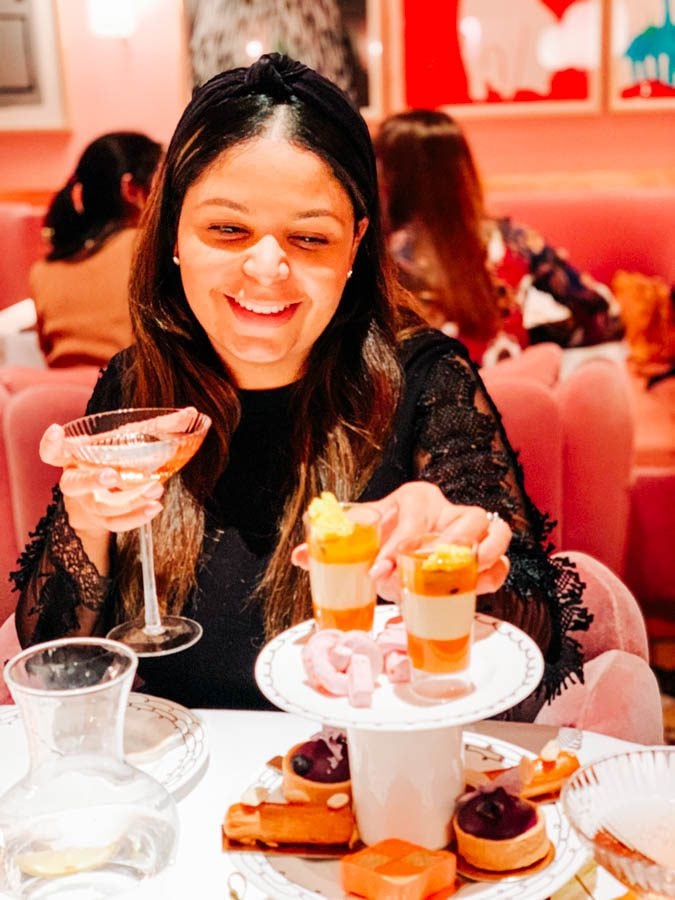 Day trip to Windsor Castle
Day trips are a great idea if you want to experience the London countryside. There are plenty of nearby towns with easy access by train within a travel time of fewer than 2 hours.
The town of Windsor was just a quick 45-minute ride from Paddington station. The train ticket round trip was around £20.
We got there around 10 am just in time to beat a big crowd of tourists. Took pictures from outside the massive castle and strolled away through the Windsor Garden park to then headed downtown for some shopping and lunch.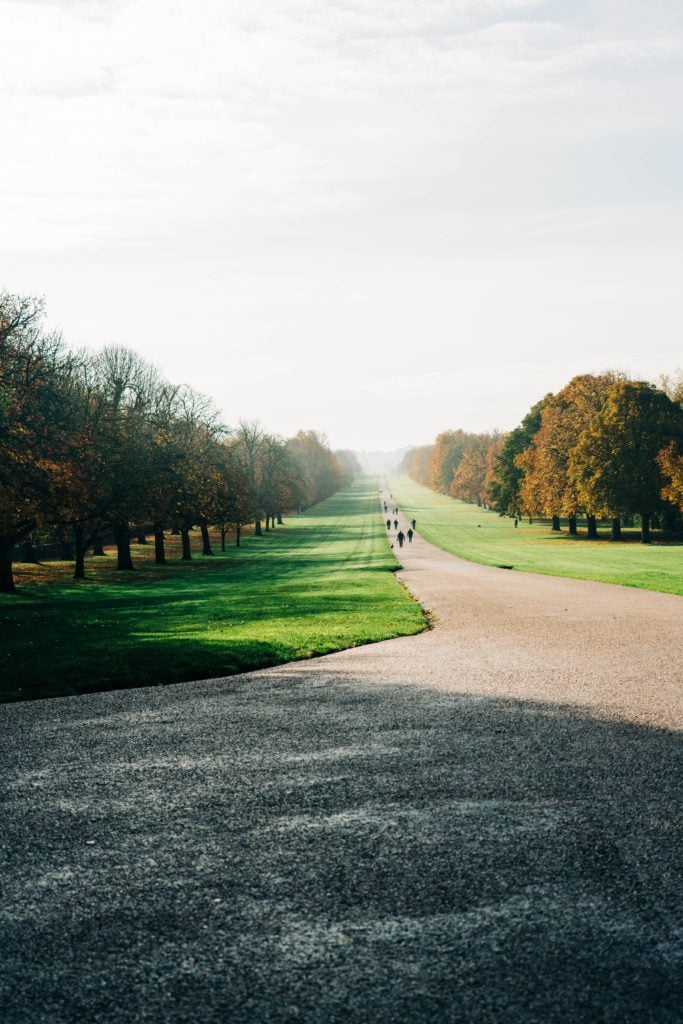 You can book a tour of the castle and Saint George's chapel (where Harry and Megan got married) for £25. But I skipped it this time.
For lunch, we stopped at a cafe called Madame Posh. A little French lunch and tea spot in Windsor. We had some biscuits (these were delicious!) with clotted cream and passion fruit curd (sooooo good!) and I also ordered the creme brûlée with guava ice cream which was delightful.
Next Trip to London
I truly can't wait to go back to London. There were so many things that we didn't visit, lots of restaurants, cafes, markets and museums we would love to try. Here is a list of the things that I would include in my travel plans for next time:
Trip to Costwolds (renting a cottage would be ideal!) but a day trip would do.
Day trip to Bath
Going up the London Eye
Westminster Abbey
Tour of Windsor Castle
Eat a Sunday Roast
Afternoon tea at Wolseley Hotel, Harrods and Fortnum & Mason
Visit the museum of History (free entrance!)
Visit Shakespeare theatre and watch a play (sold out)
Camden Market
Brick Lane
Notting Hill (I know! Did I even go to London?)
Eat fish and chips! I know, I know! How did I skip this? Well, after eating so much fish in Alaska and having a freezer chock full of fish, this was the very last thing I wanted to eat.
Watch a soccer match. This one is not at the top of my list. I'd rather watch a match in Spain or Italy but if you are into soccer this must be a good pastime.