Stepping into Maple and Ash is a bit like stepping into a Gatsby scene with lush decor and a candlelight ambiance that sets the tone for an unforgettable dining experience.
Originally from Chicago, this restaurant landed in Scottsdale last year and quickly became the top luxury dinning experience in town.
Drinks
Their cocktail menu offers a variety of spirits crafted in chic way. Their cocktails quickly transported me to our last visit to London and their amazing drinks.
I ordered a drink off the menu, don't be shy to ask if you don't see something that immediately calls your name. I told them I wanted something fruity and light with rum in it.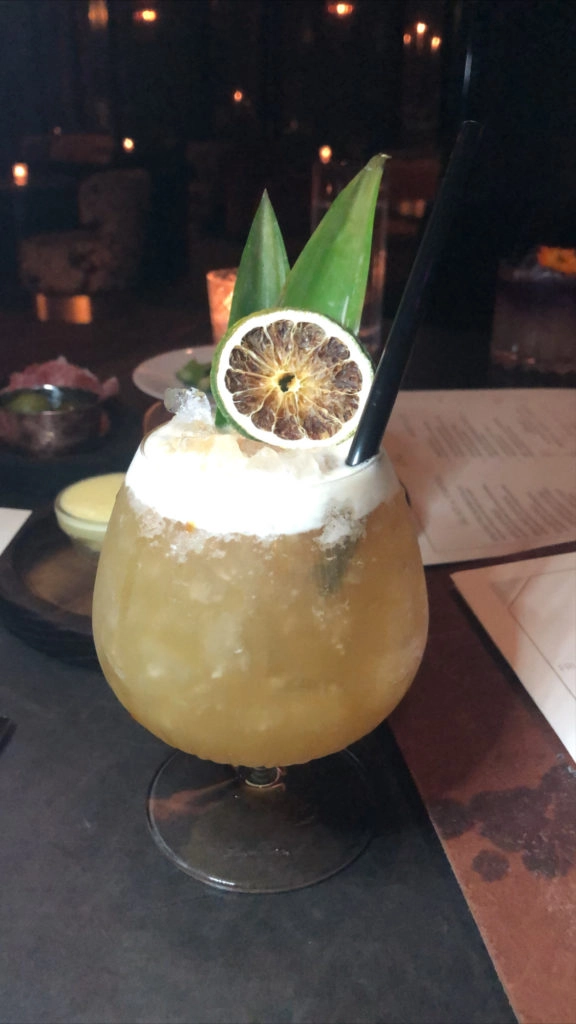 My friend ordered their "Admired from Afar" cocktail which is a concoction made with vodka, honey, and orange blossom honey. Delicious and almost too pretty to drink.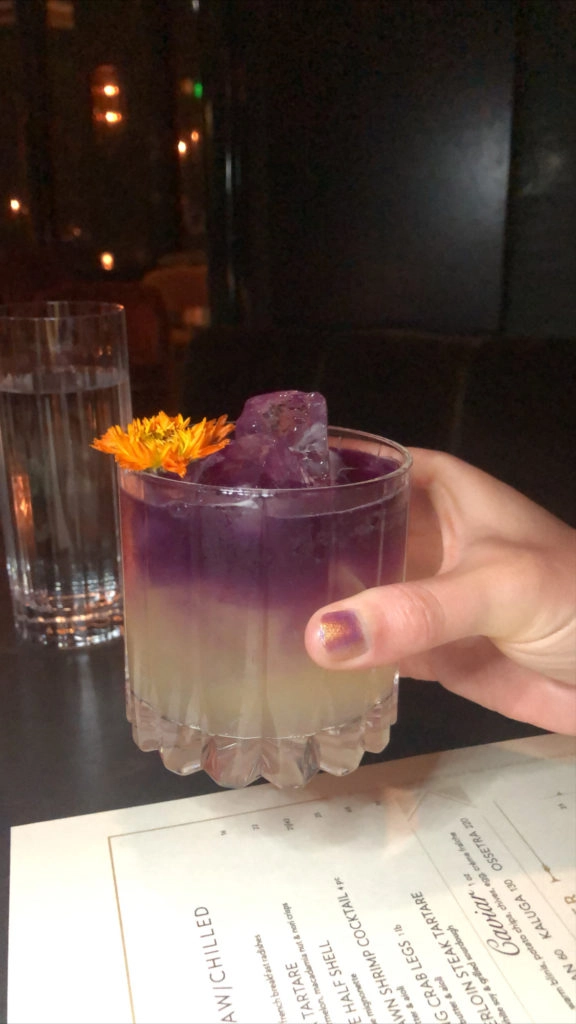 Oyster Happy Hour
On Mondays, Tuesdays and Wednesdays from 5 pm to 6:30 pm, Maple and Ash offers $2 Oysters at the bar and lounge.
You can choose between raw or fire roasted oysters, you can add caviar for $5 and they have $10 bubbly wines and cocktails.
Dining Experience
No matter what kind of dining experience you choose, you can rest assured you are in for a treat.
You can craft your experience from their extensive a la carte menu that features a variety of seafood both raw and cooked, steak, lamb and chicken. There is something for everyone.
There is also plenty of delicious side dishes including homemade pastas, vegetables and potatoes to accompany your main dish.
Or you can experience Maple and Ash their way with the "I.D.G.A.F" menu where you let them take care of your meal choices from beginning to end.
We have done it both ways and there is no wrong way to go. I loved the I.D.G.A.F. because it included dishes that I would not normally order but that were exquisite, so it was a great opportunity to discover new foods to love.
Service
The service at Maple and Ash is top-notch. Our server Robert was very knowledgable about the menu and made sure we had everything we needed at all times. He even made me a special welcome berry mocktail that was delicious.
The I.D.G.A.F experience
When you order this option on their menu, be prepared for a lush experience. At $175 per person, rest assured that food is plentiful and absolutely delicious.
We started with the bread service that includes a loaf of sourdough and soft butter, olives (best tasting olives ever), Italian sopressata and pickled veggies. As good as this is, don't get too full, this is just the beggining.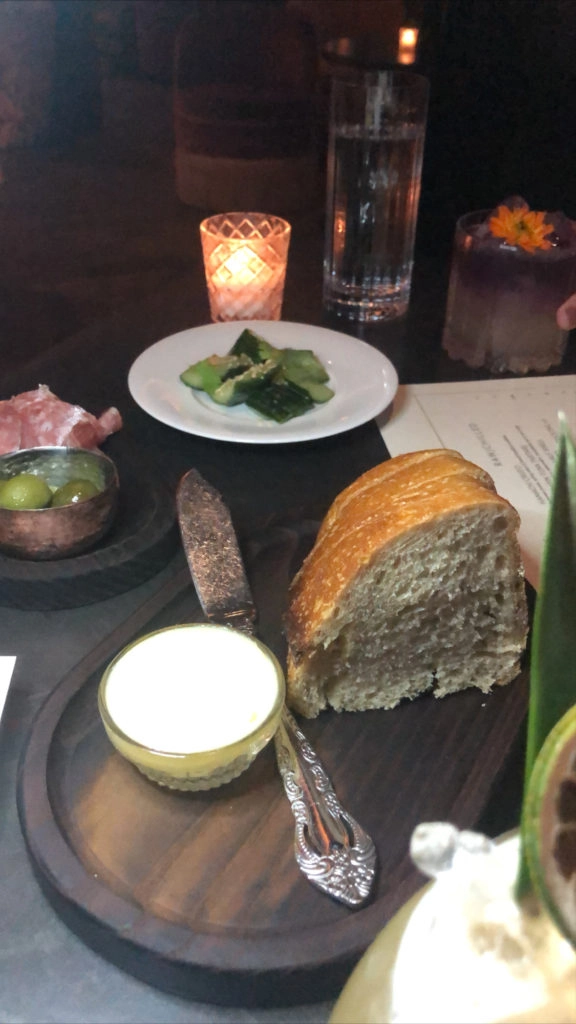 Next is the seafood tower. Whether you are doing an a la carte dining experience or the I.D.G.A.F, I highly recommend you order this. It's one of their signature dishes and you will want to come back just to have the seafood tower.
A selection of oysters, scallops, Alaskan King Crab, clams, and Blue prawns perfectly roasted in garlic butter and chili oil. Once you finish, a serving of fresh pasta is dumped in the wok to absorb the seafood flavors. It is absolutely phenomenal and a step not to be skipped.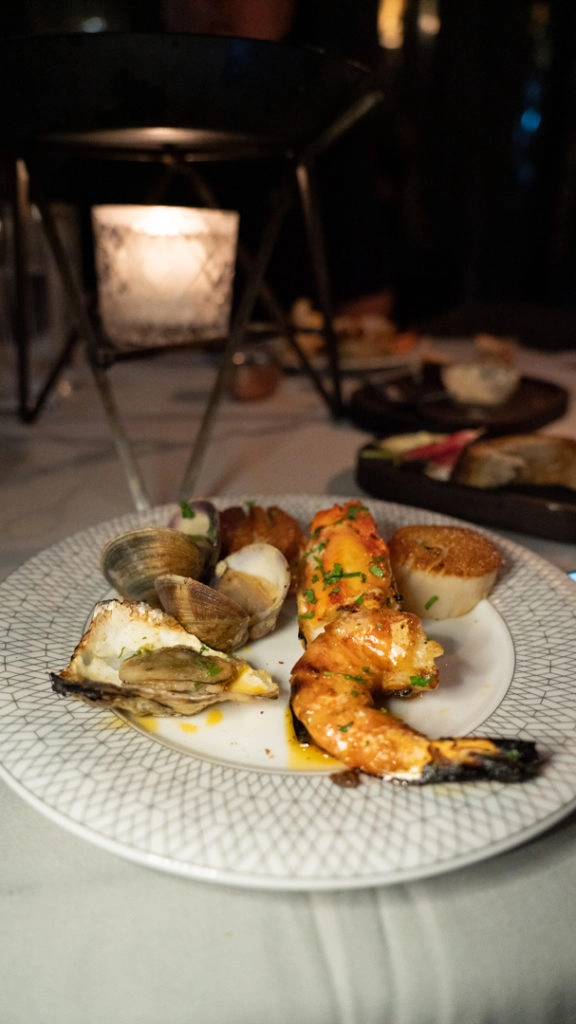 Next up is a refreshing salad and the most delightful Hamachi crudo. My husband is not big on raw seafood and he loved this yellow tuna marinated in ponzu. Absolutely delicious.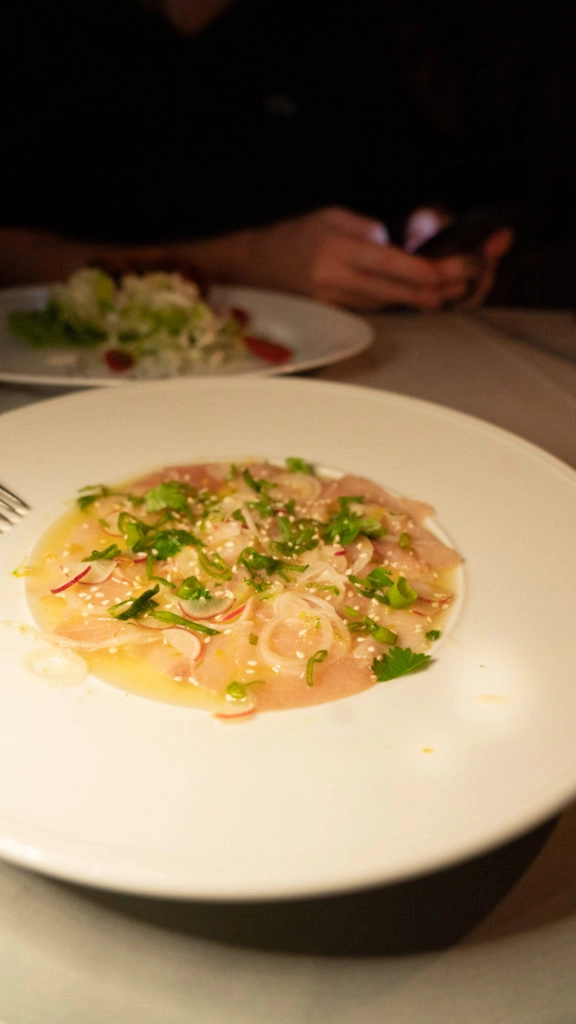 At this point we were getting pretty full and we still had our shared main course and fixings coming.
We shared a classic ribeye cooked to perfection, grilled asparagus with garlic aioli and marcona almonds, King Crab mac and cheese, the signature ricotta agnolotti (my absolute favorite) and the whipped butter potatoes.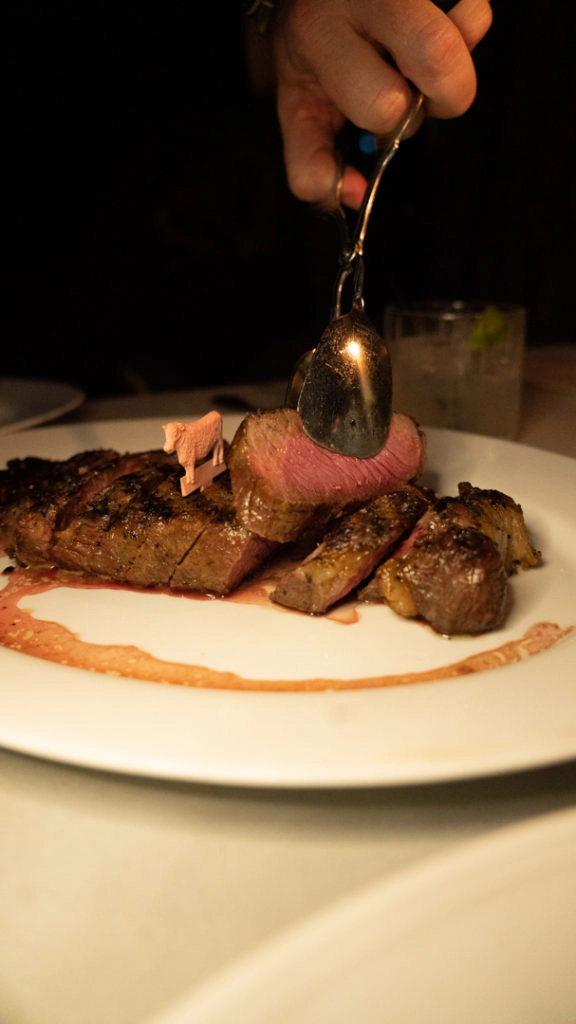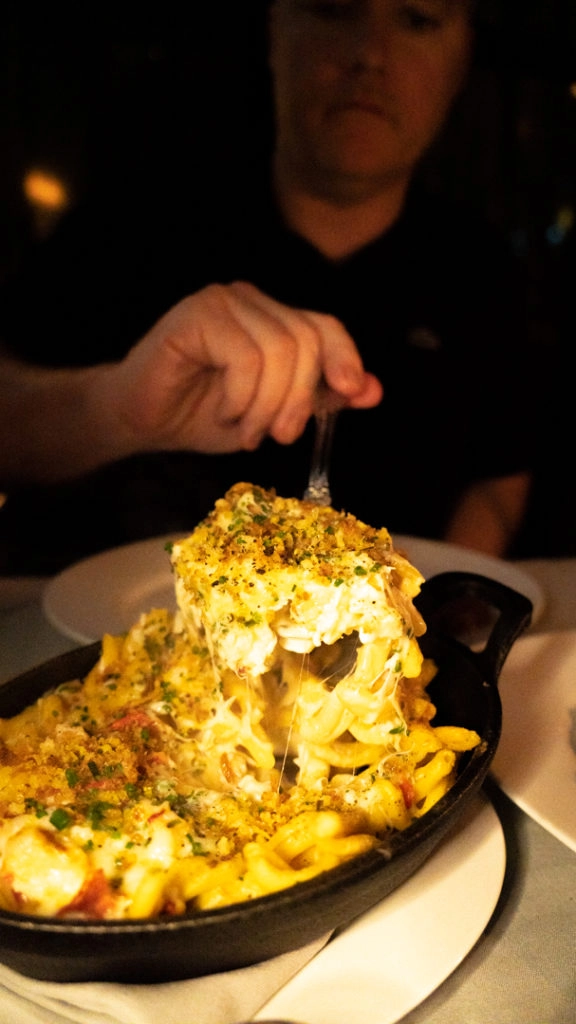 We ate plenty and had lots of leftovers for lunch the next day which were just as amazing as the night before.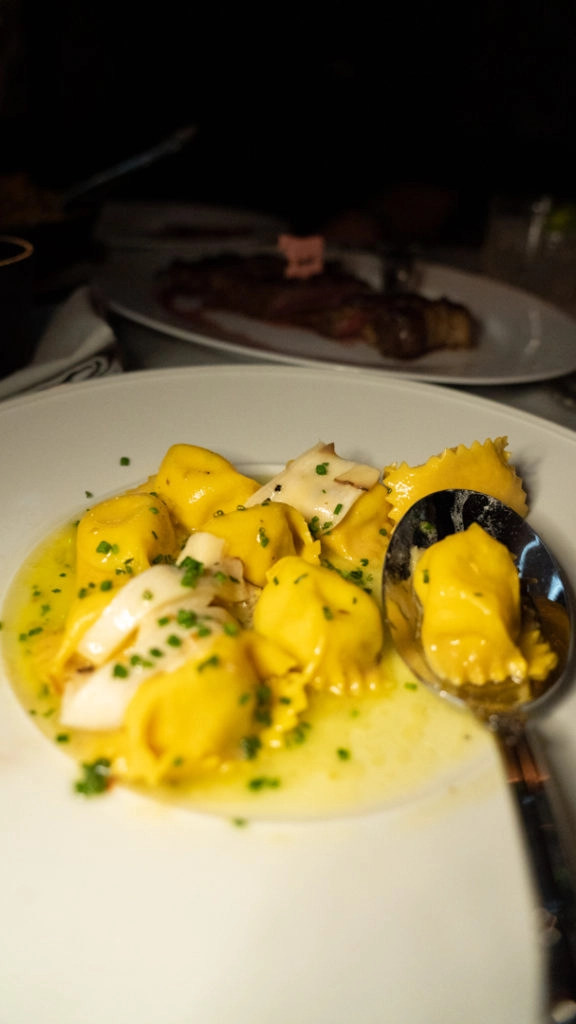 Last but not least, we had their Sundae Service for dessert which includes a classic vanilla, strawberry and chocolate sundae with a beautiful tray of toppings to choose from including hot fudge, whipped cream, seasonal fruits and cherries.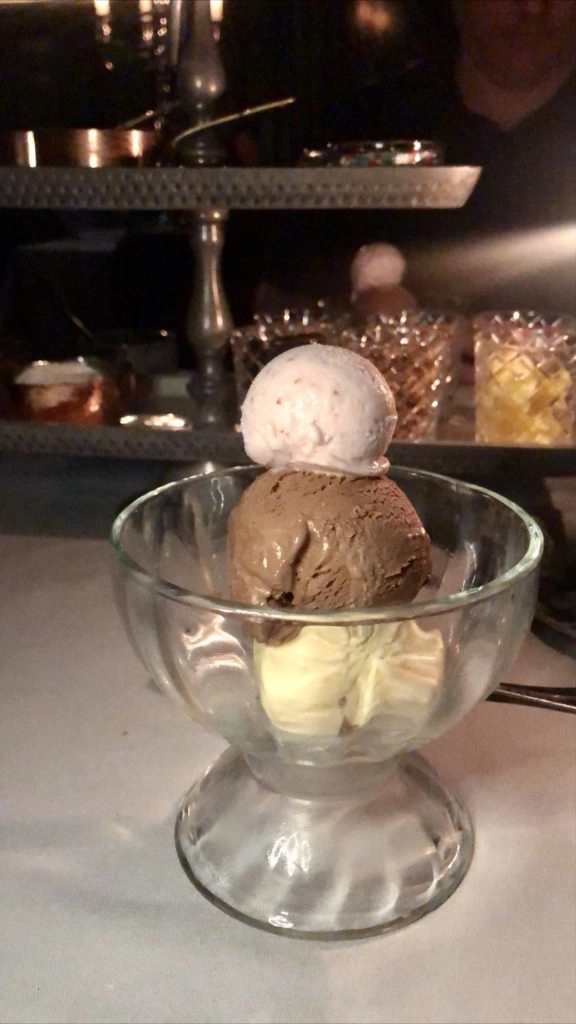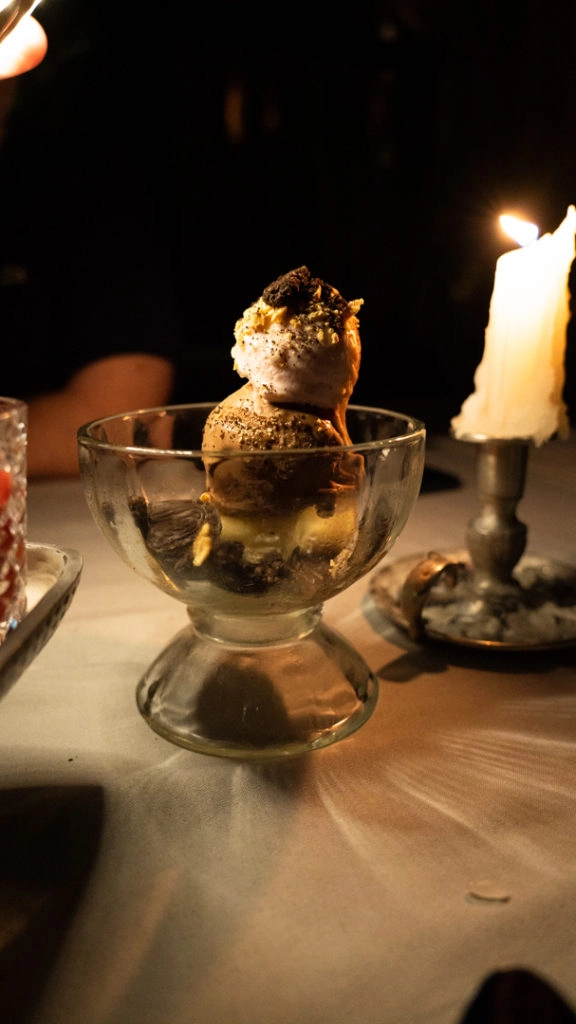 Thank you Maple and Ash for hosting us for dinner. We can't wait to be back very soon.