This Smoked Salmon Dip is easy to make and chockfull of flavor and texture. Adding Everything But the Bagel seasoning amps up the flavor and will make this your new favorite dip.
Salmon is one of my favorite fish to cook. It has a great amount of protein and healthy fats and I try to incorporate it in my diet as much as I can.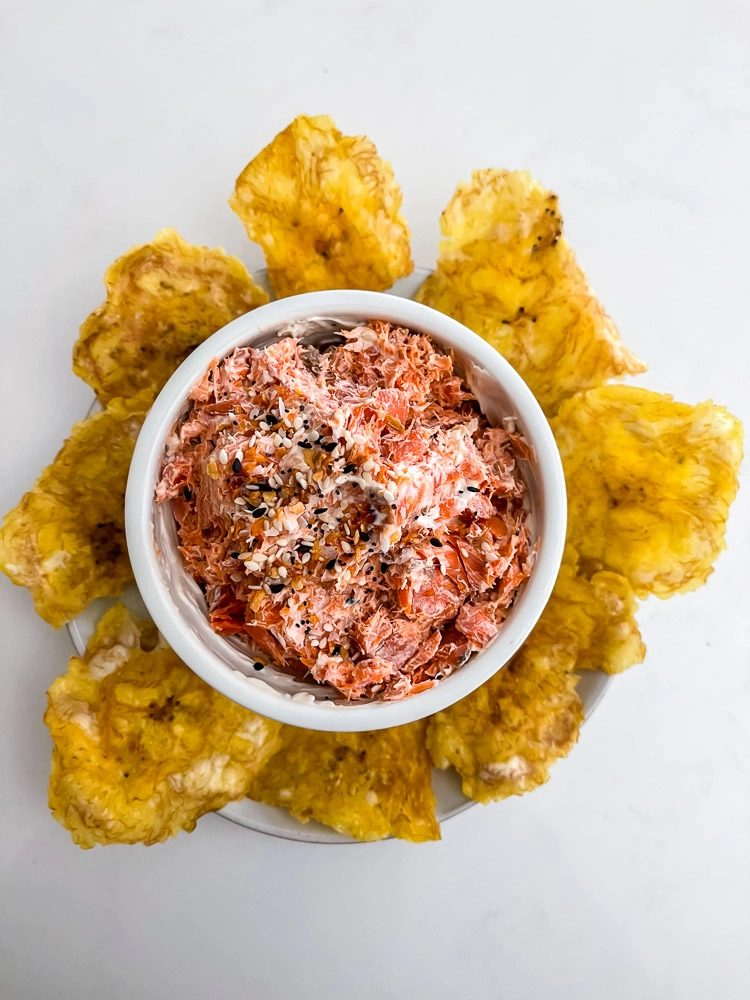 This dip is better when served cold although you could make it warm and it will still be great. This is the perfect party appetizer because it's super easy to make and it pairs well with anything from veggies to crackers and bread.
What is Everything But the Bagel Seasoning?
This super popular seasoning is a blend of sesame seeds (black and white), minced garlic, onion, poppy seeds and sea salt. It became really popular when Trader Joe's launched it but there are multiple brands available in the market and you can definitely make your own.
This seasoning goes great on Avocado Toast, eggs, grilled veggies, chicken and even pop corn! It's a very versatile seasoning that can be added to pretty much anything.
For some people, this seasoning can be quite salty, so I use a moderate amount in this recipe specially if your salmon has been brined in salt.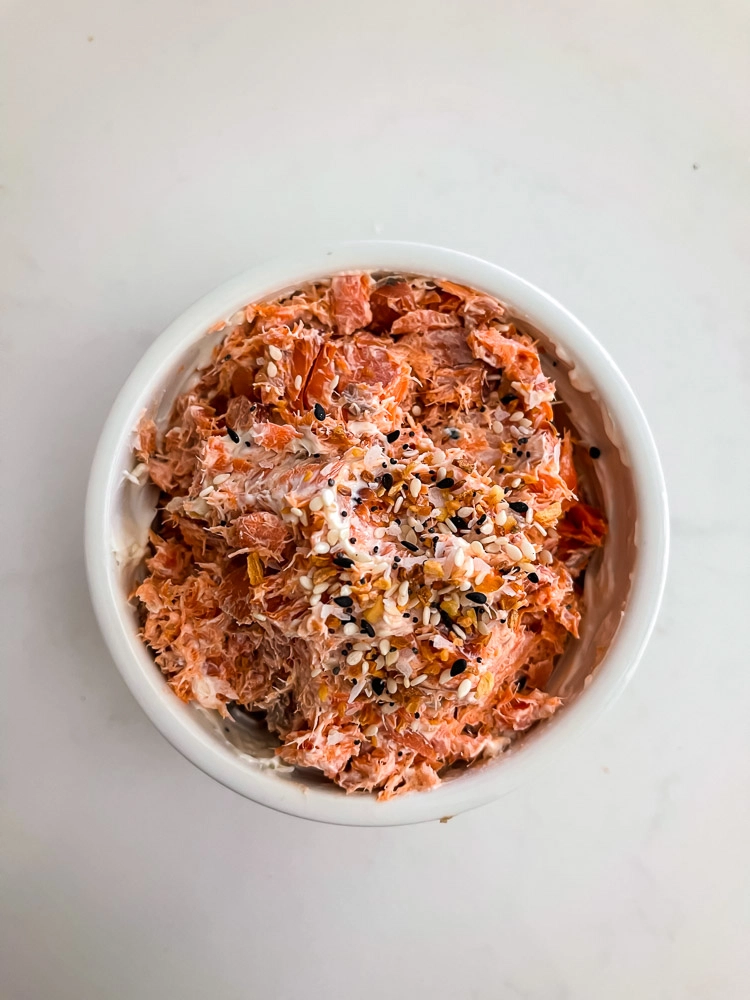 What kind of salmon is best for this dip?
This dip uses hot smoked salmon. We have fresh salmon that we got from Alaska during our last fishing trip and we smoked it in a Traegger smoker. The salmon was brined in homemade family recipe brine and then smoked.
It is best to use a hot smoked salmon instead of a cold smoked (lox). The cold smoked salmon is cured in a salty brine that draws out the moisture, however it is not cooked or cooked at a very low temperature (below 90°F) so the salmon has a texture that resembles the raw salmon meat.
Hot Smoked Salmon is cured in a brine and then smoked at 120 degrees Fahrenheit or higher. The meat is flaky, resembling regular cooked salmon but the flavor is incredibly deep and smoked.
If you don't have smoked salmon, you can used canned salmon and add a few teaspoons of liquid smoke to this recipe to add that smoked flavor to the dip.
Best foods to eat with smoked salmon dip
There are many possibilities as to what to eat with your dip. The most obvious is saltine crackers, can't ever go wrong this those but there are a few more delicious options and you could include them all when serving your dip.
Ritz Crackers: These add a touch of sweetness to your dip.
Veggies: Celery sticks and carrots are great, also julienne peppers or sliced cucumbers.
Plantain chips: These are great, crunchy, sweet and savory at the same time, gluten free and you can find them at the store or make your own at home.
Toasted bread: a good toasted baguette would be a great addition to this dip. Add some roasted garlic to the bread and you are set.
Parmesan crisps: These are perfect for a Keto/low carb option without missing out on the crunch and saltiness of chis. These are made with parmesan cheese and you can get them at any grocery store.
Smoked Salmon Dip with Everything But the Bagel Seasoning
An easy party appetizer that tastes amazing and it is quick to preprare
Ingredients
16

ounces

smoked salmon

about 2 cups shredded

1

cup

cream cheese

softened

2

teaspoons

Everything but the Bagel Seasoning
Instructions
Shred the smoked salmon fillet and make sure to remove any bones

Soften the cream cheese by microwaving 30 seconds

Add the soft cream cheese to the shredded smoked salmon and mix in the Everything but the Bagel Seasoning.

Serve with your favorite cracker or veggie