Hi Friends! With the cold weather in full swing, I wake up craving a warm bowl of apple cinnamon overnight oats. This is my favorite way to eat oatmeal.
To make them, I put my oats in water overnight, this assures that when cooked they are creamy, almost like a pudding.
Healthy Breakfast
Oats are regarded as one of the healthiest breakfast choices you can make. They are complex carbs that keep you full and energized for longer and for me they are the perfect pre-workout meal.
One Ingredient, multiple combinations
I love how I can create multiple flavor combinations with oatmeal. Some days I add chocolate powder and it makes for a decadent breakfast. Some days I love to add some protein powder for a more complete meal and the taste is fantastic.
You can add some greek yogurt and maple syrup for a creamier texture and top it with berries. This one is on repeat during summer.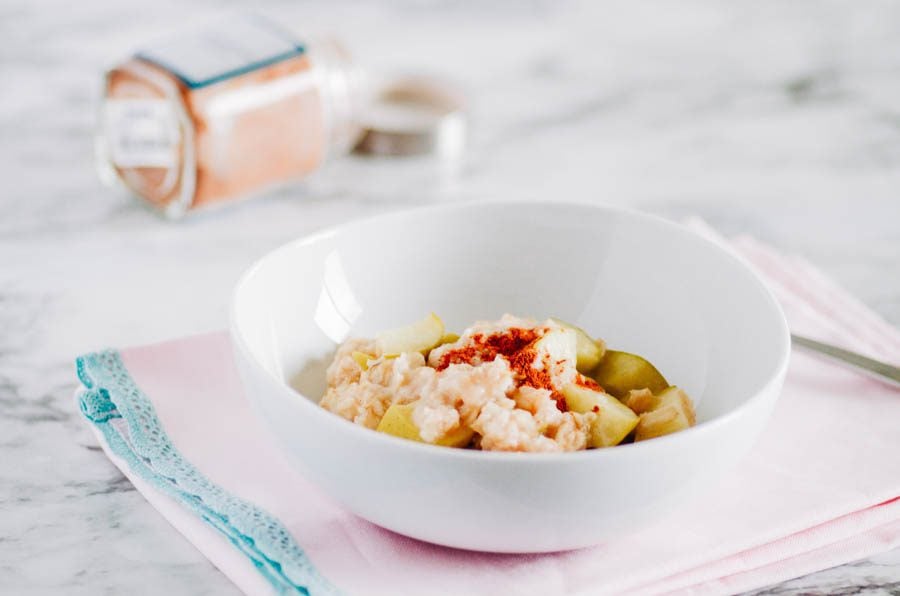 Apple Cinnamon Overnight Oats
A simple yet hearty and delicious breakfast.
Ingredients
¼

cup

Oatmeal

1

cup

Water

½

cup

Cashew Milk

Can substitute for any milk

½

teaspoon

Cinnamon

1

cup

Apple chunks

2

tablespoon

sweetener

I use Xylitol
Instructions
Put your oatmeal in a container with the water and put in the fridge overnight.

Cook the apples with the cinnamon and sweetener and reserve.

In a pot, cook the oatmeal with water for about 10 minutes. Once cooked, reduce the heat and add cinnamon and cashew milk

Serve with warm cinnamon apples
The best thing about this breakfast is that it can be made vegan by using plant-based milk. My favorite is cashew milk because it adds a lot of creaminess.
I also like to use a vegan coffee creamer to add flavor. My favorite is the toffee tidings. It adds a great caramel flavor and an even creamier texture to the oatmeal.
These oats can be made in advance. They reheat very well in the microwave or stove (just add more cashew milk) and they make the perfect on-the-go breakfast.
You can also freeze them in a ziplock or plastic container. Thaw them briefly and reheat. I personally love to make them in advance and reheat them as this makes the oats softer and makes creamier oatmeal.