Banana Bread is the easiest way to use overripe bananas. It's delicious, easy to make.
For this banana bread, I used Dominique Ansel's recipe. He is the creator of the cronut (donut+croissant).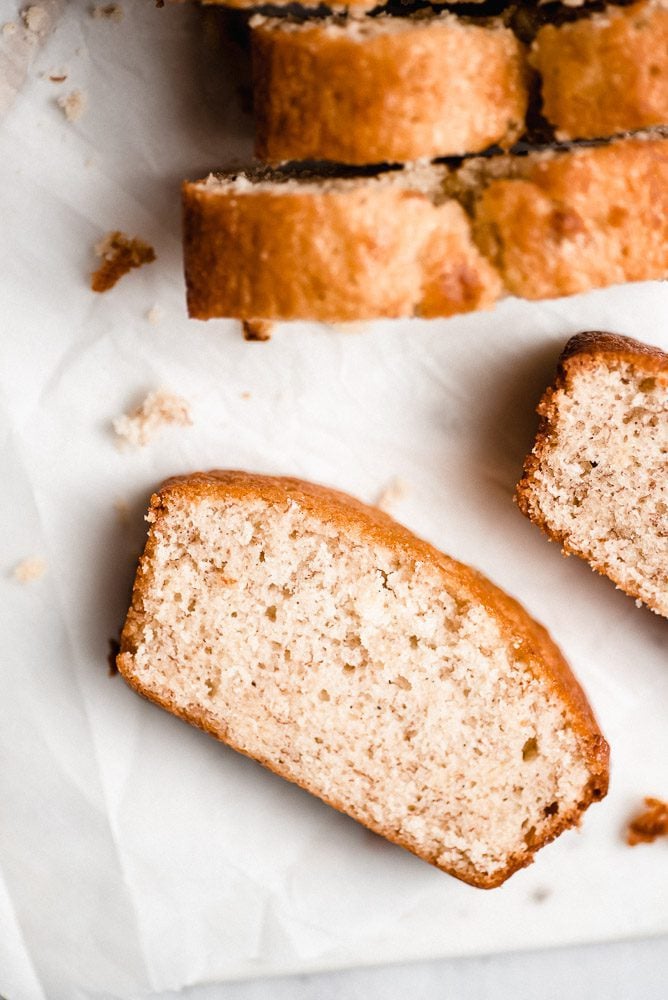 This particular recipe gives you a nice crumb, the bread is soft and the banana flavor comes in nicely without being too overpowering.
Banana Bread Ingredients
The ingredients are super simple. You probably have them in your pantry already and if you don't they are easy to find.
All purpose flour
Butter
Sugar
4 ripe bananas
3 eggs
Baking powder, baking soda
Salt
Nutmeg
This banana bread is not particularly moist and it has a cake-like texture. The butter in the bread gives the banana bread a nice golden brown finish and delicious crunchy edges.
How long do you bake banana bread for?
I bake my banana bread at 350 Fahrenheit for 1 hour. I always do a toothpick test (insert a toothpick and it should come clean) to know my banana bread is ready.
I also look for a golden brown top and that's when I will start doing the toothpick test.
How ripe should bananas be for banana bread?
Bananas should have plenty of brown spots to be perfect for banana bread.
The riper the bananas the better because the bread will retain more moisture and sweetness.
I personally don't like when the banana is totally black but that is personal preference. When it comes to banana bread there is not such a thing as too-ripe banana, however don't let it go completely black.
If your bananas are complete black, do a smell test; as long as there is no foul smell, use them in your banana bread. Also lookout for fruit flies or mold, if you don't see any, you are a good to go.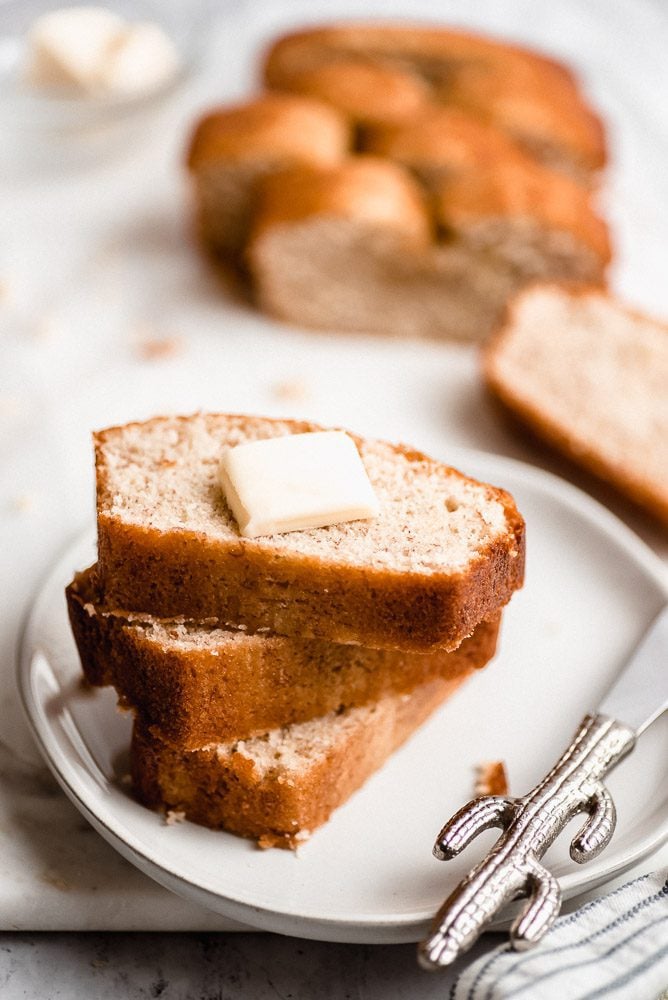 How can I quickly ripen bananas for banana bread?
The best trick to get your bananas to ripe faster is to leave them in the bunch together, do not separate the bunch into individual bananas.
You can also wrap the bunch in a paper bag or newspaper sheets, this will accelerate the ripening of the bananas.
Also, if you are at the supermarket and want to make banana bread that same day, look in the product section for the overripe discounted veggies and fruits, 9 out 10 times there are bananas. Double win for you for cheap and ripe bananas.
People also use the microwave and oven to soften up unripe bananas, however I have not tried that method yet.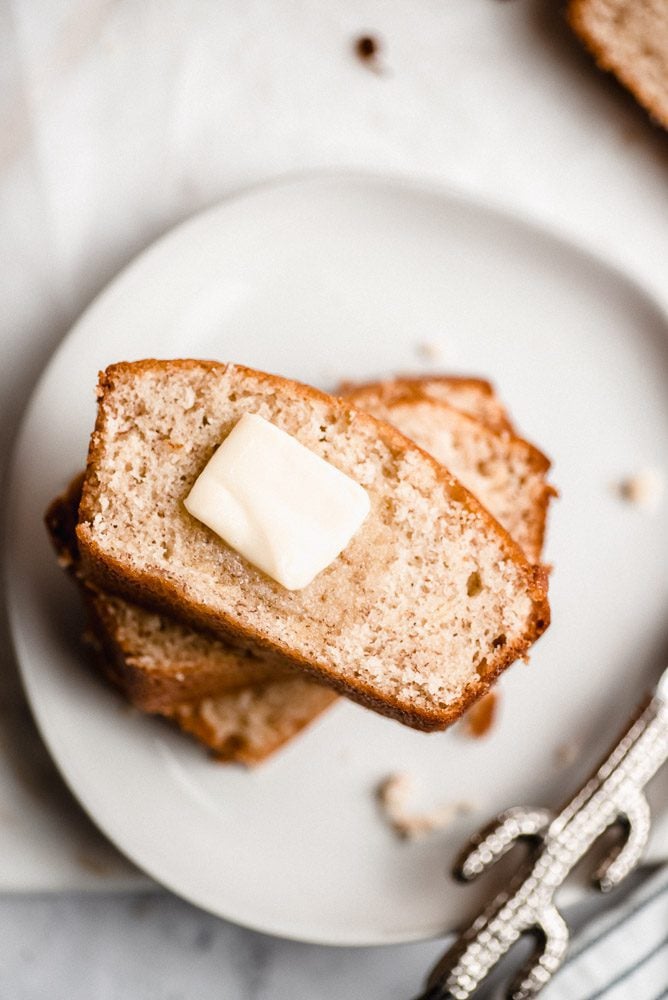 How long should banana bread cool before cutting?
I suggested waiting between 15-20 to cut your bread, that will allow it to be cool enough to get a nice slice but your bread will still be warm enough to enjoy right away.
Original recipe post here.
Classic Banana Bread Recipe
Ingredients
400

g

2 cups granulated sugar

250

g

2 cups plain flour (plus more for dusting)

3

g

¾ teaspoon baking soda

2

g

¾ teaspoon ground nutmeg

5

g

1 teaspoon salt

5

g

1 teaspoon baking powder

150

g

3 large eggs

400

g

2 cups, about 4 overripe bananas, peeled & mashed

200

g

14 tablespoon or 1 ¾ sticks unsalted butter, melted
Instructions
Preheat oven at 350°F (175°C)

Line the bread pan with parchment paper

In a bowl mix the mashed bananas, eggs and the dry ingredients until well incorporated

Stir in the melted butter until well combined

Pour in the mixture in the bread pan and bake for about 60 minutes until the top of the bread is golden brown

Do the toothpick test, insert a toothpick in the middle of the bread. If it comes out clean, the bread is ready.