This basic guacamole recipe is as simple and classic as it gets. You just need a handful of ingredients and this recipe is ready in minutes.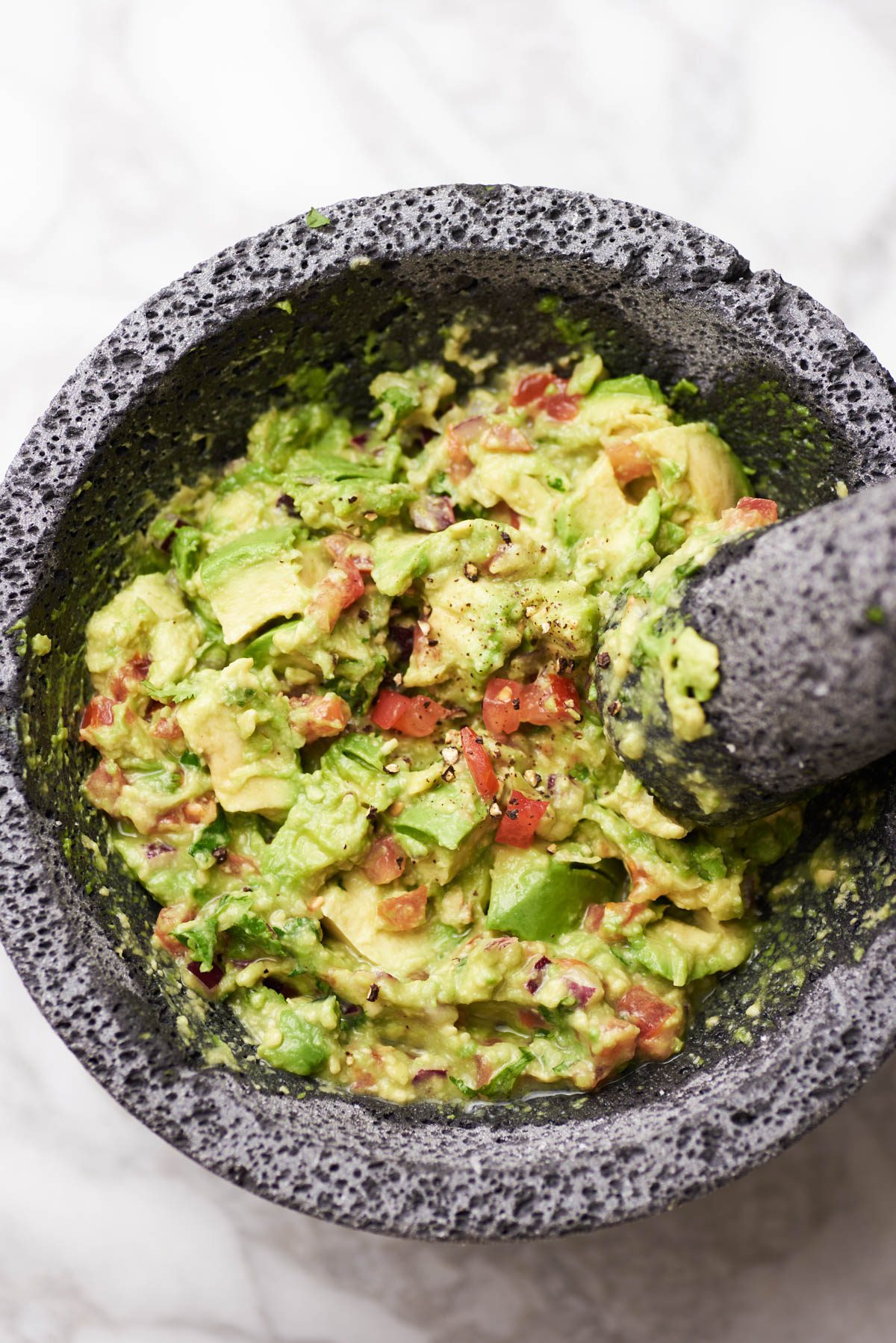 Why you will love this guacamole
This guacamole is perfectly balanced with perfect ratios of acid, texture and heat.
You can add or take ingredients and make this recipe your own. Guacamole is a highly customizable recipe.
You can control the amount of heat that you like in the recipe. Leave the jalapeños or Serrano peppers out if you don't want spicy guacamole.
Guacamole is a must for taco Tuesday, Football season and any Mexican-themed potluck. It is easy to make and affordable.
Basic guacamole ingredients
For this recipe you will need a few fresh ingredients.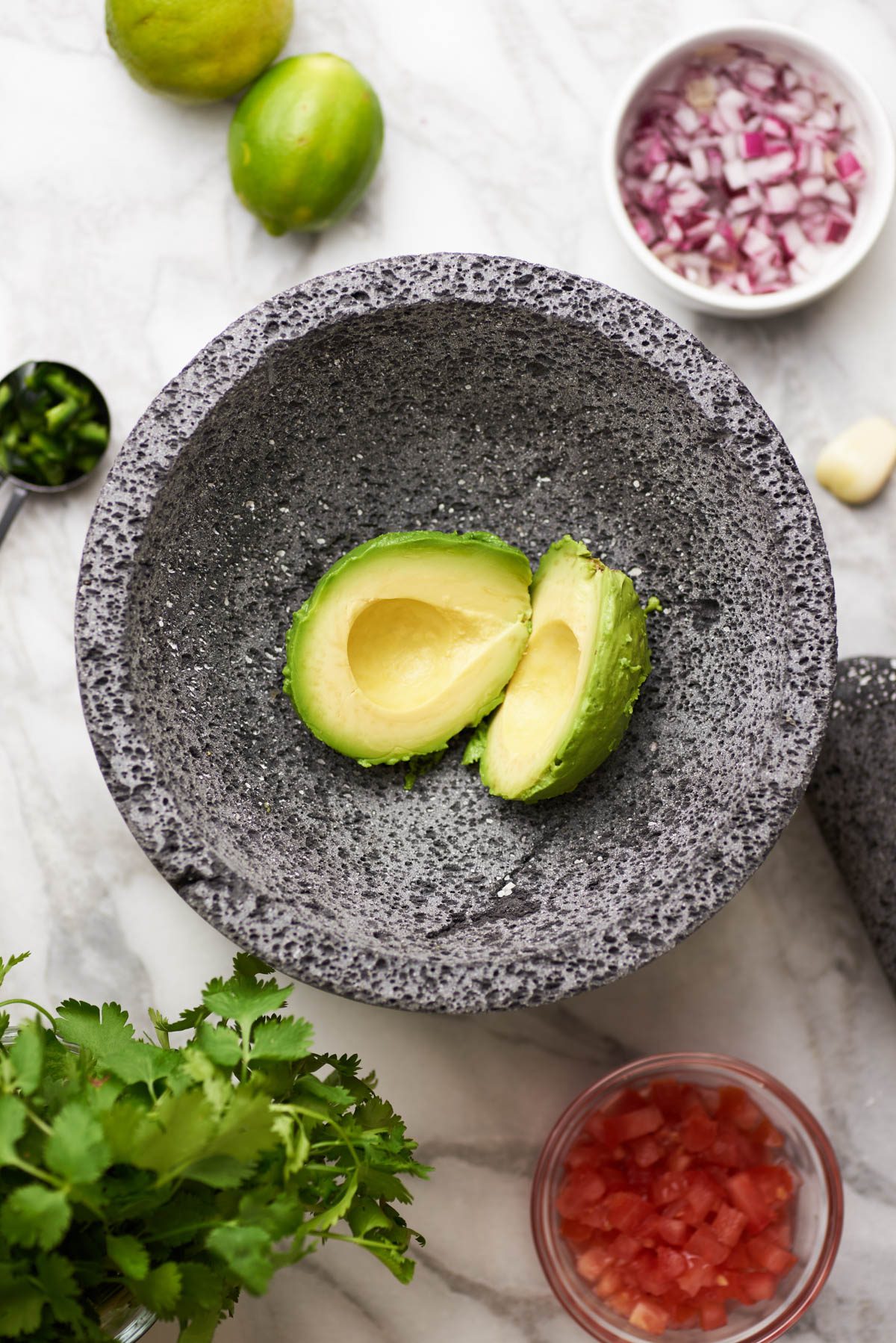 Avocados: The most common variety found at stores is Hass avocados. They should be firm to the touch but giving in a bit when you squeeze them.
Lime: Fresh cut lime is a must. Forget about bottled lime juice for this recipe.
Cilantro: Fresh cilantro is classic in guacamole.
Garlic: This ingredient adds a bit of heat without the need to use jalapeños or Serrano peppers.
Serrano/Jalapeno peppers: These are optional and add another layer of heat and texture to the recipe. If you like a mild guacamole leave them out.
Tips for making simple Guacamole
Start with good quality avocados that are perfectly ripe.
My best advice for picking the perfect avocado is planning ahead. Go to the store and select avocados that aren't ripe and leave them on your counter for a couple of days until they start to soften.
But I get it! You want Guacamole today and need to get the perfectly ripe avocado. Pick one that is soft and gives in a little when you squeeze it.
Don't pick an avocado that is too soft as they will have many browns spots and your guacamole will turn mushy.
If you have avocados that are not ripe and you want to speed up the process, wrap them in a paper bag and leave them on your counter. This will help soften them up.
Buy all the ingredients fresh and dice them yourself. The onion, tomato, cilantro and garlic are best when prepared when you are ready to mix your guacamole.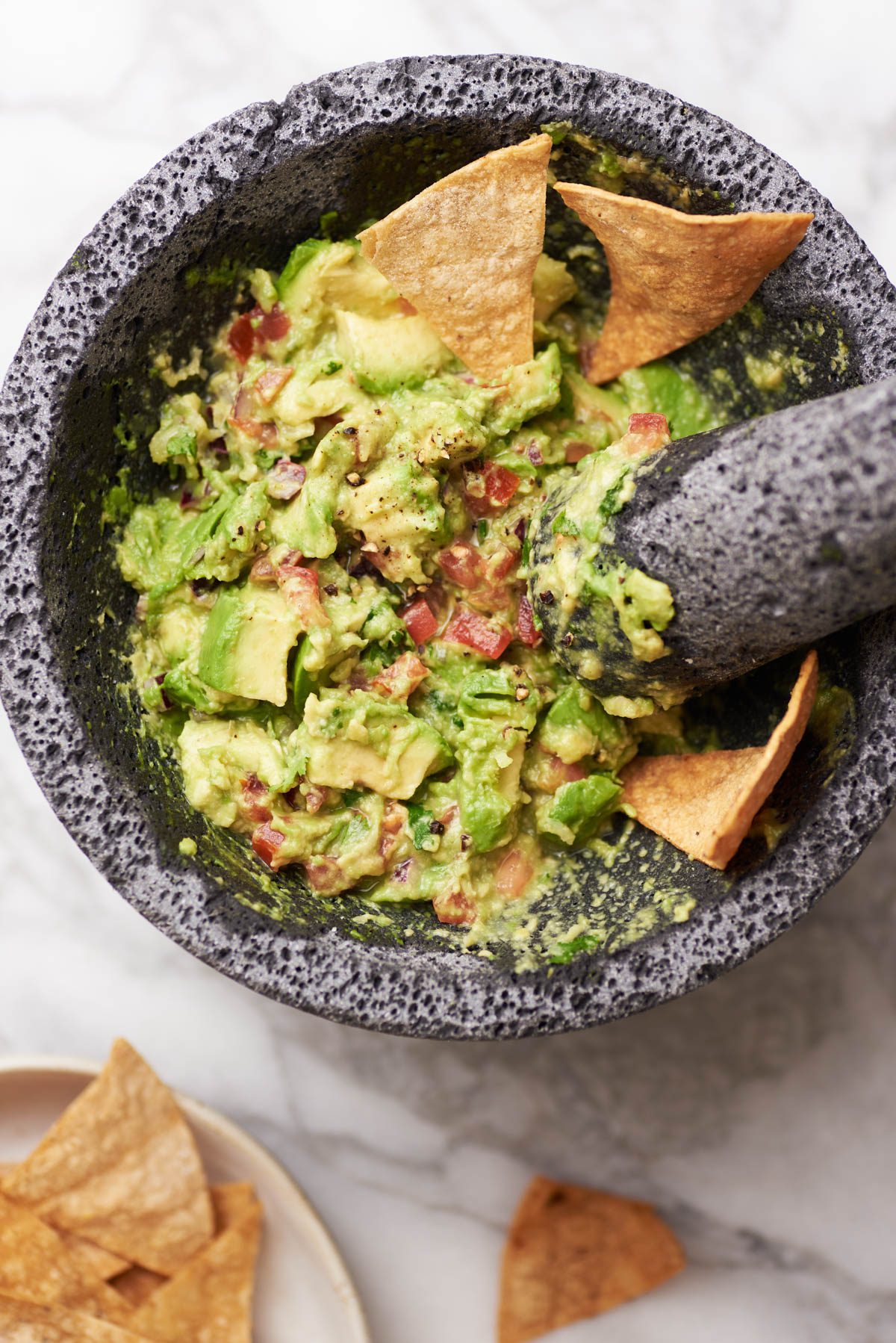 Step by step process
Start by dicing the red onion, jalapeños (use gloves) and the tomato and set aside.
Seed and peel the avocados and place them in a molcajete or a bowl.
Lightly mash them and add the onion, tomato, garlic and jalapeño pepper (if using).
Add the lime juice and start mashing the guacamole until you achieve a texture that is soft but there are still a few avocado pieces.
Season with salt to taste. I like to add a dash of freshly ground pepper.
Storage instructions
Guacamole is best when enjoyed fresh. If you need to make it ahead, use a container with an airtight lid to store it.
Add one of the avocado pits to the container to help keep the guacamole fresh and prevent browning.
Guacamole will last for up to 2 days in the fridge but you might have some browning happening.
To freshen up your guacamole, remove the layer that is brown, discard and then mix the guacamole with a splash of lime juice.
Guacamole can be frozen but the texture might be affected when thawed.
Bottom line, enjoy your guacamole fresh whenever possible.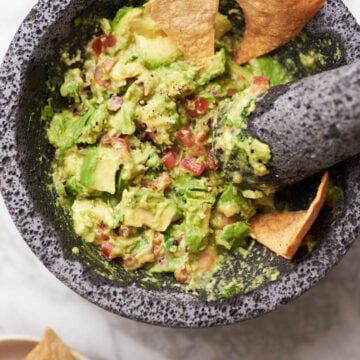 Basic Guacamole
This basic guacamole recipe is as simple and classic as it gets. You just need a handful of ingredients and this recipe is ready in minutes.
Ingredients
2

Avocados

ripe

¼

cup

Roma tomato

diced

¼

cup

Red onion

diced

1

tablespoon

Cilantro

chopped

1

Garlic clove

minced

1

Lime

Salt and pepper to taste
Instructions
In a bowl or a molcajete add the peeled and seed avocados.

Add the onion, tomato, garlic, lime juice, cilantro and jalapeños.

Start gently mashing the avocados until all ingredients are well incorporated but keep a little bit of the avocado texture.

Add salt and pepper to taste.

Serve immediately and enjoy with chips, toasted bread or crackers.
Nutrition
Calories:
174
kcal
Carbohydrates:
12
g
Protein:
2
g
Fat:
15
g
Saturated Fat:
2
g
Polyunsaturated Fat:
2
g
Monounsaturated Fat:
10
g
Sodium:
9
mg
Potassium:
558
mg
Fiber:
8
g
Sugar:
2
g
Vitamin A:
285
IU
Vitamin C:
18
mg
Calcium:
23
mg
Iron:
1
mg