Picadillo is a Latin American ground beef dish cooked and seasoned to perfection with spices and aromatic vegetables.
There are different versions of this recipe in every country and within each country ingredients vary from one region to the other.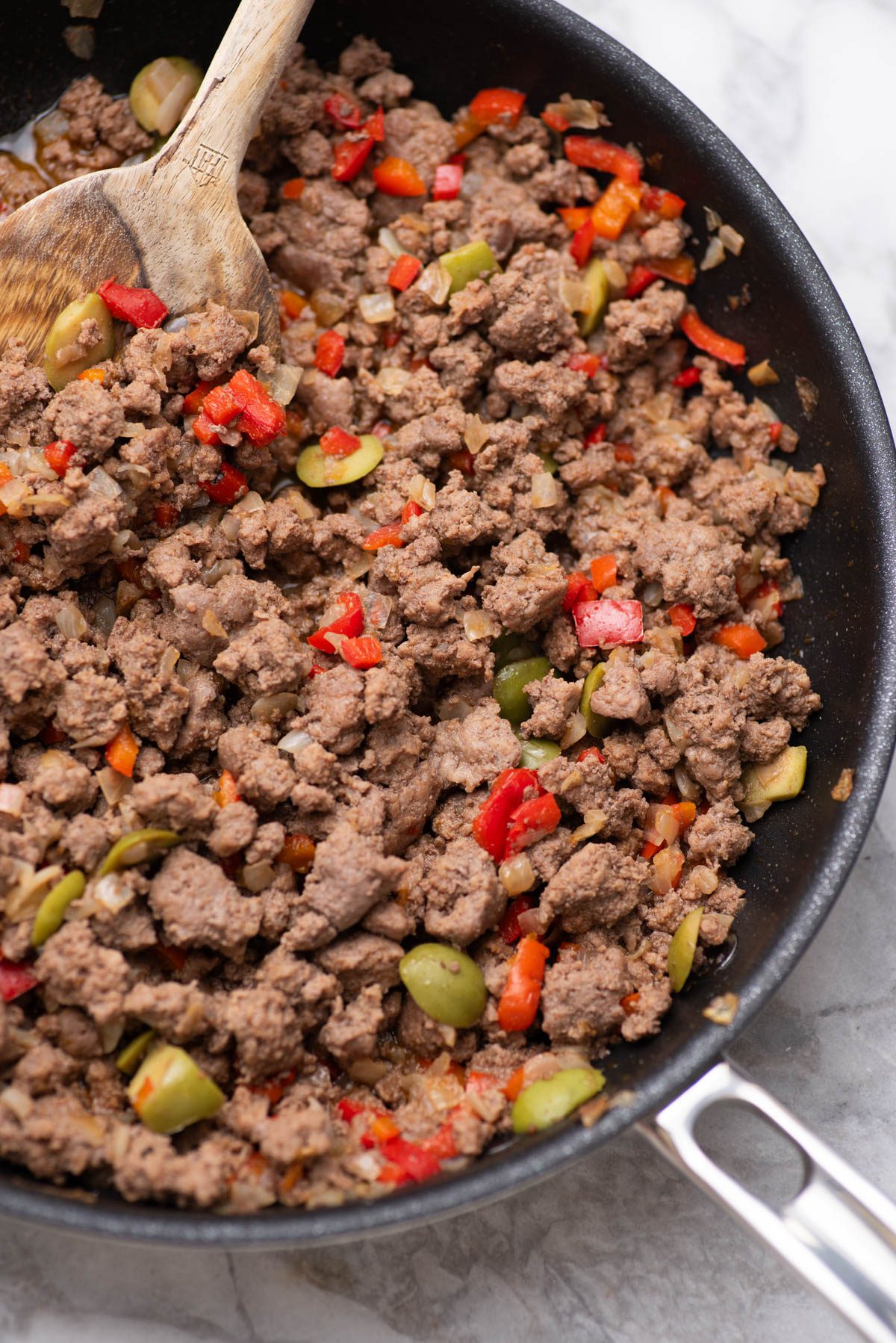 What is Picadillo
The literal translation of Picadillo is "minced meat". In Spanish "picar" means to mince.
Picadillo is simply ground beef seasoned with spices and aromatic vegetables like onion and red peppers.
Some Picadillos include potatoes, raisins and olives. This recipe is easy to customize and adapt to your taste.
I have a special place in my heart for this recipe because my dad used to cook this all the time. It was one of his favorite dishes.
Why you'll love this recipe
Picadillo is easy to make; 30 minutes is all you need so it's perfect for busy weeknights!
It's made with simple, every-day ingredients.
This recipe is so flavorful and you can spice it up as much or as little as you want.
Leftovers taste even better!
Freezer friendly.
Ingredients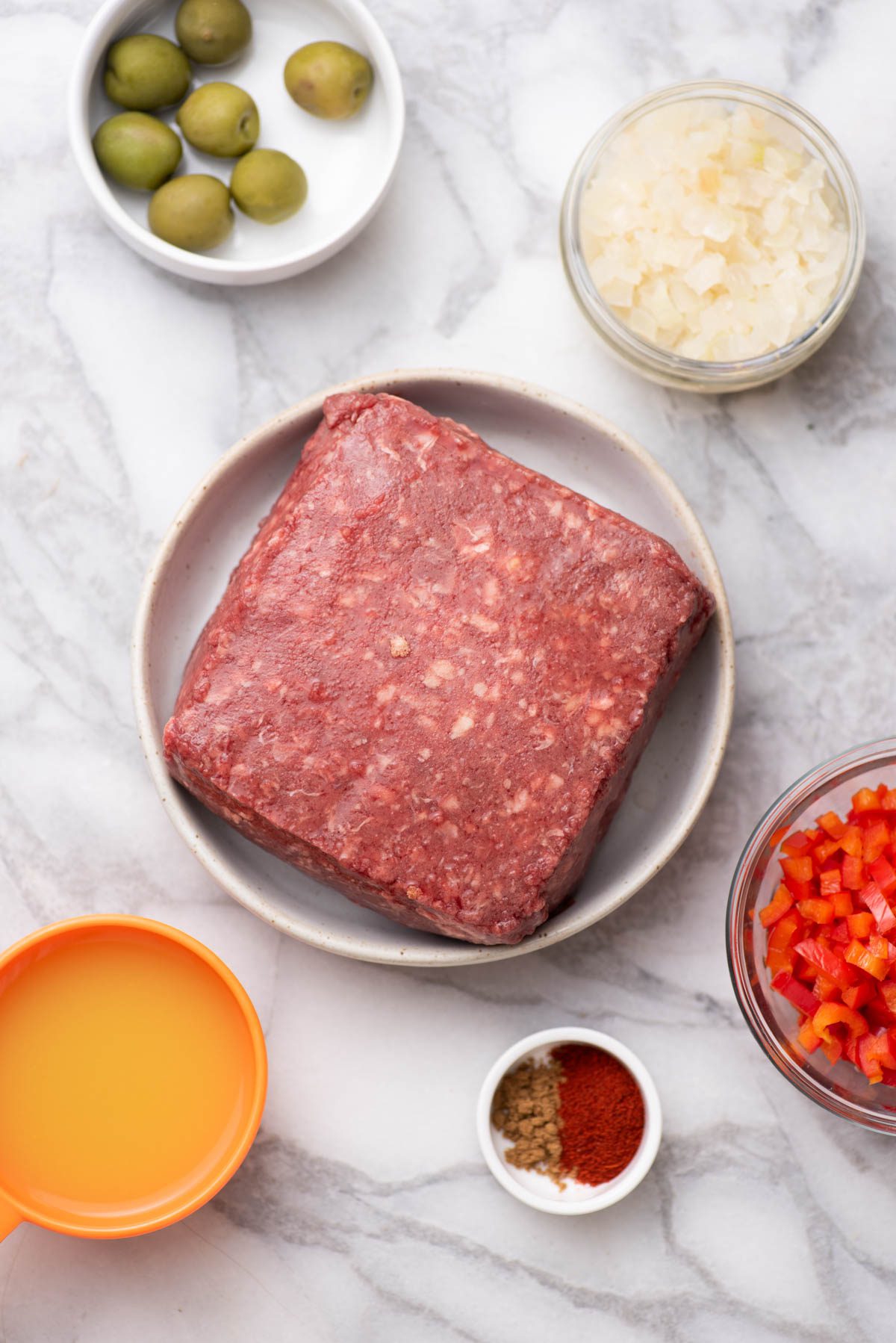 Ground meat: I like to use lean beef for this recipe but feel free to use any fat ratio you prefer. You could also substitute the ground beef for ground chicken or turkey as an alternative.
Onion: I like to use vidalia onions because of their mild and sweet taste.
Red bell peppers: With the onions, peppers are the base of the sofrito that gives Picadillo it's characteristic flavor.
Green olives: I like using Castelvestrano olives because they are milder than the Spanish olives.
Paprika: Helps adding color and a smokey flavor.
Cumin: Adds a layer of warmth and flavor to the beef.
Salt and pepper: To bring all the ingredients together and amplify the flavors.
Chicken/beef broth: Helps keep the meat moist and juicy.
Kitchen Tools
For this Picadillo recipe you don't need anything special.
A good non-stick frying pan is perfect for the job.
For the prep, I like to have small bowls that hold about ½ cup chopped vegetables to have everything ready and handy.
A meat chopper is a nice-to-have tool that makes the job easier. It breaks apart the ground beef into small chunks. It is easier than a wooden spoon.
How to make Picadillo
Making this ground beef dinner is fairly simple. All you need to do is have all your ingredients chopped and measured before you start cooking.
Start by adding the ground beef to a skillet. I like to use a meat chopper wand to break the beef into small chunks.
At this point I like to add salt and pepper and cook the beef over medium-high heat.
Then I add the onion and peppers and allow them to release their aroma and cook along with the beef.
I add the cumin and paprika as well to give more depth of flavor and color.
I let the beef cook until it is uniform in color and the vegetables are soft. The last thing I add is the chopped olives.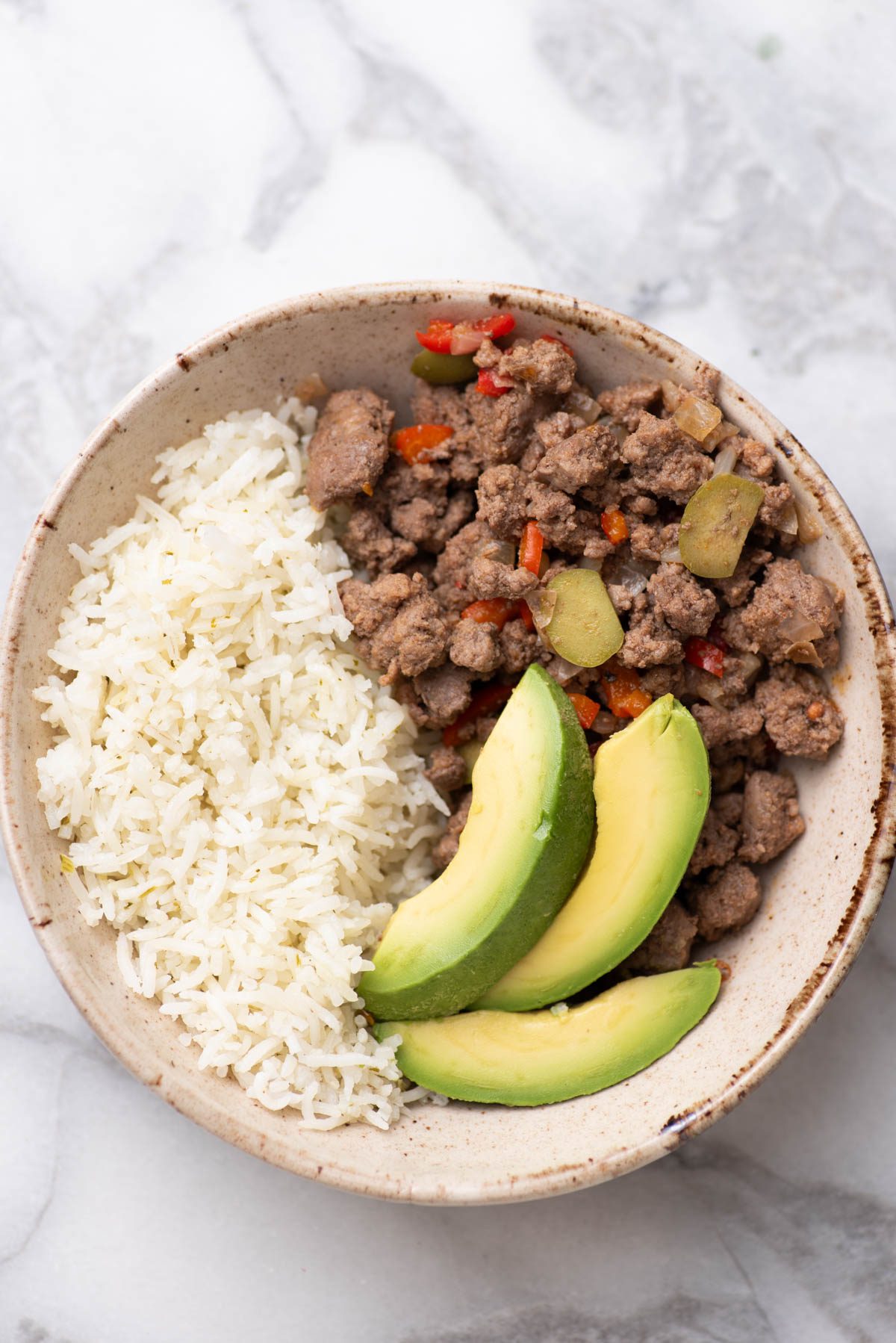 What to serve with Picadillo
The best part about about this easy ground beef recipe is that is so easy to serve and goes well with many other dishes.
In Latin America, we usually serve Picadillo over a pile of mashed potatoes, white rice and beans, fried sweet plantains or yucca frita.
Picadillo is also a great base for dishes like empanadas, Puerto Rican Pastelon and even tacos!
There are so many possibilities when it comes to serving Picadillo!
Expert tips
Picadillo is a great ground beef recipe that feeds a crowd.
You can stretch the beef by adding cooked dice potatoes and doubling down the onions and peppers.
I like to brown the beef with the salt, spices and veggies together so they all develop flavor as they cook.
Check your seasoning. As the beef simmers, check the salt level and correct the seasoning if needed.
My Picadillo is too salty! If you are using olives, you will need to account for the salt in them or rinse them before you add them to the beef.
That is why I like Castelvestrano olives, they are not too salty or briny. I actually find them mild and sweet in taste.
Storage and Reheating
Picadillo leftovers keep really well in the fridge stored in an airtight container for up to 3 days.
This recipe freezes well and can be stored in the freezer for up to 2 months.
Defrost overnight in the fridge and reheat as needed (instructions below).
This a great make-ahead recipe!
Whether you decide to start the prep early by chopping all the vegetables in advance or cook the entire dish ahead of time, Picadillo reheats really well.
To reheat the beef, add it to a skillet with a splash of chicken broth and simmer on low for 4-5 minutes until heated thru.
You can also reheat it in the microwave. Do it in 30 second intervals and stir well until heated thru.
How many versions of Picadillo are they?
There is pretty much a version of this dish in every country. The most iconic Picadillo recipes include Cuban Picadillo, Mexican Picadillo and Puerto Rican Picadillo. In Argentina and Colombia, Picadillo is the filling for their famous empanadas.
What's the difference between Cuban and Mexican Picadillo?
Cuban picadillo uses olives, raisins and does not use potatoes. Mexican Picadillo uses potatoes, sometimes green chiles and does not include green olives or raisins.
How do you pronounce Picadillo?
It is correctly pronounced as pi-kuh-di-joh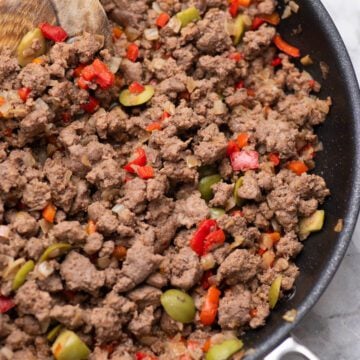 Picadillo
Picadillo is a Latin American ground beef dish cooked and seasoned to perfection with spices and aromatic vegetables.
There are different versions of this recipe in every country and within each country ingredients vary from one region to the other.
Ingredients
1

Lb.

Ground beef

½

cup

Onion

diced

¼

cup

Red pepper

diced

¼

cup

Green olives

chopped

½

teaspoon

Salt

½

teaspoon

Paprika

¼

teaspoon

Cumin
Instructions
In a skillet, over medium-high heat add the beef and start breaking it into chunks.

Add the chopped onions, peppers, salt, cumin and paprika.

Cook until the beef is nicely browned and the vegetables are soft.

Add the chopped olives and cook for 2-3 more minutes.

Serve over rice or potatoes and enjoy.
Nutrition
Calories:
234
kcal
Carbohydrates:
6
g
Protein:
15
g
Fat:
17
g
Saturated Fat:
6
g
Polyunsaturated Fat:
1
g
Monounsaturated Fat:
8
g
Trans Fat:
1
g
Cholesterol:
54
mg
Sodium:
495
mg
Potassium:
424
mg
Fiber:
4
g
Sugar:
1
g
Vitamin A:
3028
IU
Vitamin C:
1
mg
Calcium:
53
mg
Iron:
3
mg