Birria quesadillas are a savory, smokey and cheesy dish that combines birria meat (beef marinated in chiles) and traditional quesadillas.
Birria
Birria (pronounced Bee-Ri-Uh) is a Mexican meat stew (originally goat), in a chile-laden broth that yields tender and flavorful meat.
Traditionally, birria uses lamb meat and an assortment of chiles. However a piece of chuck roast will do the job just as well.
Birria does not need to be spicy. The level of heat will depend on the chiles that you choose to use and how well you deseed them
My birria recipe is not spicy, but if you want to add heat you can add your favorite peppers.
You can make this recipe in the stove top, your slow cooker or the instant pot. I prefer the ladder because it is quick and the meat is tender in no time.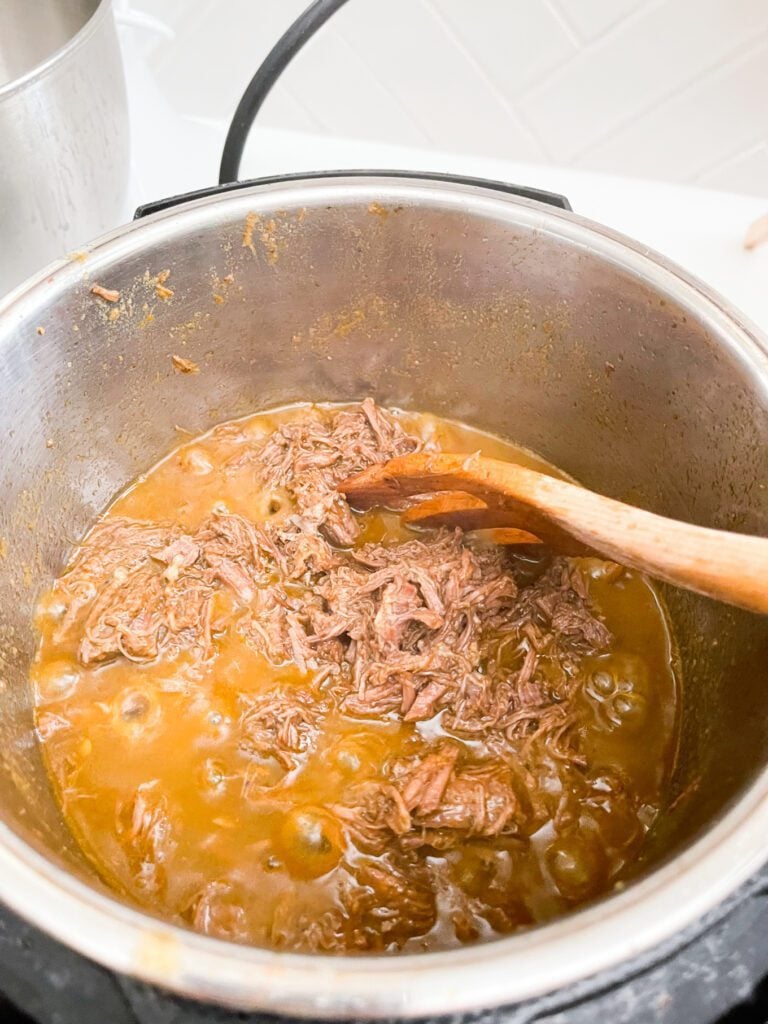 Tortillas for birria
For this recipe, we are using corn tortillas. Because they are absorb the birria jus much better than flour tortillas but feel free to use the tortillas you like best.
In this recipe, the corn tortillas are dipped in the birria consome, the broth the birria was cooked in, then cheese and shredded beef are folded in and cooked until the tortillas are crispy and the cheese is melty.
To serve, a side of the birria jus with cilantro and onions for dipping is the way to go.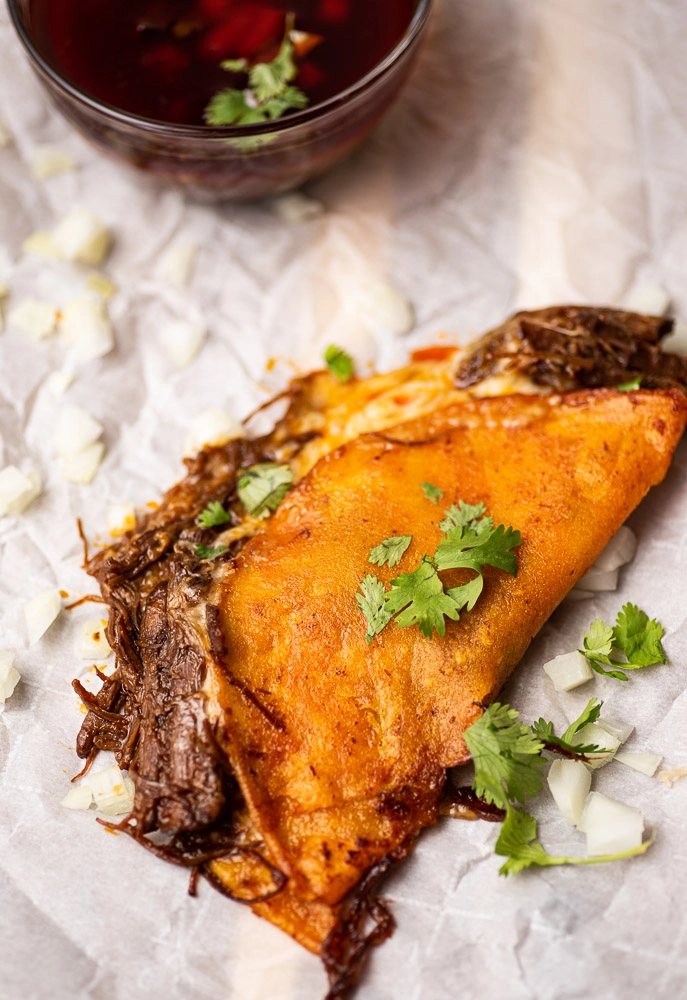 Best cheese for quesabirrias
The best cheese is a good melty cheese. Mozzarella will do the job in a pinch, but if you can find Oaxaca, Asadero or Quesadilla style Mexican cheeses, you can't go wrong with any of them.
Asadero cheese is one of my favorites. It is great for melting and mild in flavor.
Oaxaca is a great cheese as well, it is stringy and very much like a mozzarella.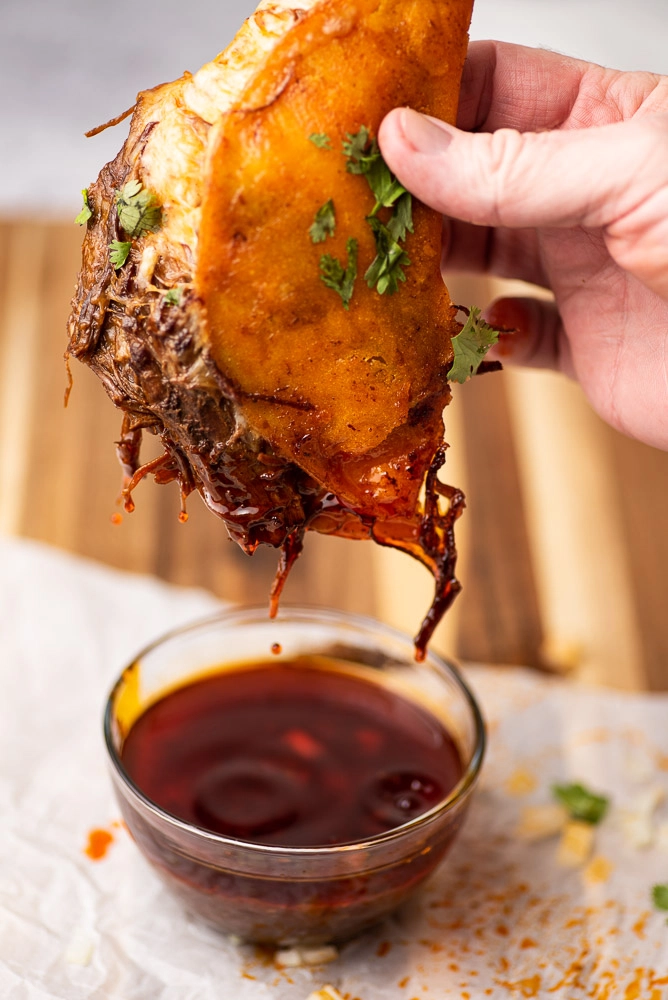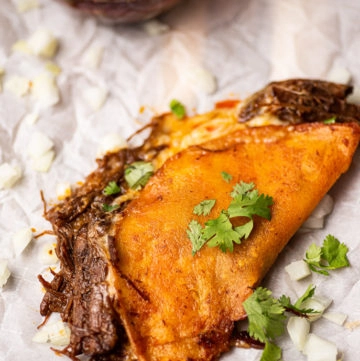 Birria Quesadillas
This recipe is a mash up between a quesadilla and shredded beef taco made with Birria, a Mexican style stew in a chile broth
Ingredients
2

pounds

Chuck Roast

2

Dried Guajillo Chile Pods

2

Dried Ancho Chile Pods

2

Chipotle Chiles in Adobo

1

teaspoon

salt

1

teaspoon

dried oregano

½

teaspoon

cumin powder

1

clove

2

bay leaves

½

yellow onion

roughly chopped

2

roma tomatoes

sliced

4

cloves

of garlic

minced

1

tablespoon

destilled white vinegar

2

tablespoons

Vegetable oil

12

corn tortillas

taco size

2

cups

Oaxaca or Mozzarella cheese

Shredded
Instructions
For the Birria
Soak the Ancho and Guajillo chiles in boiling water for 20 minutes. Once cooled down, remove the seeds from the chiles. Reserve the soaking water.

Add salt and pepper to your chuck roast and sear it on a cast iron skillet or hot pan for about 2 minutes on each side. Set aside and let it rest.

in the same skillet, add the 2 tablespoons of vegetable oil, onions, tomatoes, cumin, salt, bay leaf, clove and oregano and cook until onions are transluscent

Add the garlic cloves and cook until fragrant. About 1 minute

Add the Ancho and Guajillo chiles and cook for 1 more minute

Add the chipotle chiles with adobo and 1 cup of the water that was used to soak the chile ancho and guajillo

Remove from the heat and let it cool down enough to add to your blender and blend on low speed to create a marinade. Add the vinegar and blend well

Cut the chuck roast in 5-6 chunks and add them to your instant pot

Add the blended spices and chiles and make sure to cover all the meat with the marinade

Set instant pot to high pressure and cook for 45 minutes

Once time is up, allow 10-15 minutes of natural pressure release. After that do a quick release of the remaining pressure

Remove the beef and separate from the au jus or caldo that has formed in the instant pot

Reserve the juices from cooking to dip your tortillas or add to the meat when served
Quesabirrias
Dip the corn tortillas in the beef broth that you have reserved

Add a scoop of the shredded birria and top with Oaxa cheese (or mozzarella)

Fold the tortilla in half and cook it on a skillet at medium-high heat until the cheese melts.

Serve with a side of birria consome (broth) and garnish with cilantro and onions