This TikTok recipe for Custard Toast, uses yogurt to create a creamy coating for your toast, topped with berries and sprinkled with powdered sugar.
This custard toast recipe is incredibly easy to make and perfect to invite kids into the kitchen to help with cooking.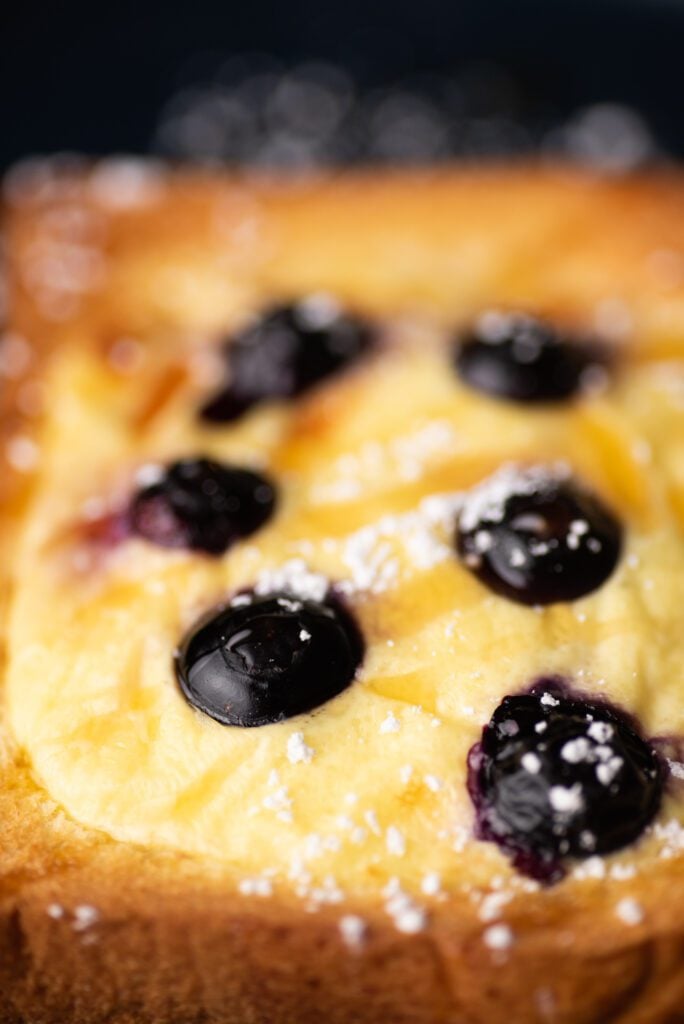 Best Bread for French Toast
There are many kinds of bread that yield a successful French Toast. My all time favorite is Brioche bread, which is a sweet, milk-based bread that is tender and fluffy.
Brioche bread is perfect for French Toast because it absorbs the custard easily and the end result is a perfect toast with a nice crust on the outside and a fluffy inside.
However in this recipe, regular wheat or whole wheat sandwich bread also works. I would avoid any bread with a tight crumb, because this will make it difficult for the custard to adhere to the surface.
How to make the custard
Traditionally, custard combines eggs, heavy cream or milk, vanilla extract and a dash of cinnamon.
The twist in this recipe is that instead of using heavy cream or milk, we use yogurt. This not only lightens up the calorie count if you use a non-fat and low sugar yogurt but also yields a very creamy custard.
What kind of yogurt works best
Whichever yogurt you like would work. Even diary free alternatives are excellent choices in this recipe, because those usually are made with coconut or almond milk which contains enough fat to make the custard creamy.
This recipe calls for berries, so a yogurt that compliments the berries is ideal.
You can't go wrong with plain vanilla yogurt. In this case I decided to use lemon yogurt and top my toast with blueberries. I love the lemon-blue berry combo.
How to cook the custard
When making traditional French Toast, you can use a skillet, but in this case, the custard is on top of the toast, so in order to bake it, we need to use the oven or air fryer.
I used the air fryer because is convenient and perfect for when you only want one or two pieces of toast.
If you are planning to make this recipe for more than 4 people, use your oven and a cookie sheet to bake the custard.
If you would like a savory breakfast instead, try this TikTok Breakfast Casserole.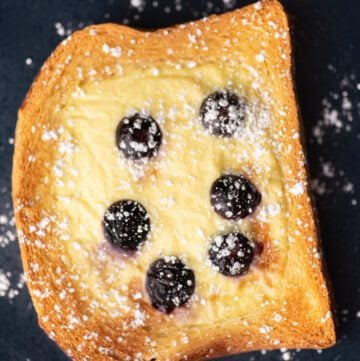 TikTok Custard French Toast
Ingredients
2

Slices brioche bread (sandwich bread)

1

Container of yogurt

I used lemon flavored yogurt

1

Egg

½

teaspoon

Vanilla Extract

½

cup

blueberries

Any berries you like

powdered sugar for serving

Maple syrup

optional
Instructions
In a bowl, mix together the yogurt, egg and vanilla

Whisk until well combined

With a fork, flatten the center of your bread to create a nest in the middle

Add the mixture to both slices, add the berries and bake in the air fryer at 350 Fahrenheit for 10 minutes

Remove toast from the air fryer and dust with powder sugar and drizzle with maple syrup
Video