This Tiktok Breakfast Casserole is an easy egg bake with sausage, biscuits and cheese. It is easy to make and ready in about 45 minutes from beginning to end.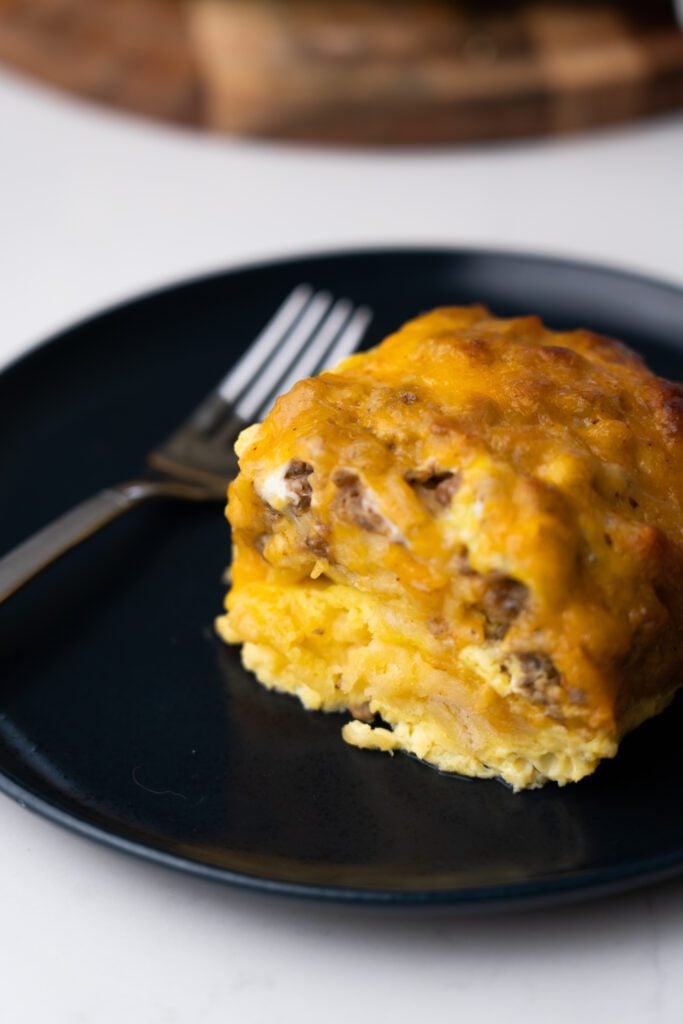 The ingredients for this casserole are inexpensive and this recipe feeds a crowd. It is packed with protein because of the eggs, milk, sausage and cheese.
Tiktok Breakfast Casserole ingredients
This casserole is easy to make and requires ingredients that you probably already have.
It is highly customizable. There are different versions and you can adjust ingredients depending on your dietary restrictions and preferences.
For this breakfast casserole version, I used the the following ingredients:
Biscuits: I used honey butter flavored biscuits to give this casserole a hint of sweet flavor, but any biscuit and even crescent rolls will work.
Sausage: I used hot pork sausage. You can use pork, chicken, turkey or any kind of sausage you want. I cooked the sausage first (browned) but if you buy pre cooked sausage you can skip that step.
Eggs: This is the binding ingredient that will allow the casserole to be cut in squares for serving. You can substitute for combination of eggs and egg whites or all egg whites if you desire.
Cheese: Use any kind of melty cheese you like. I used a Mexican-style cheese combo. Cheddar or Mozzarella will work great in this recipe.
Substitutions:
Swap Biscuits for Tater Tots: You can easily change this casserole. One easy swap is the biscuit dough for hash browns or tater tots.
Swap Biscuit Dough for Bread: You can use regular or French bread cubes in this casserole. You can make it ahead and bake it in the morning. It is a time saver to use bread.
Swap Sausage for Bacon: You can use any kind of sausage you want, but bacon is always a good idea. Cut the bacon in pieces and cook it before adding it to the casserole.
Add Veggies: You can also omit the sausage and do a veggie casserole. Diced onion, pepper, tomato, and spinach are great way to add veggies to this recipe.
Why is my breakfast casserole soggy?

Because the amount of eggs that go into the casserole, there is a lot of moisture. The consistency will be creamy but do not expect the biscuit to be crispy.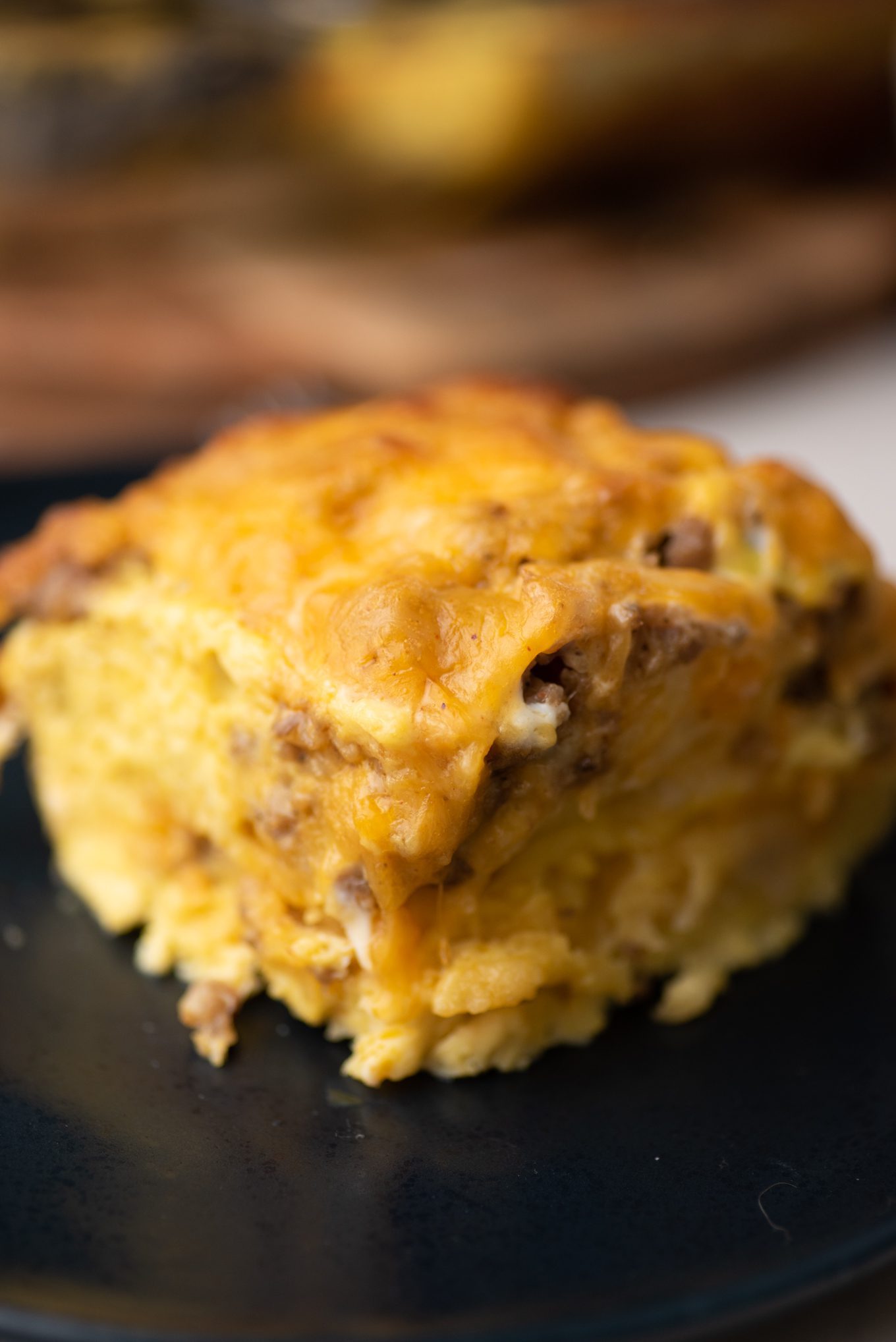 Can I make this Keto or low carb?

Yes! Do not use any bread or biscuits. Use only eggs, sausage and cheese. Feel free to add vegetables like onions and peppers to make it more filling.
Can I make this vegetarian?
Yes, use a vegetarian "meat" if you would like or simply add your favorite veggies instead of sausage.

If you enjoyed this recipe, you need to try my Enchiladas, they are just as easy and so delicious!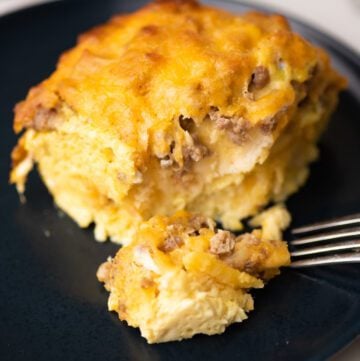 Tiktok Breakfast Casserole
This easy and delicious breakfast casserole
Ingredients
1

can

8 count jumbo biscuits

1

16 oz pork sausage roll

I used hot sausage

8

eggs

1

teaspoon

salt

1

cup

milk

2

cups

Mexican-style shredded cheese

pepper to taste
Instructions
Pre heat the oven at 350 Fahrenheit.

In a skillet, brown the sausage over medium high heat for about 10 minutes or until sausage is fully cooked and set aside.

In a bowl whisk the eggs, add milk, salt and pepper to taste.

In a 9x13 baking dish, press the biscuits in a single layer until the dish is covered

Add the cheese and bake uncovered for 30 minutes

Cover with aluminum foil and bake for another 20 minutes

Remove from the oven and let it cool down for 5-10 minutes before slicing