This easy Casarecce with Beef Bolognese is a delicious meat based pasta that is pure comfort food.
In this recipe we are using a beef Ragu Bolognese (meat based sauce) with casarecce pasta.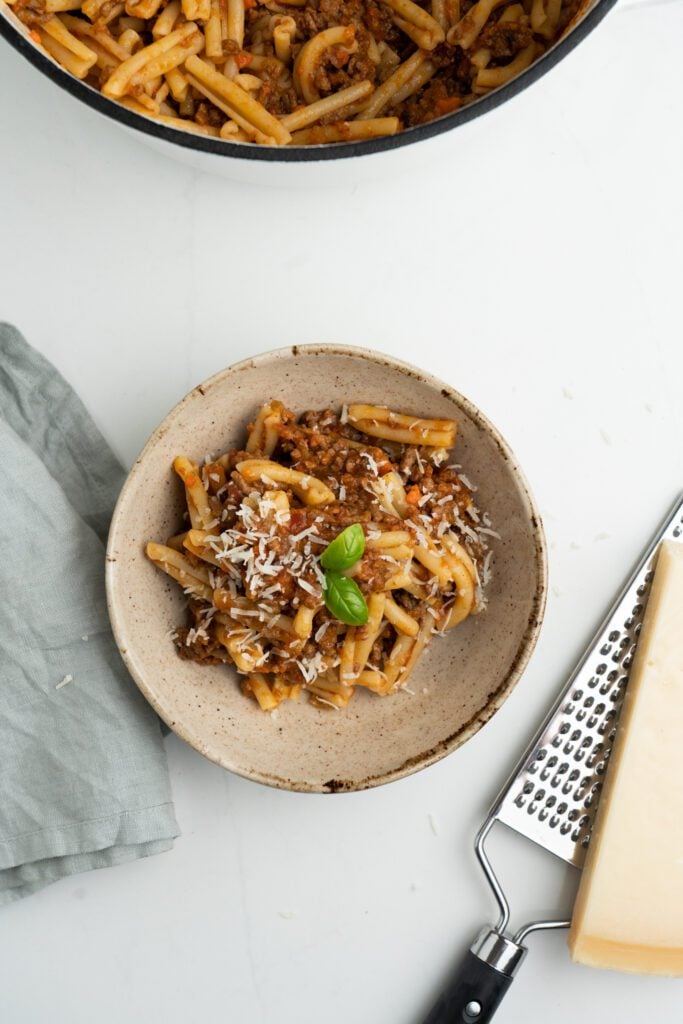 Ragu vs Bolognese
The difference between Ragu and Bolognese is that Ragu is a meat sauce that uses a higher ratio of tomatoes than meat (beef, pork, veal) .
On the other hand, Bolognese (which means from Bologna) or Ragu Alla Bolognese, is a meatier sauce; it uses wine, beef broth, tomatoes and minced vegetables (sofritto).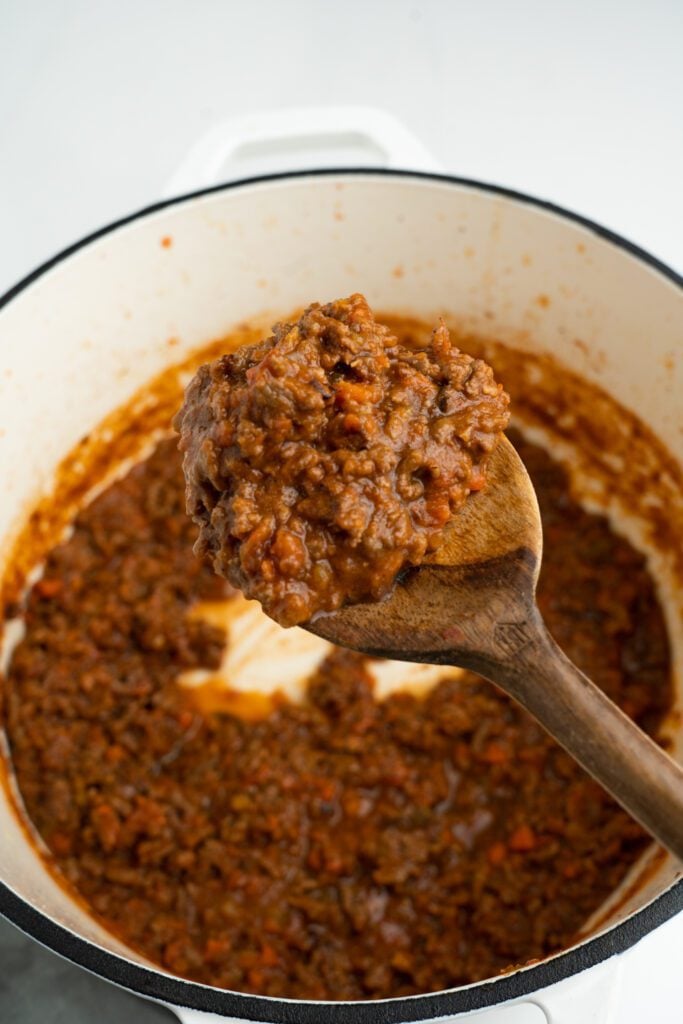 So the main difference between Ragu and Bolognese comes down to ratios, however the ingredient variations impact the end result.
In Bolognese, the ratio of meat vs tomato is the key. This sauce uses very little tomato sauce and more meat and broth.
Typically Ragu is the sauce of choice for long pasta such as Spaghetti. While Bolognese pairs well with short pastas like Rigatoni, Penne, Casarecce, etc.
What is Casarecce Pasta
Casarecce is a Sicilian short pasta shape that is rustic and loosely rolled.
Casarecce (cah-sah-RECH-ee) means "homemade" and it is easy and quick to cook.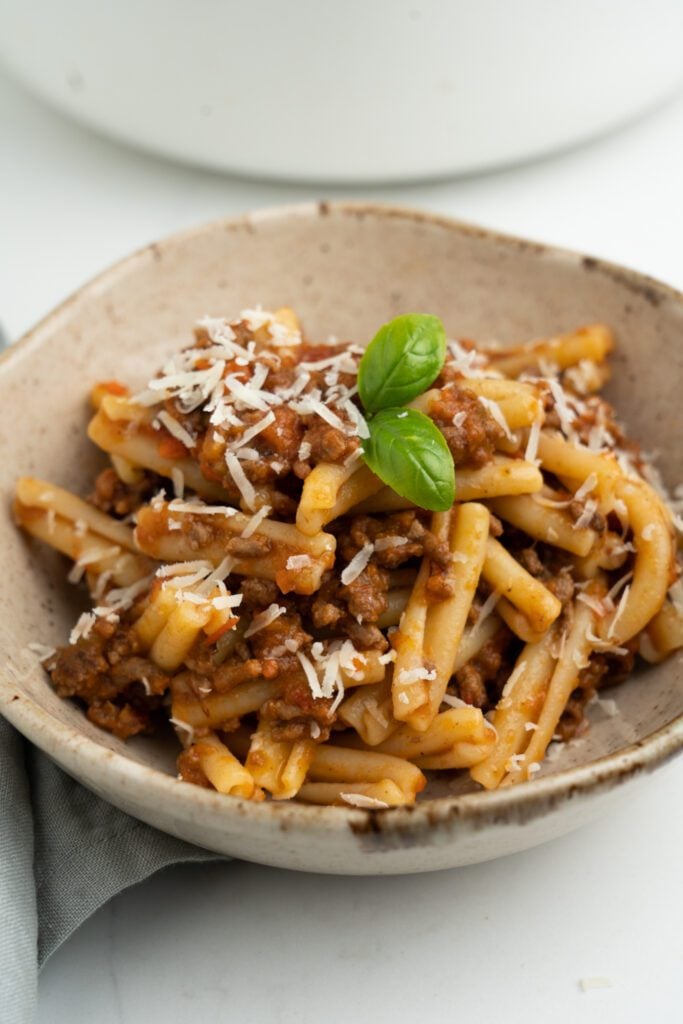 It starts with a flat string of dough that is rolled into itself, creating an indentation in the middle of the noodle that is a great vessel for Bolognese.
Casarecce is an eggless pasta, which makes it a great base for vegan dishes or for people with egg allergies.
This pasta uses hard wheat which means that the flours a higher protein content. This means, the pasta has a nice, firm bite to it.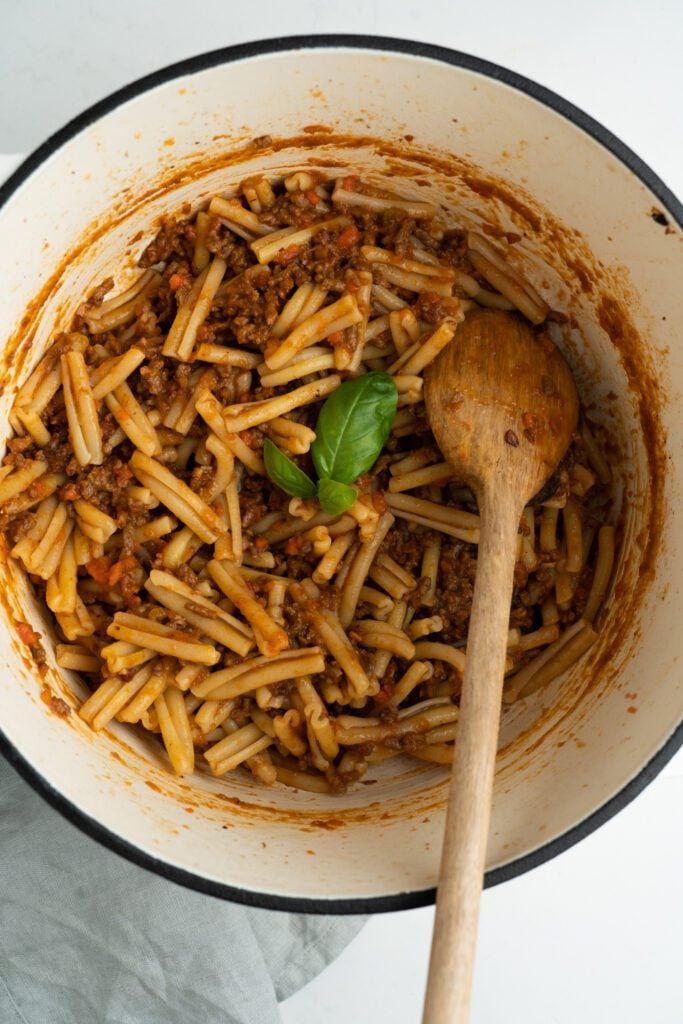 What is it used for?
This pasta is great for meat sauces and any sauce that is dense such as pesto.
Because this pasta has curly edges and a groove in the middle, it is perfect for holding sauces and minced meat and vegetables.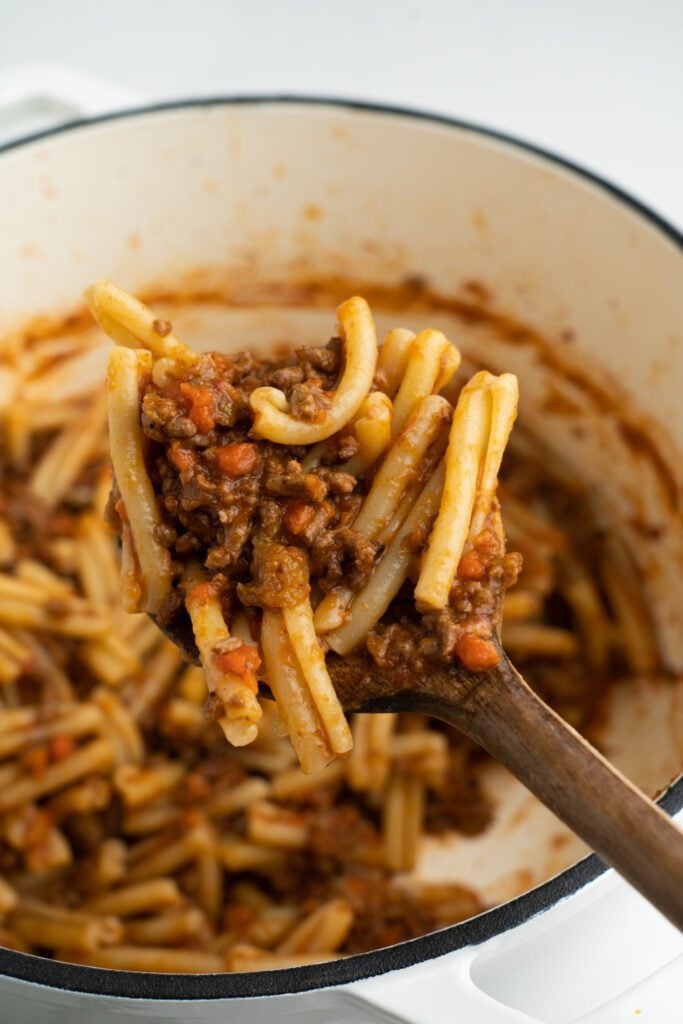 There are more than 500 pasta shapes in Italian cuisine and choosing the right shape to pair with a specific sauce can be daunting.
This guide to pair pasta shapes and sauces is a helpful reference.
Ingredients in this recipe
Casarecce pasta: You can purchase Casarecce online, at your Italian grocery shop or in select supermarkets with wide variety of Italian foods. ALDI some times carries this type of pasta and it is very inexpensive, if you see it in stock, grab a few bags.
Mirepoix: Mirepoix is simply the base of our sauce: onion, celery and carrots.
Ground Beef: It's the star in this sauce. Cooked low and slow to yield the best texture and flavor.
Tomatoes: For this recipe crushed tomatoes are best.
Chicken/Beef stock: This will help bring all the flavors together.
Dry white wine: Wine is excellent to deglaze the pot and bring out the caramelized meat flavors.
Pancetta: It is similar to bacon but with a higher fat content. It helps with browning the veggies and the meat.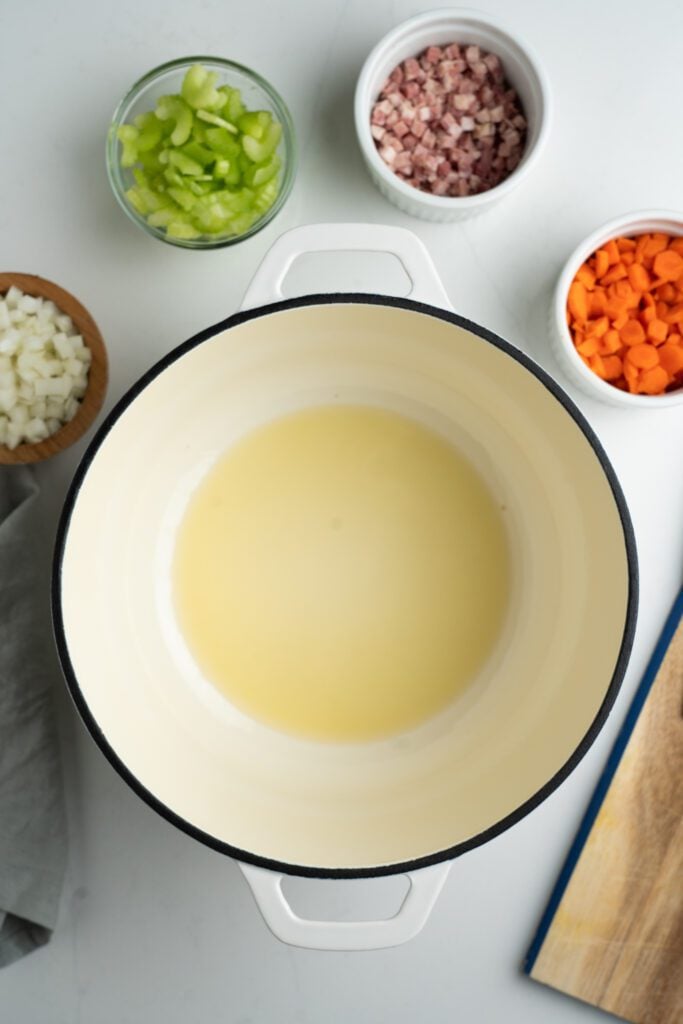 How to make Bolognese?
There are a few important tips to make a great Bolognese. Besides using quality ingredients, taking the time necessary for the flavors to develop is the most important thing.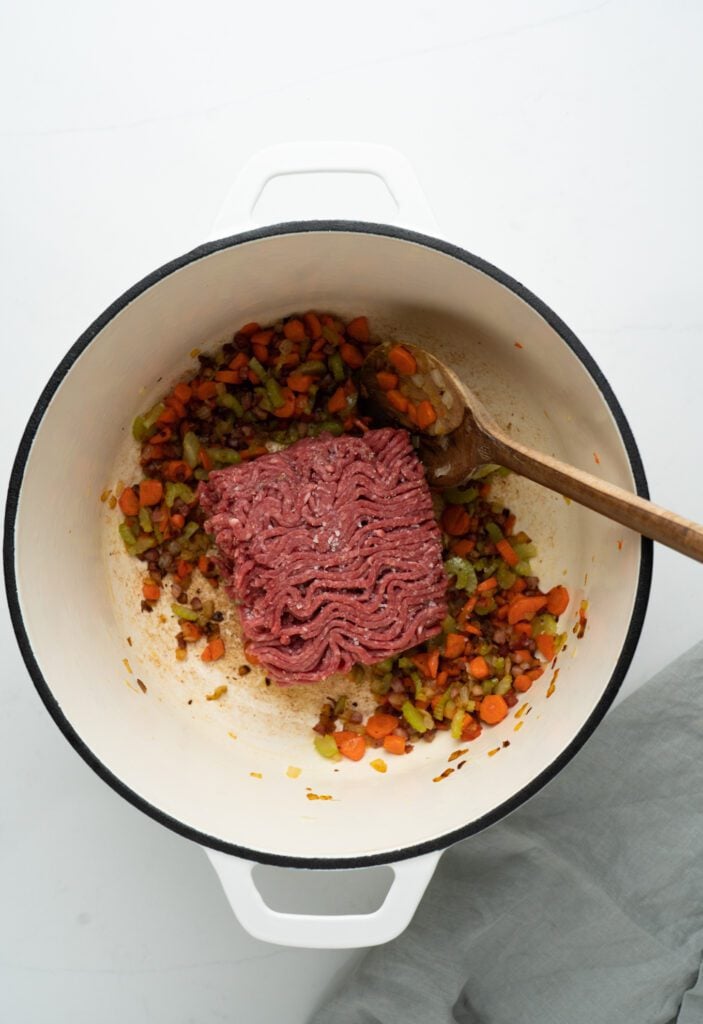 To brown the veggies use a neutral oil (do not use extra virgin olive oil). We need to bring out the flavors in the mirepoix and using a flavored oil will affect the flavor and aroma.
The longer you can simmer the sauce, the better. Plan to make this recipe ahead of time (plan for at least 3 hours cooking time).
Allow each ingredient to fully cook before adding the next one. The mirepoix takes about 12 minutes on medium-high heat, cook it well before adding the beef.
When adding the liquids, also allow them to evaporate as needed. We want to develop layers of flavor one at time.
Storage
Bolognese will last for up to three days in the fridge or in an airtight container in the freezer for up to a month.
To reheat I recommend using the stove top and a splash of chicken broth. If you froze the Bolognese, allow it to thaw in the fridge overnight.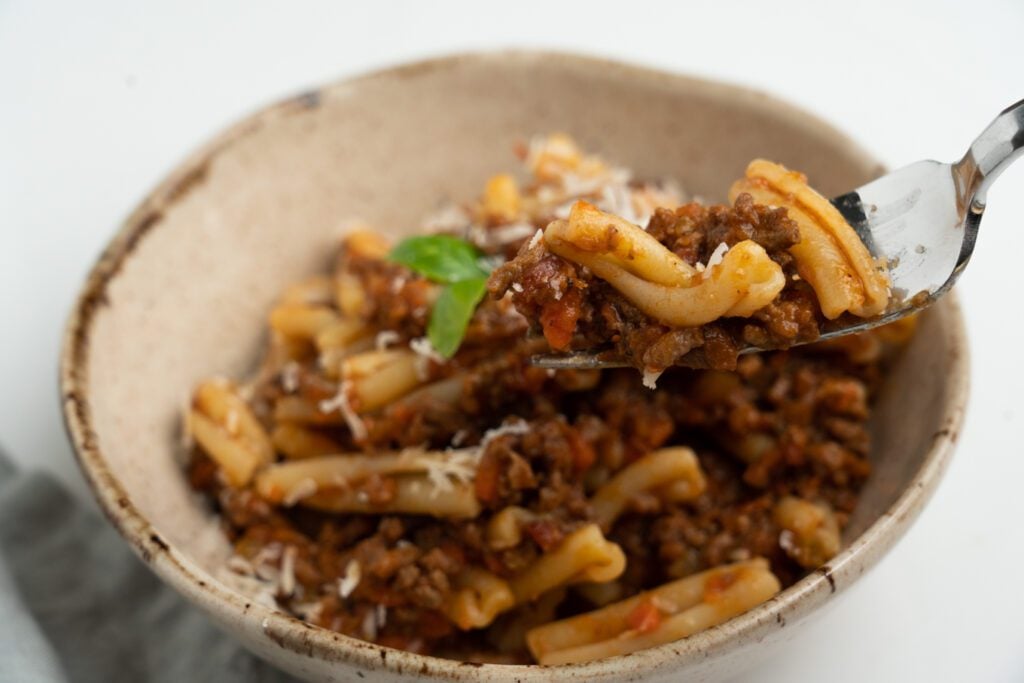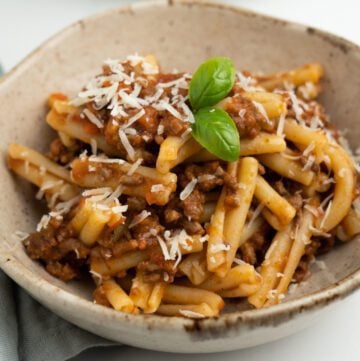 Casarecce with Beef Bolognese
This recipe is Italian comfort food at its finest. Short pasta with a meaty sauce, parmesan cheese and a touch of basil
Ingredients
For the Bolognese
2

Celery stalks

finely chopped

2

Carrots

Finely diced

1

Yellow Onion

Finely diced

⅓

cup

Pancetta

1

LB

Ground Beef

I use 93% lean

¼

cup

Avocado Oil

1

cup

Sauvignon Blanc

Or any dry white wine

1

cup

Canned pureed tomatoes

4

cups

Chicken stock

Salt and pepper to taste
Casarecee
1

bag of Casarecce

16 ounces

basil for garnish

Parmesan cheese
Instructions
Make the Bolognese
Heat the oil in a Dutch oven or heavy-bottomed pot

Add the pancetta, celery, onion and carrots and brown for 12 minutes until vegetables are lightly browned

2 Celery stalks,

2 Carrots,

1 Yellow Onion,

⅓ cup Pancetta

Season the ground beef with salt and pepper

1 LB Ground Beef,

Salt and pepper to taste

Add the beef to the pot and cook on high heat until nicely browned for about 10 minutes.

Add the white wine and allow it to fully cook for about 10 minutes until all the liquid evaporates

Add the tomatoes and cook until the meat sauce starts to look dry, about 10-12 minutes

1 cup Canned pureed tomatoes

Add the chicken stock and reduce the heat to low, simmer for 3 hours until the liquid evaporates considerably and the sauce looks thick
Cook the Casarecce pasta
15 minutes before the Bolognese is ready, cook the pasta in salted water following package instructions

Reserve 1 cup of pasta water

Once cooked, add the Casarecce and pasta water to the pot with Bolognese

Serve with parmesan cheese and basil