When it comes to Colombian Breakfast, we are all about comfort food, hold açaí bowls and smoothies for snacks instead.
A typical Colombian Breakfast is a hot dish and it varies widely from one region to another, however there some dishes that represent Colombian food across the board.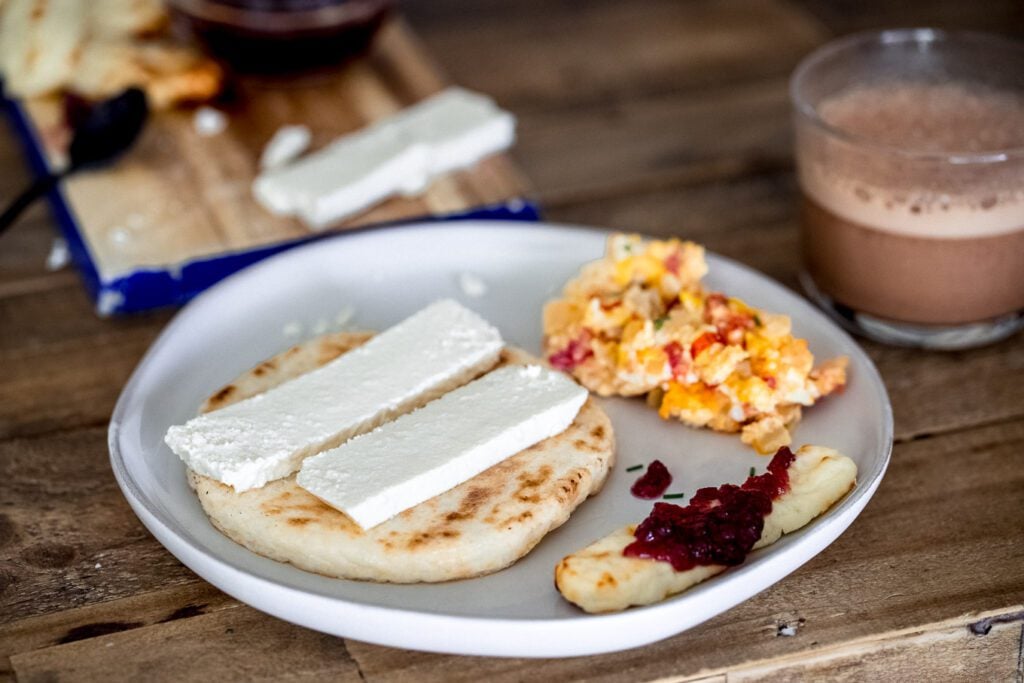 Colombian breakfast Arepa
Arepas are very traditional. It is the "Colombian Bread" and most people have them for breakfast.
Arepas are the perfect vehicle for fresh cheese also known as Quesito. Scrambled eggs with onions and tomato (hues pericos) or simply a pat of butter with a sprinkle of salt.
If you live close to a Latin market, you can find arepas in the freezer section or you can make your own, using corn meal. I'm sharing the recipe below.
In Disney's movie Encanto, Julieta Madrigal who plays the role of Mirabel's mom, cooks arepas and they have the ability to bring the ill back to health.
It truly portraits the way we Colombians see food and puts the arepa at the center of our food culture.
Colombian huevos revueltos
Eggs play an important role in Colombian breakfast. They are cheap and can feed a crowd. Adding chopped vegetables (usually scallions and tomatoes), stretches them even further and packs them with nutritional value.
The secret to making these hues pericos or Colombian soft scrambled eggs, is to dice your scallions and tomatoes very small and cook them until they form a jammy concoction similar to a salsa.
Quesito or fresh cheese
This one might not be an easy accessible ingredient but can be replaced with a fresh mozzarella.
Quesito is a soft, fresh cheese that is easy to crumble. Feta has a very similar texture to quesito, but feta is a lot saltier so I don't recommend to use feta unless you love the punchy flavor it has.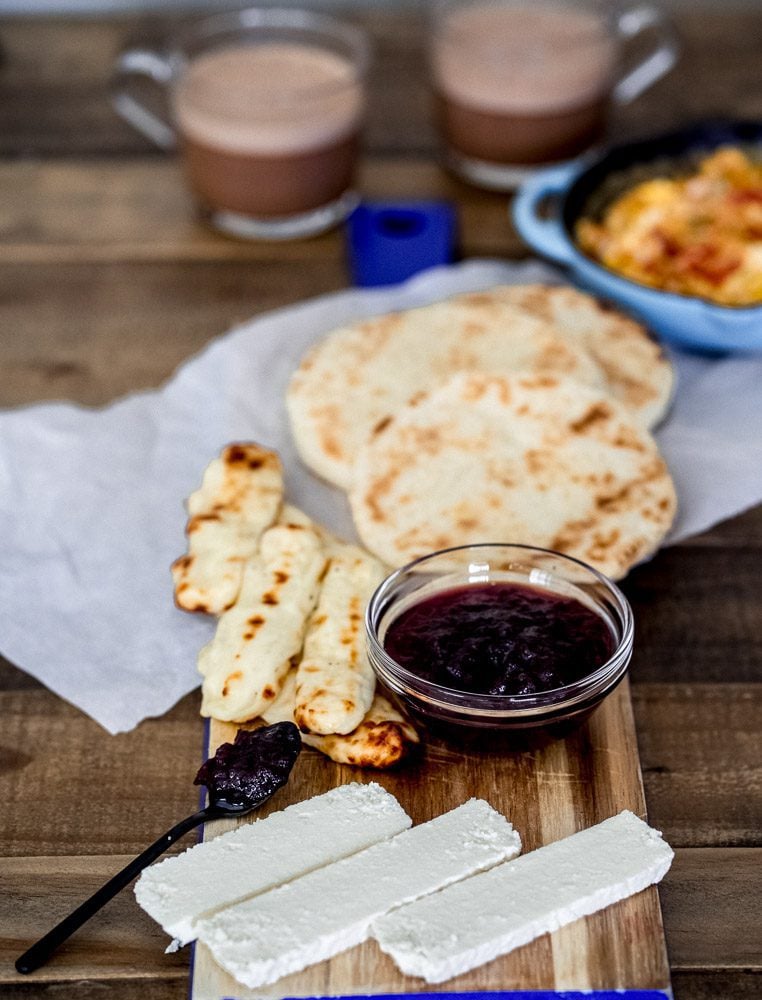 Colombian hot chocolate
Colombian hot chocolate is a blend of cacao paste, cinnamon, clove and raw sugar cane paste (panela or piloncillo) and milk.
Usually, people cook the panela first in boiling water. This creates a sweet base for our hot chocolate. Then we add milk and our chocolate paste and cook until melted.
This chocolate paste is pure, dark chocolate, has a deep bitter flavor that is balanced by the sweetness of the panela and milk.
In Colombia, we use a chocolatera; a metallic pitcher and a wooden whisk to froth the milk and combine all the ingredients.
Colombian hot cocoa is really a treat!
Colombian Breakfast
Colombian breakfast with arepa, quesito and cheese
Ingredients
For the Arepas
1

cup

pre cooked white corn meal

1

cup

water

1

tablespoon

butter

room temperature

1

teaspoon

salt
Colombian Huevos Pericos
5

eggs

2

roma tomatoes

small dice

½

white or yellow onion

small dice

2

Scallions

chopped

2

tablespoons

butter

salt to taste
Colombian hot chocolate
2

cups

water

¼

cup

brown sugar (if you don't have panela)

1

cup

milk

2

ounces

unsweetened dark chocolate at least 90% cacao
Instructions
Make the arepas
Mix the cornmeal, water, salt and butter.

Let the mix sit for about 3-5 minutes and then proceed to knead the dough until ingredients are well combined

Shape the arepas by making golf-sized balls and flattening them with your hand in a round motion. We want to shape them similar to tortillas

Arepas should be a bit thicker than tortillas, about ½ inch thick

Cook your arepas in a cast iron skillet or a frying pan with a little bit of oil. Cook for about 3-4 minutes until golden brown. Serve warm with Colombian quesito, add more butter if you want
Colombian Huevos Pericos
Melt the butter in a frying pan and add the onion. Cook in medium/low heat until translucent and fragrant

Add the diced tomatoes and scallions and cook for 3-4 minutes on medium/low heat

beat the eggs in a bowl and add them to the frying pan with the onions and tomatoes. Add salt to taste

Constantly move the eggs around the pan with a spatula, making sure they cook evenly. Serve as a side for your arepas or on top of the arepa.
Colombian hot chocolate
Bring the water to a boil and add the sugar

Add the chocolate and milk and reduce the heat to medium

Once the chocolate has melted, remove from the heat. Use a milk frother to make the chocolate foamy.

If you don't have a milk frother, allow the chocolate to cool down for a few minutes and blend it in a high speed blender until fully combined and foamy
Notes
Panela or Piloncillo can be found in any Latin market or in the Hispanic food section of most grocery stores.