Trader Joe's has a vast selection of spices and seasonings, so much so that it can be overwhelming. These are my must-haves.
I have bought my fair share of TJ's seasonings and I will give you a list of my favorites.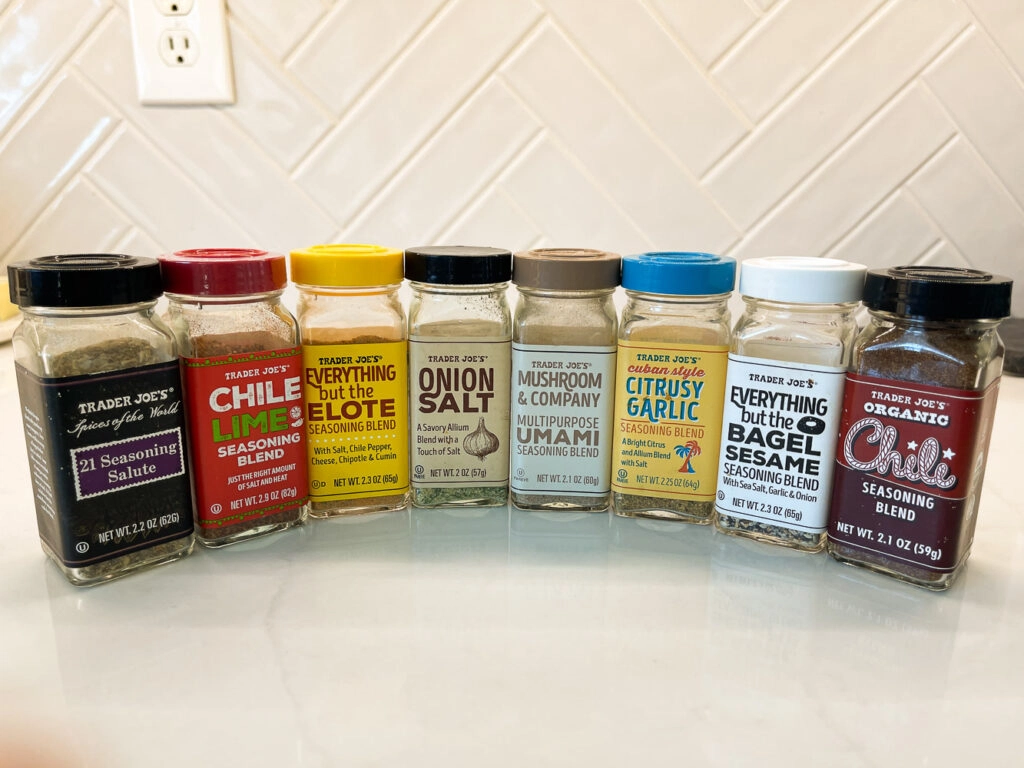 Trader Joe's 21 Salute Seasoning
This is a fairly new one. The great thing about this seasoning is that it has no salt which makes it great for people who are watching their sodium intake.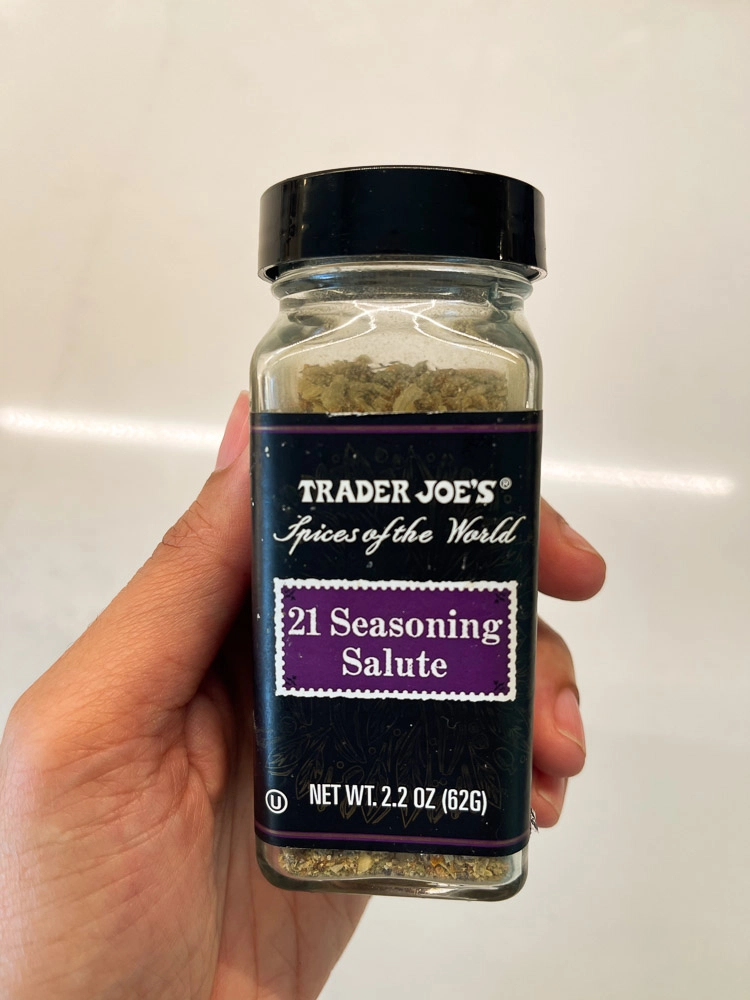 How to use TJ's 21 salute seasoning
This seasoning is a great addition to vinagrettes, fresh veggies, fish and poultry. The blend features 21 spices including onion, black pepper, celery seeds, cayenne, basil, parsley, marjoram, bay leaf, oregano, thyme, rosemary, cumin, mustard, coriander, garlic, carrot, orange peel, tomato granules and lemon juice.
Everything But the Elote
This one is an all-time-favorite. It is a great addition to corn on or off the cob and also great to add a cheese flavor to dishes like mashed cauliflower or pop corn.
How to use Everything but the Elote Seasoning
I have 2 recipes that I love to use this seasoning for. My creamy Elote Cauliflower and the Instant Pot Creamy Roasted Mexican Corn.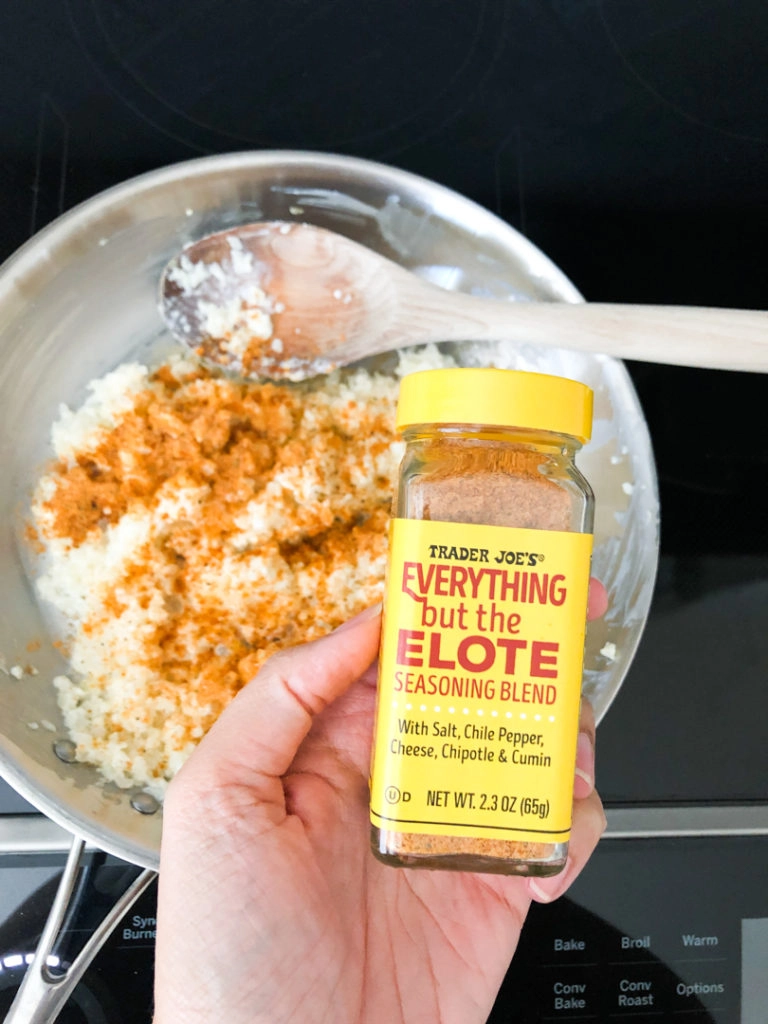 Chile Lime Seasoning
This blend features sea salt, Chile pepper, red bell pepper and lime juice. It is pretty similar to the Mexican band Tajin which is a great addition to tropical fruit such as mango, pineapple and jicama.
How to use TJ's Chile Lime
This seasoning is great on summer fruits like watermelon, perfect hint of fresh and heat. I like to add it to cucumber slices with fresh squeezed lime juice.
Also great topping for avocado toast if you like to add a bit of heat.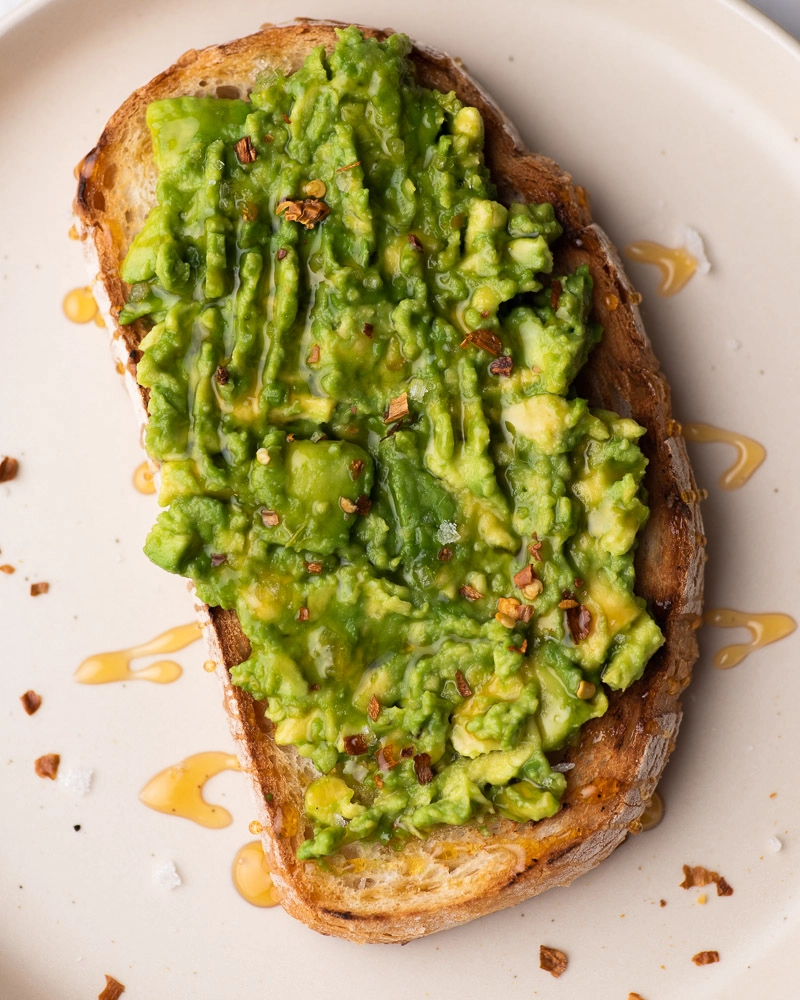 TJ's Onion Salt
Don't let the simplicity of this seasoning fool you. I could say that this one is the seasoning I use in my kitchen daily.
It's a blend of dried onion and salt but includes regular onion and scallions which I think elevates these seasoning to the next level and makes it better than any other onion seasoning I used before.
How to use TJ's onion salt
I'm sure you already have some ideas but let me tell you that this seasoning makes the best chicken and steak. I use it all the time in my carne asada.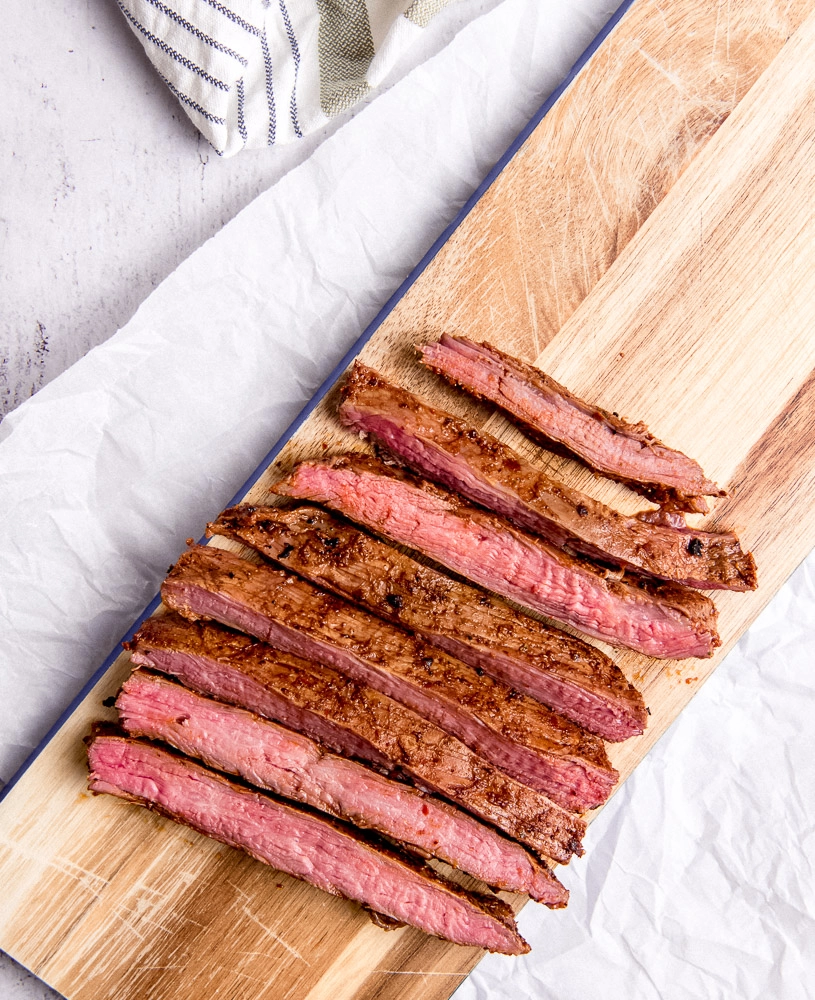 If you want to make an herb butter, this is your secret ingredient. A few years back Trader Joe's had an amazing compound butter that they no longer carry.
This seasoning with a minced garlic clove, allows you to replicate the discontinued compound butter.
TJ's Umami Seasoning
I got this one because a friend recommended it, but in all honesty I did not know what to do with it.
Until Thanksgiving when I was making my Green Bean Casserole from scratch and OMG! Add this seasoning to your roux when making the sauce and it will give it deep mushroom flavor without having to use any fresh mushroom.
Umami is considered the 5th flavor and it is a deep kind of salty layer of flavor. These days I add a bit of this seasoning to soups and cream sauces that call for mushrooms.
How to use TJ's Umami Seasoning
I love to add to any cream sauce that calls for mushrooms. My favorite is to add it to green bean casserole roux and to soups.
Citrusy Garlic
Inspired by the flavors of Cuba, this seasoning features garlicky, lime notes like those of the traditional Cuban mojo marinade.
Citrusy Garlic Seasoning Blend includes garlic, lime oil, lime juice, onion powder, salt, and red pepper-plus bay leaves, coriander, cumin, cilantro, black pepper, oregano, cilantro, basil, lemon oil, marjoram, and parsley. All the flavors of Cuban cuisine in a bottle.
How to use TJ's Citrusy Garlic
This seasoning is great on meat, particularly in chicken, pork and fish. The addition of citrus is a great way to tenderize meat and garlic and lime are a dynamic due when it comes to flavor.
It is also great on veggies. I used this seasoning on my air fryer Brussel sprouts and loved how they turned out.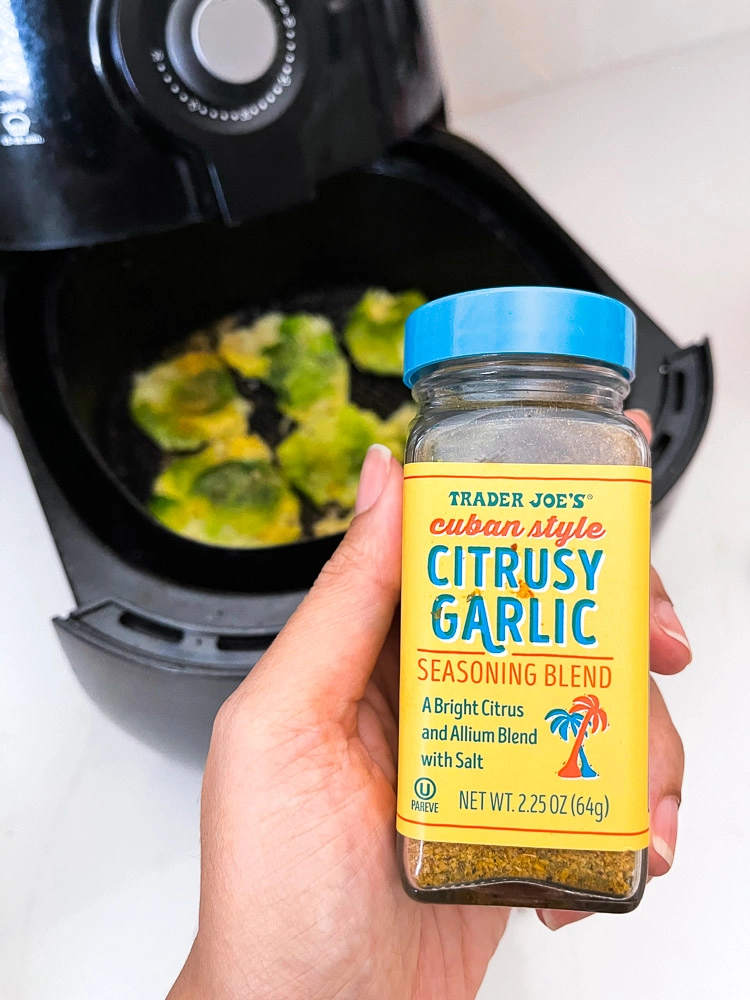 Everything but the bagel seasoning
This one needs no intro. It went viral a few years ago and it is now a staple in many households. There is no avocado toast without this seasoning.
This is a blend of sea salt, sesame seeds and onion. It adds a very distinct flavor to foods and it is great on toast, eggs, dips etc.
How to use TJ's EBTB
I like to get creative with this seasoning and add it to dips. I made this delicious smoked salmon dip with this seasoning and it was a hit.
Chili Seasoning
This one is one I tried just recently and it took a bland chili to the next level. It has the perfect amounts of spices that give chili it's characteristic flavor.
Chili uses a lot of spices and sometimes one of them can be overpowering the others. This blend takes the guesswork out of the equation.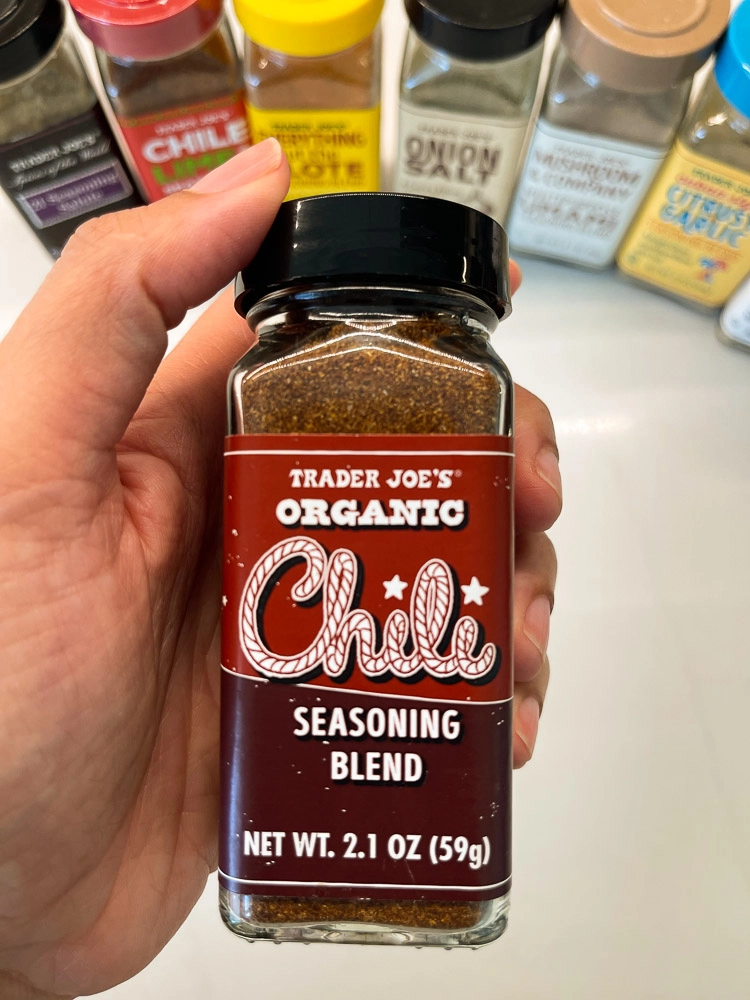 How to use TJ's Chili seasoning
This one I have only used in chili con carne (beef chili). I did add extra spices at the beginning but as I said before, adding this blend saved my dish.
Smoked Paprika
This one is not a seasoning blend but a spice. And it really deserves a spot in this list because I absolutely love it and use it all the time.
This paprika adds a deep smoky flavor to meats and veggies. I love this seasoning for my carne asada recipe.
How to use TJ's Smoked Paprika
This seasoning in great on veggies like potatoes and in meats like beef and chicken.
I use the onion salt and smoked paprika combo in most of my beef dishes. It is a great way to quickly marinate meats.
This is my list of must-have Trader Joe's seasonings. They are always adding new and exciting products to their spice selection.
Did I miss your favorite seasoning? If so, let me know which one it is and I will try it next time I go to TJ's!