This Tiktok Green Goddess Salad recipe from Baked by Melissa is chockfull of nutrients and incredibly delicious. I too was skeptic but it is wonderful.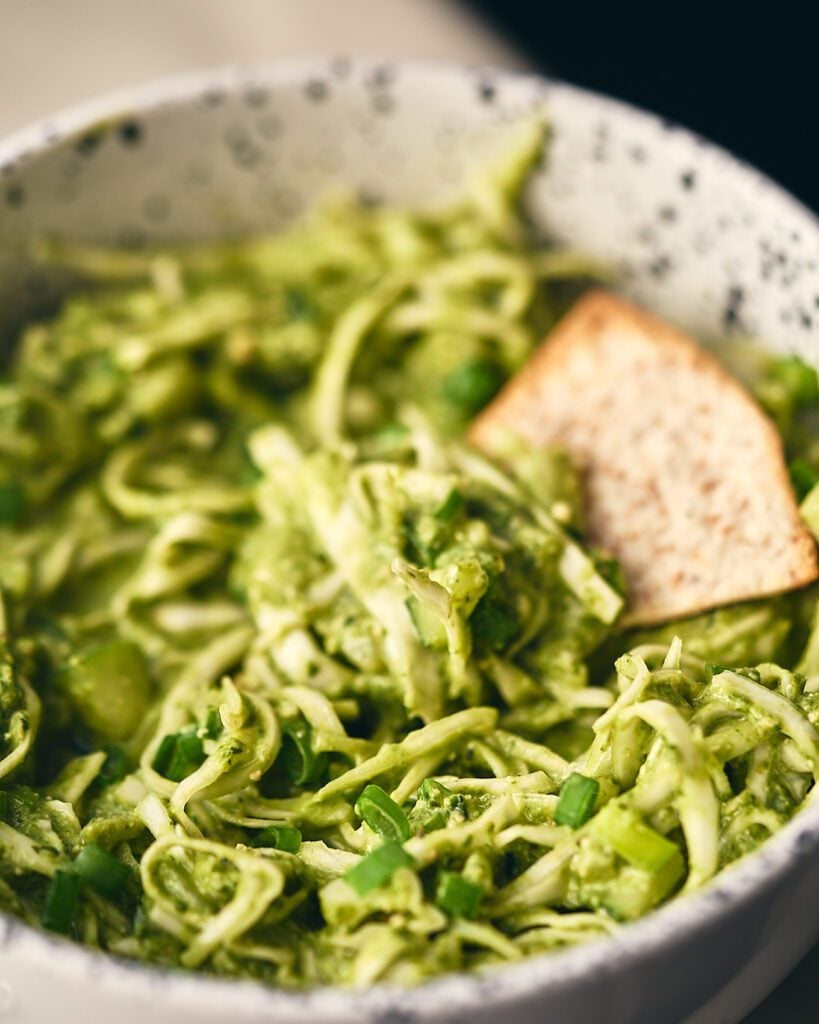 This recipe is based on the famous Trader Joe's Green Goddess dressing, however this one does not use avocados.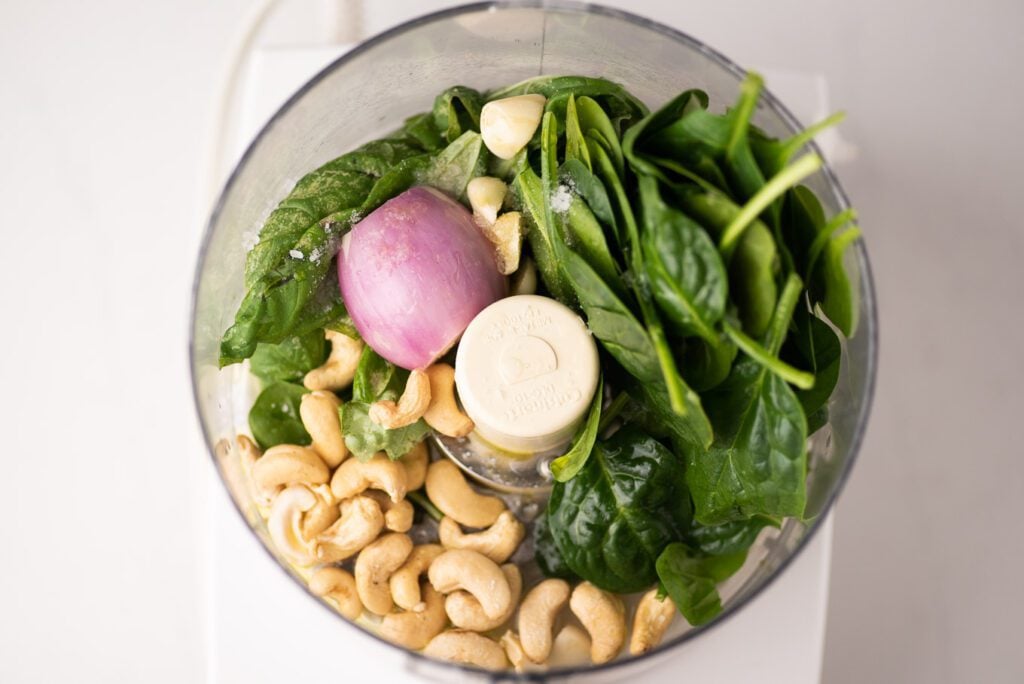 How to eat this salad
Although Melissa suggest to eat the green goddess salad as a dip (with chips), this recipe is very versatile.
You can eat it on it's own as a crunchy, tasty side salad. It also goes great with tacos especially fish tacos like these Halibut Tacos because it has cabbage.
This recipe would also be a great addition to a sandwich, on toast, a tortilla wrap or with pita bread.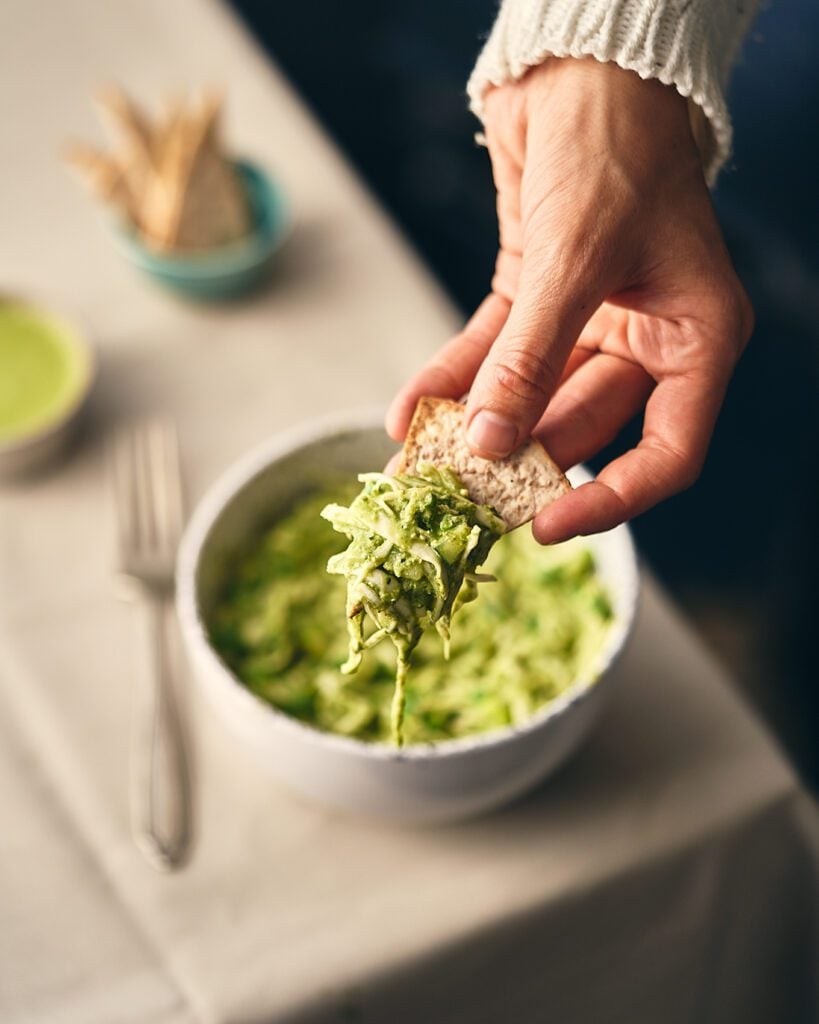 If you decide to use it as a dip, highly suggest that you make sure the cabbage to dressing ratio is about 1:2 in order to make it easier to dip.
Green Goddess Dressing
In her recipe, Baked by Melissa uses the following ingredients for the dressing: basil, spinach, shallot, olive oil, cashews (can substitute for pistachio), garlic, rice vinegar, salt and nutritional yeast.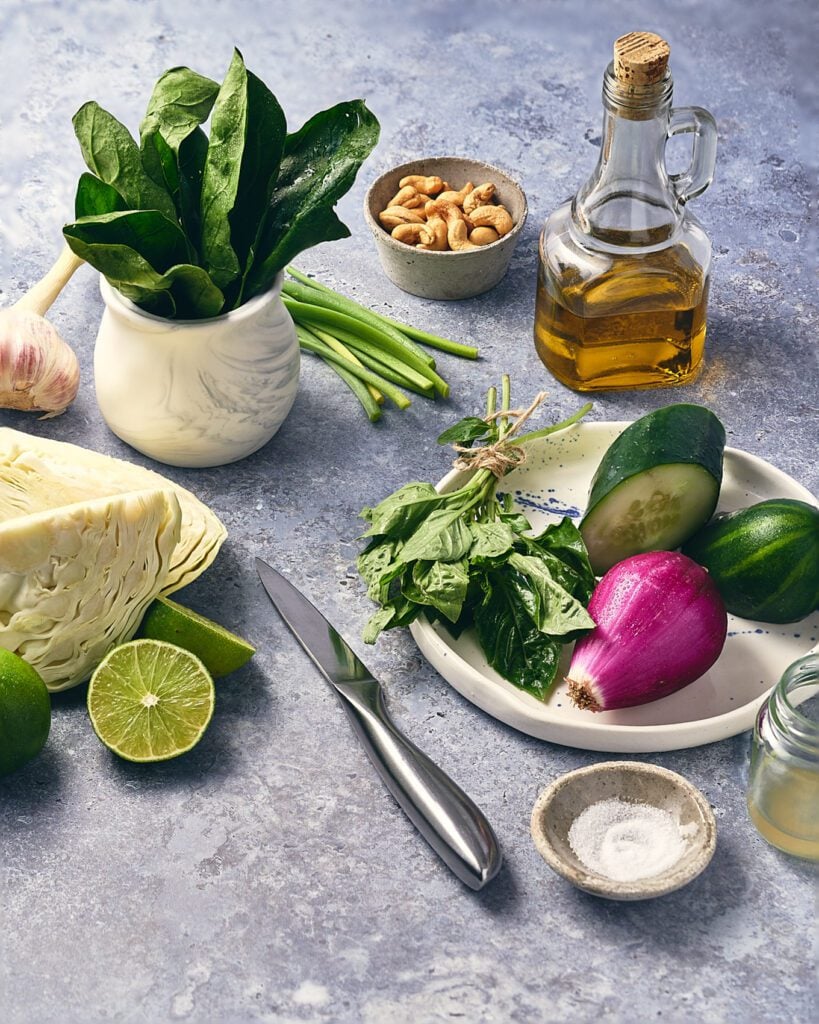 Basil: Adds a subtle aromatic flavor that is essential in this dressing. Highly suggest using this and not making substitutions.
Spinach: This adds nutritional value to this dressing without overpowering the other ingredients.
Shallot: This ingredient is a must. It is a milder onion that adds subtle flavor and it is not as pungent as regular onions. If you don't have shallots, use ¼ of a red onion.
Olive Oil: I like to use extra virgin olive oil because of the intense aroma and flavor. You can use any other neutral oil such as avocado oil.
Cashews: You can use any nuts that you'd like. Melissa uses cashews in her recipe and I love the creaminess that cashews adds to this dressing.
Garlic: I love the intense flavor and aroma of garlic, the vinegar in the recipe tames the intense flavor.
Rice Vinegar: This is by far the ingredient that fives this recipe the most characteristic flavor. Rice vinegar is a bit sweet and mild. I highly recommend using it and not making substitutions.
Nutritional Yeast: This ingredient is used to replace cheese in many vegan recipes. I did not add it to mine and still loved the taste. If you want, add parmesan cheese instead of nutritional yeast.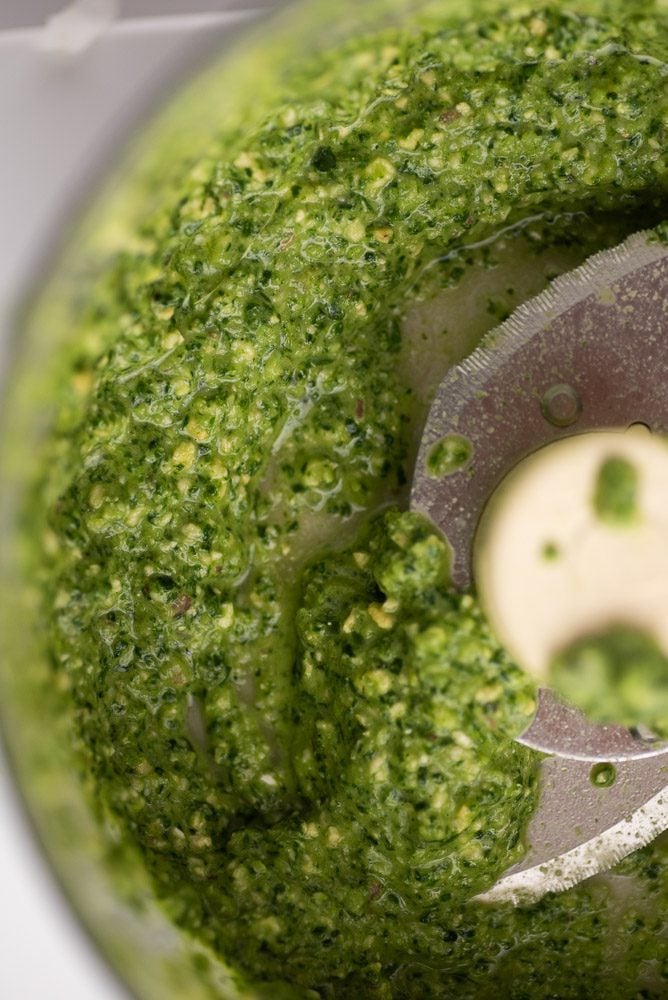 I did not have nutritional yeast, if you are not vegan you can easily substitute this for grated parmesan cheese. I didn't add parmesan either and the salad is still very tasty.
Ingredients for the cabbage salad
Chopped cabbage, scallions and diced cucumbers. Melissa also added chives to her original recipe but I only added scallions.
This recipe is healthy and unexpectedly delicious. You can customize the ingredients to your personal taste and whatever you have on hand at the moment.
I would say one of the key ingredients in the salad dressing is the rice vinegar. It adds a very pleasant flavor and binds all the herbs together.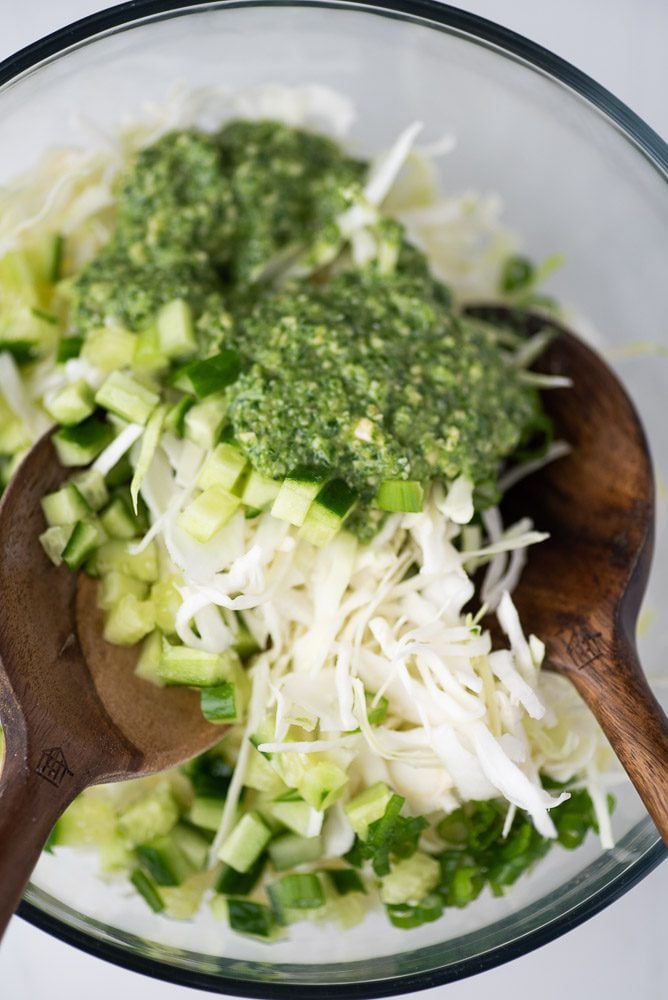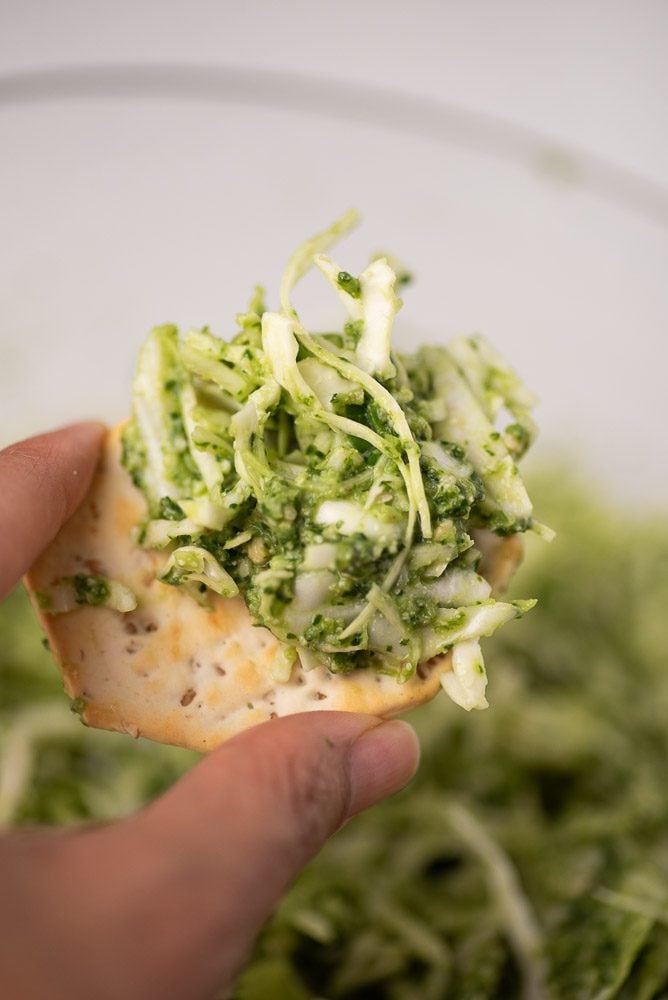 I will definitely add this to my menu rotation, especially for hot summer months, this would make a great dish to bring to a potluck or pool party because it is light and refreshing.
Recipe below is from Baked by Melissa. I adapted it by removing the nutritional yeast.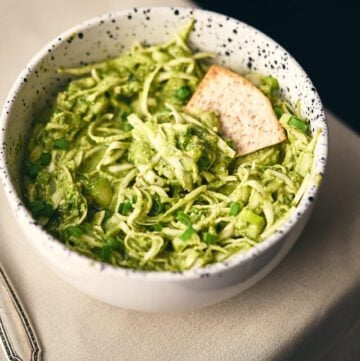 Tiktok Green Goddess Salad Baked by Melissa
This Tiktok Green Goddess Salad recipe from Baked by Melissa is chockfull of nutrients and incredibly delicious. I too was skeptic but it is wonderful.
Ingredients
Green Goddess Salad
2

cups

Green Cabbage shredded

½

cup

diced cucumber

¼

cup

Scallions
Green Goddess Dressing
1

cup

Basil Leaves

1

cup

Spinach Leaves

2

cloves

Garlic

1

small Shallot

Juice of 2 Lemons

¼

cup

of Olive Oil

¼

cup

cashews

Nuts of your choice

1

teaspoon

Salt

2

tablespoons

Rice Vinegar
Instructions
Green Goddess Dressing
In a food processor, combine the spinach, basil, garlic, shallot, cashews, olive oil, and salt.

add the lemon juice and rice vinegar and pulse 3-4 times depending on how much texture you want in the dressing
Salad
Mix the shredded cabbage, diced cucumber and chopped scallions and add the dressing.

Mix well until the cabbage is coated in the green goddess dressing

Serve with chips, as a side salad or top your favorite sandwich with it
Video
Nutrition
Calories:
125
kcal
Carbohydrates:
5
g
Protein:
2
g
Fat:
11
g
Saturated Fat:
2
g
Polyunsaturated Fat:
1
g
Monounsaturated Fat:
8
g
Sodium:
398
mg
Potassium:
157
mg
Fiber:
1
g
Sugar:
2
g
Vitamin A:
754
IU
Vitamin C:
12
mg
Calcium:
32
mg
Iron:
1
mg