This TikTok Lazy Enchiladas with Green Sauce are a perfect weeknight meal. They require almost no prep and are ready in under 30 minutes.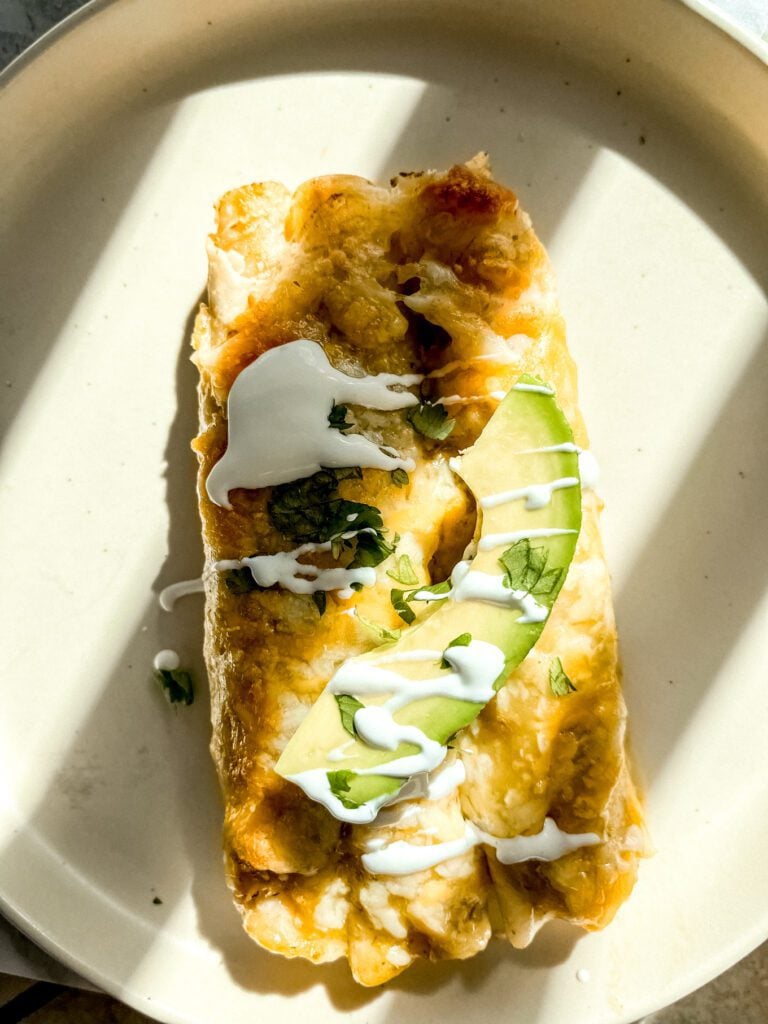 To make these enchiladas you only need 3 ingredients: Taquitos (beef or chicken), enchilada sauce and Mexican-Style cheese.
For this recipe I used chicken taquitos and green enchilada sauce. I like tomatillo sauce because it is tangy but not too spicy.
I personally like red enchilada sauce with beef enchiladas and green or white sauce for chicken enchiladas but it's totally personal preference.
If you don't want to use taquitos, you can also use corn tortillas and rotisserie chicken to make these lazy enchiladas.
What to serve with Enchiladas
These dish is easily a stand alone meal, however you can add traditional side dishes like beans and rice.
If you'd like to lighten up this meal, I highly recommend adding a side salad like this Green Goddess Cabbage Salad.
Can you make this ahead?
Since this recipe requires no prep, it is best to make it when you ae going to eat it.
I had leftovers and re heated them in my air fryer and they were delicious. You can cover them with foil to avoid the cheese from browning too much.
Can you reheat the Enchiladas?
Yes! They re heat great. I use the air fryer to re heat them at 400 Fahrenheit for about 3 minutes.
Can you freeze the Enchiladas?
Since we are using frozen taquitos to make this recipe, I do not recommend refreezing it.
If you don't have Mexican-Style cheese what can you use?
You can substitute it for any melty cheese such as mozzarella cheese or cheddar cheese
TikTok Lazy Enchiladas with Green Sauce
These enchiladas went viral on TikTok because they are super easy to make and delicious
Ingredients
1

box (15 count) Chicken and Cheese Taquitos

I used ALDI taquitos

1

10 OZ can Green Enchilada Sauce

I used Las Palmas brand

2

cups

Mexican Cheese Blend (Monterrey Jack, Cheddar, Queso Quesadilla and Asadero)

I used the Good and Gather by Target cheese blend

Sliced avocado

For garnish

Sour cream or Mexican cream

Optional

Cilantro

Optional
Instructions
Preheat the oven at 400 Fahrenheit

In a baking dish (9X13) place the taquitos and bake at 400 Fahrenheit for 15 minutes

Remove them the oven and add the Green Enchilada Sauce on top

Top with the Mexican Cheese Blend

Bake uncovered for 10-15 minutes until the cheese is melted and bubbly

Serve with sliced avocado, drizzle sour cream or Mexican cream and cilantro
Video