Making juicy meatballs in the Air Fryer is easy, efficient and delicious. I promise that after you try this recipe, you won't want to cook meatballs any other way.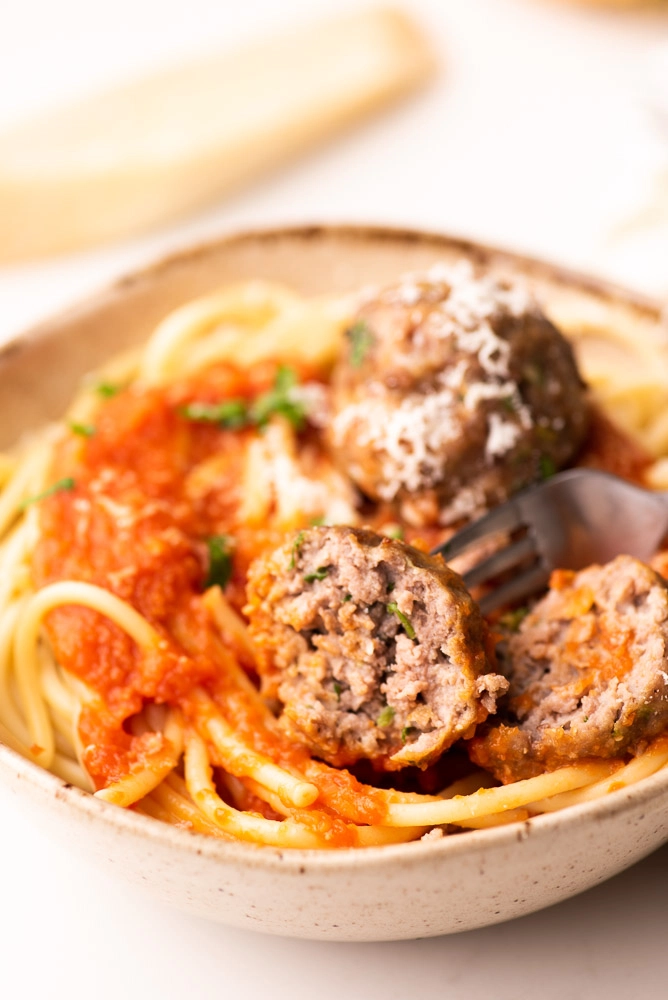 Juicy Meatball Recipe
The success of a juicy meatball recipe is all about the ratio between lean meat and fat. In order to get juicy meatballs I like to use beef and pork. A ratio of 80/20 for the beef is the perfect combination.
You can use a leaner meat but it will affect the overall result and the meatballs won't be as juicy.
Besides using both beef and pork in your meatballs, there are a few tips that help to keep them soft and juicy.
Avoid over mixing the meat and don't go heavy handed when making the balls. Wetting your hands with cold water before you make the balls, it's a must.
Meat seasoning
This recipe uses herbs to give the meatballs all the flavor. This is better than dry rubs or dried spices. We use parsley, basil, green onion and garlic.
This recipe uses breadcrumbs, water, eggs and salt. I like to pair my meatballs with homemade marinara sauce but any store bought sauce works well.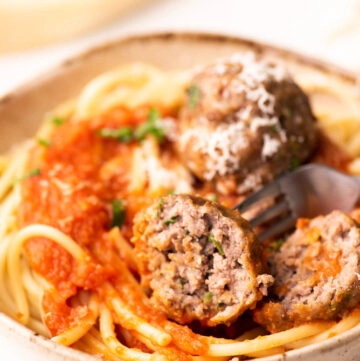 Air Fryer Meatballs
Ingredients
1

lb

ground beef

1

lb

ground pork

Make sure is not pork sausage but ground pork

¼

cup

chopped parsley

¼

cup

chopped green onion

¼

cup

chopped basil

1

garlic clove

1

egg

½

cup

breadcrumbs

¾

cup

water

2

teaspoons

salt

pepper to taste
Instructions
in a food processor pulse the parsley, basil, onion and garlic

add the egg and salt, pulse until combined

add the mixture to a bowl and add the beef and pork and breadcrumbs

mix well and form the meatballs making sure you don't press too hard on them

add them to the air fryer at 325 Fahrenheit for 12 minutes, flipping them half way through

serve with spaghetti and marinara sauce. Garnish with cheese and basil