This Orange Sauce with Orange Marmalade is zesty, bright and sweet, it's my favorite shortcut to make the easiest Orange Chicken.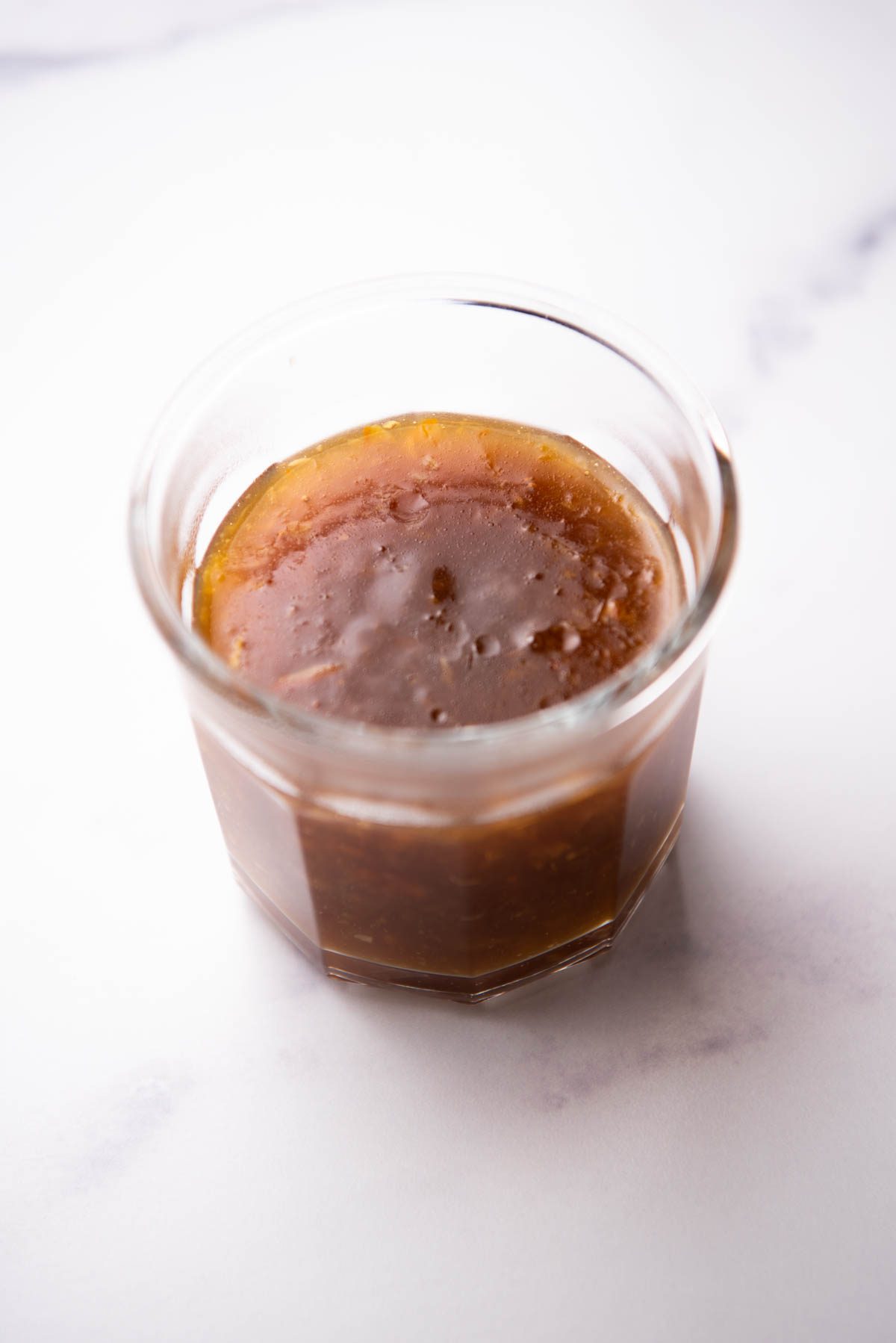 Why this recipe is amazing
This recipe for Orange Chicken sauce is quick to make and yield the perfect sweet, sticky and bright orange sauce that you love.
The best part about this sauce is that you can use high quality ingredients and you control how sweet and how thick the sauce is.
This orange sauce only takes a few minutes to make, it stores and freezes really well so it saves you time when making orange chicken from scratch.
Orange Sauce Ingredients
There are many ways to make orange sauce and I've tested most of them. This is the easiest way to make the best orange sauce.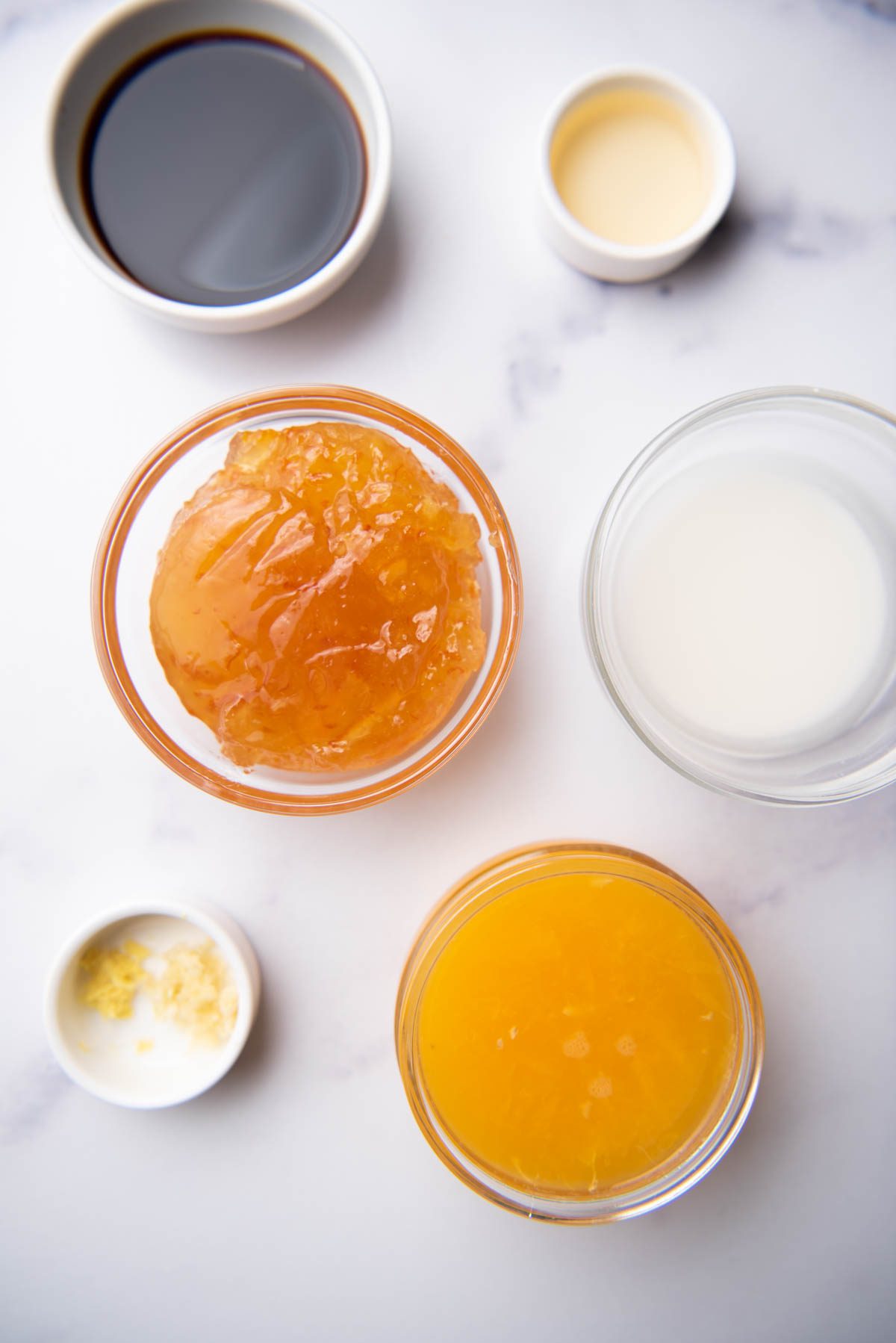 Orange Marmalade: I like to use a natural marmalade that has the orange zest in it. Orange zest elevates the sauce and gives it an interesting texture. The Smucker's Natural Orange Marmalade is my favorite brand.
Orange Juice: Use fresh squeezed orange juice for the best flavor, use bottled orange juice in a pinch.
Soy Sauce: I use regular soy sauce. This ingredient adds the umami and salty notes that balance the sweetness in the sauce.
Rice Vinegar: Helps bring the bright notes in the sauce and helps balance the overall taste. I wouldn't substitute this ingredient.
Garlic: It is the classic cooking aromatic and it adds a savory and fresh flavor to the sauce.
Ginger: Bright and punchy ginger is a must-have ingredient in this sauce. It is the perfect complement to the sweetness of the orange marmalade.
Cornstarch slurry: Cornstarch mixed with water helps thicken the sauce and gives it a shiny glaze-like texture.
Avocado oil: Or any neutral oil to sauté the ginger and garlic. If you like sesame oil you can also use it.
How to make orange sauce
This recipe is amazing because it is so quick to make. The only prep you need is grate the garlic and fresh ginger.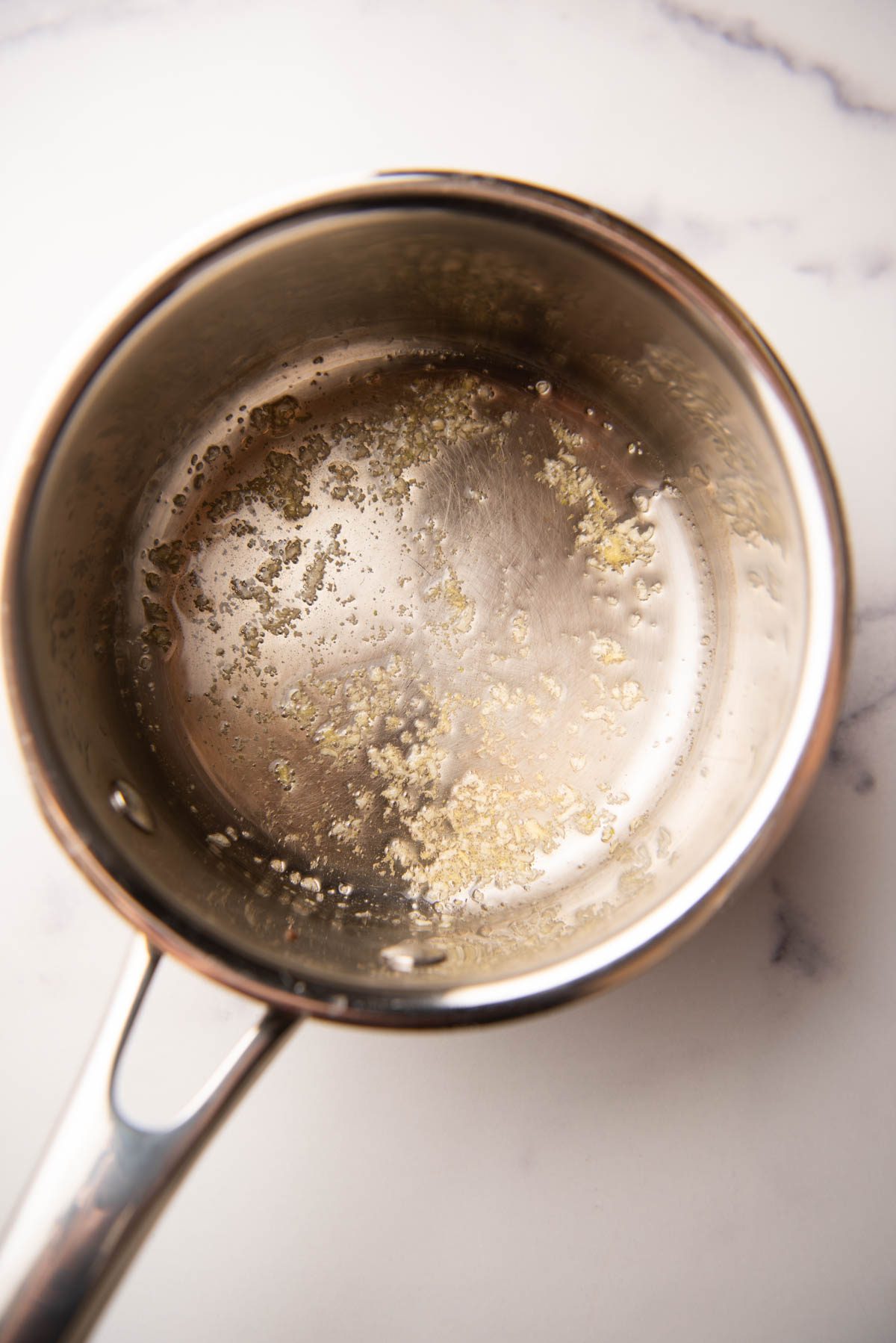 Use a sauce pan to add the oil, ginger and garlic and give them a quick sauté until the garlic is fragrant.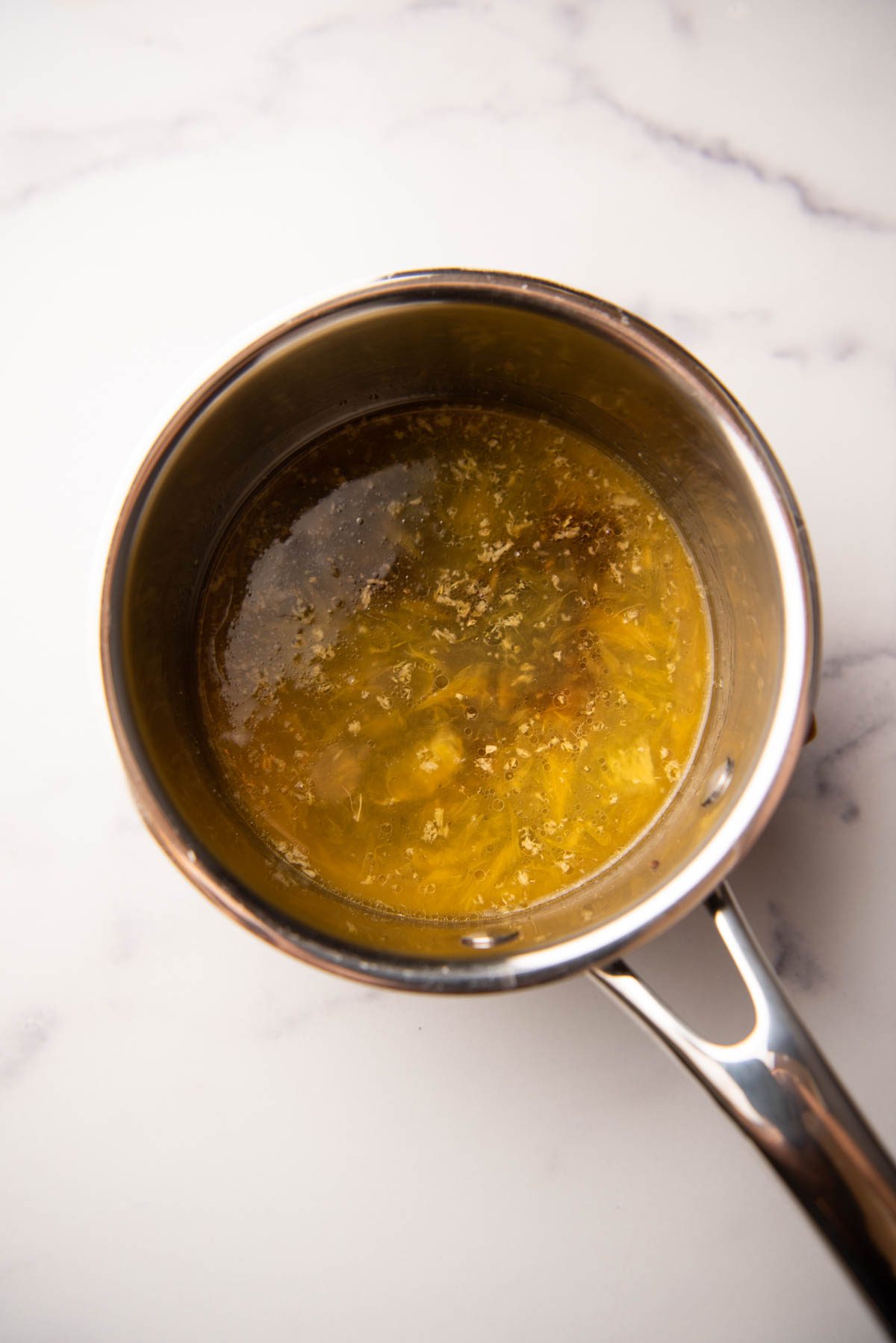 Add the fresh orange juice, the soy sauce and rice vinegar. Mix until they are combined and bring them to a simmer over medium-high heat.
I like to leave my orange juice pulp because adds more texture to the sauce. If you don't like the bits and pieces, you can just use pulp-free bottled juice or strain your fresh orange juice.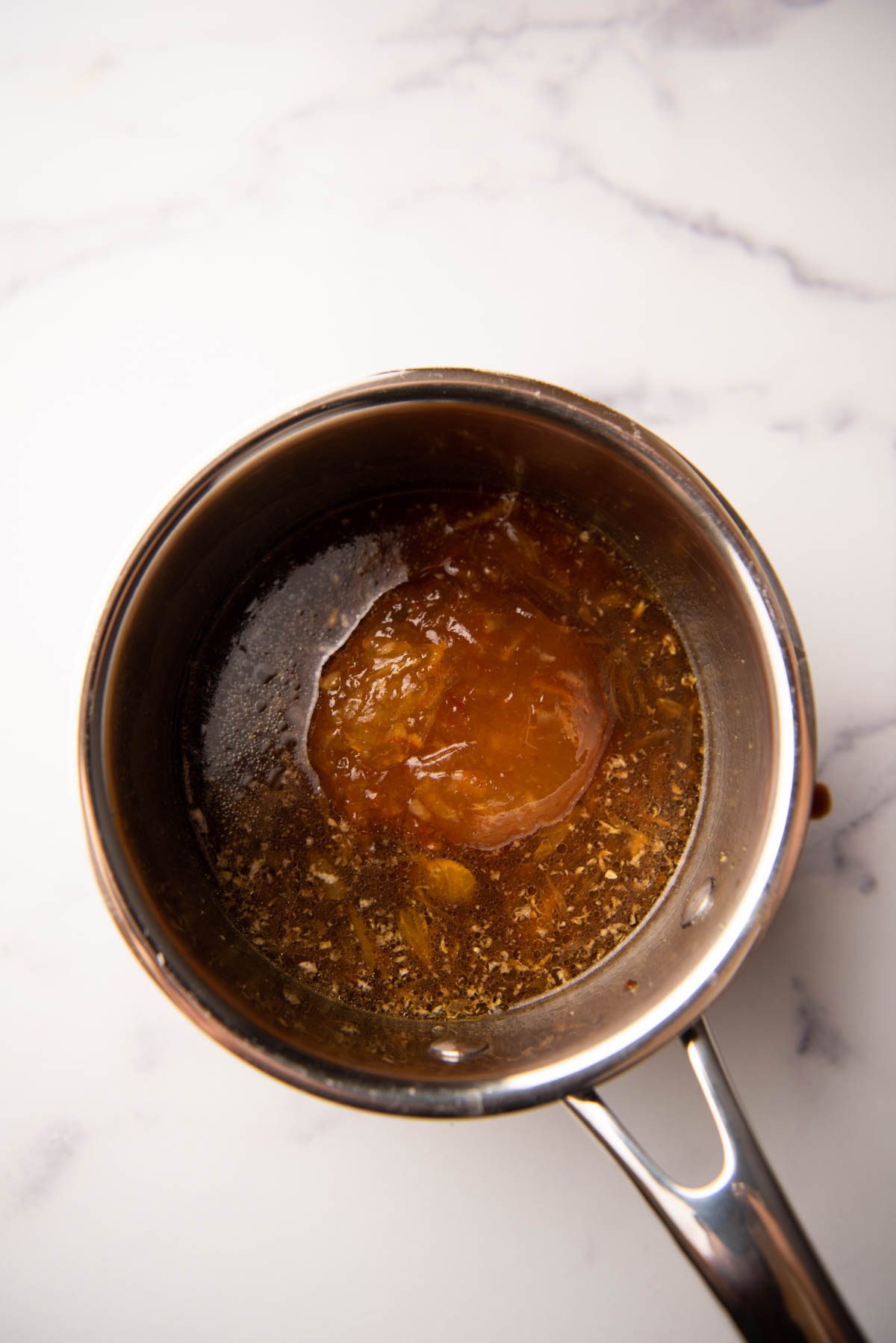 Add the marmalade and allow it to dissolve. Use a wooden spoon to stir constantly until the orange marmalade is fully incorporated.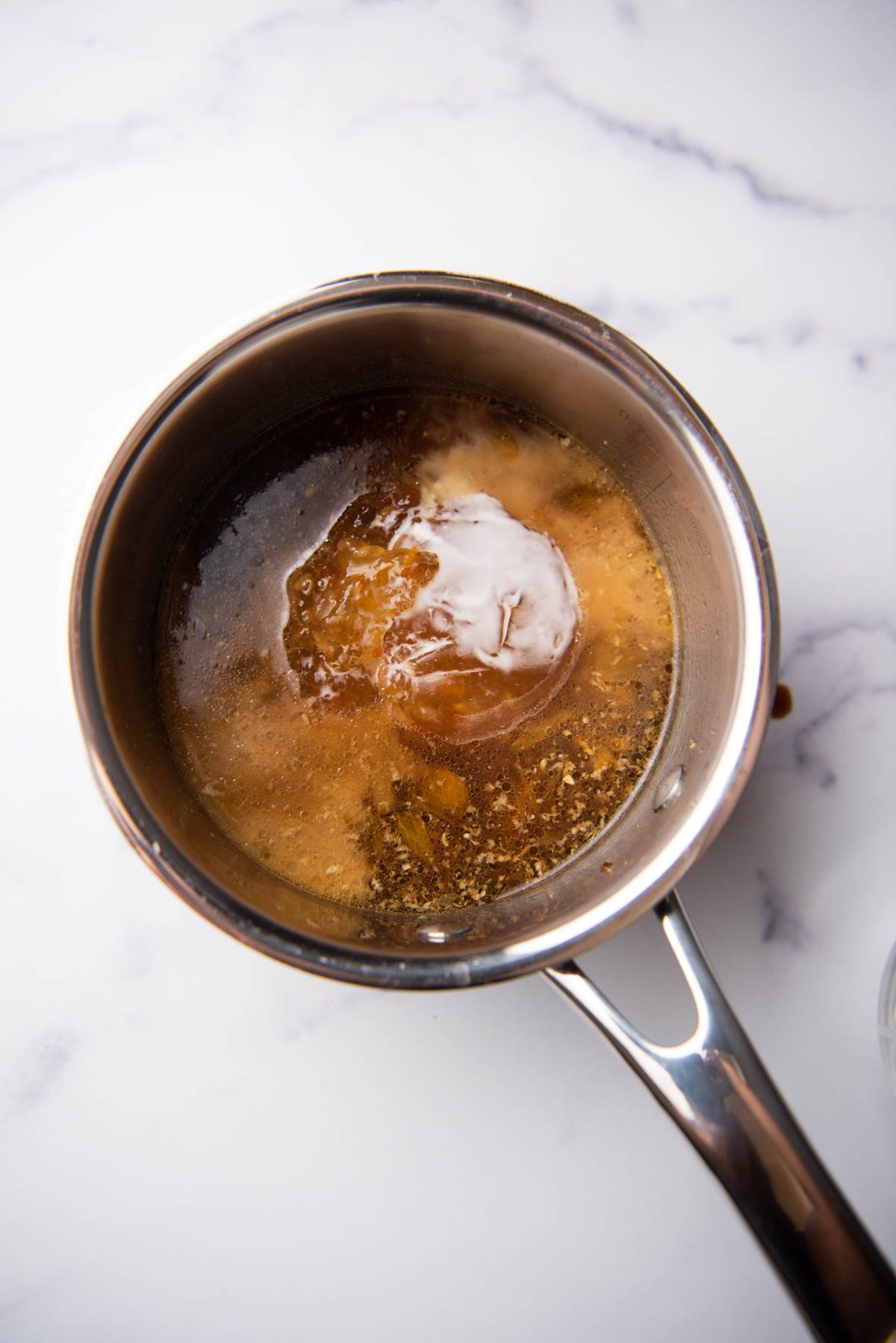 Next add the cornstarch slurry (cornstarch dissolved in water). The sauce will turn a pale white color but don't fret. Once the cornstarch cooks the sauce will turn a deep caramel color.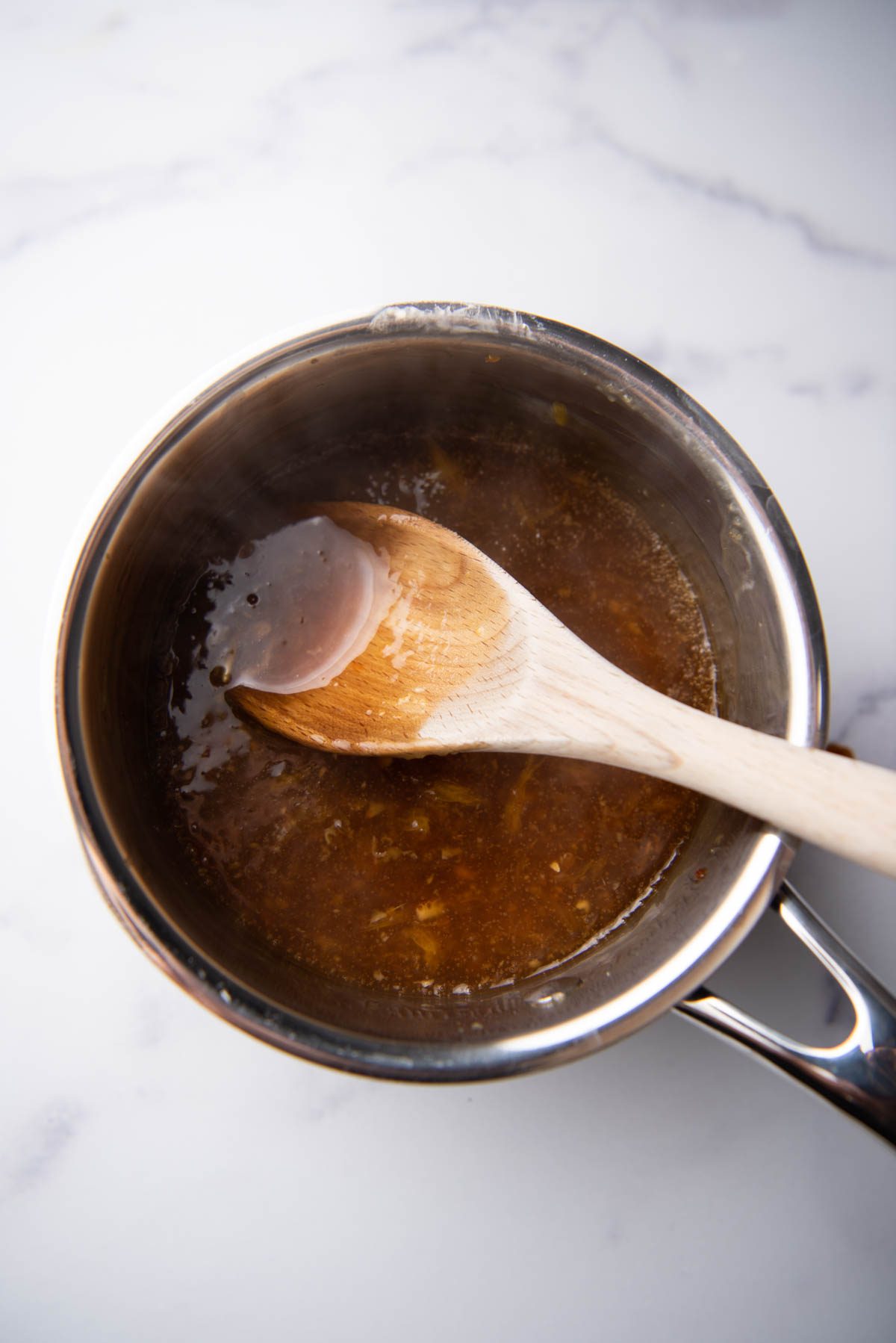 Allow the sauce to cool down. It will thicken up more once it is at room temperature. Store in a glass jar with a lid in the fridge until you are ready to use it.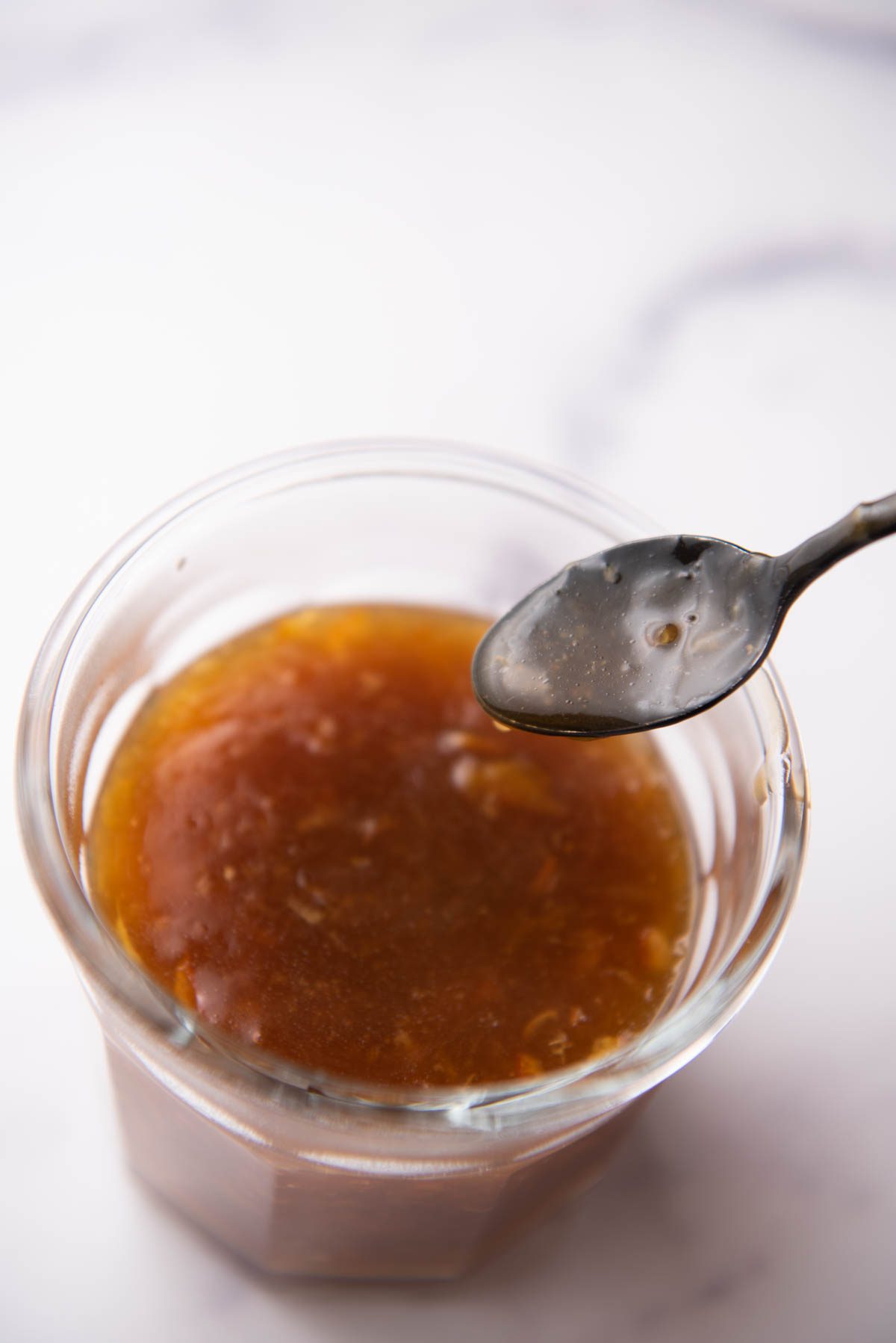 Storage and freezing instructions
One of the best things about this quick marmalade orange sauce is that it keep great in the fridge and it is freezer-friendly.
I keep mine in the fridge stored in a glass jar with a lid for up to 5 days.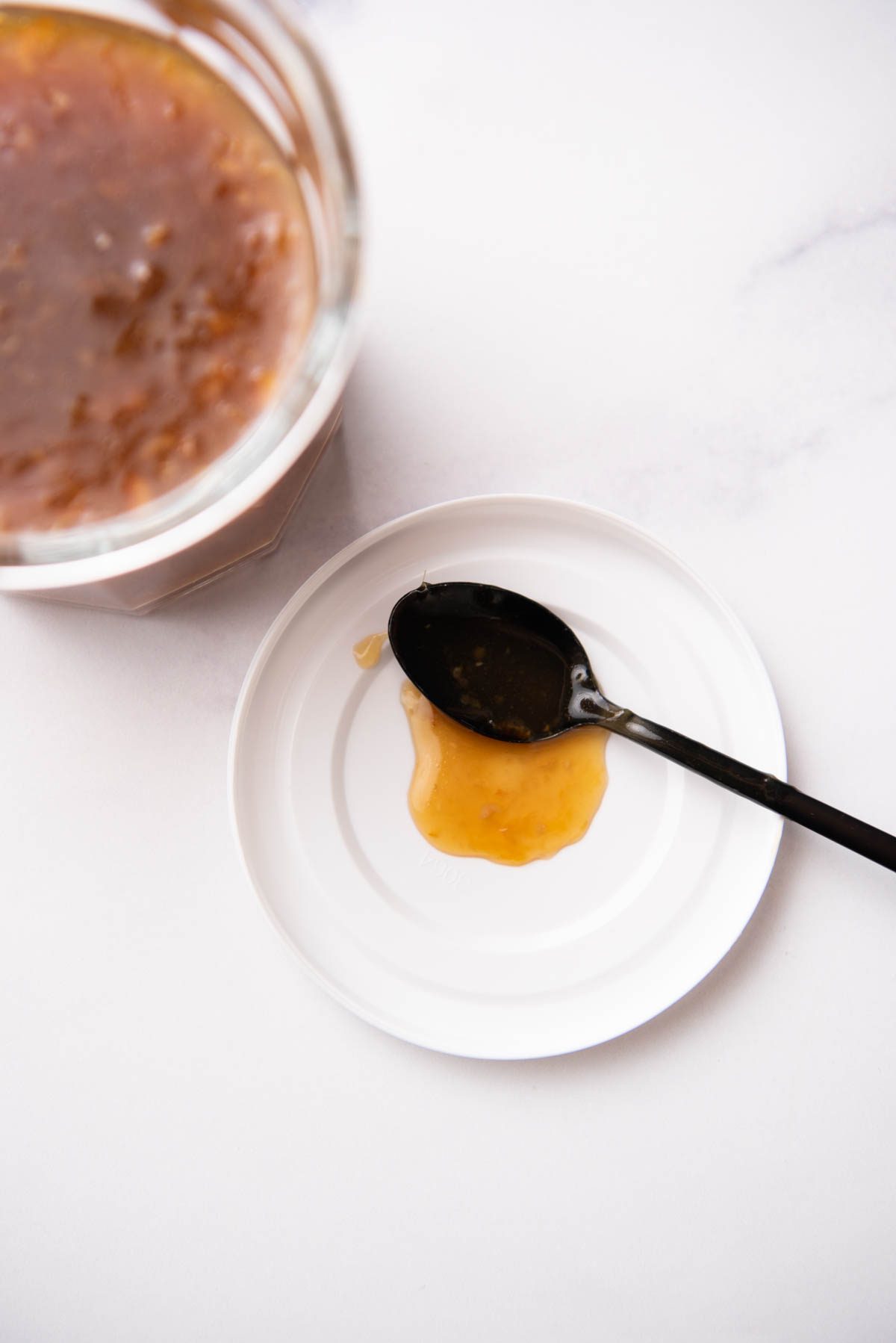 To freeze use an ice cube tray and freeze in a ziplock bag. To thaw just add it to a sauce pan or use the microwave in 30 second intervals.
What to serve with orange sauce
The classic pairing for this sauce is the crispy orange chicken recipe we all love, a classic take-out meal.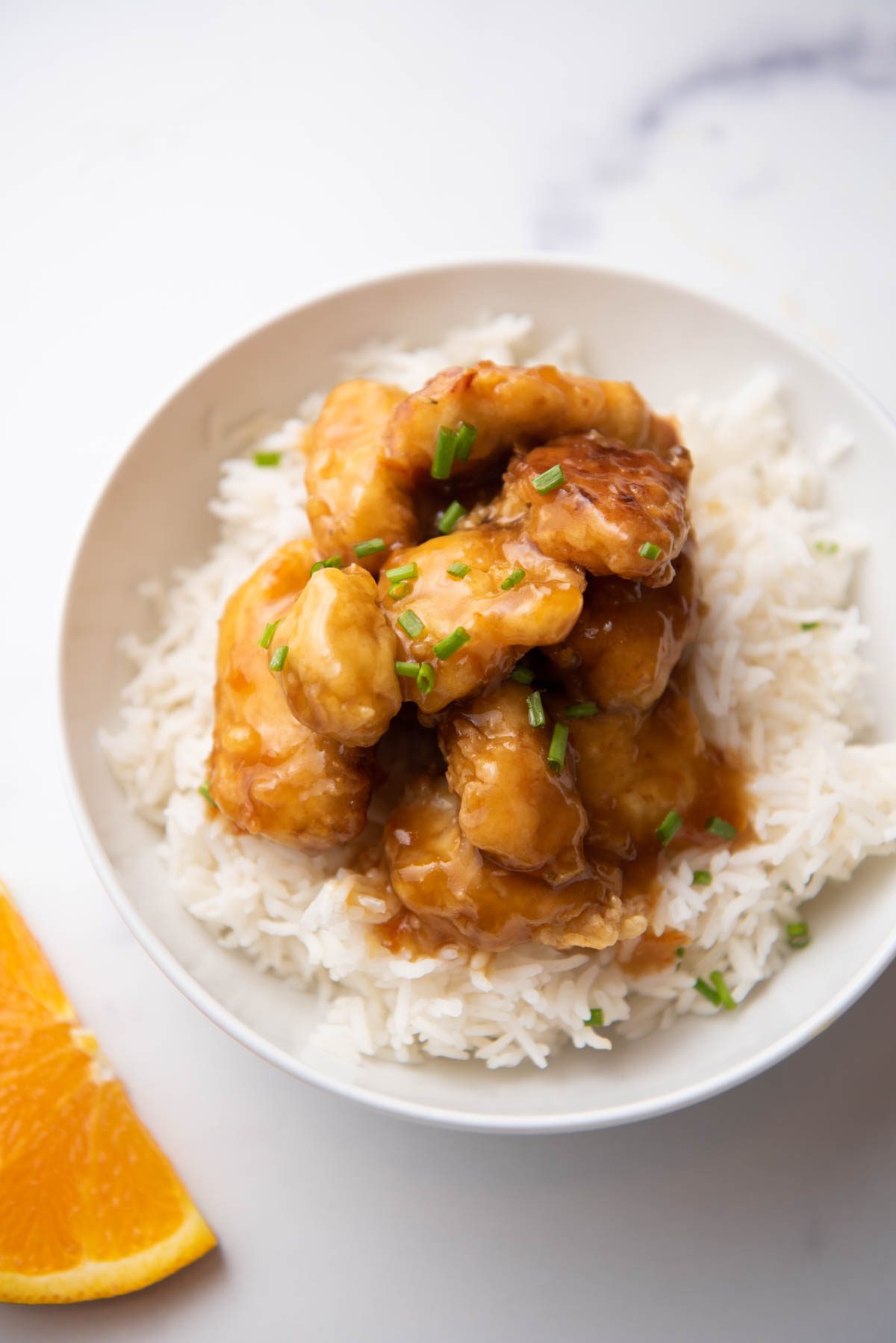 Some people use the orange sauce in duck dishes but I personally have not tried it.
If you don't make the crispy orange chicken, this sauce would be still good on bare chicken tenders served over rice and broccoli.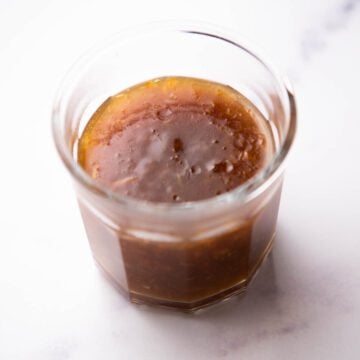 Orange Sauce with Orange Marmalade
Ingredients
¾

cup

Orange juice

1

Tablespoon

Rice vinegar

2

Tablespoons

Soy sauce

½

cup

Orange marmalade

1

Tablespoon

Cornstarch In a slurry

1

Tablespoon

Avocado oil

1

Garlic clove Minced

¼

teaspoon

Fresh ginger Grated
Instructions
In a sauce pan over medium heat add the avocado oil, garlic and grated ginger. If you don't have fresh ginger just leave it out. Cook for 1 minute until the garlic is fragrant.

1 Tablespoon Avocado oil,

1 Garlic clove Minced,

¼ teaspoon Fresh ginger Grated

Add the vinegar, soy sauce, orange juice and bring to a gentle simmer. Add the orange marmalade.

¾ cup Orange juice,

1 Tablespoon Rice vinegar,

2 Tablespoons Soy sauce,

½ cup Orange marmalade

In bowl combine the cornstarch and 3 tablespoons of water. Mix well until all the cornstarch is dissolved (slurry). Add the to orange sauce to thicken it up.

1 Tablespoon Cornstarch In a slurry

Bring the heat to medium-high until the sauce is shiny and syrup-like consistency. This makes about 2 cups of orange sauce.