This Simple Orange Chicken Recipe is an easy weeknight meal. Your family will love these crispy chicken pieces with sweet orange sauce.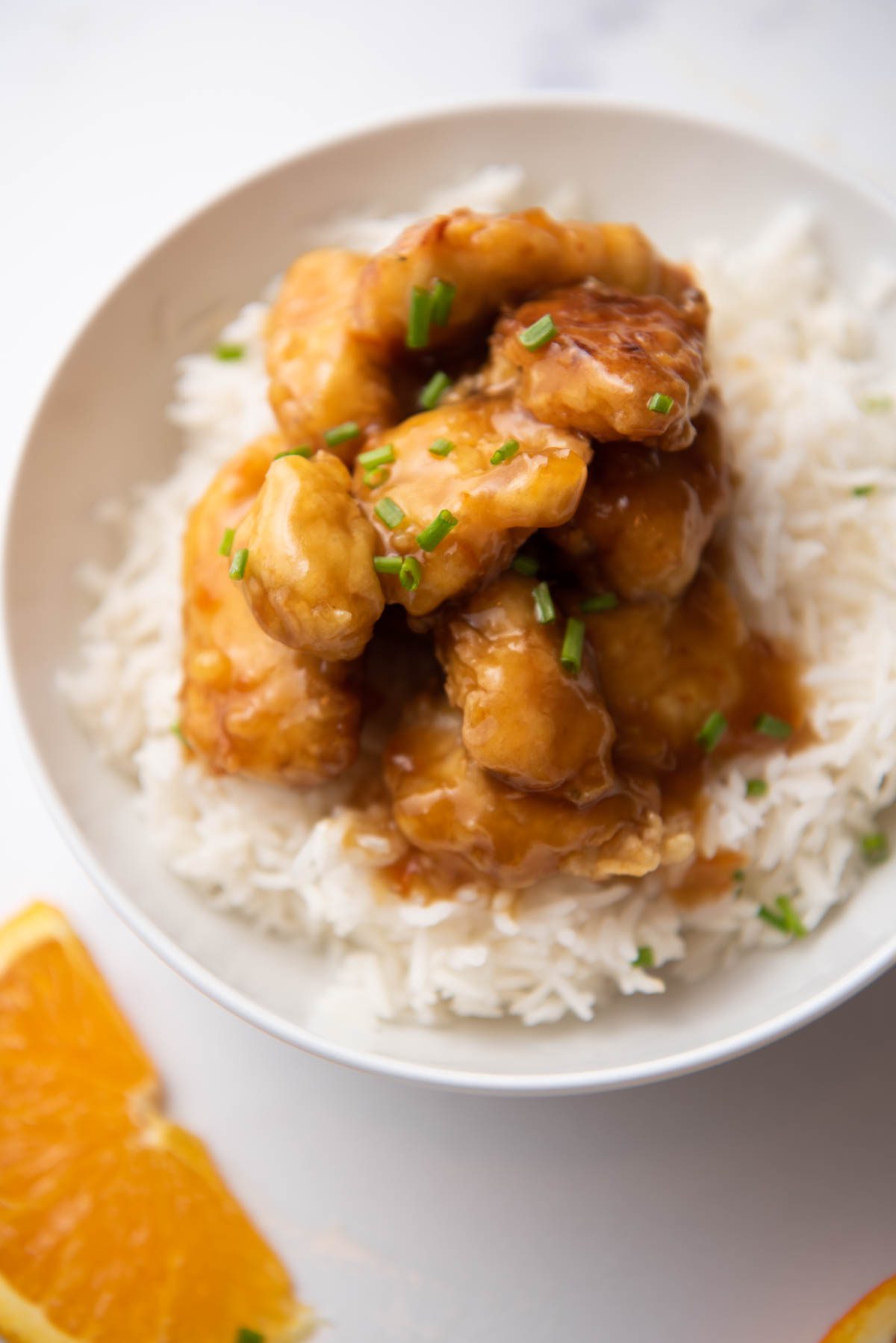 Why you will love this recipe
This recipe is a simple version of the classic Orange Chicken takeout.
You will get a restaurant-quality (if not better!) orange chicken at home.
This recipe yields perfectly crispy breaded chicken in a sweet and zesty orange glaze.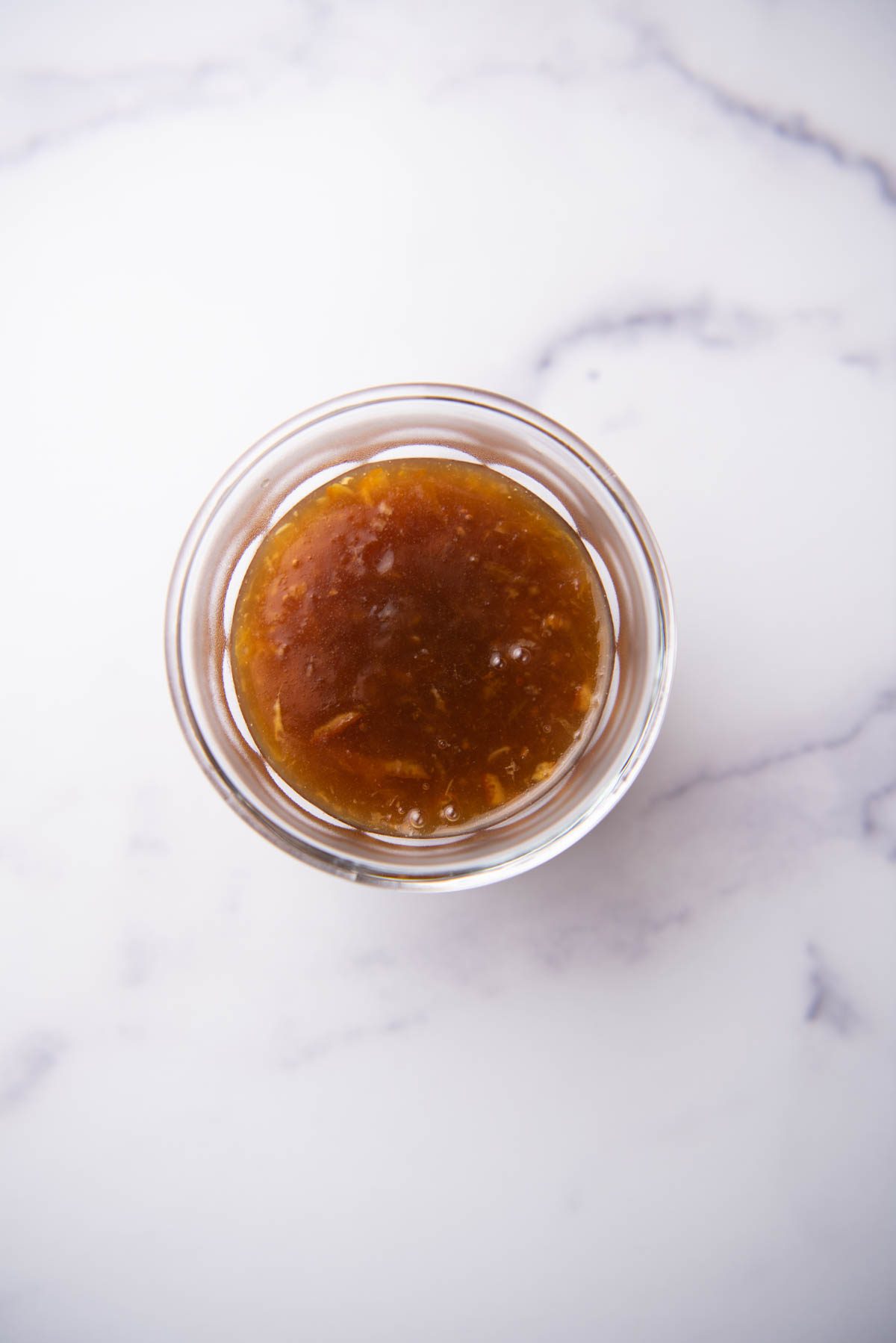 I have tried different versions of this recipe and finally came up with my own.
I make this recipe at least once a week and it is always the recipe my family begs me to make.
Orange Chicken ingredients
This recipe uses a handful of pantry staples and a couple of specialty ingredients. They are definitely worth heading to the store for!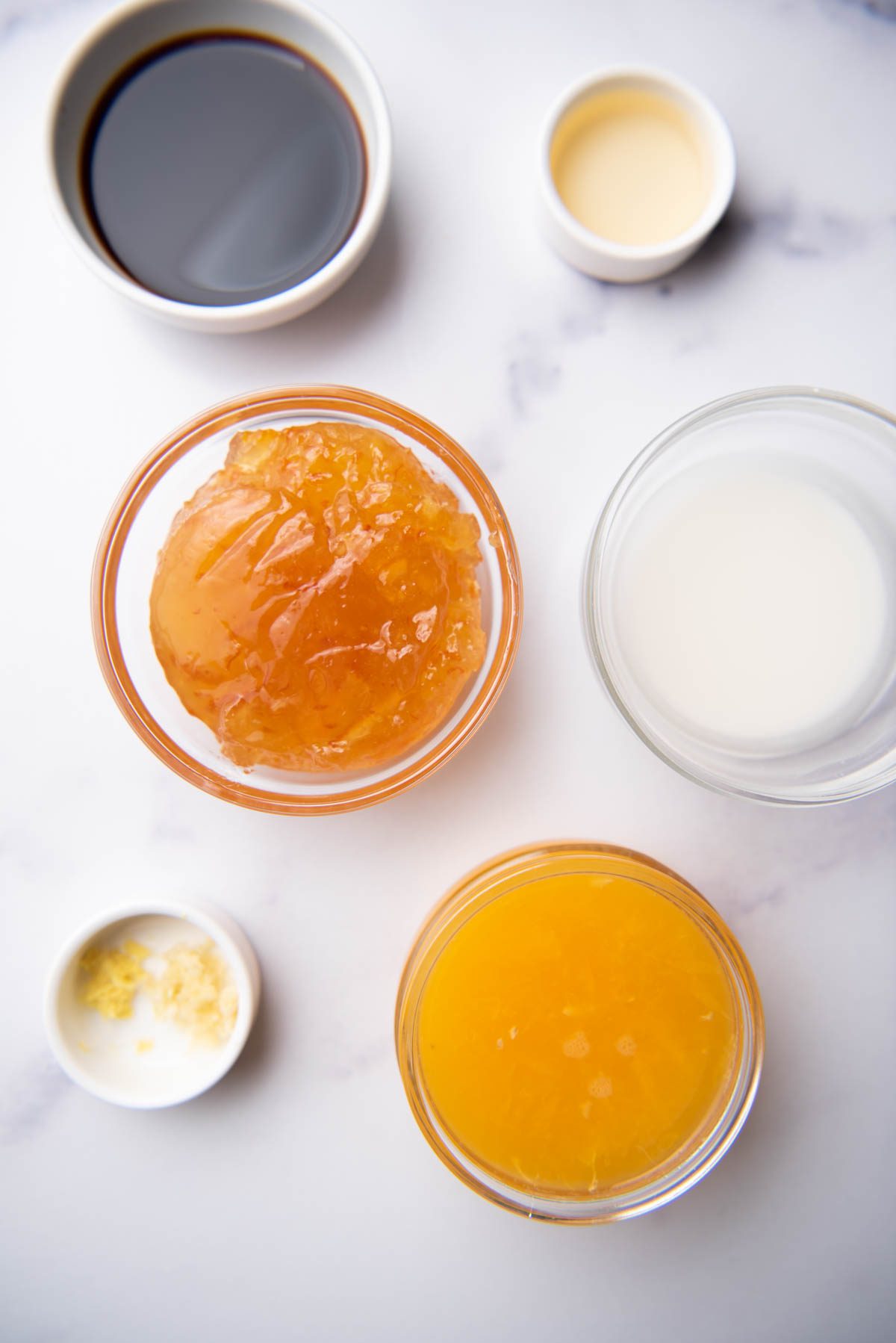 Chicken breast: I've only use chicken breast or chicken tenderloins for this recipe. I like the texture better and find it easier to work with.
Cornstarch: This ingredients is what makes the chicken breading crispy and will give you that takeout texture.
Flour: Combined with the cornstarch flour is the base of the breading.
Garlic and ginger: They are the base of the chicken marinade and add amazing flavor.
Soy sauce: it is a basic ingredient in Asian-inspired cooking, will help with the caramelization of the orange sauce.
Rice vinegar: Adds depth of flavor and counteracts some of the sweetness in the sauce with a savory note.
Orange marmalade: This is my favorite thing in the sauce. It is a great shortcut to get the sauce thick quickly and I love the texture it adds.
Orange juice: I prefer freshly squeezed orange juice but you can also use bottled juice.
Egg: To help bind the crispy coating to the chicken pieces.
Neutral Oil: For pan frying the chicken. I love using avocado oil.
Step by step instructions:
I like to start by dicing the chicken and marinating the pieces in orange juice, garlic, salt, pepper, paprika and onion powder.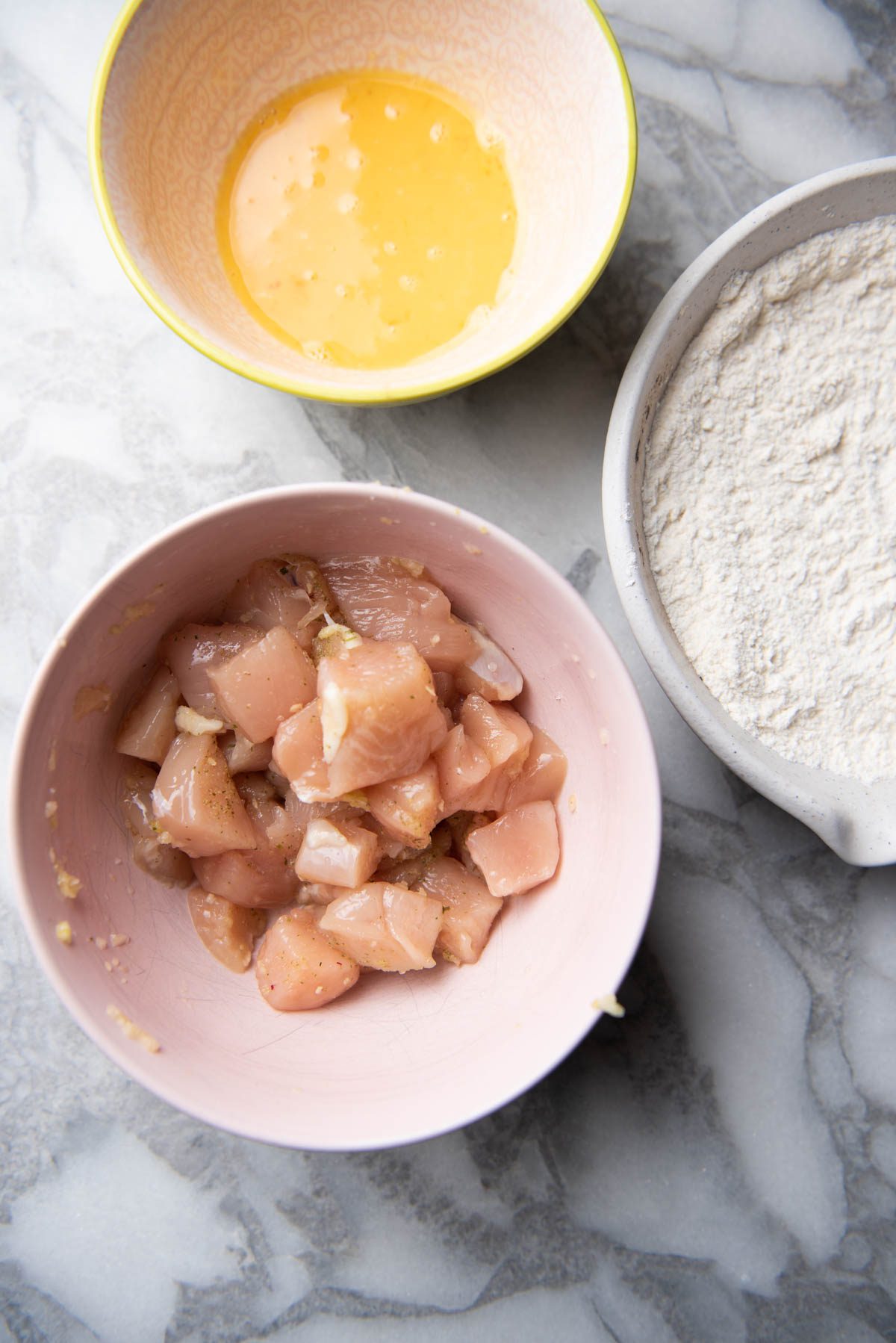 While the chicken marinates, start making the orange sauce by sautéing the garlic and ginger until they release their aroma.
Then I add the orange juice, soy sauce and rice vinegar.
Add the orange marmalade and the cornstarch slurry and simmer until the sauce thickens up.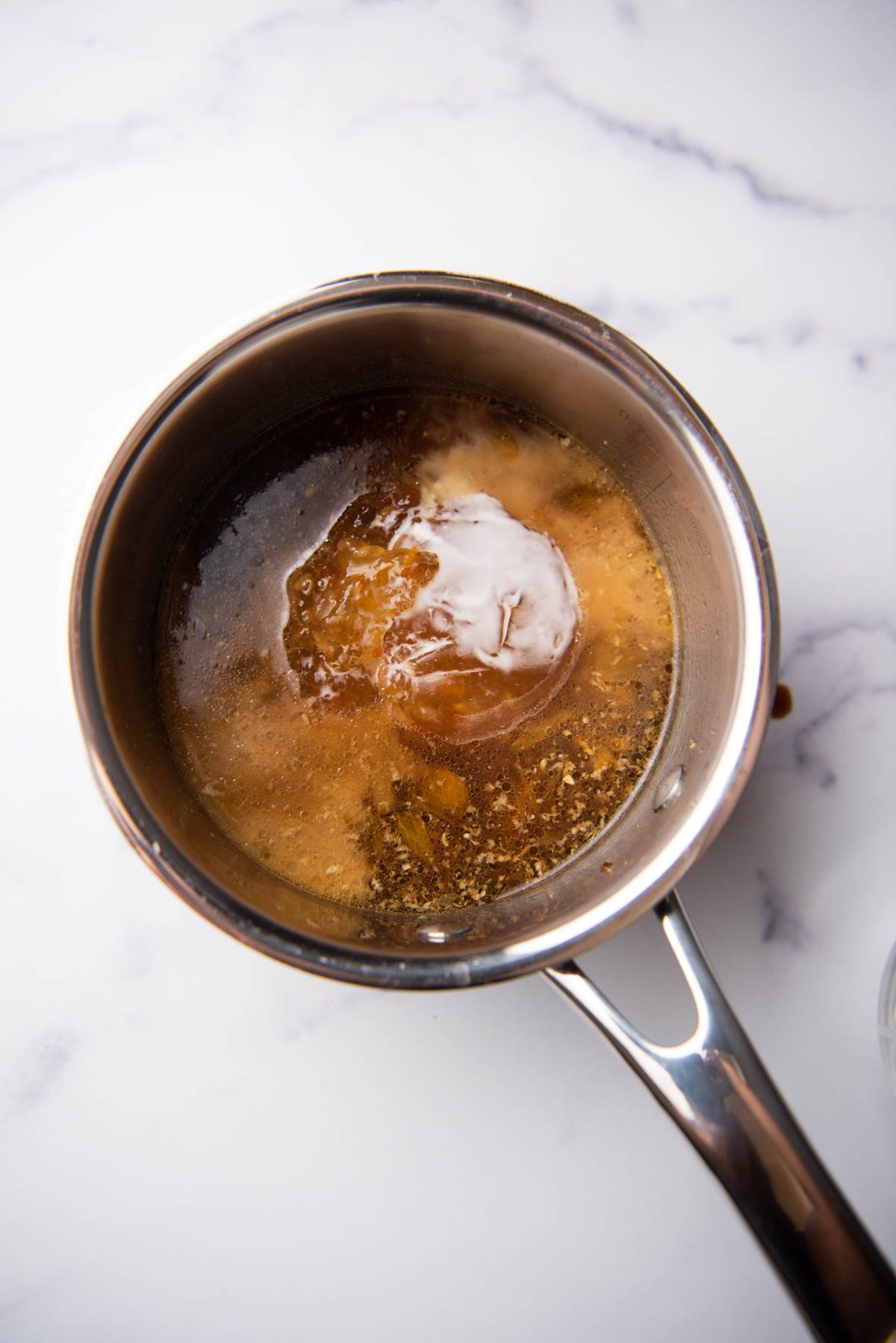 In separate bowls, prepare the egg and flour mixture. Place a non-stick skillet over medium-high heat and add the avocado oil.
Coat the chicken in egg and then in the flour mixture. Make sure it is well coated.
Pan fry it for about 3 minutes on each side. Since we are cooking small pieces they will be done quick. Flip on the other side until the chicken is golden brown.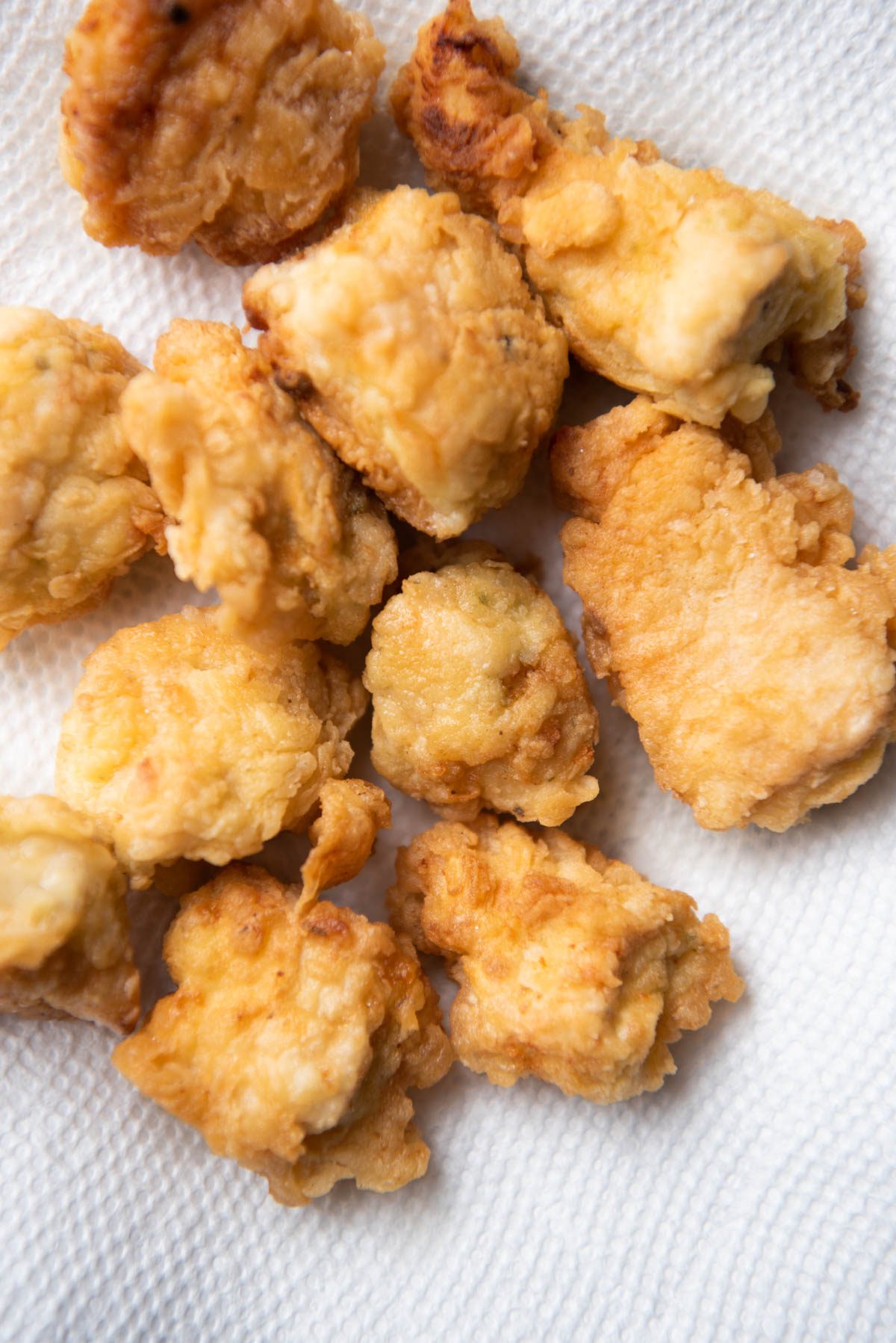 Toss the chicken in the orange sauce and serve over rice or broccoli.
What to serve with this chicken?
The classic takeout meal is served with steamed white rice and it is definitely my favorite way to eat it.
I usually make the rice while the chicken marinates and while the orange sauce thickens.
You can make the rice ahead of time or use frozen or instant rice to save time.
If you need a good rice recipe, try my Instantpot rice.
Another good addition to this chicken is steamed broccoli in place of the rice or with it for a complete meal.
Storage and reheating instructions
I prefer to eat this orange chicken fresh and so does my family.
When I make this recipe, I make sure to only coat with the sauce the amount we are going to eat right away.
We rarely ever have leftovers when we make this recipe but if I do, I like to reheat the chicken in the air fryer and then coat it with the sauce.
I keep the fried chicken ion an airtight container for up to 2 days.
You can make the orange sauce ahead of time, make a double batch if you'd like and keep it in the fridge for up to 5 days.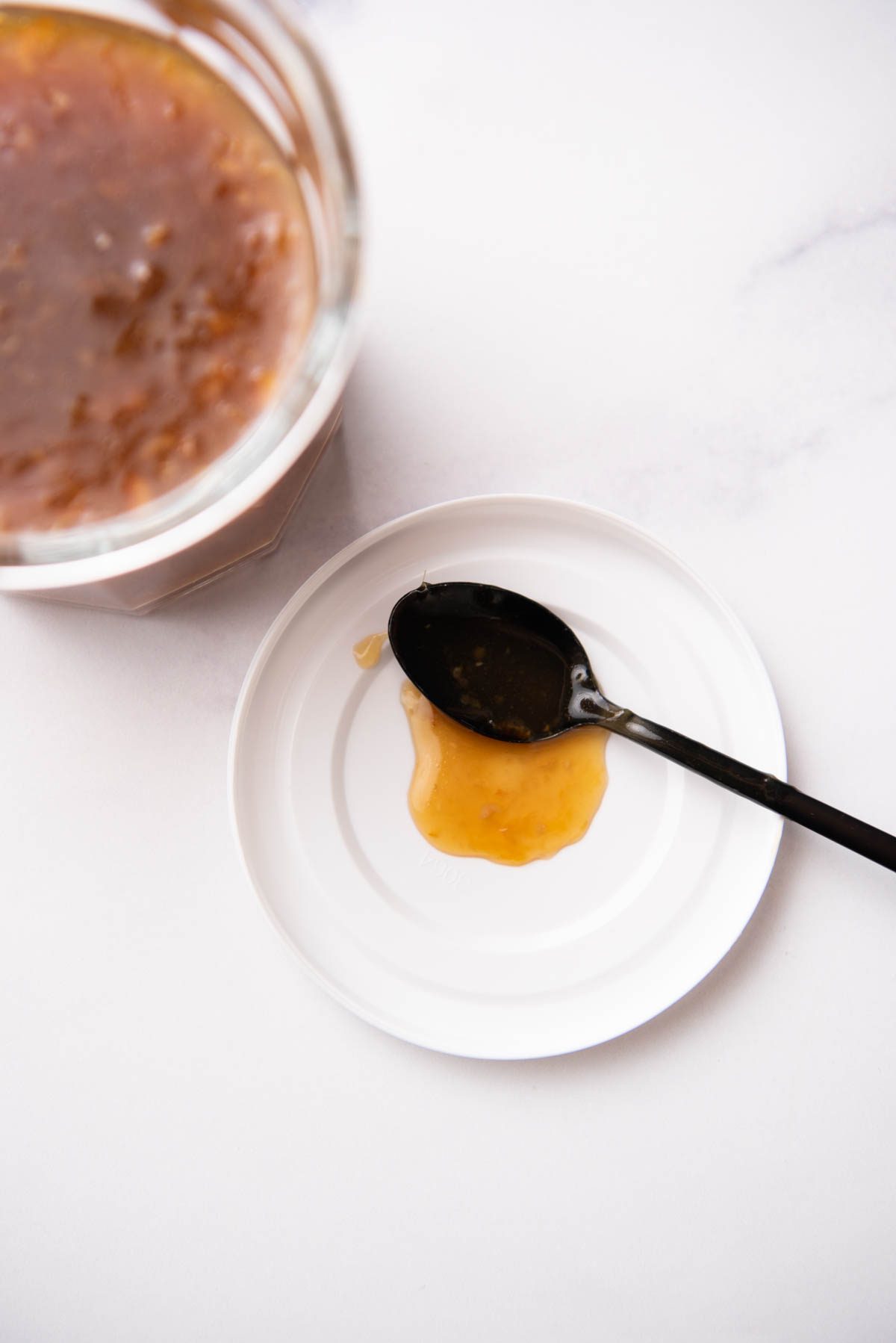 The orange sauce also freezes really well and it is one of my tricks for making this recipe quickly; I make a double batch and freeze some of the sauce.
Tips to make the best orange chicken
The main thing to keep in mind to make the best orange chicken is using quality ingredients.
I love the Smucker's Natural Orange Marmalade because it is made with sugar and orange peel, which gives the sauce an amazing texture.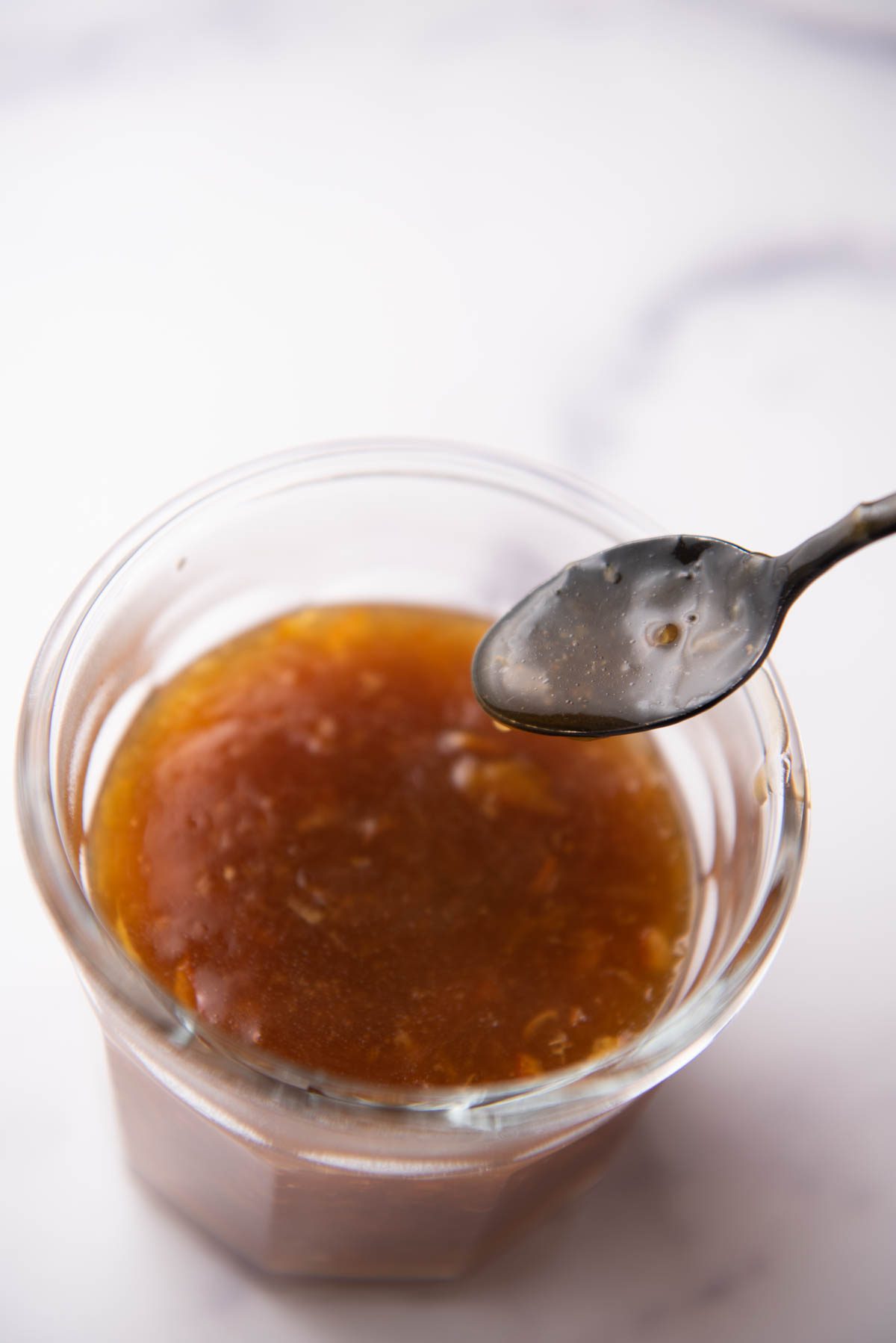 If you don't find this brand or your marmalade doesn't have orange peel, use a fresh orange and grate some of the skin. It is an amazing flavor enhancer!
For the chicken I love using tenderloins because they are already sliced thinly and when diced make the perfect small bites-size pieces of chicken.
Having small bite-sizes pieces will make the frying quicker and use less oil.
Another great tip is to use small tongs they are perfect for handling the chicken so you don't need to touch raw meat!
I use them for grabbing the chicken pieces and dipping them in the egg and then the flour.
I rinse the tongs or use another set to flip the chicken when frying, and it is great!
Simple Orange Chicken Recipe
This Simple Orange Chicken Recipe is an easy weeknight meal. Your family will love these crispy chicken pieces with sweet orange sauce.
Ingredients
For the chicken
4

Chicken tenderloins

about ½ pound of chicken total

1

Garlic clove

¼

cup

Orange juice

¼

teaspoon

Salt

½

teaspoon

Onion powder

¼

teaspoon

smoked paprika

optional

¾

cup

Avocado oil

for frying the chicken
For the breading
½

cup

All purpose flour

¼

cup

Cornstarch

½

teaspoon

Baking powder

¼

teaspoon

Salt

Pepper to taste

1

egg
For the Orange Sauce
¾

cup

Orange juice

1

Tablespoon

Rice vinegar

2

Tablespoons

Soy sauce

½

cup

Orange marmalade

1

Tablespoon

Cornstarch

In a slurry

1

Tablespoon

Avocado oil

1

Garlic clove

Minced

¼

teaspoon

Fresh ginger

Grated

Scallions

Optional garnish
Instructions
Cut the chicken into bite-size pieces.

In a bowl, combine the minced garlic, orange juice, salt, pepper, onion powder and paprika. Add the cut chicken and stir until the chicken is well coated. Set aside.

1 Garlic clove,

¼ cup Orange juice,

¼ teaspoon Salt,

½ teaspoon Onion powder,

¼ teaspoon smoked paprika
Make the Orange Sauce
In a sauce pan over medium heat add the avocado oil, garlic and grated ginger. If you don't have fresh ginger just leave it out. Cook for 1 minute until the garlic is fragrant.

1 Tablespoon Avocado oil,

1 Garlic clove,

¼ teaspoon Fresh ginger

Add the vinegar, soy sauce, orange juice and bring to a gentle simmer. Add the orange marmalade.

¾ cup Orange juice,

1 Tablespoon Rice vinegar,

2 Tablespoons Soy sauce

In bowl combine the cornstarch and 3 tablespoons of water. Mix well until all the cornstarch is dissolved (slurry). Add the to orange sauce to thicken it up.

Bring the heat to medium-high until the sauce is shiny and syrup-like consistency. This makes about 2 cups of orange sauce.
Make the breading
In a small baking dish or a plate combine the flour, cornstarch, salt, pepper, baking powder and whisk together.

½ cup All purpose flour,

¼ cup Cornstarch,

¼ teaspoon Salt,

Pepper to taste,

½ teaspoon Baking powder

In a non-stick frying pan add about ¾ cups of avocado oil and bring it to a medium-high heat.

Dip the egg pieces in the egg and then flour mixture until fully coated.

Fry the chicken for 2-3 minutes and flip it. Fry for another 2 minutes until both sides are golden brown. Fry in 2 to 3 batches and avoid overcrowding the pan.

Place the chicken in a kitchen paper towel-lined plate.

Toss the chicken in half the orange sauce until well coated. Add more if desidered.

Serve over rice, add chopped chives as garnish.