If you are wondering what bread they are eating in Disney's movie Encanto, it is Colombian Cheese Arepas.
Arepas are the Colombian daily bread. We eat them for breakfast, lunch and dinner.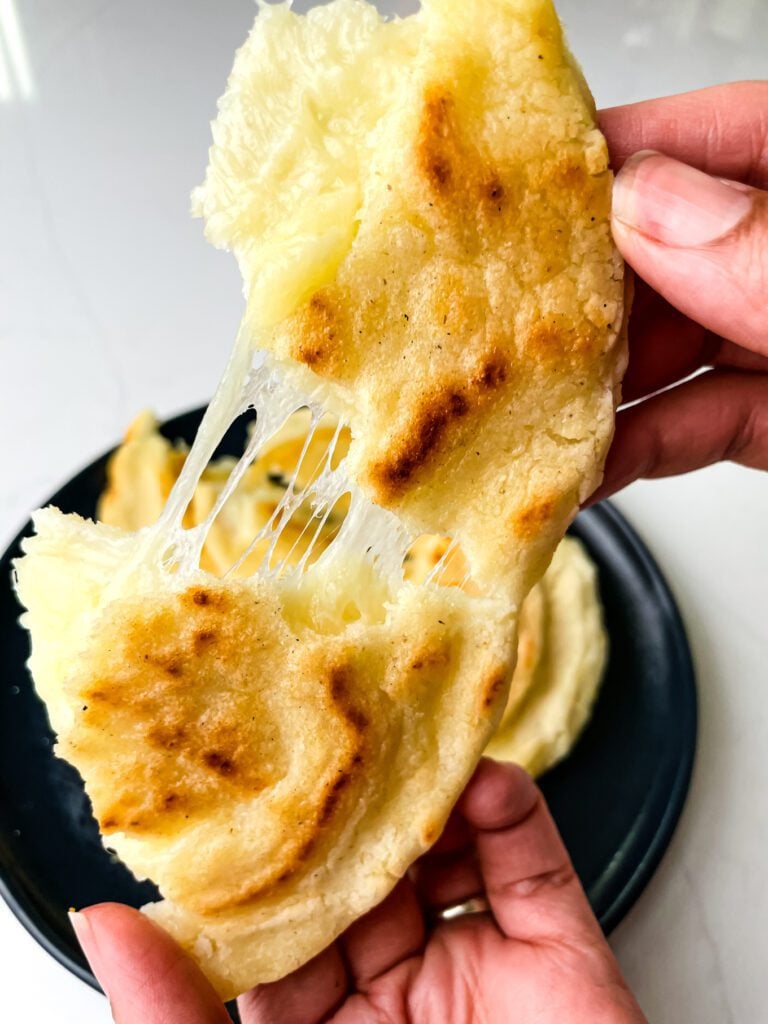 They vary in size, ingredients, fillings and type of corn. There is more than one variety of arepas.
In Encanto, Julieta Madrigal makes arepas con Queso which are the food that heal the ill. This is a beautiful way to highlight how meaningful arepas are in Colombian culture.
Although they look like bread, arepas are corn and not flour based. To make them, all you need is precooked cornmeal, water, salt, cheese and butter.
If you are looking for cheese bread also featured in Encanto, this recipe for Colombian buñuelos is what you need.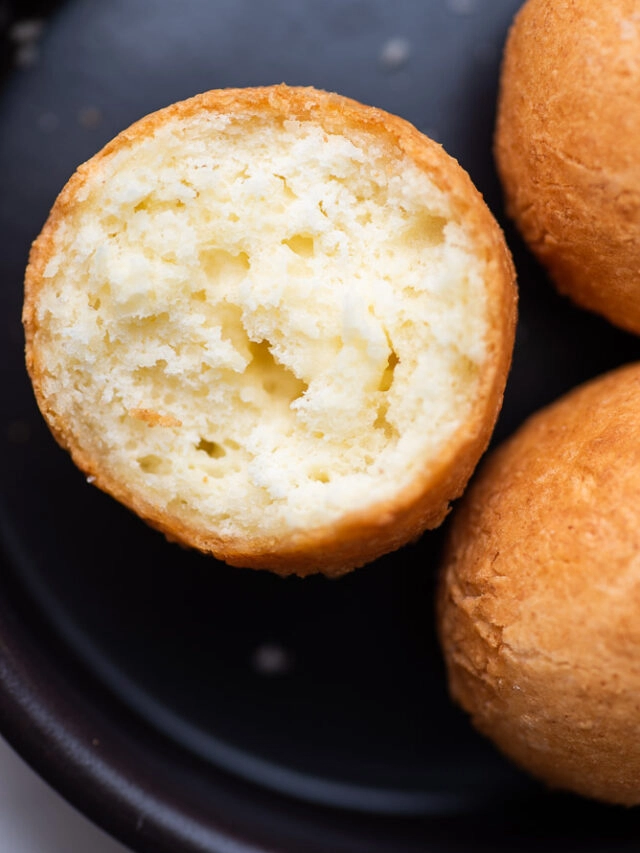 Ingredients for Arepas con Queso
To make these arepas con queso, you need a melty cheese like shredded mozzarella. Any other cheese blend that melts well works in this recipe.
I like to use Mexican cheese like Asadero or Quesadilla. They are melty and mild in flavor which compliments the corn flavor.
As far as the cornmeal, this needs to be a very fine grain corn which yields a smooth dough.
What to eat with arepas
Arepas go with pretty much anything. In this case they are stuffed with cheese and people usually add butter on top when ready to eat.
But they are also great vehicles for all sorts of toppings including shredded meat, smashed avocados, scrambled eggs etc.
People usually eat these cheese arepas for breakfast with a side of Huevos Pericos or sausage.
What do arepas taste like?
Arepas are similar to pupusas from El Salvador or Mexican Gorditas. Think of a hybrid between a thick corn tortilla and a grilled cheese.
These arepas de queso are basically thick corn patties stuffed with melty oozing cheese.
How to make cheese stuffed arepas
There are different methods. I like to use 2 corn dough disks and place the cheese in between them. Cook them in a cast iron skillet until golden brown.
Other way to make them is to make a thicker corn patty and cook it until golden brown and then slice the arepa to create a pocket and stuff the cheese inside.
Arepas with Precooked Cornmeal vs Uncooked Cornmeal
You can make arepas with both precooked or uncooked cornmeal.
If you use precooked cornmeal, so all you need is room temperature water, salt and cheese to make this arepas. Recipe is below.
If you don't find pre cooked cornmeal, all you need to do is cook it in boiling water.
To make the dough with cornmeal, use equal parts of cornmeal and boiling water and cook it until it forms a uniform dough.
You will need to stir it constantly and it will take about 5-6 minutes. Let it cool down and proceed to form the arepas as noted in the recipe below.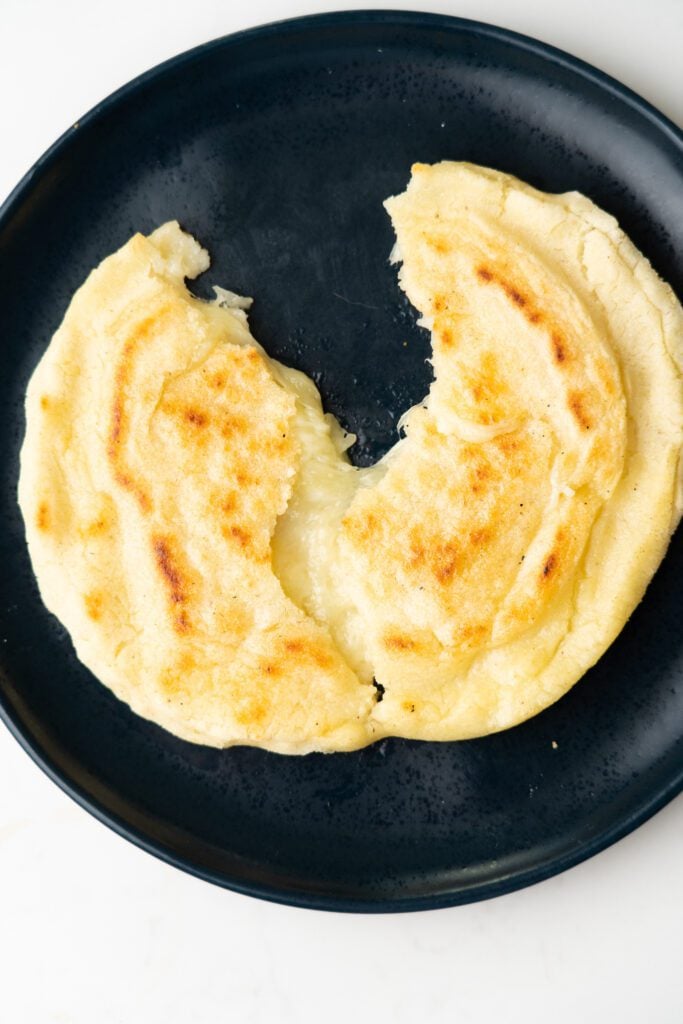 Tips and tricks to make the best arepas, even if it's your first time
Pick a finely milled cornmeal (the brand PAN is readily available at most grocery stores).
Use warm water to make the dough. It helps softening the mix and yields a smoother dough.
Pick a melty cheese such as mozzarella, asadero, quesadilla or a combination of cheeses.
If your dough is too wet or sticky add more corn flour.
If your dough is too dry, add more liquid. One tablespoon of water a time.
Your pan (I recommend a cast iron skillet) should be well oiled and hot.
Let your arepas cook throughly on one side before attempting to flip them. This prevents the filling from coming out of the center or your arepa from breaking.
You can add cheese to your dough when kneading if you want a cheesier flavor.
Do Colombian Arepas have rice?

No. Colombian arepas are made with just corn (cooked cornmeal), water and salt. People sometimes add butter to the dough and/or cheese.
Colombian Cheese Arepas from Encanto
These cheese and corn griddle cakes are delicious and easy to make. These are the traditional Colombian breakfast.
Ingredients
1

cup

Pre cooked cornmeal

Harina PAN brand preferably

1

cup

grated mozzarella cheese

1

cup

warm water

1

teaspoon

salt

1

tablespoon

softened butter

1

tablespoon

vegetable oil for cooking
Instructions
In a bowl, mix the cornmeal, salt, water and butter.

1 cup Pre cooked cornmeal,

1 cup warm water,

1 teaspoon salt,

1 tablespoon softened butter

Knead the mix until smooth ball forms.

Cover with a towel and let it rest for 10 minutes.

Form clementine size balls and flatten them with a plate of tortilla press.

You should have 6 discs about 5 inches in diameter.

Add mozzarella cheese to the center of one of your discs and cover with an additional corn disc.

1 cup grated mozzarella cheese

Secure the edges by pressing them down and inward. Making sure all the edges are closed so the cheese won't ooze out when cooking.

Add the oil to the cast iron skillet and heat over medium-high heat

1 tablespoon vegetable oil for cooking

Add the arepa to a hot pan or cast iron skillet.

Cook on medium high for about 3-4 minutes per side.

Serve immediately, add more butter on top for serving if desired