This TikTok salmon bowl without Japanese mayo my take on the original viral salmon bowl from Emily Mariko. If you are a salmon lover you will enjoy this very much.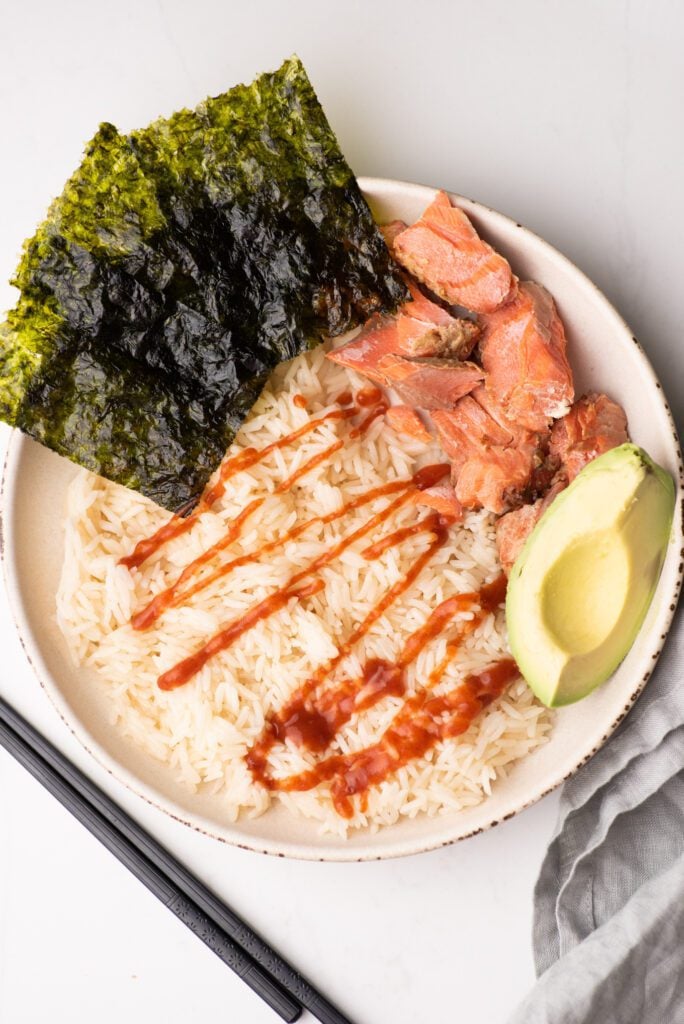 Emily'e recipe uses Kewpie mayonnaise, which is a Japanese brand of mayo. What makes Japanese mayo different? It uses all yolks therefore is creamier and richer than regular mayo.
In my recipe I decided to ditch the mayo altogether. Nothing against delicious, creamy mayo here but I'm trying to save up some calories.
This bowl is already very rich as is. Salmon is a very fatty (good fats!) kind of fish and we are using avocado which is also high in fat.
If you choose a very ripe avocado, you will increase the creaminess of your bowl without having to use mayo!
If you would still like to add mayo, but don't have the silky Japanese mayo, I recommend you use a high quality store-bought mayo such as avocado oil mayo.
Salmon bowl ingredients
This recipe is all about the leftovers. Emily's original idea is to use up some cooked leftover salmon with rice, seaweed, kimchi, avocado, mayo and sriracha (spicy chili paste).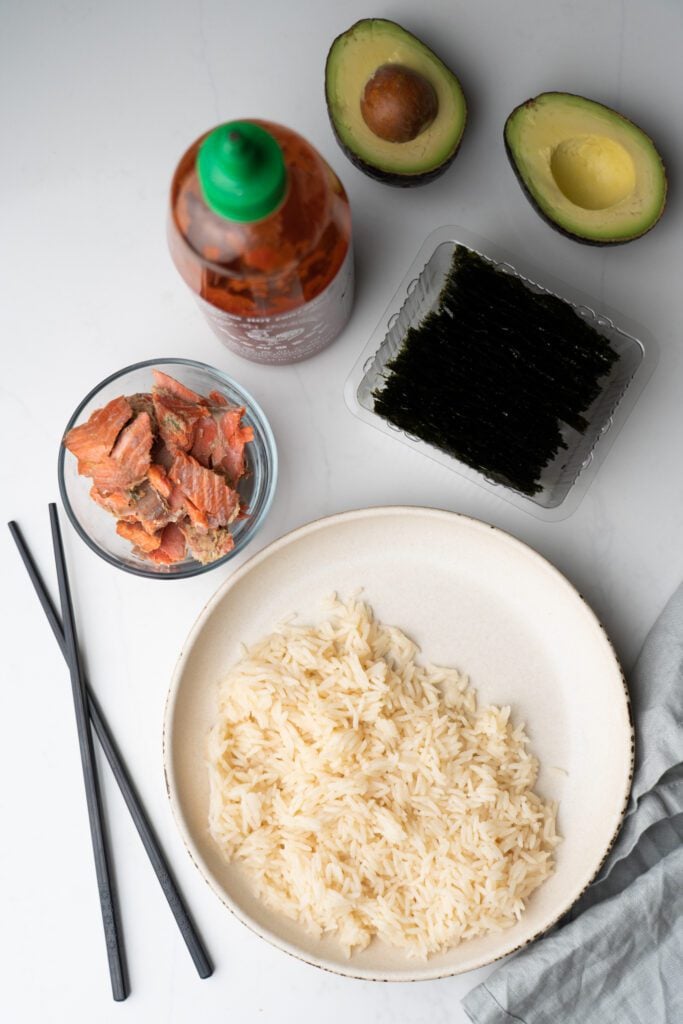 In my version, I leave the kimchi out because of personal preference and the mayo to make a lighter version.
I like to use Jasmine rice because it is very aromatic and I used salmon that I cooked with soy sauce, miso and scallions.
To make sure you pick out the right avocado, feel the skin and push gently, the avocado should be a bit soft and give in when you push without leaving an indentation (at that point is probably overripe).
How to reheat rice in the microwave
In her recipe, Emily Mariko teaches a great hack for re heating the rice in the microwave; she adds an ice cube to the rice and covers it with parchment paper to prevent the rice from drying out.
This way you can heat up the rice and it will still be fluffy and moist. This allows you to mix in the cold salmon in the rice to warm it up, no stinky microwaved salmon!
When ready to eat your bowl, just mix all the ingredients together (except the seaweed) until you form a sticky, creamy combination. Place the mixture in a sheet of seaweed and enjoy.
Tiktok Salmon Bowl
Ingredients
2

cups

cooked rice.

2

Cooked salmon fillets.

1

Ripe avocado.

Sriracha

to taste

12

Roasted seaweed sheets
Instructions
Reheat the rice in the microwave with an ice cube and cover with parchment paper.

Flake the salmon and mix it in with the re heated rice.

Mash the avocado and combine with the rice and fish.

Top with a drizzle of sriracha.

Add the rice and salmon to a sheet of seaweed and roll to eat.