This easy Birria Ramen (birriamen) is an easy and delicious fusion recipe. It combines the most flavorful shredded Mexican beef in chile broth and Japanese ramen noodles.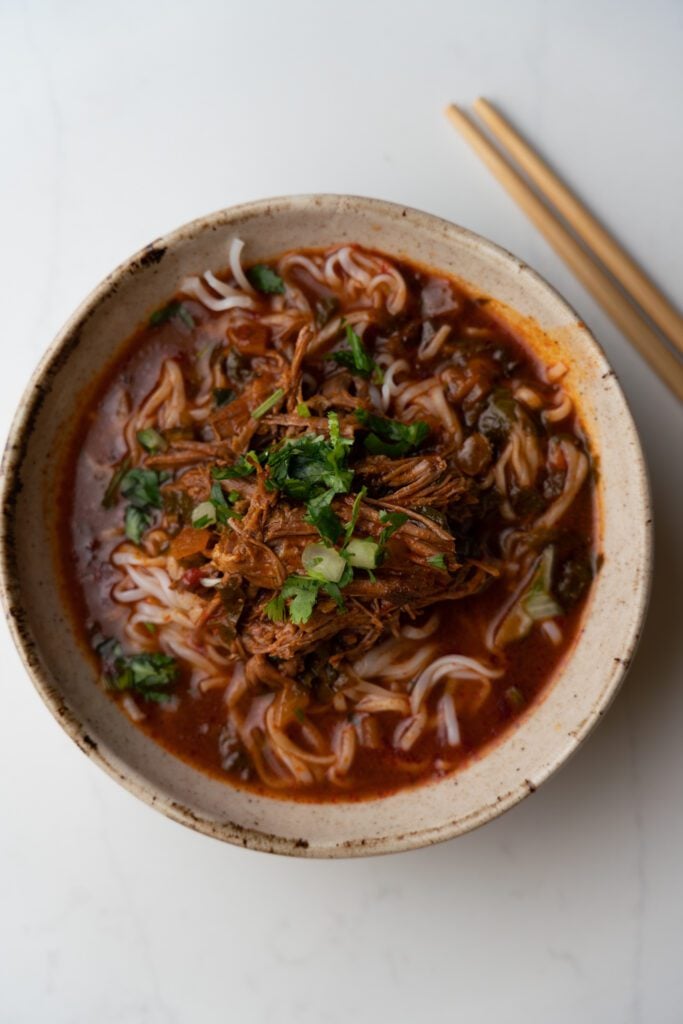 Ramen is a budget-friendly meal. Ramen noodles are versatile and easy to prepare and you can elevate them by adding other ingredients to infuse flavor.
I shared a the Kylie Jenner's version of ramen noodles and it's a reader's favorite.
How to make fancy ramen
Ramen can be elevated in so many ways. High quality toppings are key to make sure you go from simple to fancy when cooking ramen.
Packaged ramen noodles usually come with a salty seasoning and I recommend you ditch it. If you use it, it will overpower any other ingredients you intend to use.
For this recipe we are making "fancy ramen" by adding birria. If you have never tried birria, you can read all about this amazing Mexican dish in my Easy Birria Recipe post.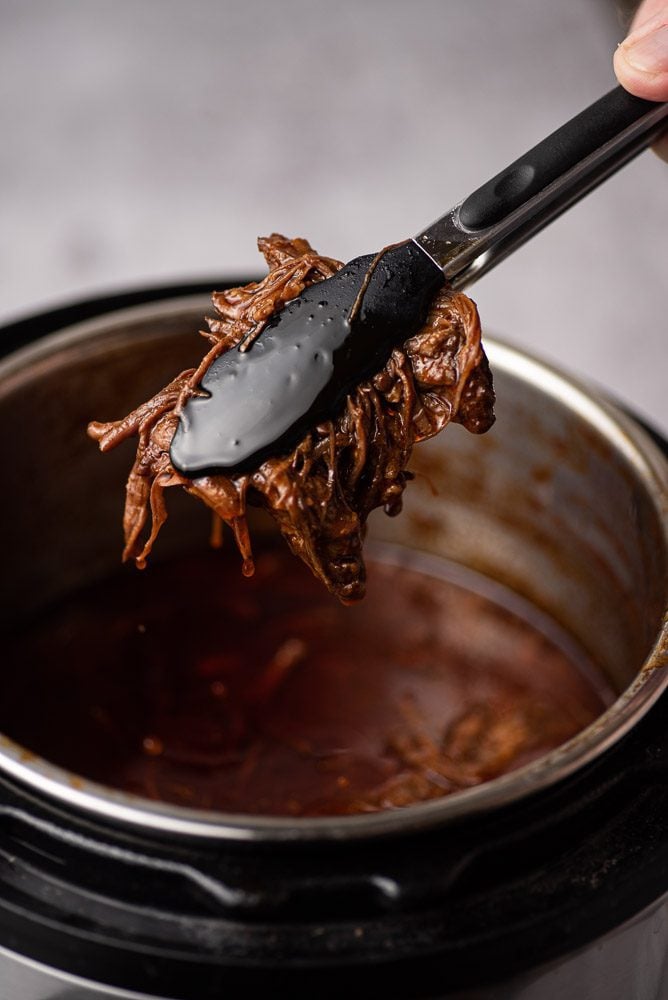 In short, birria is Mexican beef (or goat/lamb) stew, that is marinated and cooked in a variety of dried chiles including guajillo, which adds a rich red color and a deep smoked flavor.
The beef is fork tender, flavorful and worth the effort to cook it. Think of birria as similar to Chipotle's Barbacoa beef but with a lot more flavor.
What is the best ramen to use
Use any ramen you have on hand. Packaged ramen works just fine. Make sure you are not using the seasoning packet that comes with the ramen, other than that, cook it per package instructions.
I used dried ramen that did not have a seasoning packet. Cooked it for 5-8 minutes and drained the water.
What is birria consomé
Birria consomé is the broth that we use to cook the meat. It consist of a blend of chiles including dried guajillo, ancho and chipotles with dried spices to create a rich broth.
Consomé is also known as caldo, which translates to stock.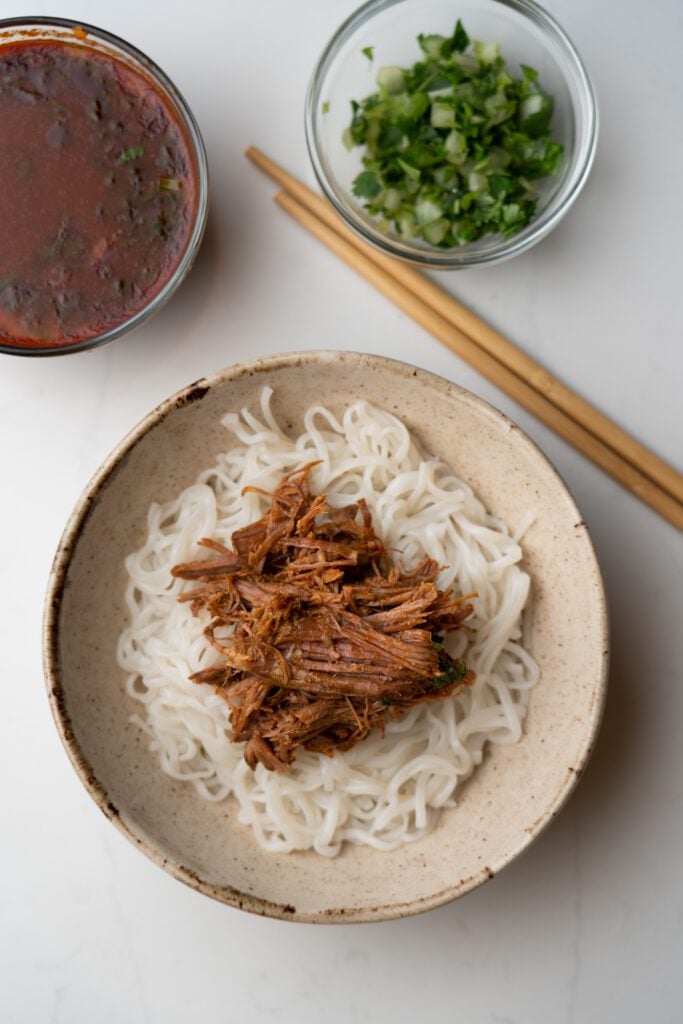 When ready to serve your meal, place the bed of noodles in a bowl, top it with the shredded beef and add the consomé. Garnish with plenty of cilantro and onion.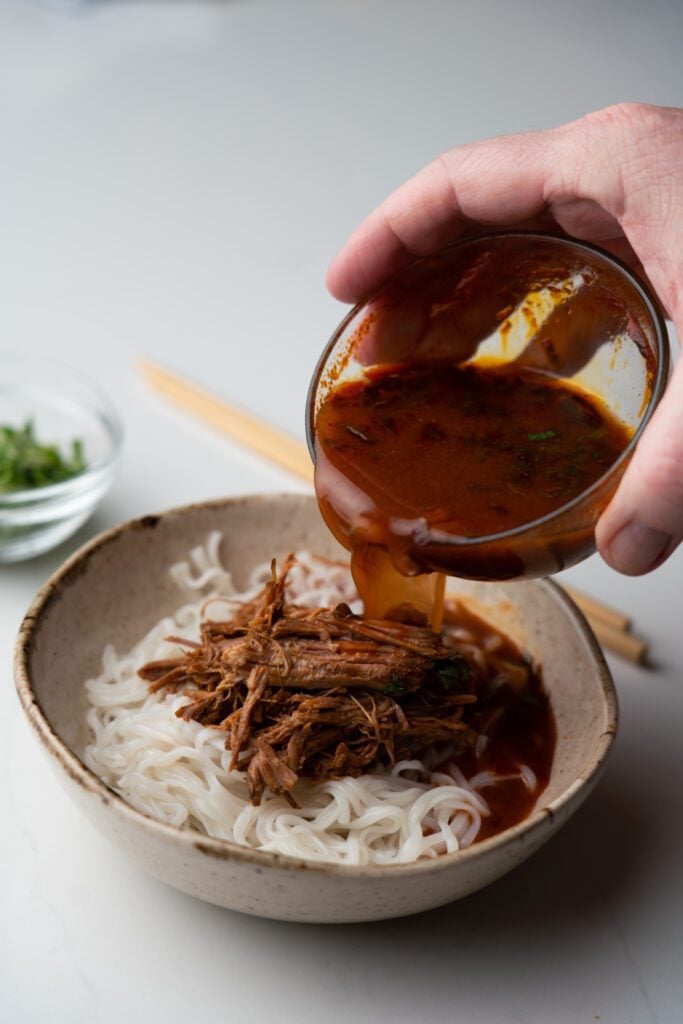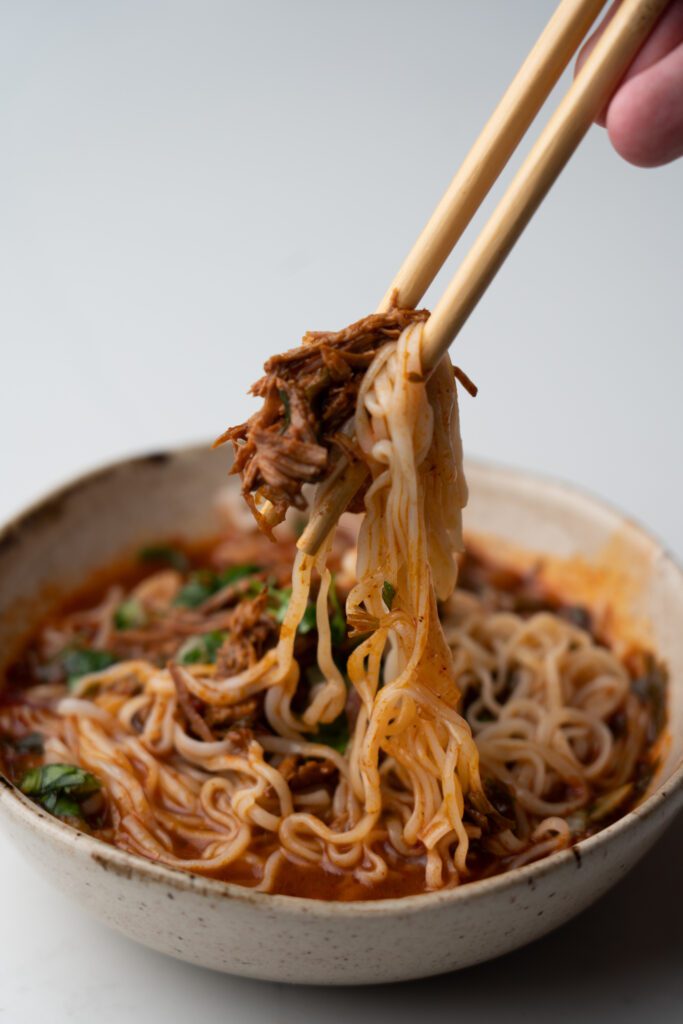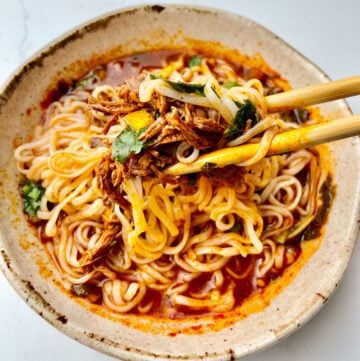 Birria Ramen The Ultimate Fancy Ramen
Ingredients
For the Birria
2

pounds

Chuck Roast

2

Dried Guajillo Chile Pods

2

Dried Ancho Chile Pods

2

Chipotle Chiles in Adobo

1

teaspoon

salt

1

teaspoon

dried oregano

½

teaspoon

cumin powder

1

clove

2

bay leaves

½

yellow onion

roughly chopped

2

roma tomatoes

sliced

4

cloves

of garlic

minced

1

tablespoon

destilled white vinegar

2

tablespoons

Vegetable oil
For the ramen
8

oz

package ramen noodles (4 nests)

¼

cup

diced white onion for garnish

¼

cup

chopped cilantro for garnish
Instructions
Birria
Soak the Ancho and Guajillo chiles in boiling water for 20 minutes. Once cooled down, remove the seeds from the chiles. Reserve the soaking water.

Add salt and pepper to your chuck roast and sear it on a cast iron skillet or hot pan for about 2 minutes on each side. Set aside and let it rest.

in the same skillet, add the 2 tablespoons of vegetable oil, onions, tomatoes, cumin, salt, bay leaf, clove and oregano and cook until onions are transluscent

Add the garlic cloves and cook until fragrant. About 1 minute

Add the Ancho and Guajillo chiles and cooke for 1 more minute

Add the chipotle chiles with adobo and 1 cup of the water that was used to soak the chile ancho and guajillo

Remove from the heat and let it cool down enough to add to your blender and blend on low speed to create a marinade

Cut the chuck roast in 5-6 chunks and add them to your instant pot

Add the blended spices and chiles and make sure to cover all the meat with the marinade

Set instant pot (pressure cooker)to high pressure and cook for 45 minutes

Once time is up, allow 10-15 minutes of natural pressure release. After that do a quick release of the remaining pressure

Remove the beef and separate from the au jus or caldo that has formed in the instant pot

Reserve the juices from cooking to dip your tortillas or add to the meat when served.
Ramen
Cook the ramen per package instructions. I cooked mine for 7 minutes.

Add the cooked ramen to a bowl and add a serving of the shredded birria.

Add the consome (broth) until the ramen is covered in broth.

Garnish with cilantro and diced onions