So a couple of weeks ago my husband and I were looking for a new romantic dining experience, little did we know that we would have a such a great time on our date night.
We chose to to try SWB at Hyatt Regency Scottsdale Resort and Spa for the occasion, it was the first time for my husband and our friends and everyone loved it, let me tell you why.
First of all the hotel is has beautiful views, stunning landscaping and a great vibe and atmosphere. In addition to that, the weather was perfect, they had a live band playing and the crowd had such a great vibe.
We started the evening with some drinks by the patio, I had a prickly pear Margarita and my husband had a mojito. Then our friends joined us and we started our Wine Me Dine Me experience.
Wine Me Dine Me
The concept of Wine Me Dine Me is to bring you closer to the chef and the staff in the kitchen while crafting an unforgettable culinary experience.
I love open kitchens, seeing how things are cooked, how the chefs create the dishes and how the team behind the food interacts is just fascinating to me.
The Wine Me Dine Me experience consists of a four course meal of unique off-the-menu dishes paired with wine throughout the meal. Each dish has a unique spin, flavor and presentation that make this experience a must if you are looking for something new to enjoy with special people.
I am not going to lie, I was worried about what the chef was going to presents us because you don't get to choose the menu, however they ask you about your strong dislikes and allergies, in my case no radishes, no beets and one of my friends is allergic to shellfish.
Also, my husband is a super picky eater, so I didn't know if he would eat everything that was served.
First Course: Green poblano soup
I don't think I'll ever forget the flavor of this soup. It was every layer of flavor from sweet to savory and spicy. Let me tell you, my husband doesn't eat anything green and his plate was clean. This soup was that good.
Second Course: Grilled Lamb chops with pistachio
I believe this was my husband's first time eating lamb. As I mentioned before I was sweating it out, because he is particular about his food. But again, the chef knocked it out of the park (I can say that since it's spring training season), another table's favorite that night. My husband even ate the kale-cilantro puree that was on the plate as garnish.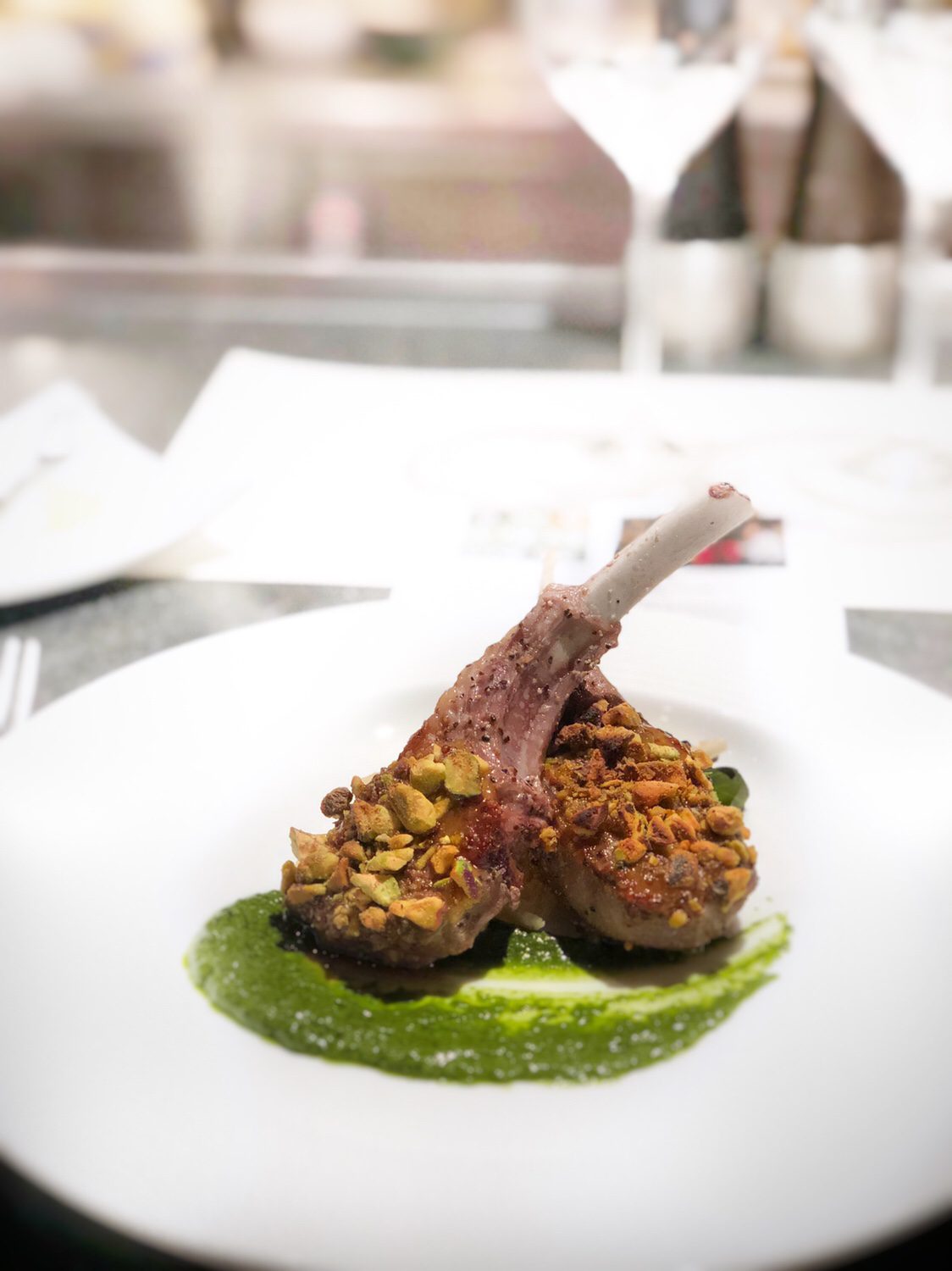 Third Course: Ancho chile glazed tenderloin
This course was the star of the night. I was recording my Instagram story and all I could hear was my husband and my friends raving about how good this was, so after I finished my story I dove right in. No pics, oops!
Seriously, everyone was obsessed with this dish, my husband wanted seconds. It was just the juiciest peace of beef tenderloin on a bed of ancho chile and agave glaze and accompanied by a potato and prosciutto au gratin.
Four Course: Horchata and Tequila Lime Cheesecakes
The grand finale was nothing short of amazing; an Horchata and Tequila Lime cheesecake duo were the perfect end to a meal that everyone will remember for a long time.
After dinner we spent some more time at the patio enjoying the live band and more drinks. We just had such a great time, we can't wait to come back and experience the other amazing restaurants at Hyatt Regency Scottsdale Resort and Spa.
Next time we will come a little earlier and go for a gondola ride along the canals surrounding the hotel and book dinner afterwards at Alto. I can wait to experience another of their monthly wine dinners, definitely check their calendar for all the fun activities they have all month long.