This mini charcuterie board is the perfect grazing platter for two. With just enough meat, fruit and nuts to enjoy on a special occasion.
Why you will love this recipe
Charcuterie boards are all the hype. They are plentiful spreads that include meats, cheeses, fruits, crackers and jams.
In this post I've partnered up with Shamrock Farms to bring a delicious charcuterie board for two featuring a delicious French Onion Dip made with cottage cheese.
Cottage cheese is one of my favorite ways to pack protein into dishes. It is mild in flavor and you can customize it to your liking. You can create sweet and savory dishes with cottage cheese and if you don't like its texture, a few minutes in a blender will do the trick.
How to assemble a charcuterie board
I would say there is no right or wrong when it comes to charcuterie boards. Let your creativity drive the process, however there are some essential components.
Serving board: You need a platter that will hold your meats, cheeses and fruits in place. Ideally a wooden board with a rim but any spacious platter will do.
Cheese Selection: choose a combination of both soft and hard cheeses. I usually go for Manchego (Spanish Cheese), Brie (Spreadable and melty) and Goat cheese (a bit punchy in flavor).
Meats: Cured meats such as pepperoni, salami and prosciutto are my go-to's. If I see a Spanish chorizo I like to add it to my board as it offers a spicier flavor note.
Charcuterie accoutrements: This is just the fancy name to describe the fruits, jams, crackers and all other fillings in your charcuterie board. I like to keep a balance of sweet and savory by using 2-3 types of crackers, a fig jam, nuts (pistachios are my favorite), some toasted French bread and grapes.
Build your board
Once you have selected the components of your board, it's time to get creative and try to make the presentation beautiful.
For the cheeses, I like the pre cut the hard cheeses. Manchego cheese looks beautiful in triangle shapes and it makes it easy to grab.
For the spreadable cheeses, having cheese knifes and crackers that help scoop them up is ideal.
Roll your meats into shapes by folding them in half. Stack them one on top of the other to keep the shapes. The prosciutto looks nice when rolled in flower shape by pinching one end of the strip and wrapping the rest around.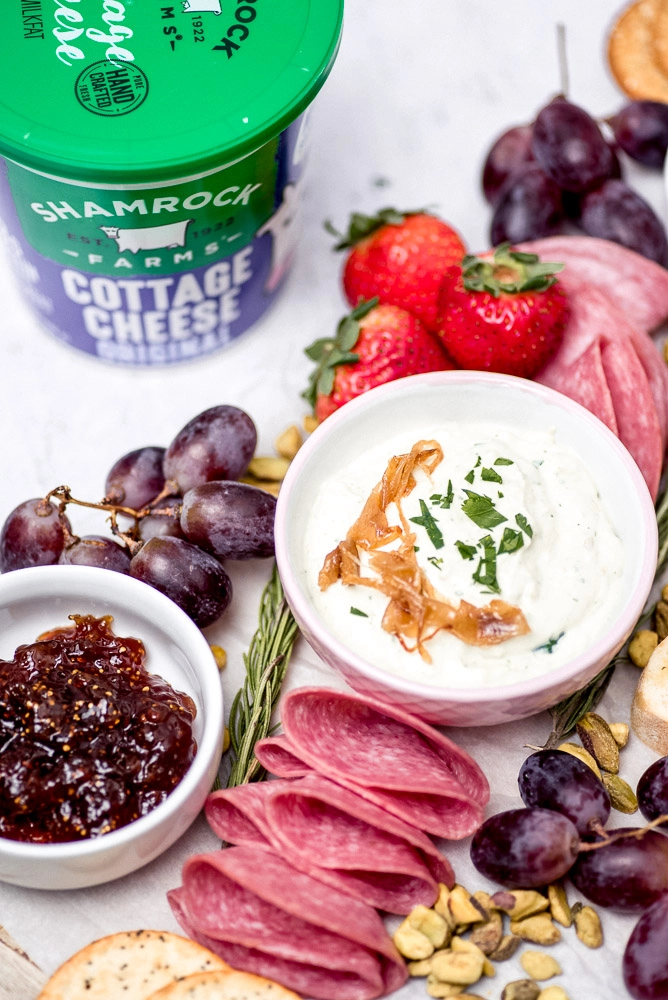 I like to put the rest of my ingredients around the meat and cheeses that they pair best with.
If you have a big board you want to make sure to spread the ingredients evenly throughout so everyone gets a chance to try everything on the board.
For garnishes, I love to use rosemary bunches. It adds color and variety and makes for an even prettier presentation.
French Onion Dip
This easy French Onion Dip is packed with protein from Shamrock Farms Cottage cheese. It's a healthier option to store bought dips because we are only using three ingredients.
The first thing you need to do is slice a white or yellow onion. Don't worry if it's not thinly sliced because once caramelized, we will blend it.
If you are a cottage cheese lover, I have another recipe you must try. These Cottage Cheese Crepes are amazing, filled with peaches and drizzled with maple syrup.
Mini Charcuterie Board
Ingredients
For the Caramelized Onion Dip
1

cup

Shamrock Farms Cottage Cheese

½

cup

caramelized onions

1

tablespoon

chopped Italian parsley
Mini charcuterie board
1

cup

grapes

1

cup

Strawberries

4

Ounces

Sopressata

2

Tablespoons

Fig jam

4

Ounces

Olives

4

Crostini

4

Crackers

2

Tablespoons

pistachios
Instructions
Make the caramelized onion dip
Chop 1 small yellow or white onion into thin slices.

In a sauce pan, cook the onions with 1 tablespoon of butter until they are brown in color.

Let them cool down.

Add 1 cup of Shamrock Farms Cottage cheese to a bowl, add the caramelized onion, chopped parsley, salt and pepper to taste. Blend them with an immersion blender until creamy. You can add a splash of milk for a thinner dip

Arrange the dip in the center of the board and start placing the meat, crostini, fruit and nuts around it.
Nutrition
Calories:
791
kcal
Carbohydrates:
78
g
Protein:
35
g
Fat:
39
g
Saturated Fat:
11
g
Polyunsaturated Fat:
6
g
Monounsaturated Fat:
19
g
Trans Fat:
0.1
g
Cholesterol:
63
mg
Sodium:
2954
mg
Potassium:
862
mg
Fiber:
7
g
Sugar:
32
g
Vitamin A:
461
IU
Vitamin C:
51
mg
Calcium:
244
mg
Iron:
5
mg