These sweet, tangy and flavorful red pickled onions are the perfect topping for tacos, rice bowls or salads. They add brightness to any dish and are easy to make.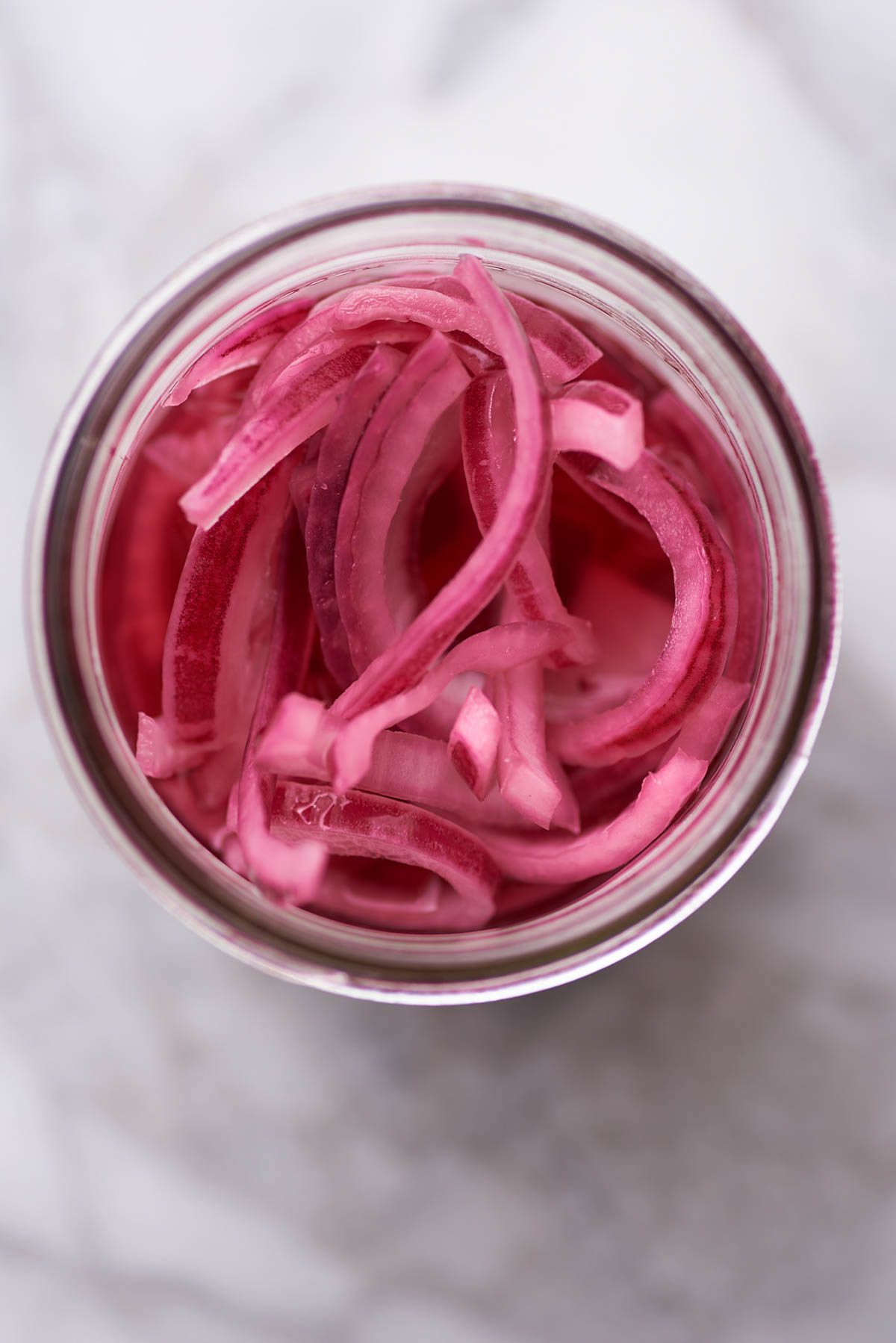 Why you will love this recipe
Pickled onion pack a flavor punch to any dish. They add a bright, savory note that is refreshing.
These are easy to make. They don't require any fancy ingredients and they last in the fridge for well over a week.
These red onions are the best topping for tacos, salads, rice bowls or any dish that needs a fresh pop of flavor and color.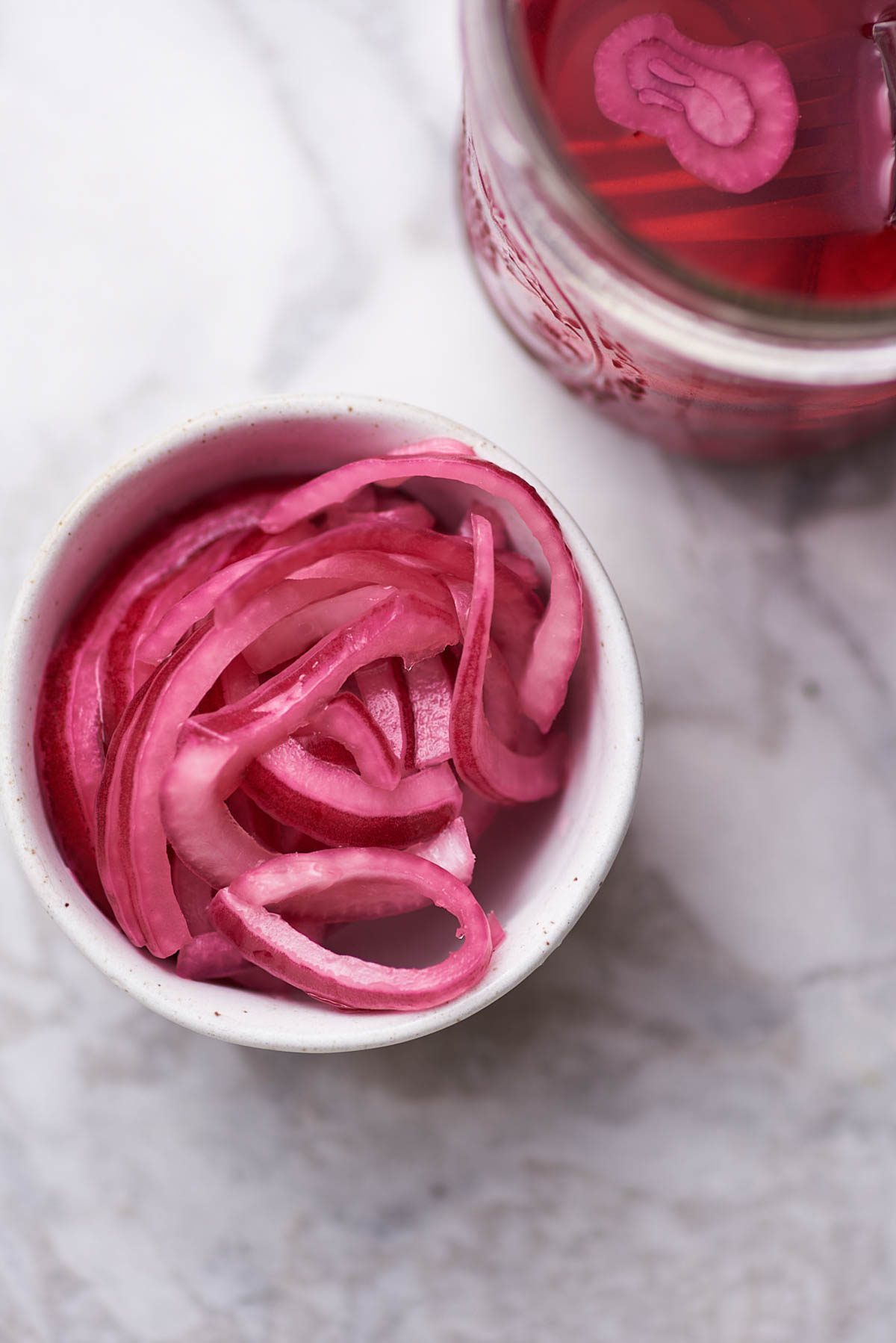 Ingredients
This pickled onion condiment only uses a few ingredients and most of them if not all, are pantry staples.
Red onion: I like to make these onions once a week so a small to medium size onion is best for this recipe.
Sugar: It helps in the pickling process and balances out the vinegar in the recipe.
Salt: These onions are both sweet and savory so the salt helps balance the sugar in the brine.
Pepper: I add a dash of pepper to my pickled onions but it is optional.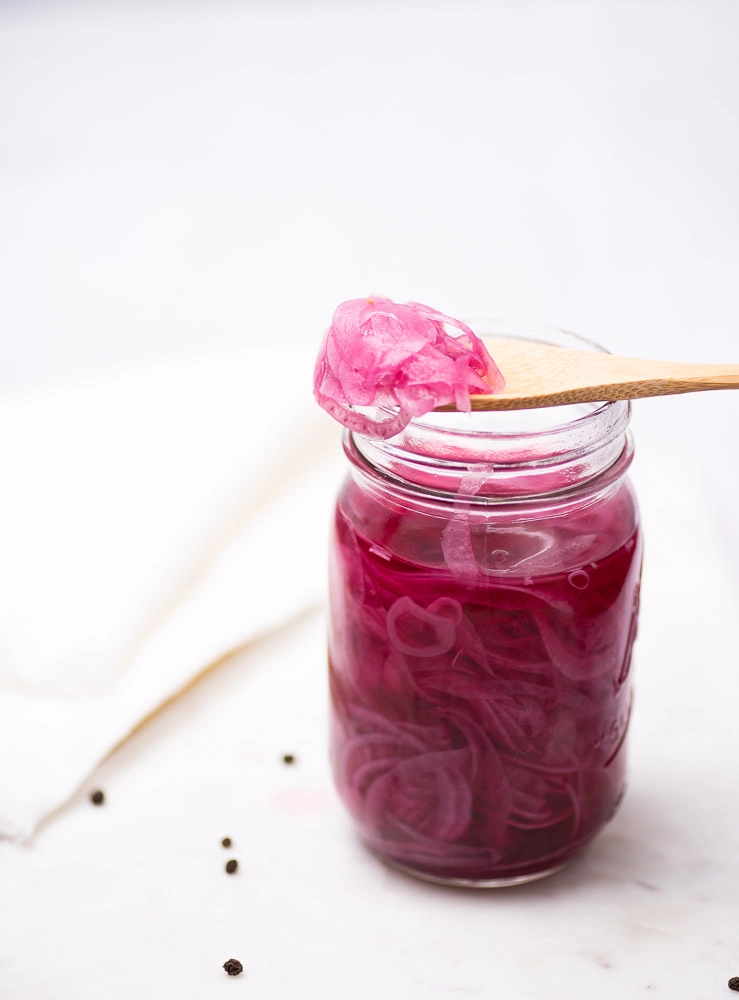 How to pickle onions
There are several ways to pickle onions. You can use citrus or vinegar but I like using red wine vinegar best.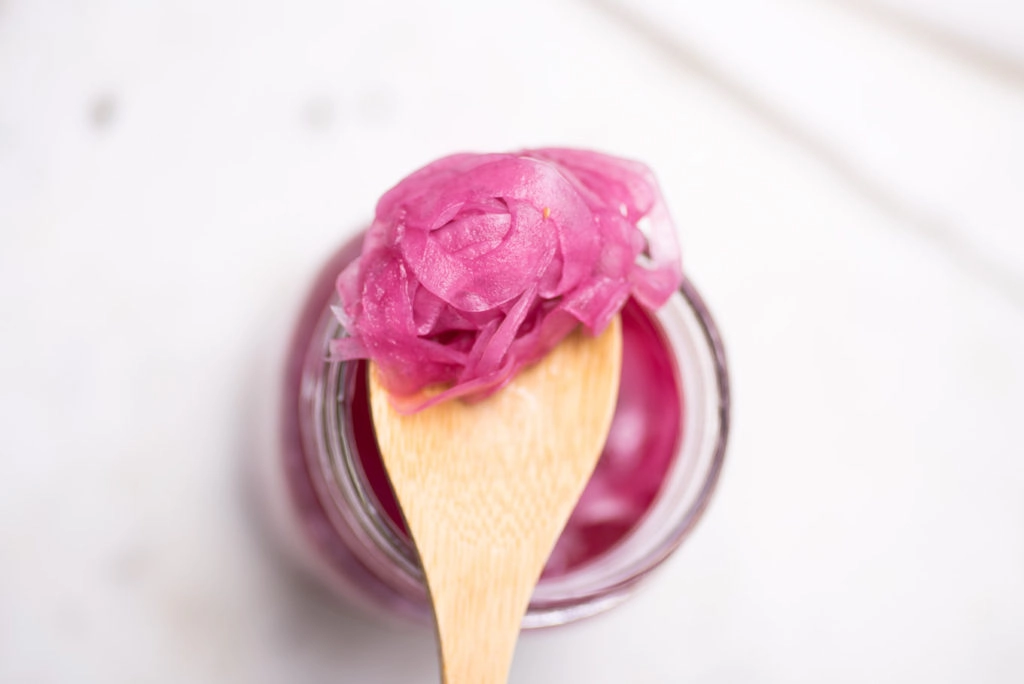 In this case I'm using red wine vinegar because I love the mild, sweet taste of it. But you can use white vinegar or apple cider.
I like to leave my onions at room temperature for about 1 hour after I mix all the ingredients together, then I store them in the fridge.
What do you eat with pickled red onions?
I love to add them as a topping to my tacos, specially the carne Asada ones. the acidity from the onions, help cut through the fat in the meat and adds a layer of flavor to the tacos.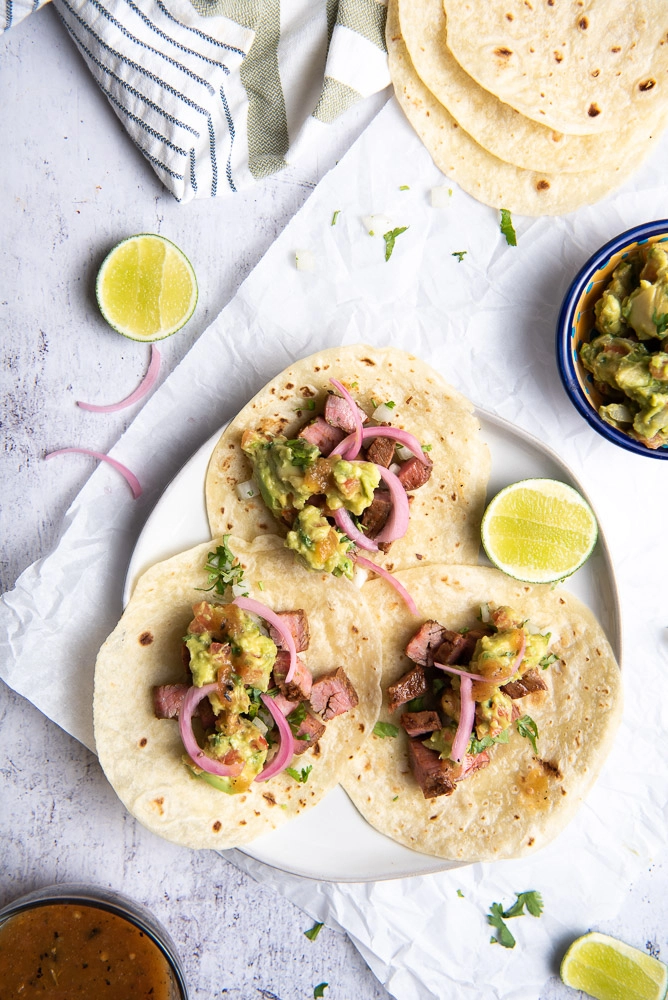 Another great use for these is in salads. The pickled juice serves as a perfect dressing for any salad or rice bowl.
My favorite is to add the onions to a green salad with chicken and avocado.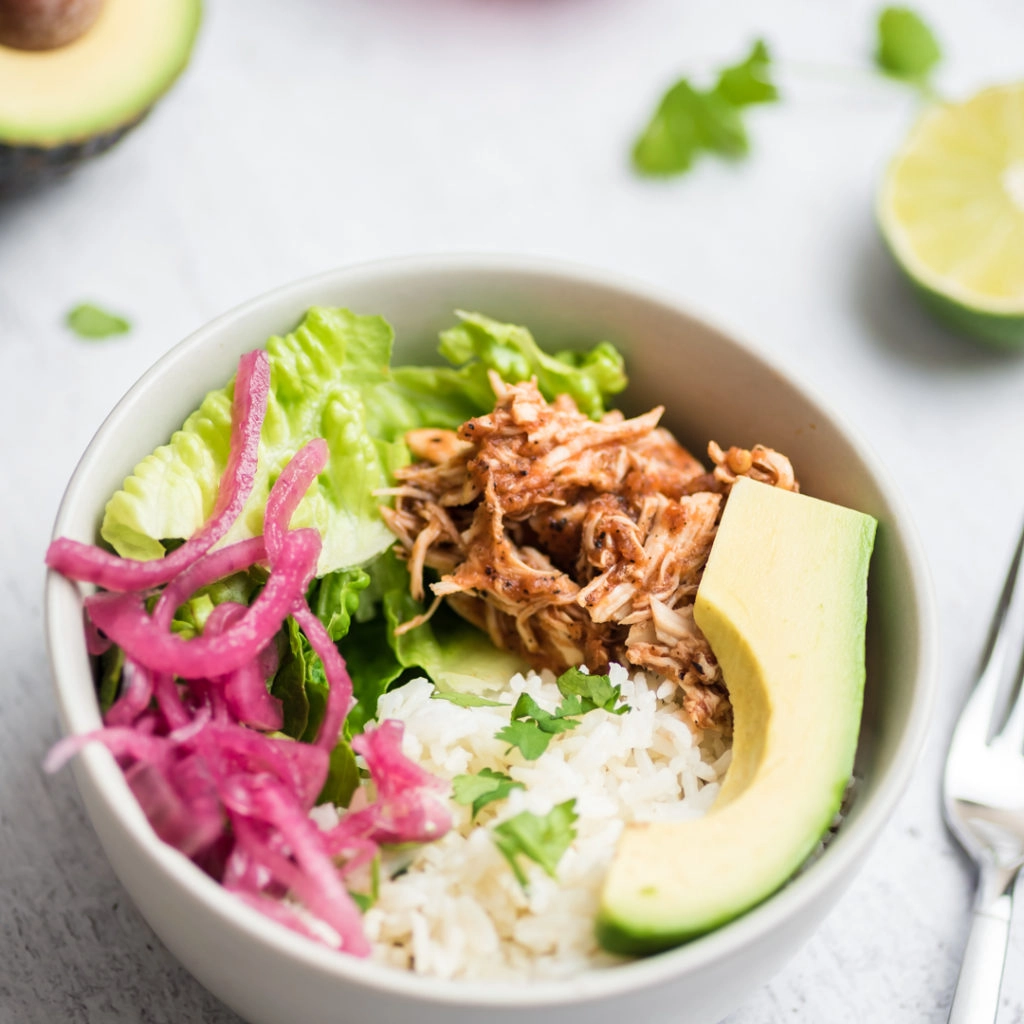 Another fun way to use them is in wraps, giros or paninis. They add just the right amount of tangy and sweetness to pretty much any dish.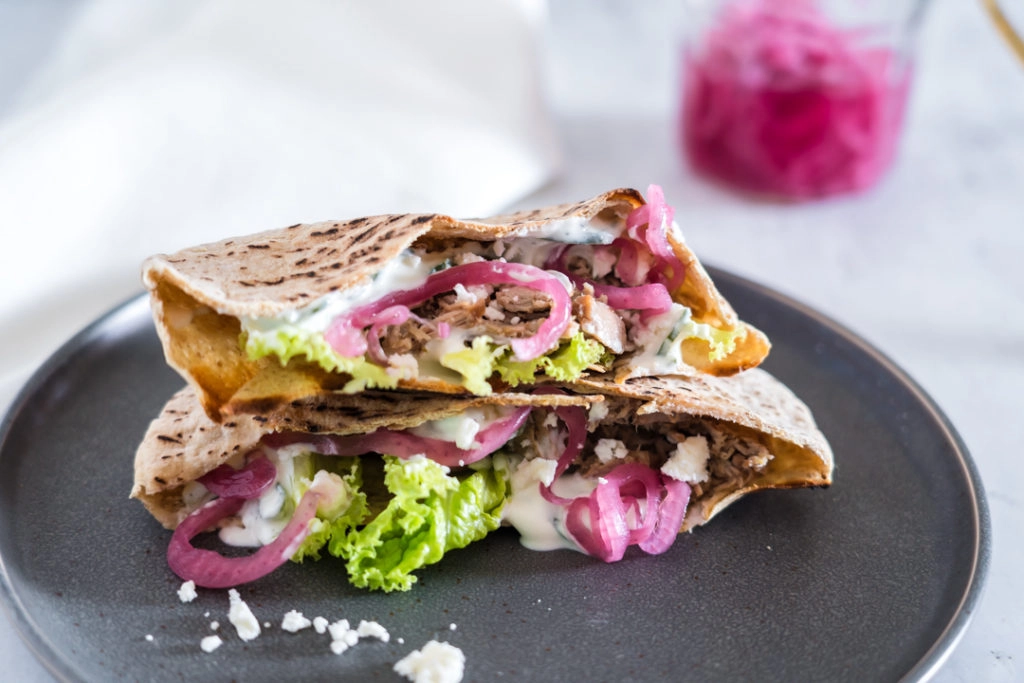 Tips to make pickled onions
Pickled onions are perfect when they texture, they are crunchy yet soft and the onion flavor has mellowed down.
The secret to amazing pickled red onion is in the way you slice them. I like to slice mine with a mandolin, but be extremely careful with this kitchen gadget.
When using a mandolin, I always wear a protective glove and use the mandolin blade guard. Trust me, I'm talking from experience.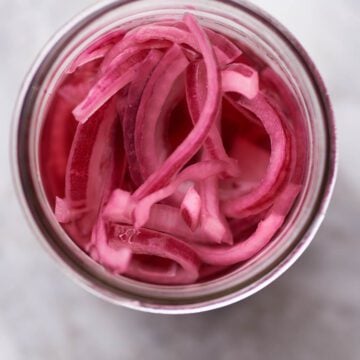 Red Pickled Onion
Ingredients
1

Red onion

Thinly sliced

½

cup

water

¼

cup

red wine vinegar

Can substitute for white or apple cider

2

tablespoons

sugar

1

teaspoon

salt

Pepper to taste
Instructions
Slice the onion into thin slices

Add the water, vinegar, sugar and salt to a sauce pan and bring to boil over medium heat until the sugar is dissolved. About 3-5 minutes.

Add the onion slices to a jar with a lid such a mason jar.

Allow the vinegar mixture to cool down almost completely before adding it to the sliced onions.

Let them sit on the counter uncovered for about one hour.

Cover and refrigerate for at least 2 hours. The onions will be better the longer they sit in the fridge.
Notes
The secret to amazing pickled red onions is to slice them not too thin or thick and to add the vinegar mixture once it is cooled down.
This recipe can be easily adjusted to your taste, add more sugar if you want a sweeter onion. Start with the measurements provided and adjust to your taste.
Nutrition
Calories:
148
kcal
Carbohydrates:
34
g
Protein:
1
g
Fat:
0.2
g
Saturated Fat:
0.1
g
Polyunsaturated Fat:
0.02
g
Monounsaturated Fat:
0.01
g
Sodium:
2341
mg
Potassium:
185
mg
Fiber:
2
g
Sugar:
29
g
Vitamin A:
2
IU
Vitamin C:
8
mg
Calcium:
34
mg
Iron:
1
mg