Chef Brett Vibber has a fascinating story. From cooking at home as a child to a teenager pizza cook and later to a restaurant entrepreneur, his career in the food industry is inspiring is many ways.
His first memories of food are learning how to cook with his grandparents. Growing up in Arizona shaped his passion for exploring the outdoors, a lifestyle that to this day is one of the most important parts of his personality and his restaurant concept.
When he was a child he had the fortune to have parents that encouraged him to explore nature, play in the dirt, travel locally. He carried on this philosophy and it is the cornerstone of his restaurant's concept; use as many local ingredients as you can find and enjoy what mother nature gives for free through foraging.
Chef's Brett Vibber career started as a pizza cook when he was a teenager. Determined to learn how to make the best pizza, he embarked on a trip to Italy to learn hands-on how the art of pizza making. When he returned he had a vision in mind; he wanted to be a restaurant owner. But he had some more learning to do and more adventures to take on.
He moved to L.A. and worked as a chef there for a few years. Chicago was his next stop before coming home to Arizona to do do what he loves: cook.
Upon his return to Arizona, he wanted to replicate that small town, communal feel that he experienced during his time traveling around Italy. He wanted to work at a restaurant where local ingredients mattered and where he could feed his creativity as a chef.
He joined Cartwright's and after three years, he was ready to take on a new challenge; be a restaurant entrepreneur. Timing played a big role, Cartwritg's owners were ready to step down and this was the perfect opportunity for Chef Brett Vibber and his now business partner Cody Heller to take over and start the new chapter of Cartwright's Modern Cusine.
One of the things I love the most Cartwright's is the continued innovation; seasonal menus that showcase the best of ingredients that are available, an expanded seafood and sushi selection (Chef Vibber worked at Roka Akor) and monthly Chef's Collaborations dinners keep food offerings interesting, dynamic and fun.
I had the opportunity to attend one of the Chef's Collaborations dinners hosted by Chef Brett Vibber and Chef Fidencio Alatriste from Toro. It was one of the most remarkable dinner experiences I had last year and I am looking forward to their next collaboration.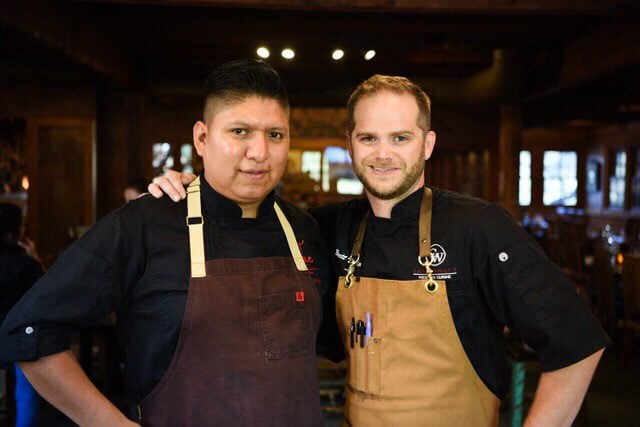 Family time:
As a father of two young children, Chef Brett Vibber is always looking for opportunities to teach his kids the love for nature and the outdoors that he grew up with. He is a firm believer in the life-work balance philosophy and enjoying work as part of a lifestyle. One of his dreams is to source all his ingredients from local farms and one day own one and make Cartwright's a 100% auto-sustainable restaurant.
A night in Spain: Tastes of the Mediterranean:
Chef's Vibber next collaboration will take place on April 25th. It will be a collaboration with Argentinian chef German Sega where they will take our taste buds on a trip to Spain with a 7-course dinner experience.
Make sure to make a reservation ahead of time because these special events sell out fast!
Dishes I'm obsessing with:
A few weeks ago, I visited Cartwright's and tried some dishes I never had before. One of them was the Perogies, a wildly popular dish on the East Coast and Midwest, but not so much in Arizona. I was with one of my friends who had Perogies before and talked me into ordering them, and boy I was glad I did! It was one of the most delicious things I have eaten lately.
Not only Chef Vibber creates the most delicate Perogie dough and filling, but also pairs it with a fantastic and locally sourced (bonus points) veal sausage. I can't wait to have this dish again.