Road tripping in Arizona is one of my favorite things to do. I love how you can from scorching hot temperatures to breezy and cold in just a matter of hours. Tucson, AZ is one of my all-time favorite destinations, only 2 hours from Phoenix is a great place to visit.
I had the opportunity to test drive the 2018 Toyota Avalon and Tucson was the perfect place to take it for a ride. During the weekend we visited, the Gem and Mineral show was taking place, so this was an unforgettable road trip; tons of good eats, lots of shopping and learning about gemstones which are now my new hobby.
The Ride
Driving to Tucson from Phoenix you get the see a beautiful scenery along the way. The superstition mountains are the best backdrop for your drive.
As I mentioned, I partnered up with Toyota to test drive the new Avalon. The car is super spacious without being a bulky car. I am used to smaller SUV cars but this sedan was amazing to drive.
The white pearl color of this Avalon that I drove was stunning, such a different shade of white, so sleek and elegant. The leather interiors add lots of luxury to this vehicle and I absolutely loved how smoothly it drove.
The Food
Tucson is a gastronomic melting pot where you will find some of the best Mexican food in Arizona. It also offers a great variety of breweries, coffee shops and great local restaurants using ingredients sourced in Arizona.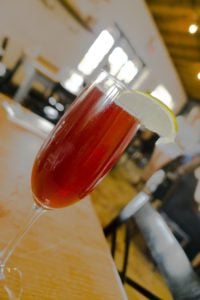 The Tucson Mineral and Gem Show
This is a once a year event that brings people from all over the world. Sellers from countries like Brazil, Morroco, India, just to name a few, come to Tucson to showcase the most amazing gemstones, crystals, and precious stones. I am really interested in learning more about crystals and their healing power and I started to read some great books.
I'm definitely looking forward to next year's show when I will have more knowledge about crystals and can identify them better. All the ones I bought were basically crystals that caught my eye, which is a good way to start building up your collection.
Overall it was a very fun weekend. I felt like we accomplished a lot of things in just a few hours. Driving aboard the 2018 Toyota Avalon definitely made the ride super enjoyable, the car is very comfortable and easy to get used to.