What makes a great classic Mexican guacamole? Start by choosing the right avocados. They need to be perfectly ripe; soft but not mushy in order to have the best flavor and texture.
How to pick the perfect Avocados
If picking perfect avocados were a talent I got paid for, I'd be rich!
When picking the perfect avocado you want to choose one that is firm to the touch but not hard. You should be able to squeeze it a bit and get soft feel. 
Check for color. Usually deeper green means your avocado is ripe. Check the tip of your avocado and see if the tip comes off easily, that is another sign of ripeness. 
Guacamole is about as simple as it sounds and there's a ton of recipes on internet for guacamole so why did I bother writing a recipe about smashing avocados in a bow?! Because this one is the best you will ever have!
This recipe the result of many guacamole-making sessions and lots of guacamole tasting at local restaurants.
This classic recipe should be chunky so don't get tempted to use a blender or food processor.
If you don't have a molcajete which is the traditional mortar and pestle that people use to make guacamole don't worry. 
You can make the guacamole in a regular mortar and pestle like I did or simply make it in a bowl with a fork but be sure not to over mix your guacamole.
Chunky Guacamole Ingredients
3 Ripe Avocados
1 roma tomato
yellow or white onion
jalapeno or serrano
fresh lime juice
salt
cilantro
How to prevent Guacamole from turning brown
Avocados oxidize rather quickly. To prevent owning, make sure you add fresh lime juice and eat as soon as possible.
If you need to make your guac ahead of time, reserve the avocado seed and add it to your guacamole, it makes it stay fresh for longer.
Also, covering with a piece of cling wrap helps prevent oxidation. You can also freeze guacamole if you need to save some leftovers but this guac is so good it will be all gone 🙂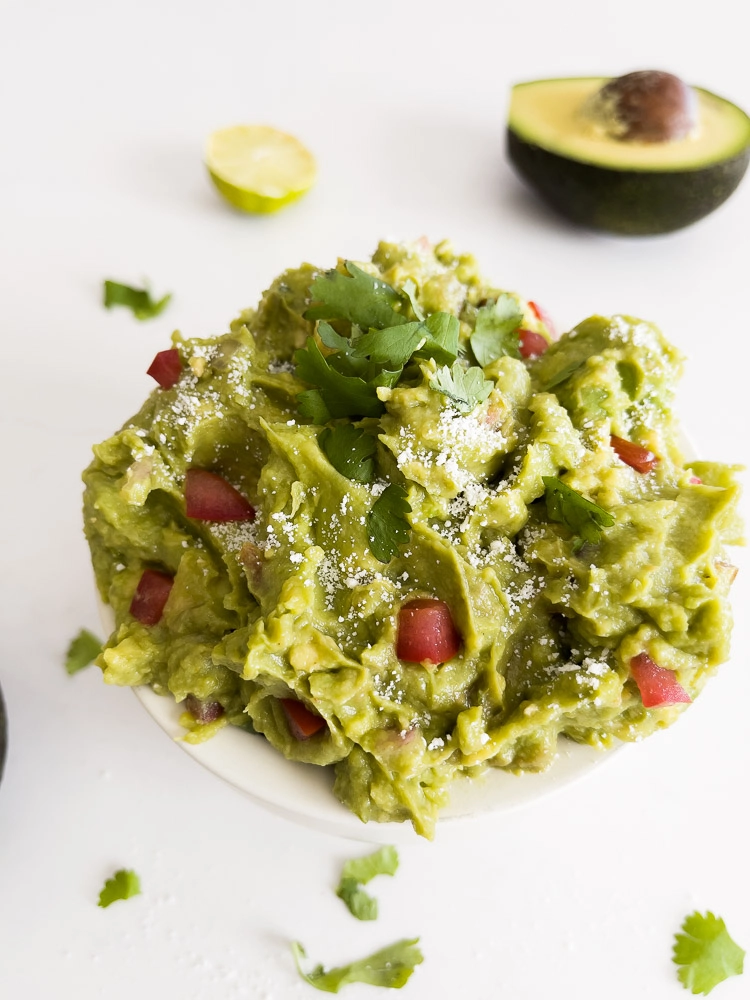 What to serve with Guacamole
Guacamole and corn chips are a staple combination. But there are many more options.
If you want to make this healthier you can use baked pita chips, plantains and even veggies.
Best Guacamole in Phoenix
As I mentioned, I eat out quite often and guacamole is my go-to appetizer if available in the menu. Here are some of my favorite guacamoles in the Phoenix/Scottsdale area:
La Hacienda at Fairmont Scottsdale Princess: Hands down the best. Quality is consistent and portion size is generous.
The Mission: Great flavor and quality avocados. Portion size is small though.
Classic Mexican Guacamole
This classic Guacamole is a traditional Mexican staple. It goes well with so many foods and it is the perfect party appetizer
Ingredients
3

Hass Avocados

Ripe

2

Tablespoons

Lime Juice

freshly squeezed

½

Jalapeno pepper

¼

cup

white onion

chopped

½

cup

roma tomatoes

chopped

1

tablespoon

cilantro

chopped

salt and pepper to taste
Instructions
cut the avocados lenghtwise and remove the pit

remove the avocado flesh with a spoon and place it in your bowl

mashed them with a fork leaving a few chunks for texture. Do not over mix

add the lime juice, onion, tomatoes, cilantro, salt and pepper and mix until combined

2 Tablespoons Lime Juice,

½ Jalapeno pepper,

¼ cup white onion,

½ cup roma tomatoes,

1 tablespoon cilantro,

salt and pepper to taste

Serve and enjoy inmediatly or refrigerate until ready to eat
Nutrition
Calories:
253
kcal
Carbohydrates:
16
g
Protein:
3
g
Fat:
22
g
Saturated Fat:
3
g
Polyunsaturated Fat:
3
g
Monounsaturated Fat:
15
g
Sodium:
13
mg
Potassium:
829
mg
Fiber:
11
g
Sugar:
2
g
Vitamin A:
496
IU
Vitamin C:
24
mg
Calcium:
25
mg
Iron:
1
mg