This post is sponsored by Shamrock Farms. All opinions are my own.
Cottage Cheese is undoubtedly a a delicious way to add a healthy protein source to your diet.
I love pairing cottage cheese with grilled peaches because it's a refreshing summer treat.
To make this recipe you need simple ingredients that are probably already in your pantry. You can visit your local grocer and find a variety of Shamrock Farms products. You can get a coupon by visiting ShamrockFarms.net/coupons to save $1 on any two Shamrock products.
For this recipe I used the full fat original cottage cheese but you can lighten it up by using the low fat variety.
This recipe is quite flexible, you can use any fruit you like to fill these crepes, berries would be a wonderful filling. You can either use fresh or cooked fruits. I personally love cooked peaches.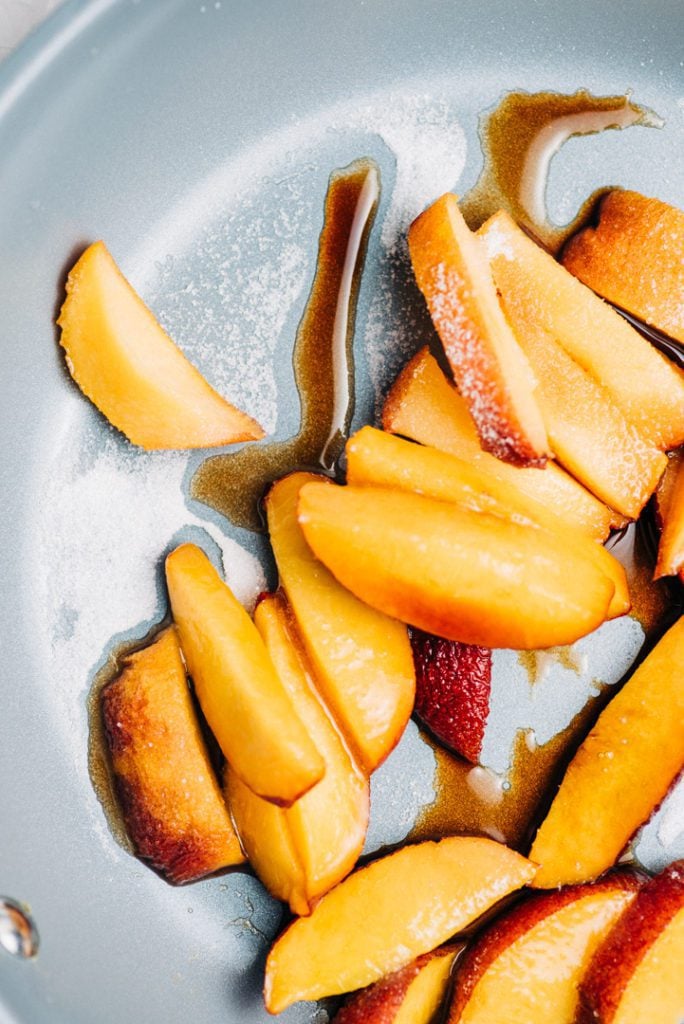 Crepes
Crepes are the perfect vehicle for so many foods! From sweet (galletes) to savory (crepes) they are perfect for breakfast, lunch, dinner or dessert.
Making crepes is really simple. The trick is to have a non-stick pan and learn the circular hand motion to distribute the batter evenly on the pan to get that thin perfect crepe.
Cottage Cheese Filling
This recipe uses Shamrock Farms' original cottage cheese to create a creamy vanilla filling for these crepes. With a bit of maple syrup or honey, it adds the perfect amount of sweetness but keeping that tangy cheese flavor intact.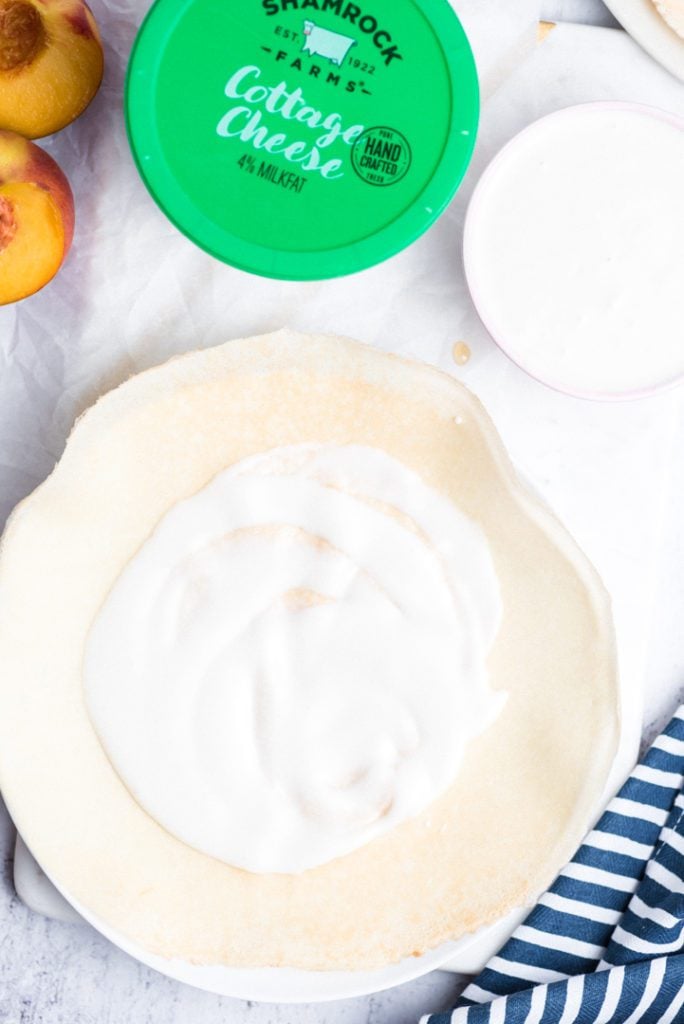 Peach Filling
The peach filling is made with fresh peaches simmered in balsamic vinegar and a little bit of sugar. You could also use honey instead of sugar. The combination of the fruit and vinegar creates a delicious flavor that intensifies the sweetness of the peaches.
These are perfect for summer and will be a staple in your house hold! This quick and easy recipe can be found here.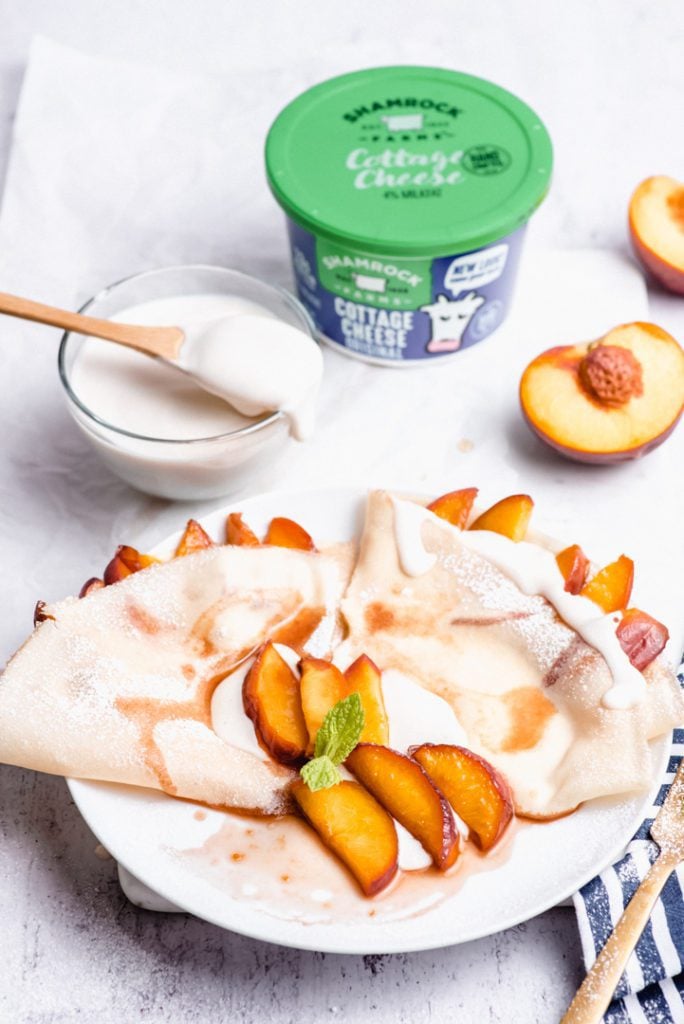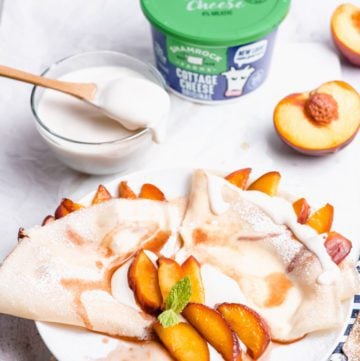 Cottage Cheese and Peach Crepes
Ingredients
Cottage Cheese Cream:

16

OZ

Shamrock Farms Cottage Cheese Original

⅓

cup

maple syrup or honey

½

tablespoon

vanilla essence

Peach Filling:

Medium yellow peaches

1

tablespoon

balsamic vinegar

2

tablespoon

sugar

Crepes:

1

Cup

all purpose flour

1

Cup

of milk

¼

cup

water

¼

teaspoon

vanilla extract

⅛

cup

sugar

¼

teaspoon

salt

4

tablespoon

butter

2

eggs
Instructions
Cottage Cheese Cream:

Mix the Shamrock Farms Cottage Cheese, maple syrup and vanilla in a mason jar with an immersion blender until the mixture is creamy.

Peach Filling:

In a sauce pan, over medium heat cook the peaches with the sugar and vinegar until golden and slightly soft for about 8-10 minutes. Set aside and let the peaches cool down.

Crepes:

Mix all the ingredients in a blender until the mixture is smooth. In a non-stick skillet, over medium heat, add ½ cup of the crepe mixture making sure it covers the entire pan. Use a circular hand motion to make sure the batter spreads evenly.

Cook each side for about 2 minutes until slightly golden.

Let the crepes cool down and spread the Shamrock Farms Cottage Cheese cream and add the caramelized peaches. Fold the crepe in a triangle and add more cream and peaches on top.

You can add fresh herbs like mint and a bit of powder sugar for serving.

Enjoy!