Deviled strawberries are an easy finger food dessert. They are trending on tiktok because of Valentine's Day but these are perfect for any occasion.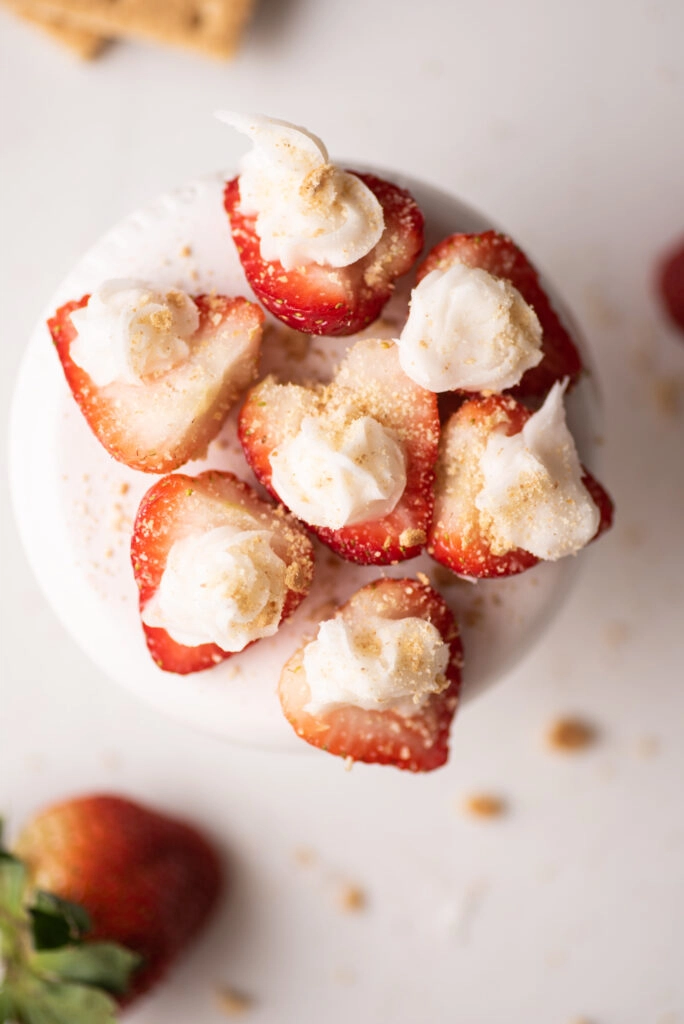 This easy dessert is the sweet version of deviled eggs. Juicy strawberries filled with a sweet and delicate filling and dusted with graham crackers.
If you are looking for an easy potluck finger food dessert, this is it!
You can get creative with your filling. From a classic cheesecake filling, to white chocolate butter cream, Nutella or even nut butter, you can customize this dessert to your personal taste.
Ingredients
This no-bake dessert requires just 3 basic ingredients: Strawberries, graham crackers and cream filling.
When it comes to the filling, you can really make this dessert your own.
Here are some ideas to make this dessert with a different filling. If you are in a pinch, cake frosting works great too.
Cheesecake filling: What's not to love about cream cheese, sugar and butter? I have an excellent cheesecake recipe that would be great for these strawberries.
Nut butter: If you want to make a healthier version, a creamy nut butter such as cashew butter would be wonderful here.
Nutella or chocolate frosting: Nutella is always a crowd pleaser. Feel free to add whipping cream to create a silky filling.
Helpful tips
The key to making these deviled strawberries is to cut them lengthwise and making sure to create a little well in the middle of the strawberry.
This little indentation will hold the filling of choice. If you don't make the hole in the middle the filling will slide off.
I recommend making these as close to the time when you will eat them as it is possible. If making them ahead of time, keep the refrigerated and make sure your filling of choice can hold its shape nicely.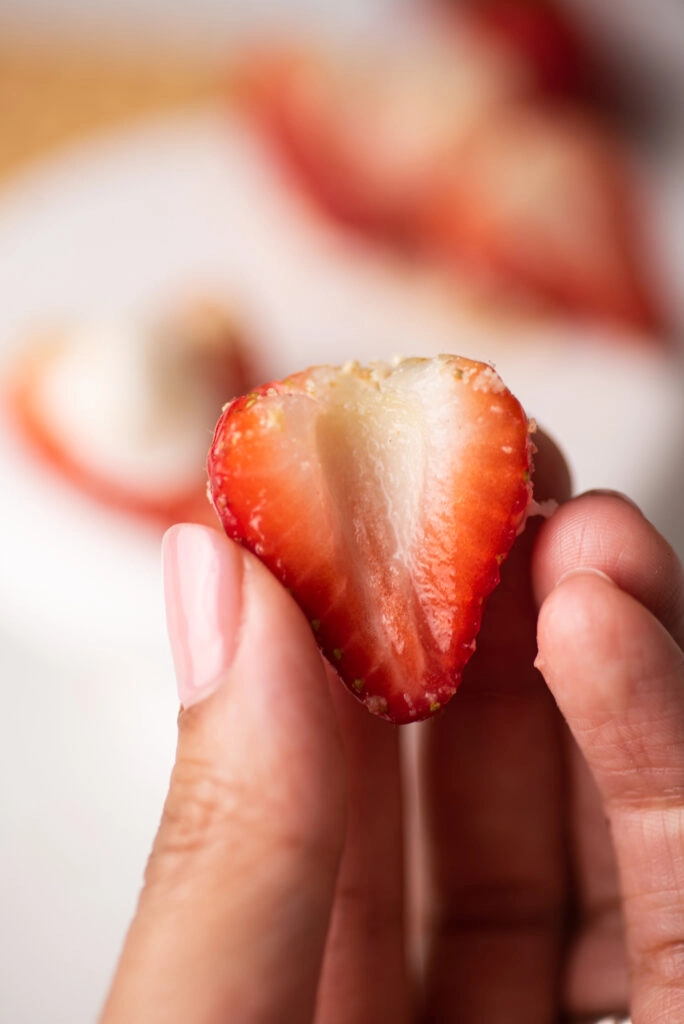 These are a perfect, easy, last minute Valentine's Day treat that you can make in literally just minutes.
It is also a great no-bake dessert, that you can make with your little ones, just make sure you cut the strawberries for them and they can have fun adding the toppings.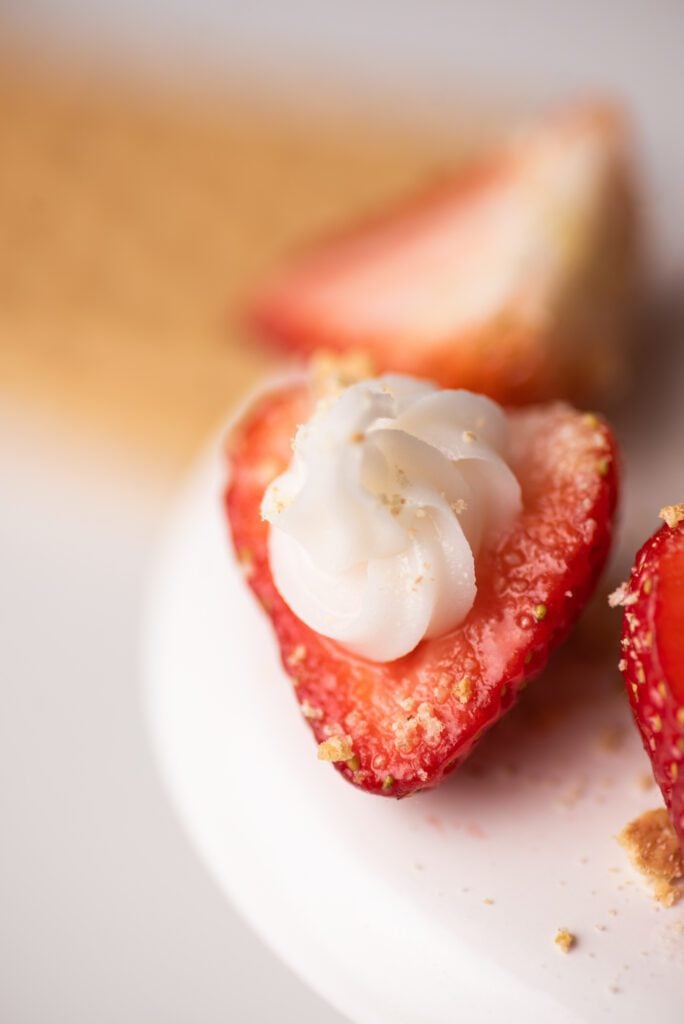 These deviled strawberries are the perfect, healthy-ish dessert to make for your next BBQ, potluck or 4th of July party.
They require little effort, few ingredients and they are beautiful and delicious.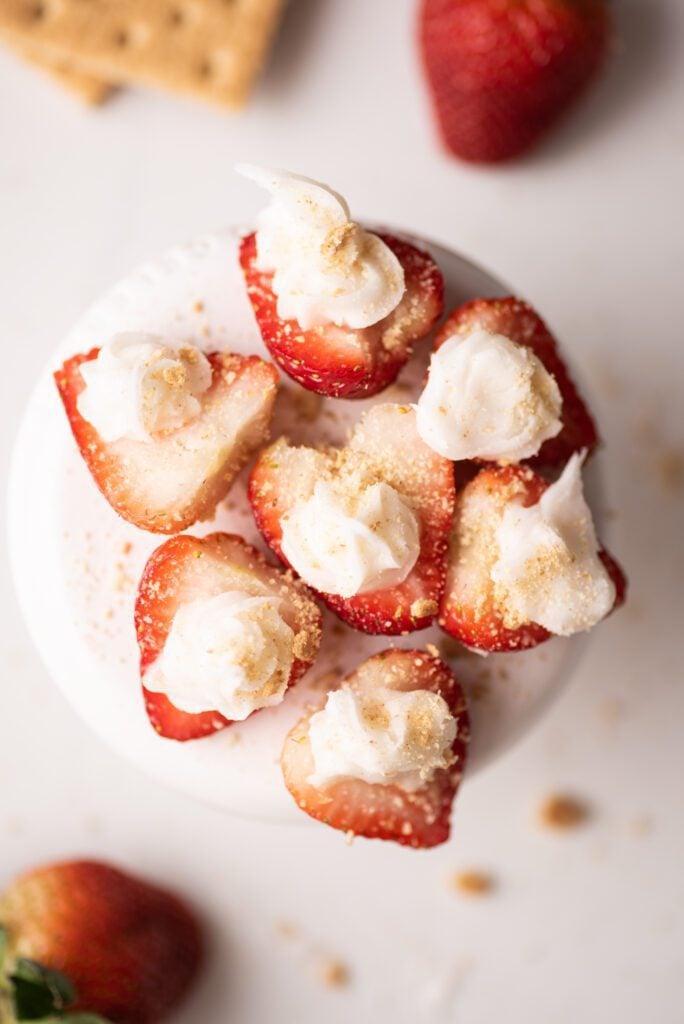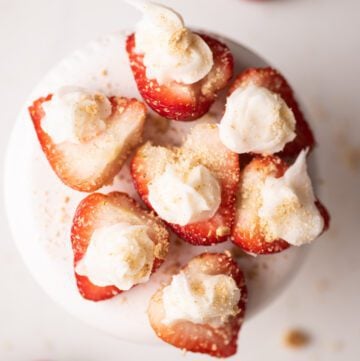 Deviled Strawberries Tiktok
These easy deviled strawberries are filled with cheesecake filling and dusted with graham crackers to create an easy and delicious dessert
Ingredients
1

pint

Strawberries

8 ounce

½

cup

Powdered sugar

8

ounces

Cream cheese

1

teaspoon

Vanilla extract

2

tablespoons

Heavy whipping cream

2

Graham crackers

crushed
Instructions
Wash your strawberries, remove the tops and pat dry

Cut them lengthwise. With a spoon or paring knife, create a little well in the middle if the strawberry

Set them aside while you make the cheesecake filling
Cheesecake Filling
With a hand mixer, whip together the cream cheese and powdered sugar.

Add the vanilla extract and whipping cream until well incorporated

Add the filling to a pipping bag and add it to the center of the strawberries

Top the strawberries with the graham cracker crumbs