Colombian Ajiaco is a potato and chicken based soup that is traditional in Bogota, Colombia's capital city.
If you have never tried Ajiaco, think of the most amazing chicken soup with a creamy potato base, corn and aromatic herbs.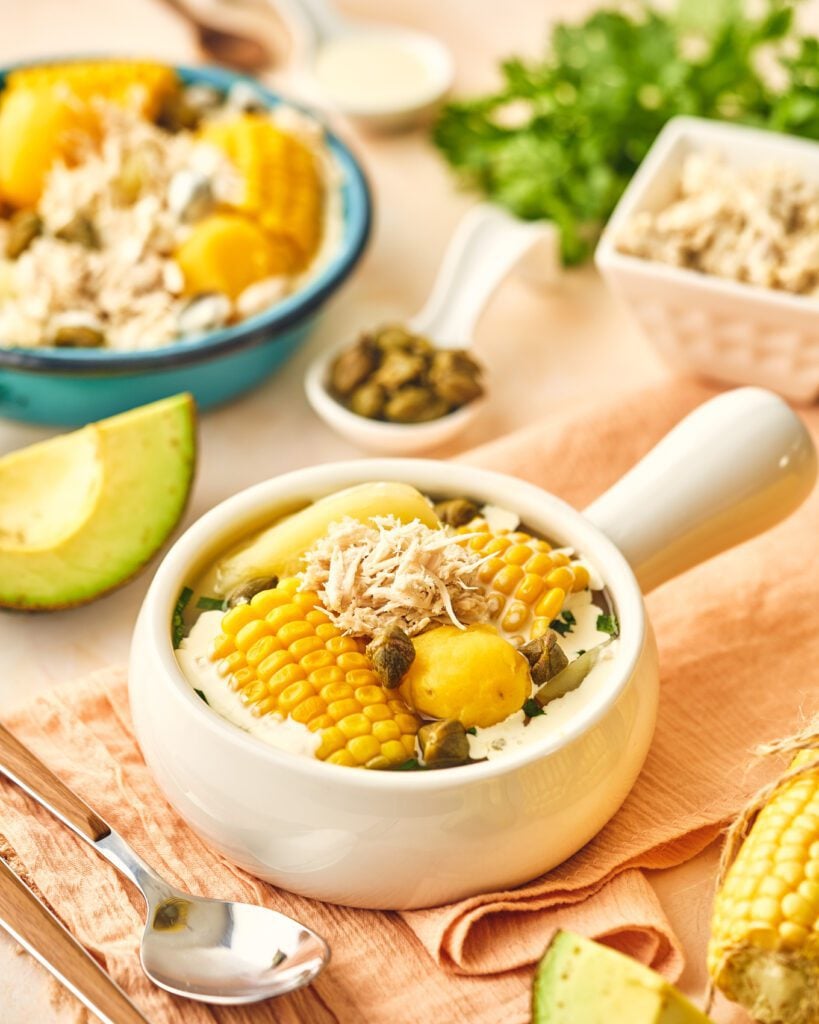 This soup is one of my favorite Colombian dishes because it is comfort at its finest.
We use 3 kinds of starchy potatoes, corn, chicken breast and aromatic herbs to create this delicious concoction.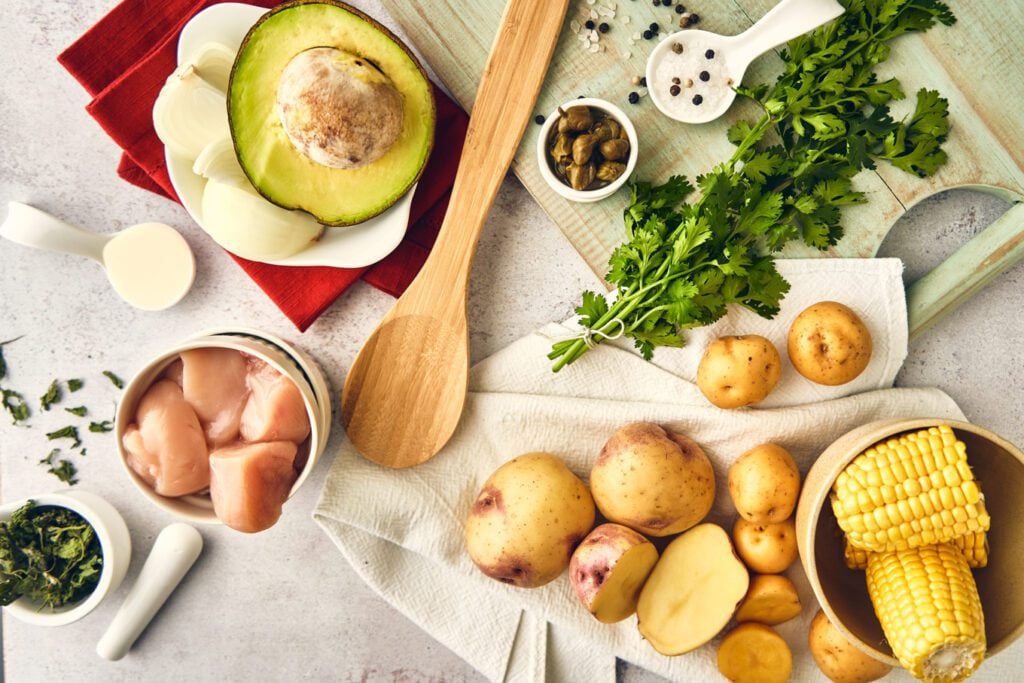 Then we top this soup with capers, avocado, a generous amount of table cream and garnish it with cilantro.
The combination of starchy potatoes creates a creamy and thick soup that is hearty and full of flavor.
In Disney's movie Encanto, the Familia Madrigal serves this soup during the engagement party for Isabela.
This Encanto recipe is one of my favorites and it's really easy to make.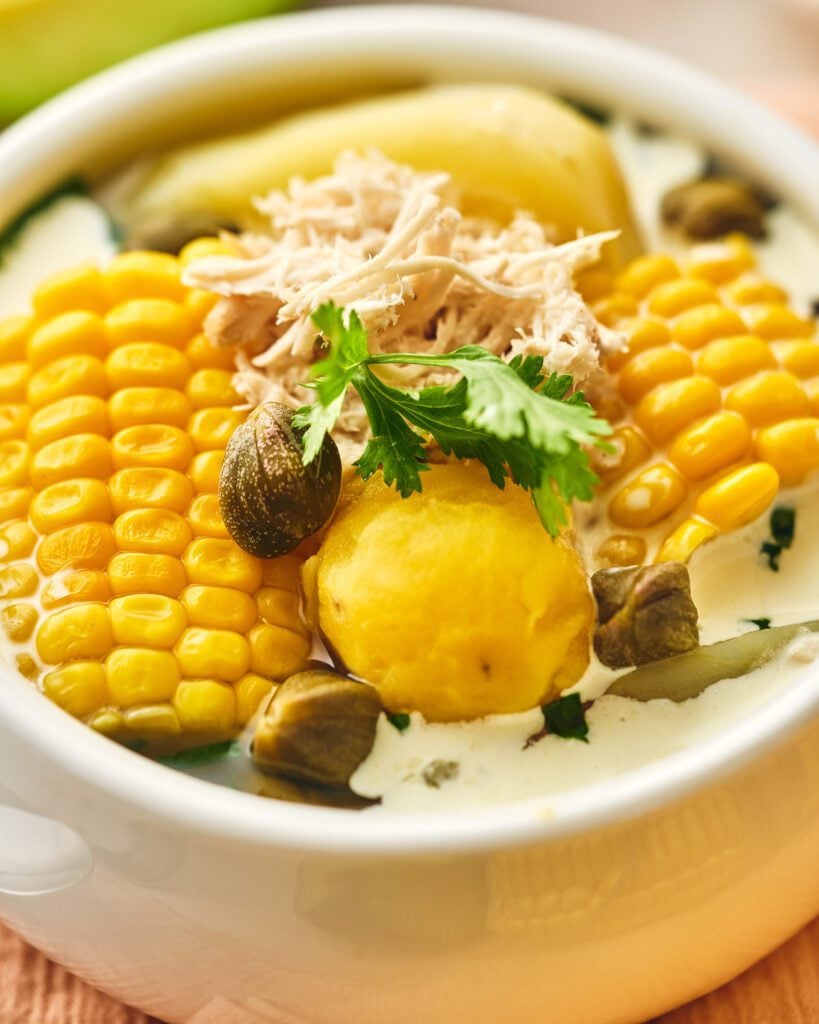 In the movie, they feature how the soup is served; the broth with potatoes and corn and then all the toppings family-style.
You can add what you like and leave out what you don't (capers are one that people either love or hate).
The beauty of this is that the soup is highly customizable but the essence and flavors remain unaltered.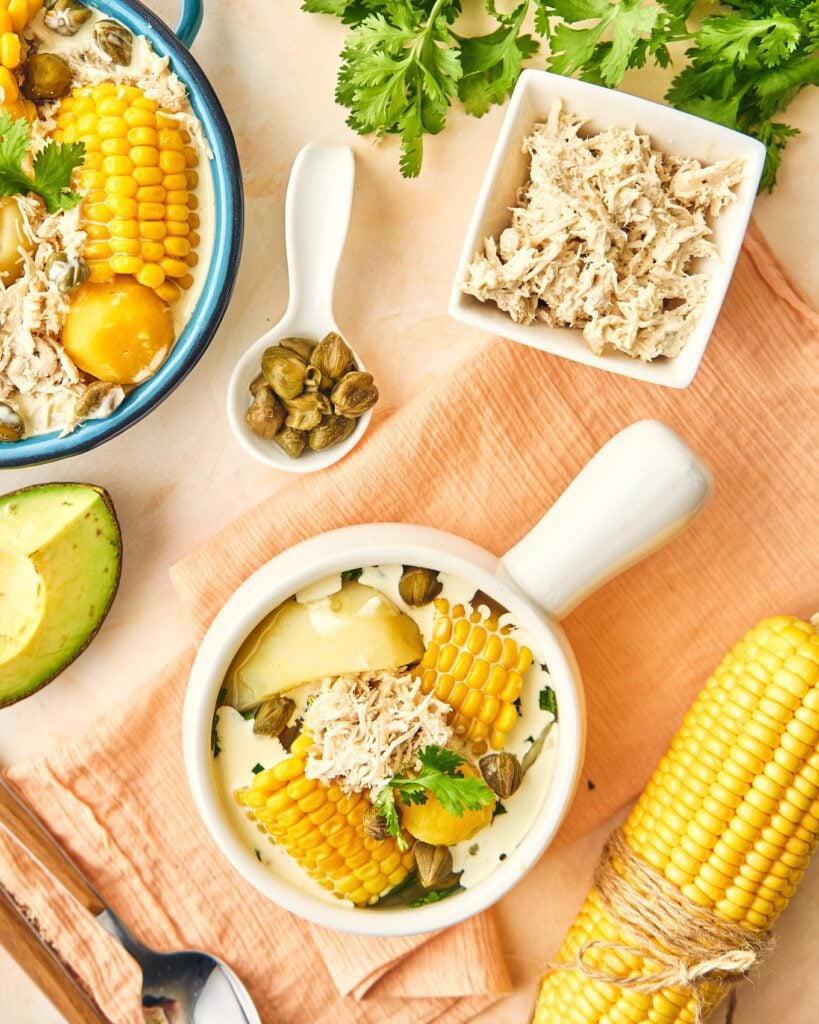 Ajiaco soup ingredients
This soup is very traditional and uses some ingredients that are sometimes hard to come by.
But if you truly want to enjoy an authentic experience, using the ingredients listed in the recipe is a must.
Potatoes: We use a variety of white and yellow potatoes, in particular a small yellow potato called "papa criolla". In the USA you can find them frozen in specialty latin markets, however these can be substituted for any yellow potato.
Corn: We use sweet corn in this recipe and it gives the broth amazing flavor.
Chicken: In this recipe use chicken breast. The chicken should shredded so chicken breast is best.
Capers: This is just a garnish but it gives the dish a special touch, if you are not a fan you can use fewer or not use any at all.
Guasca leaf: This herb is KEY to making ajiaco. Otherwise you are just making a chicken and potato soup. Dried guasca (affiliate link) can be found on amazon.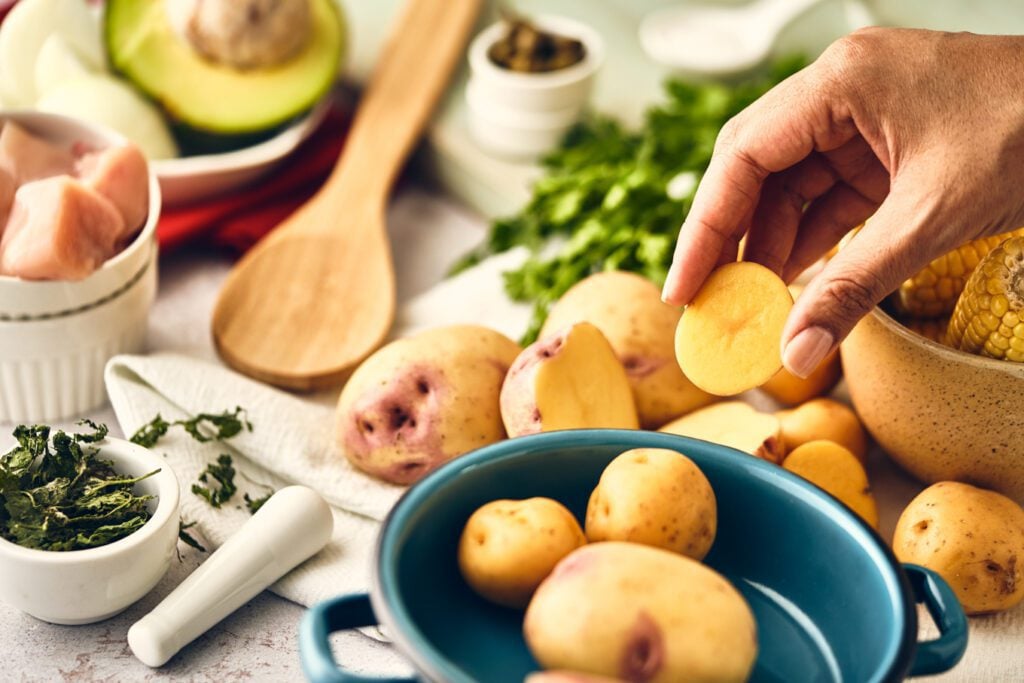 What do you eat with ajiaco
Ajiaco is a full meal on its own. All the toppings, protein and starches that go in the soup are a stand alone meal.
The broth is full of flavor from the potatoes and corn.
The shredded chicken breast is a complete source of protein that makes this soup a well balanced dish.
The addition of cream and avocado, provide the fat sources that make this soup decadent, creamy and delicious.
Some people like to serve ajiaco with a side of plain white rice and banana, which I personally love but you can leave out to keep things simple.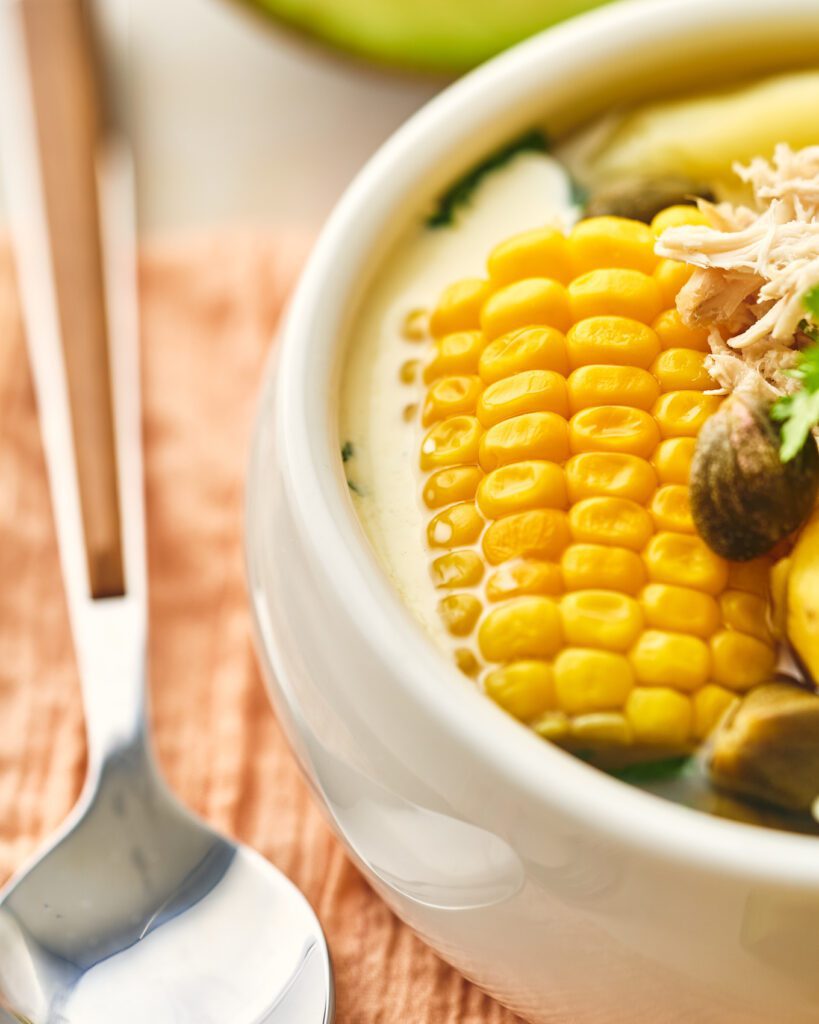 This is by far one of my favorite Colombian dishes. Everyone that has tried it for the first time, loves it immediately.
There is a good reason why this dish was featured in Encanto in such a decisive moment of the movie, this dish is just emblematic of Colombian cuisine.
This dish is also uncomplicated, so if you are trying to learn how to cook Colombian food, this is a great way to ease yourself into it.
You can make this dish in your stove top, instant pot or slow cooker. In the recipe below I'm using the stove top but let me know if you'd like other cooking methods and I can update the recipe accordingly.
For other amazing Encanto recipes, check out my bunuelos, arepas and Colombian Empanadas.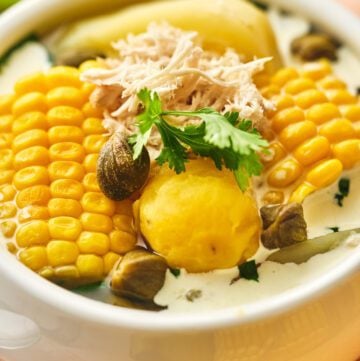 Colombian Ajiaco Soup
Ingredients
1

Chicken breast

cut into 1 inch cubes

3

cups

Chicken stock

1

Russet potato

cut in 1 inch cubes

2

Yellow potatoes

cut in 1 inch cubes

2

Sweet corn ears

cut in half

1

tablespoon

Guasca

Salt and Pepper to taste
Garnishes
1

Avocado

1

Tablespoon

Capers

1

Tablespoon

Chopped cilantro

4

Tablespoons

Cream
Instructions
In a medium stock pot over high-medium heat add the cubed chicken and chicken stock, corn and guasca. Add salt to taste

After 10-12 minutes, remove the chicken, shred and set aside

Add the cubed potatoes and cook until fork tender

Once the potatoes are cooked, return half of the shredded chicken to the pot and simmer on medium heat for another 10 minutes

Serve the soup and add a tablespoon of cream per serving, add avocado slices and capers (optional)