Dulce de leche donuts are a Latin American staple. It's like eating a churro but with the soft, pillowy texture of a brioche donut, need I say more?
Dulce de Leche is one of my favorite childhood treats. It means comfort for me and stuffing it in donuts is my favorite way to eat it.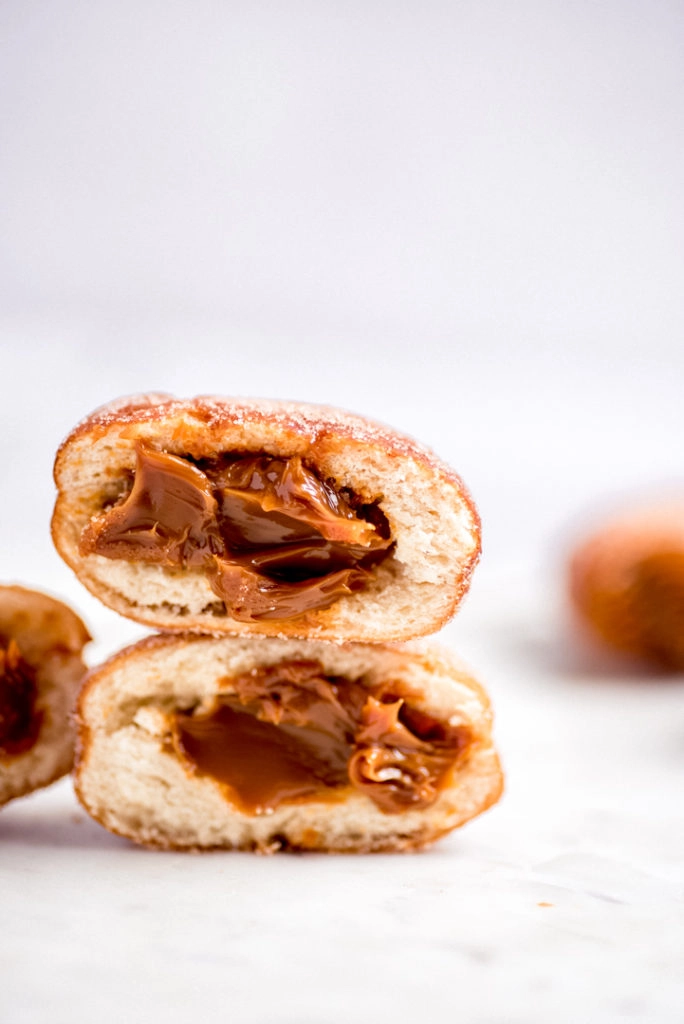 What is Dulce de Leche
Dulce de leche is a caramel-like sauce that is very popular in all South America. From Colombia to Argentina, each country has a version of this sauce.
It is made from Milk (Leche) and sugar that is simmered for long hours over low heat.
What's the difference between Caramel and Dulce de Leche
Dulce the Leche is made with milk and sugar only. Caramel is made with sugar, water and sometimes butter.
Where to buy Dulce de Leche
Fortunately, most large grocery stores carry Dulce de Leche in their Hispanic food sections but if you are unable to find it, there are 2 ways to make it.
How to make Dulce de Leche from Scratch
You can make Dulce de Leche by simmering 6 cups of whole milk and a cup of granulated sugar over low heat for approximately 2 hours until the milk becomes golden in color and the consistency is like caramel.
An easier way to make it is by using a can of condensed milk and you can do this 2 ways.
Instant Pot Dulce de Leche
To make Dulce de Leche in your instant pot, transfer the contents of a can of condensed milk into a glass container with a lid.
Pressure cook for about 30 minutes and let it do a natural release.
Slow Cooker Dulce de Leche
If you don't have an instant pot, you can use your slow cooker.
Add water to your pot, add the can of condensed milk and cook on low for 8 hours.
Donut dough
Now that we have our Dulce de Leche covered, let's move into how to make a donut dough.
For this, I like to use a brioche recipe. This is a buttery, sweet dough that is great to work with.
You can also use this dough to make dinner rolls or a brioche loaf. It is very versatile.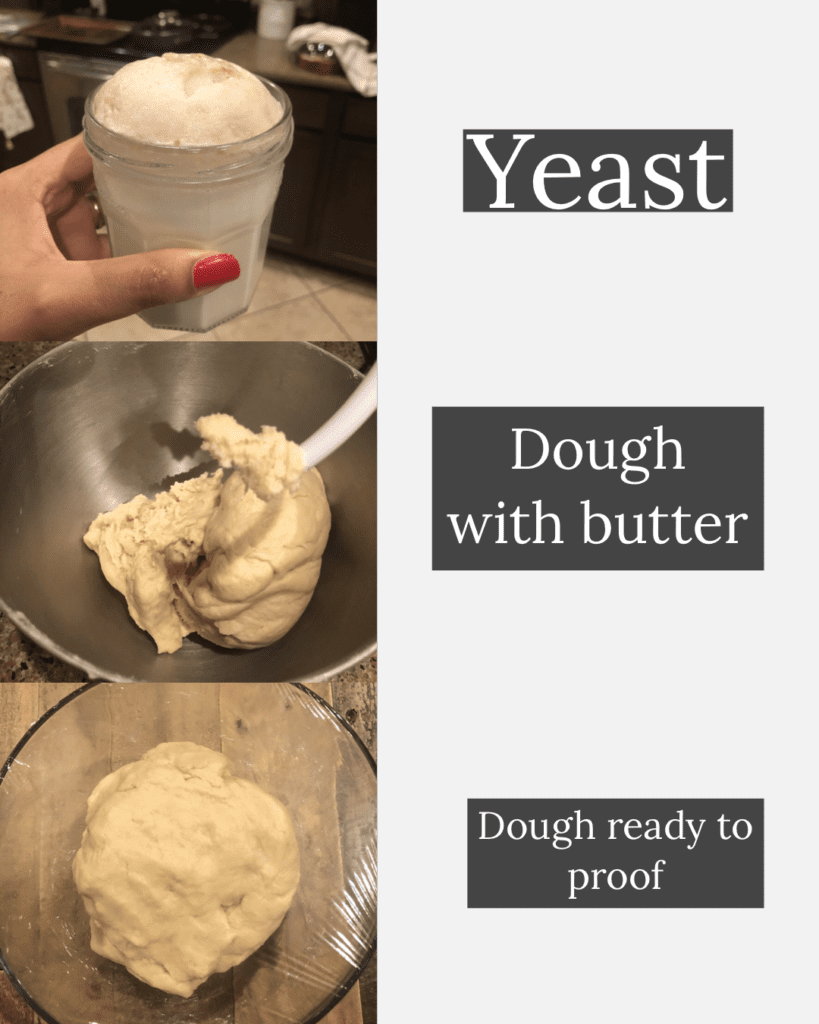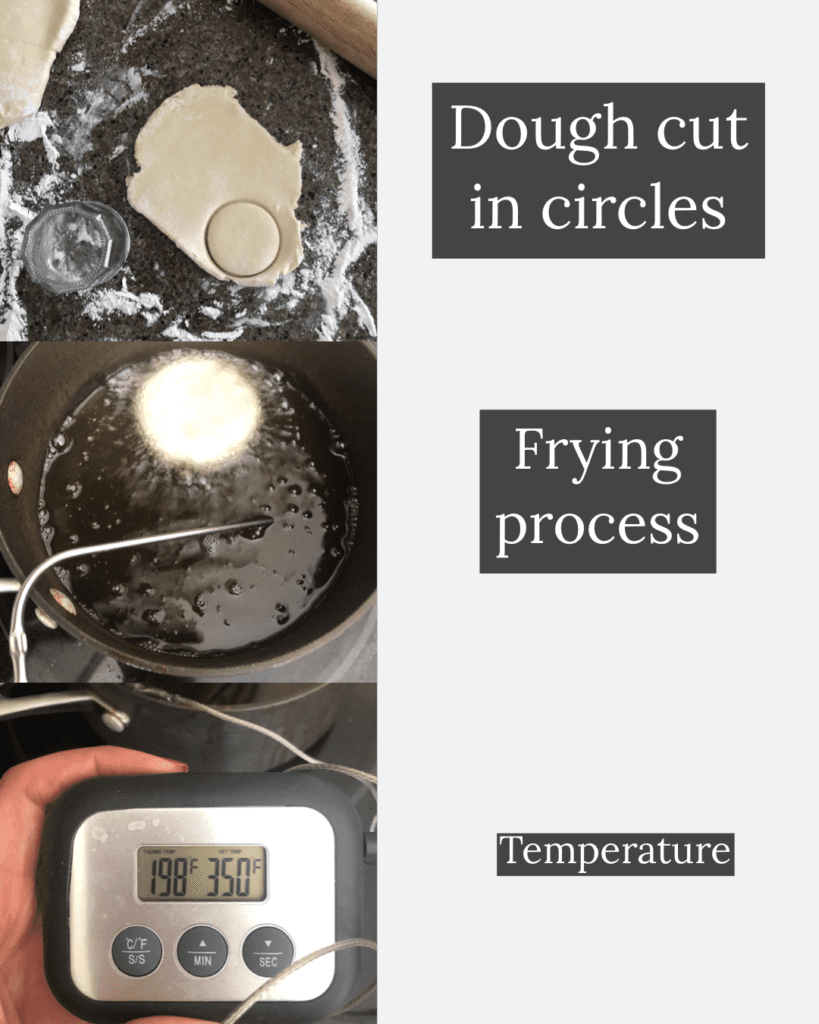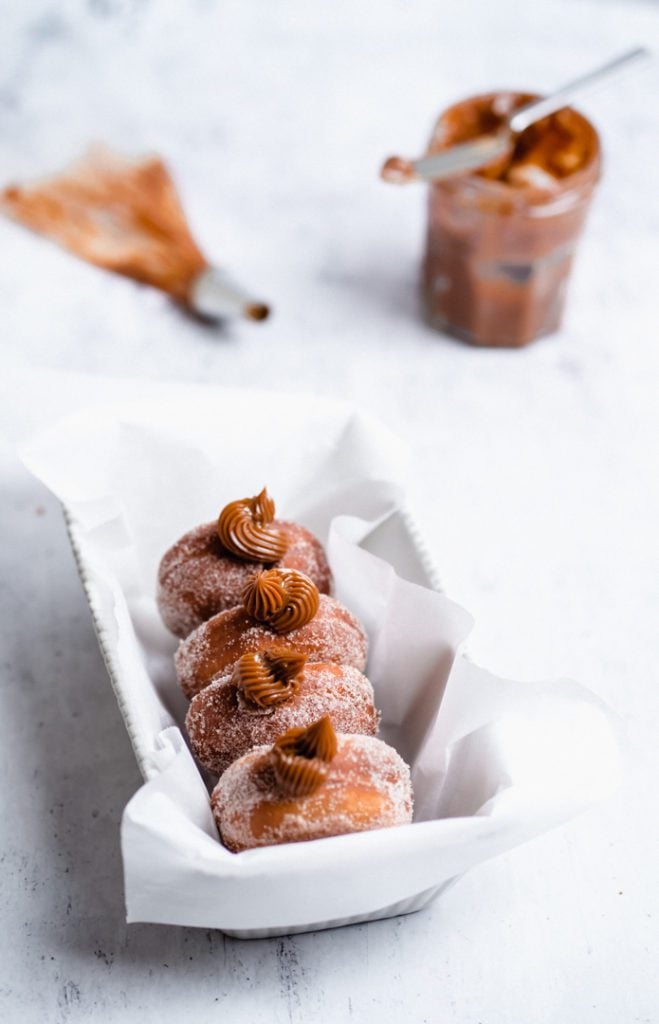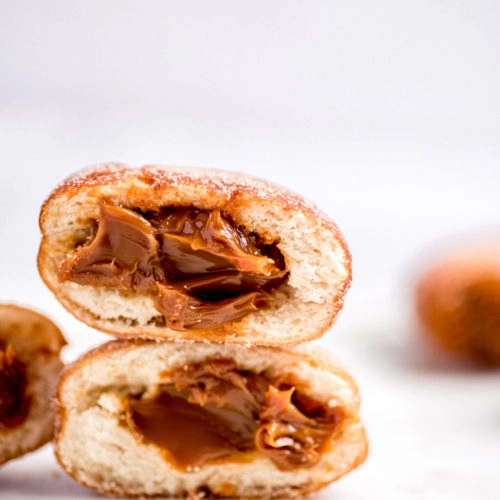 Dulce de Leche Donuts
Dulce de Leche is a delicious South American confection. It's the perfect filling for brioche donuts
Ingredients
¼

ounce

active dry yeast

7 grams, 1 packet

1

cup

whole milk, luke warm

240 ml

⅓

cup

sugar

43 grams

3 ¾

cups

Flour

565 grams

6

tablespoon

unsalted butter at room temperature

90 grams

2

teaspoon

salt

10 grams

2

eggs at room temperature
Instructions
heat up the milk in low heat for about 2 mins. Do not let it boil.

add the packet (7 grams) of active dry yeast and half of the sugar (21 grams). Stir gently and let it sit for about 20 minutes. It will start to get foamy.

In the bowl of a stand mixer, add the flour, salt and remaining sugar.

add your foamy yeast mix, eggs and start your mixer on low until ingredients are well incorporated. Mix for about 5 minutes.

Start incorporating the butter one tablespoon at a time. Let the dough absorb the butter before adding additional pieces.

This process will take between 7-10 minutes.

Once all butter is incorporated, let the dough rest. Use a glass bowl that is well oiled. Cover with plastic wrap. I let it proof overnight in the friedge but you can let it proof at room temperature for 4 hours until the dough has doubled in size.

Roll your dough on a well-floured surface. Dough should be about 1 inch thick.

Cut it into rounds and let it proof a second time (about 20 minutes)

Heat vegetable oil in a pan until it reaches 350 F temperature.

Fry donuts until golden brown, remove from the oil and roll them into sugar (optional)

Let them cool down, and open a hole on one of the sides and using a pipping bag, fill them with the dulce de leche mixture.