These Easy deviled eggs with sweet relish are a family favorite at every holiday meal. No party or potluck is complete without a platter of deviled eggs.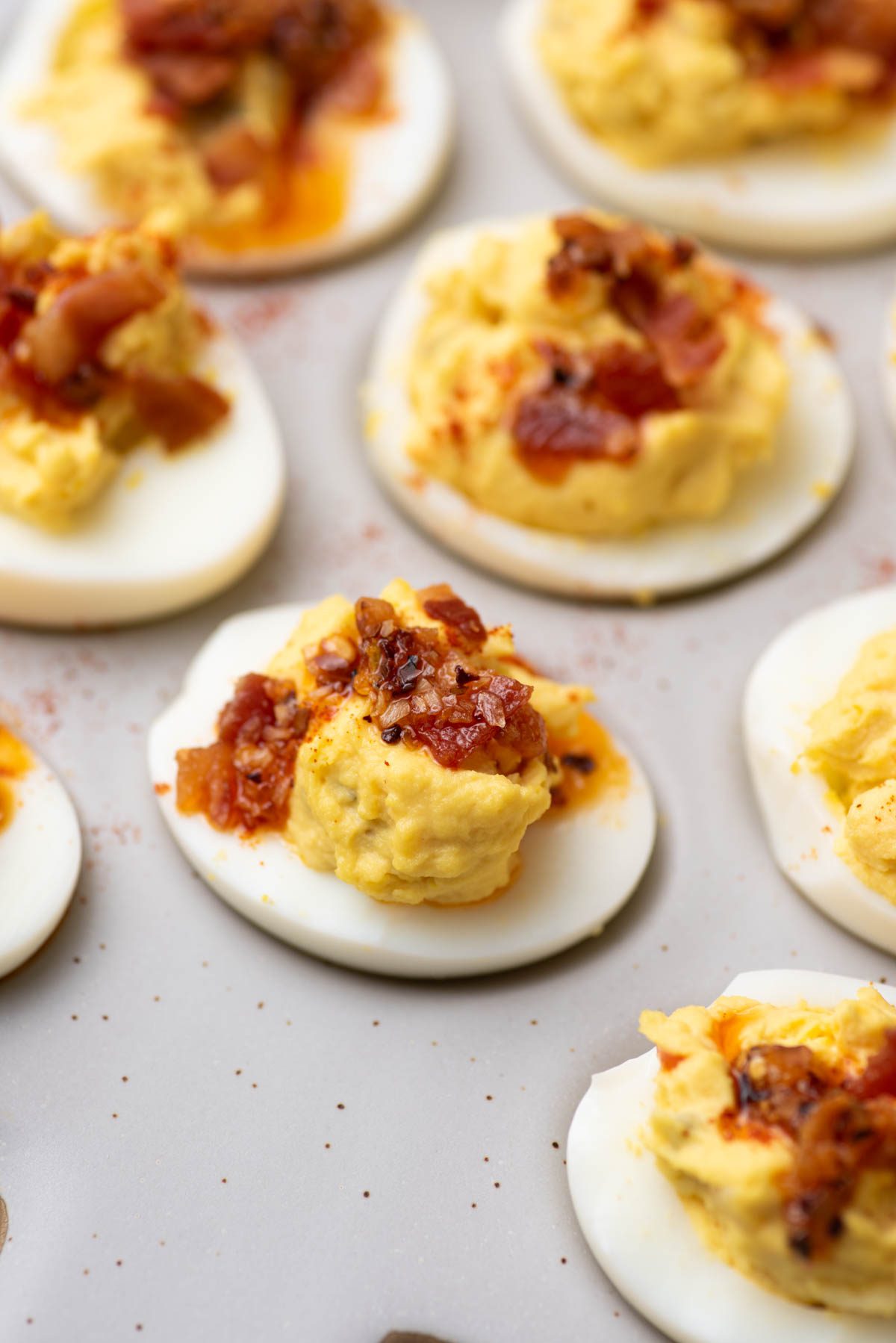 Perfect hard-boiled eggs are a great appetizer for any occasion. They take just a few minutes to put together and some simple ingredients.
Hard boiled eggs require some technique but they are simple to make. You only need large eggs, sweet relish, mustard, paprika, bacon and mayo.
Why you will love relish on deviled eggs
Sweet relish gives this classic deviled eggs a little spin with a hint of sweetness that makes them delicious. It also gives them a pop of freshness with every bite.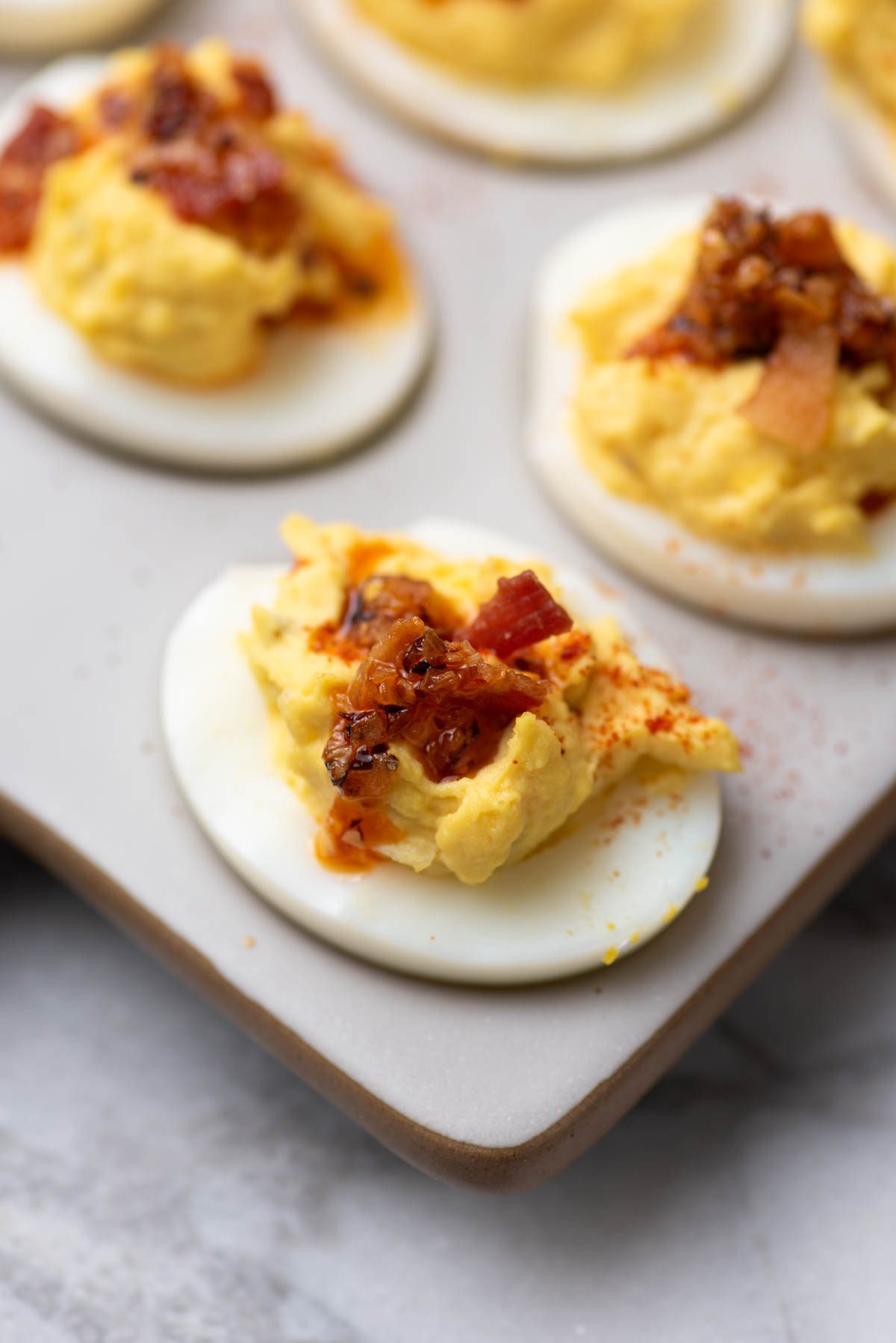 These deviled eggs can be made from scratch using fresh eggs or you can buy pre-made hard boiled eggs for convenience.
This recipe is perfect for your family gatherings this Holiday season or for any friends get-together where need to bring an appetizer.
Ingredients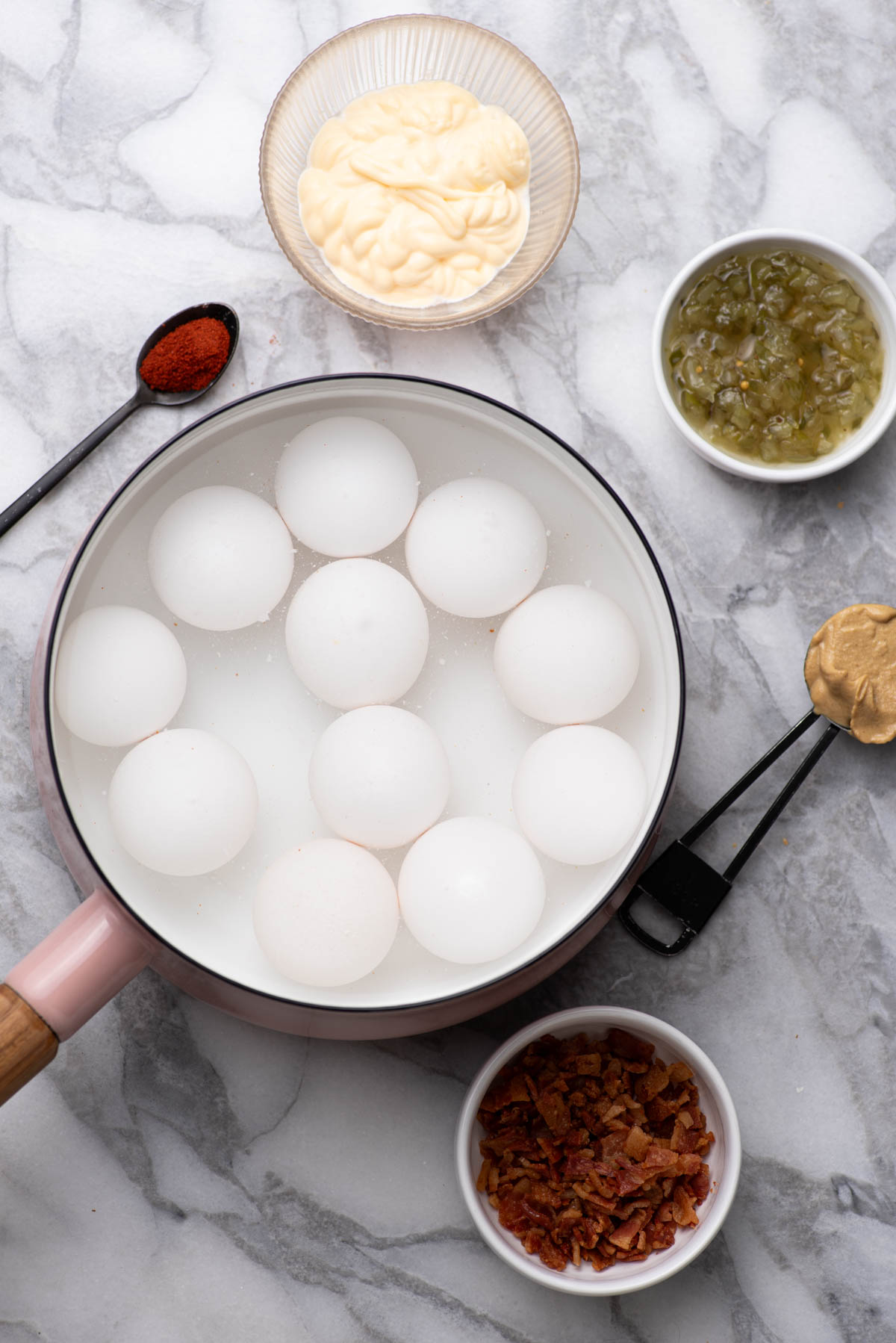 Eggs: Use fresh eggs or store bought hard boiled eggs to make this recipe even easier. You will need to boil the fresh eggs (instructions below) and separate the egg whites and egg yolks to make the creamy filling.
Sweet pickle relish: Use your favorite store bought brand of relish. If you like dill relish or any other type it is up to you what to use. I used the sweet pickle relish my store had.
Mayo: For this recipe I used Japanese mayo because it is a creamier variety since it uses more yolks than regular mayo does. But you can use your favorite brand.
Dijon mustard: French dijon mustard has a delicate flavor but packs a punch of flavor. You could also use yellow mustard but I would reduce the amount by half since it has a stronger flavor.
Bacon bits: Bacon adds a nice crunch to the soft egg filling and it is a great flavor pairing.
Paprika: I like to sprinkle s dash of smoked paprika on my deviled eggs to add a nice smokey flavor and a pop of color for presentation.
Chili oil crunch: This is oil became really popular in the last few years and it is a combination of crushed toasted chillies in oil. It is a little spicy but not much. If you have never tried this, you can serve it on the side for people to add it if they wish. This can be replaced by a dash of hot sauce if you prefer.
Instructions
Perfect deviled eggs will be a breeze after you apply all the helpful tips I've outlined below.
Boil the eggs
I started my eggs in cold water and brought them to a rolling boil over medium-high heat in a pot with a lid for about 13 minutes. Your pot should have enough water to cover the eggs by about 2 inches.
Once they were boiling I turned off the heat and let them sit covered for another 12 minutes.
Then I drained the eggs and run them through cold water in a colander. Allowed them to cool down for about 10 minutes and peeled them by gently tapping on them and rolling them to break the shell.
Once the eggs were peeled, cut them in half lengthwise and scoop out the yolks. Reserved the halved egg whites and place them in single layer on a serving tray.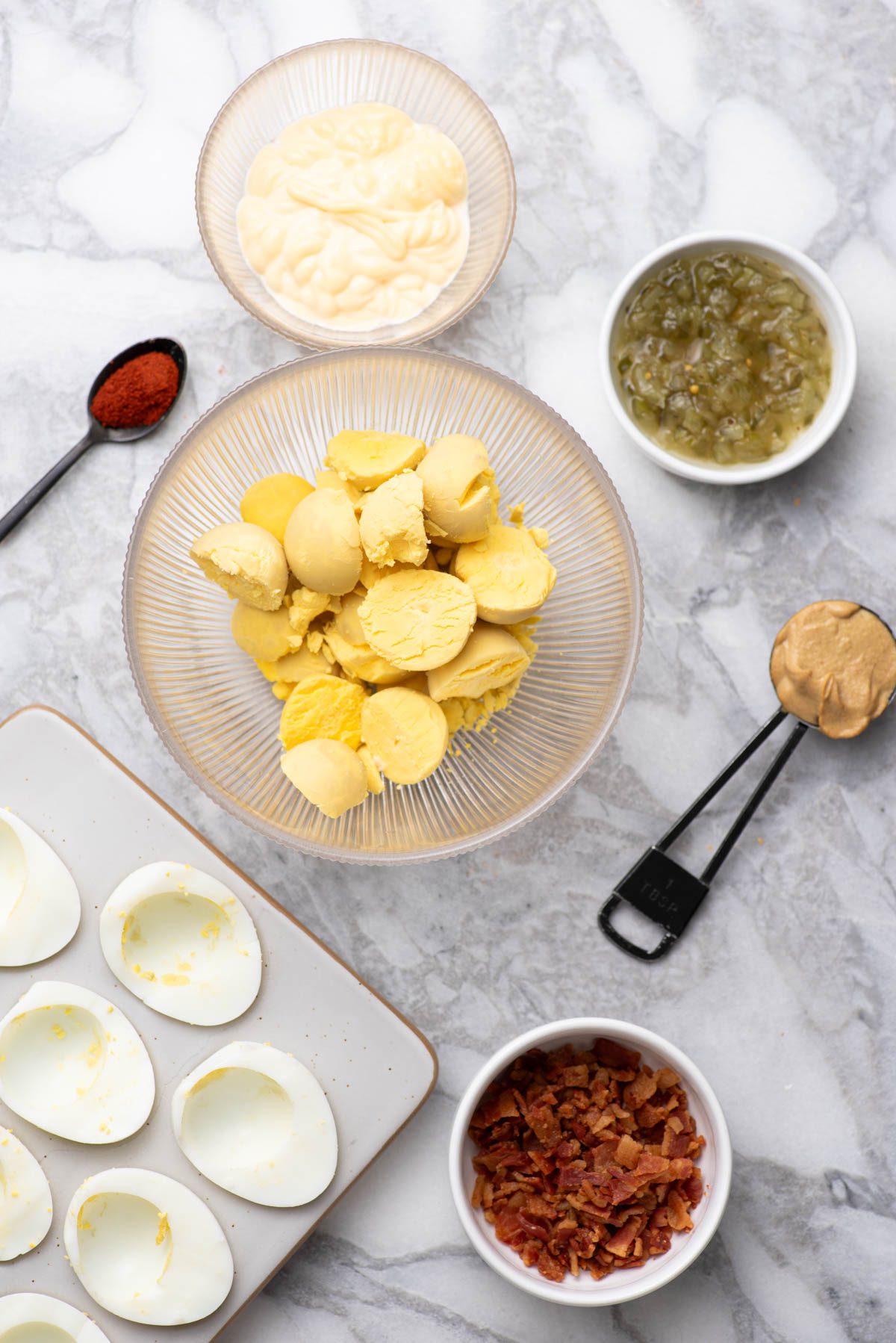 Make the egg yolk mixture
In a bowl, combine the egg yolks, mayonnaise, relish and dijon mustard. Mash the yolks with a fork or use a hand mixer until they are creamy in texture.
Place the egg yolk mixture in a piping bag or use a spoon to scoop about one tablespoon of the egg yolk mixture into each halved egg white.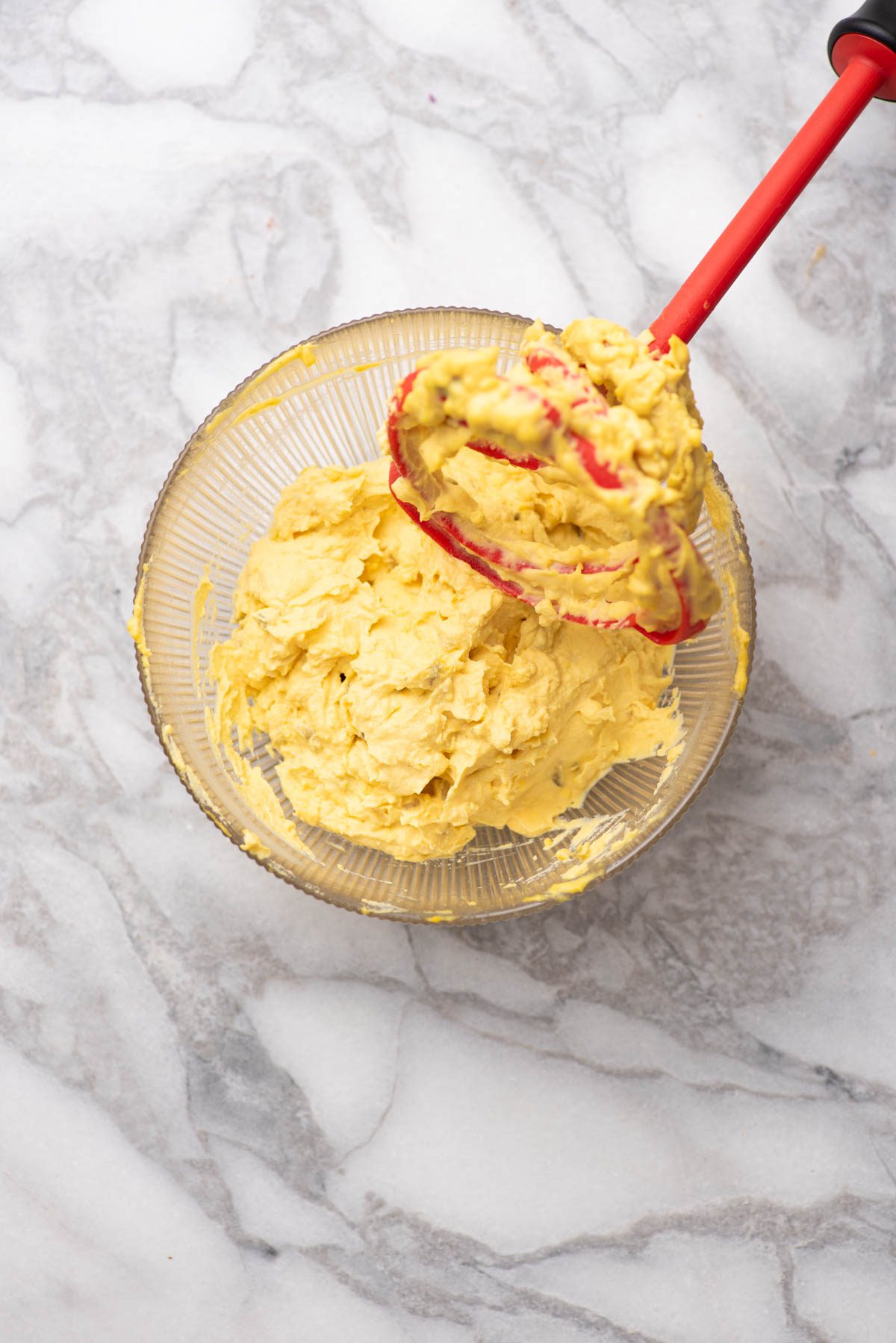 Toppings
Once all the egg whites have the egg yolk mixture on top, sprinkle lightly with the smoked paprika, garnish with the crumbled bacon and chili crunch oil.
Alternative toppings include chopped herbs such as chives or everything but the bagel seasoning (toasted sesame seeds and onion).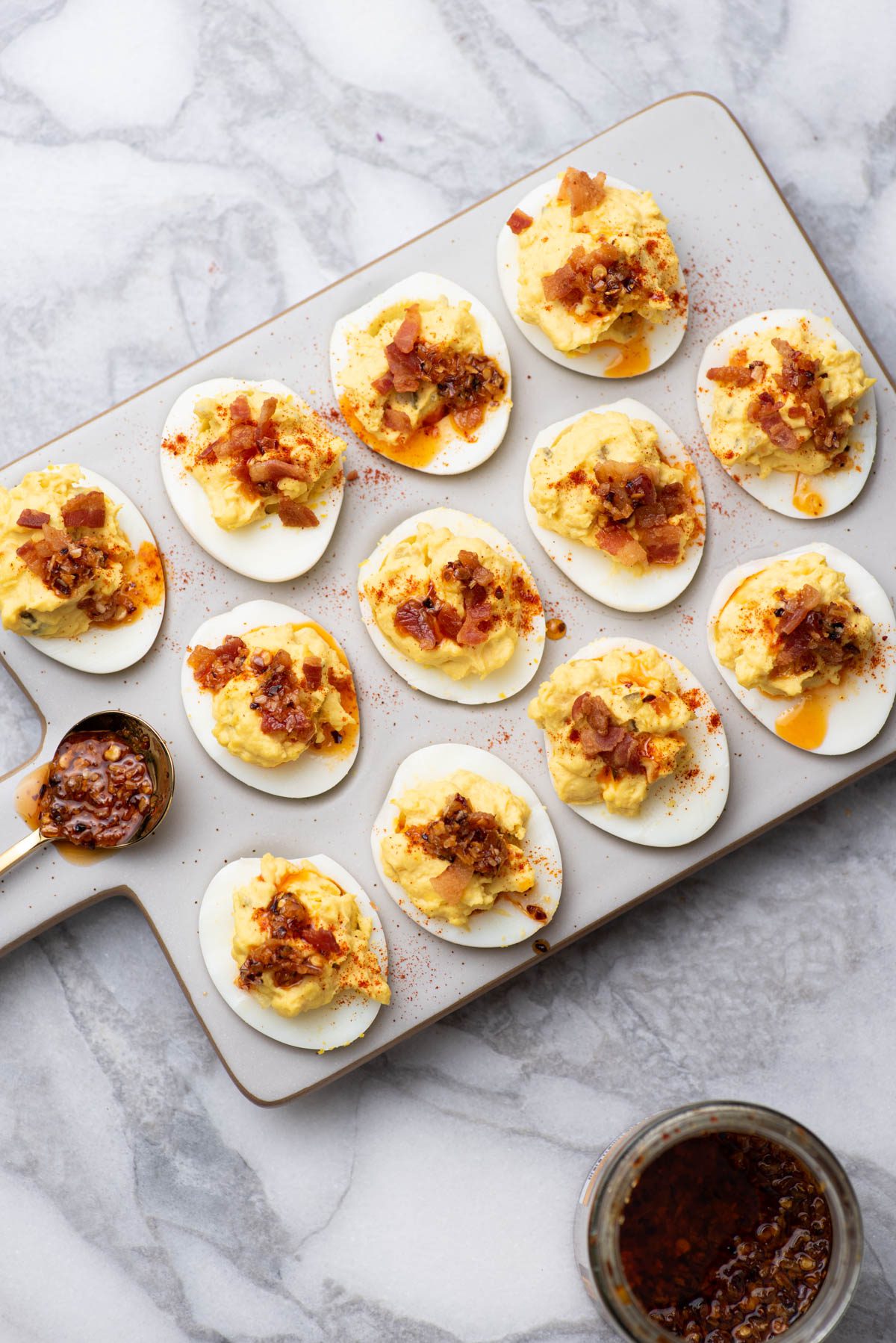 Tips for perfect deviled eggs
The harder part about making deviled eggs is actually peeling the hard-boiled eggs. But there are a few tips that will help you make this process much easier.
First, use older eggs. Eggs that have been in the fridge for a bit are perfect for this recipe because once boiled they will be easier to separate from the shell. Let your eggs sit in the fridge for about a week before making deviled eggs for best results.
Second tip is to use a bowl of ice water to cool down the eggs. The temperature shock will help the eggs contract and separate easily from the shell.
Last but not least, peel your eggs under cold running water, this will allow the water to flow  between the egg white and membrane, which helps with separating them.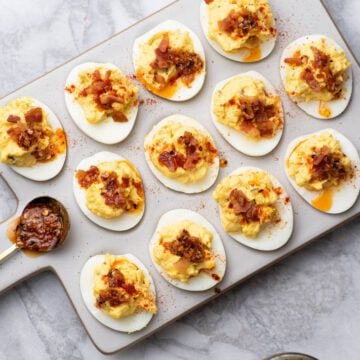 Easy Deviled Eggs with Sweet Relish
These Easy deviled eggs with sweet relish are a family favorite at every holiday meal. No party or potluck is complete without a platter of deviled eggs.
Ingredients
12

Eggs

½

cup

Mayonnaise

1

tablespoon

Dijon Mustard

2

tablespoons

Sweet pickle relish

2

tablespoons

Bacon bits

Or cook 1 to 2 bacon strips and crumble them.

1

tablespoon

Chill oil crunch
Instructions
Fill up a pot with enough water to cover eggs by about 2 inches.

Cook the eggs covered over medium-high heat for about 13 minutes until the water comes to rolling boil.

Once the water is boiling, turn the heat off and let the eggs sit in the covered pot for about 12 minutes.

Place the eggs in an ice bath for about 5 minutes.

Peel the eggs over cold running water.

Cut the eggs length-wise and scoop out the yolks and add them to a bowl. Place the halved egg whites in a serving tray.

Add the mayonnaise, dijon mustard and relish to the egg yolks and mash them with a fork until everything is well combined and creamy.

Scoop out about 2 tablespoons of the egg mixture and place it on top of the halved egg whites.

Sprinkle with paprika, garnish with the crumbled bacon and chili oil.
Nutrition
Calories:
145
kcal
Carbohydrates:
1
g
Protein:
6
g
Fat:
13
g
Saturated Fat:
3
g
Polyunsaturated Fat:
5
g
Monounsaturated Fat:
4
g
Trans Fat:
0.03
g
Cholesterol:
169
mg
Sodium:
191
mg
Potassium:
65
mg
Fiber:
0.1
g
Sugar:
1
g
Vitamin A:
275
IU
Vitamin C:
0.03
mg
Calcium:
26
mg
Iron:
1
mg