Got Thanksgiving leftovers? Try this Turkey Cobbler, a spin on the viral TikTok Chicken Cobbler made with Red Lobster cheddar bay biscuit mix.
Turkey Cobbler is made with leftover turkey mixed with veggies and cream of chicken soup and topped with biscuit mix.
The biscuit mix can be any type of biscuit mix, but Red Lobster cheddar bay biscuit mix is a popular choice.
The original Chicken Cobbler recipe was shared by Matthew Bounds, also known as Yourbarefootneighbor on social media.
Why you will love this recipe
There is so much to make with leftover turkey. From sandwiches to soup but this Red Lobster turkey cobbler casserole is pure perfection.
You can adapt this recipe to your own preferences and use any veggies you like or leave them completely out.
This easy casserole feeds a crowd and you'd love how easy it is to put together.
List of ingredients
In this Turkey Cobbler we will use all our thanksgiving leftovers. I used all my white meat but you could combine it with dark meat as well.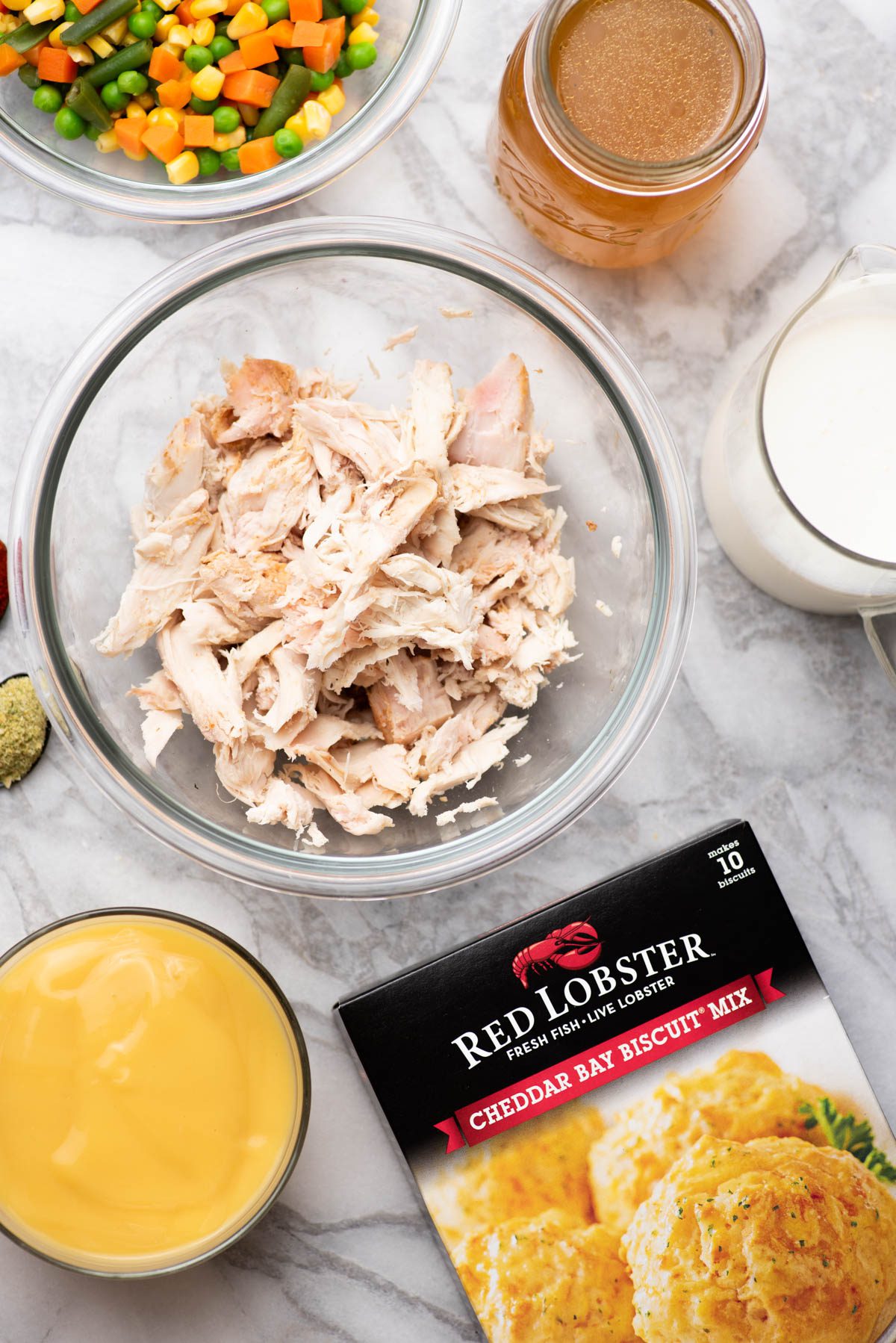 Turkey: Use leftover turkey breast or tights for this recipe.
Cream of chicken soup: we will use a can cream of chicken soup like in the original chicken cobbler recipe but feel free to use cream of mushroom if you want.
Mixed vegetables: I used a combination of frozen carrots and peas. Also mixes with corn and green beans are great.
Cheddar bay biscuit mix: The Red Lobster brand is the most popular but you could use any biscuit mix, just make sure to season it with some spices if you are using a plain biscuit mix.
Milk: to mix the biscuit and create our cobbler crust.
Chicken/turkey stock: If using canned soup I recommend thinning it out a bit with some chicken stock. If you are using your homemade gravy and it is too thick, use chicken stock or turkey stock as needed.
How to make Turkey Cobbler
Here is an overview of how to make this recipe with your Thanksgiving turkey leftovers and enjoy a delicious turkey pot pie with biscuit crust.
Shred the leftover turkey meat
You can shred or dice the turkey meat. Use white meat or dark meat or both if you prefer. I personally love the turkey breast for this recipe because the flavor of the turkey breast can be enhanced by the spices and cream of chicken soup.
Combine the meat, veggies and soup/gravy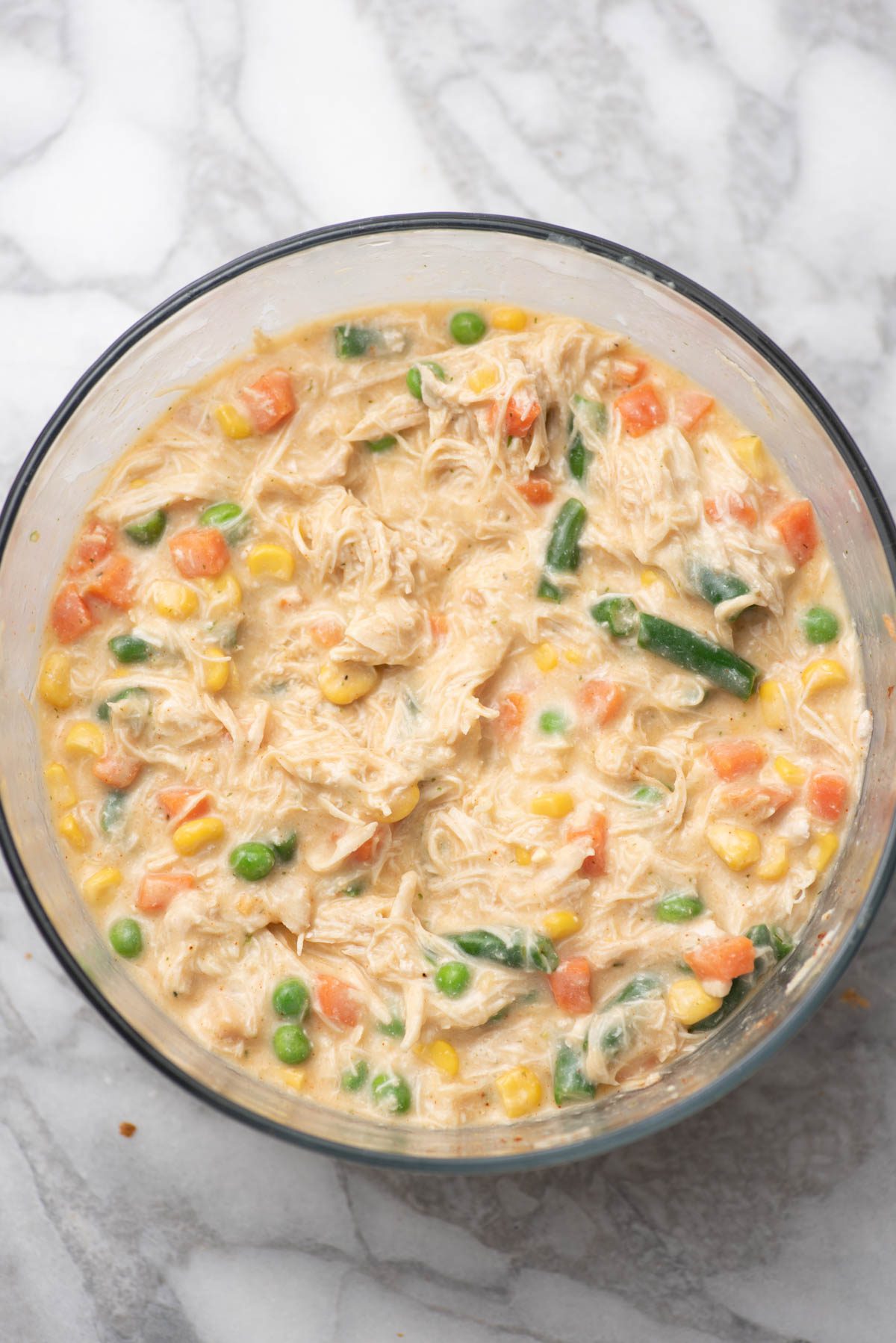 I like to combined the shredded turkey meat with the thawed veggies.
I decided to thaw the frozen vegetables this time because this will help with the texture of the cobbler so it is not mushy.
At this point, I taste the filling and add salt and pepper to taste. I also like to add a dash of garlic powder, onion powder and paprika.
Add the cheddar bay biscuit mix
In a separate bowl, combine the milk, Red Lobster cheddar bay biscuit mix and the seasoning packet that comes in the biscuit box.
If you are using a regular biscuit mix you could mix in a cup of grated cheddar cheese to add some flavor.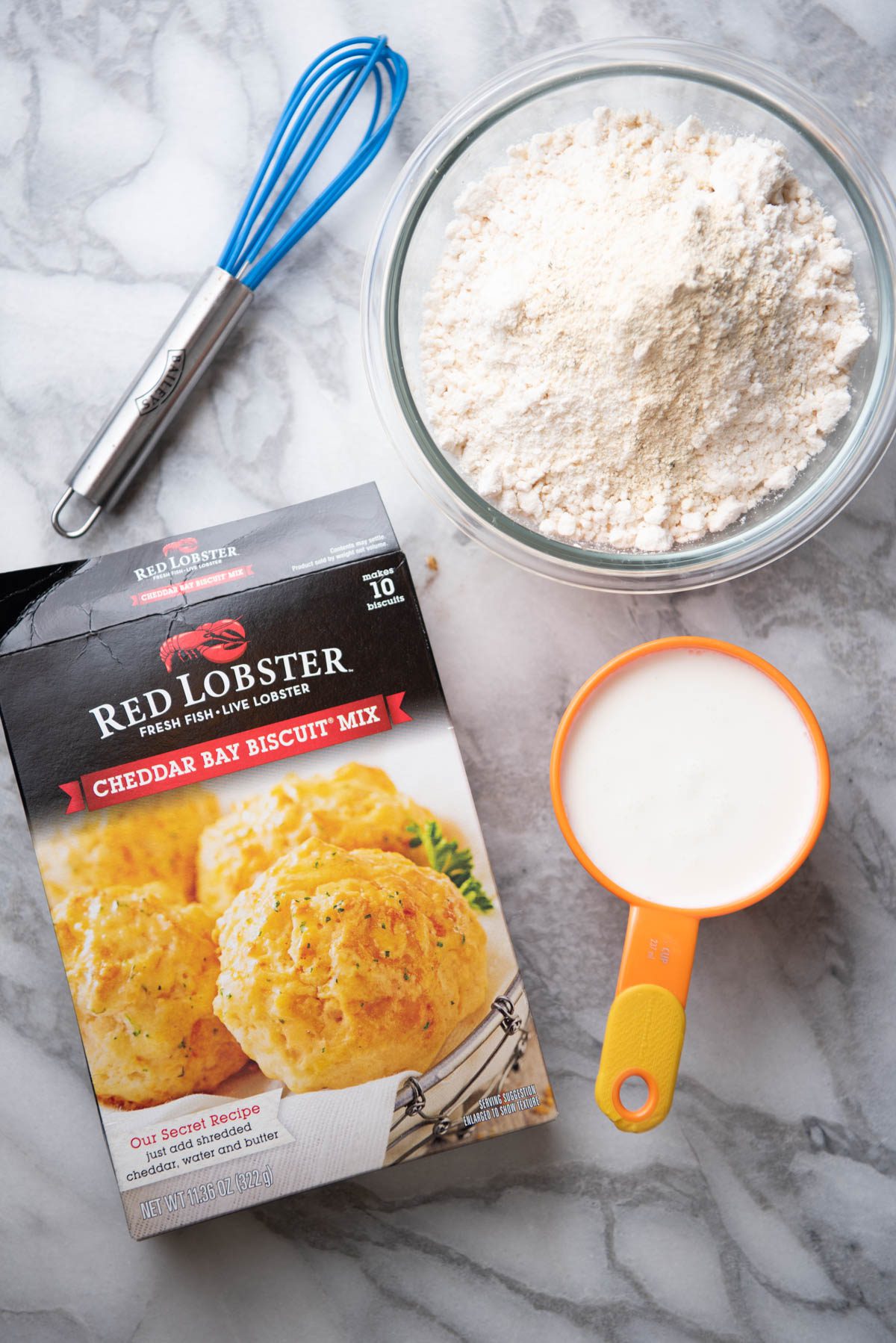 Assemble the turkey casserole
Grease a 9x13 baking dish and place the turkey and veggie mixture. Top with the cheddar biscuit batter and bake until the top is golden brown.
Let the turkey casserole rest for about 10 or 15 minutes before slicing it. This will help the filling set and cooldown a bit.
What to serve with turkey cobbler
Since this turkey casserole is so rich and hearty it can be a stand-alone meal.
If you want to round it up with a side dish, a salad or some roasted vegetables are a great option.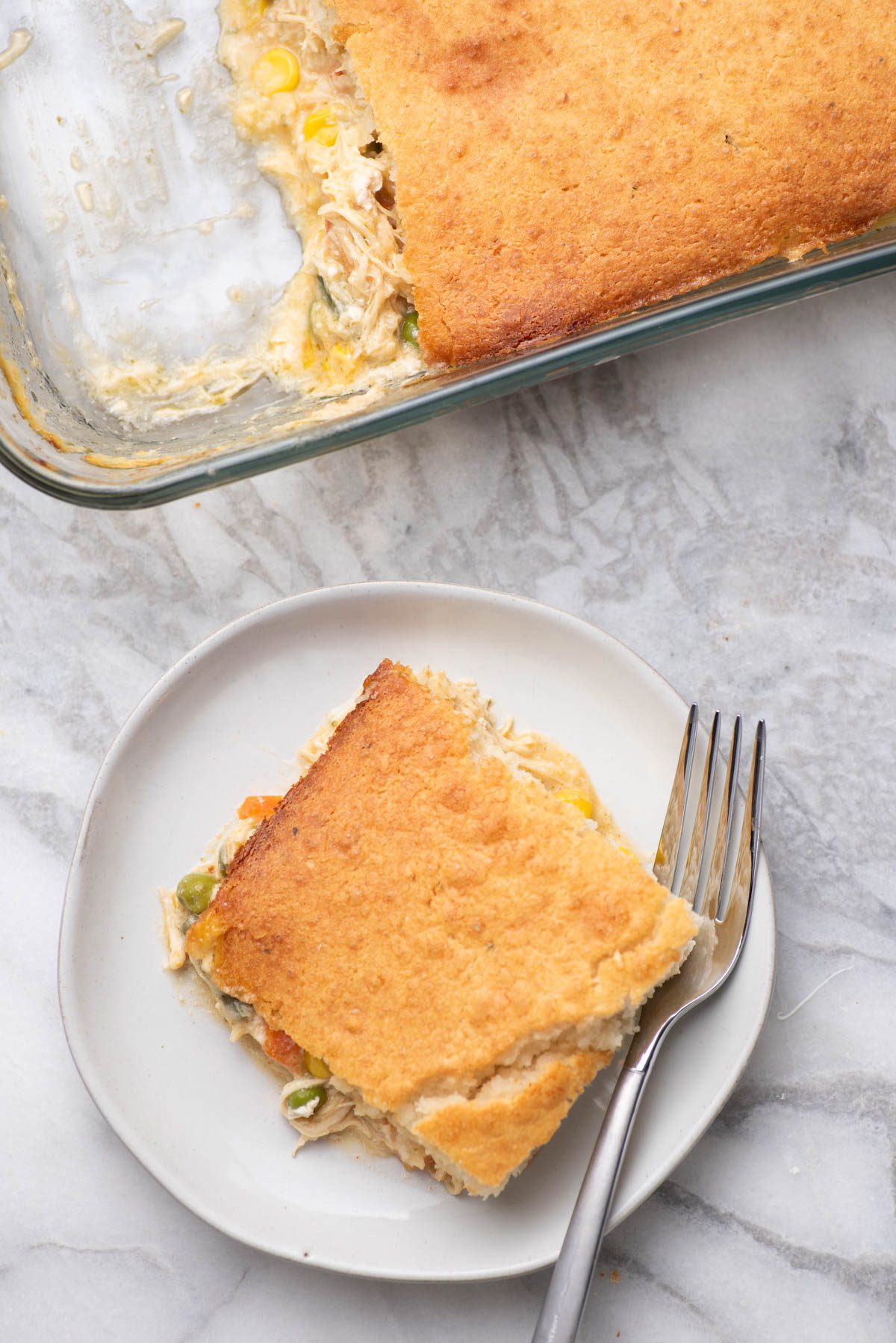 Storage and reheating instructions
If you have leftovers, store them in an airtight container in the fridge for up to 2 days.
This dish reheats well in the microwave. Just heat up in 30 second intervals until heated through.
You could also reheat in the oven but make sure to cover the cobbler with aluminum foil.
If you want to freeze chicken cobbler, allow the dish to cool down completely and cut individual portions.
Store the individual servings in freezer-safe bags.
To reheat frozen chicken cobbler place it in an oven-safe dish and cover with aluminum foil and bake at 350 Fahrenheit for about 20 minutes.
You can also reheat chicken cobbler covered in aluminum foil in the air fryer at 250 Fahrenheit for 15-20 minutes until heated through.
Adjustments to the original TikTok Cobbler recipe
You can find the original Chicken Cobbler recipe in this post.
Here are the things I changed to improve flavor and texture in the recipe.
Seasoned the meat with onion powder, garlic powder and paprika. In the original recipe a rotisserie chicken was used and while that has tons of flavor, you might want to add some more herbs and aromatics.
Reduced the liquid: The original recipe calls for 2 cups of chicken stock, I reduced it to 1 for a more firm filling.
Thawed the vegetables: I thawed my vegetables first to get the filling less runny and more set. You could used drained canned vegetables.
Reduced the butter: 1 stick of butter is what the original recipe calls for. I found that half a stick is plenty and you could reduce it even further. Just make sure the pan is greased so the filling does not stick to the bottom.
Combined the meat and thawed vegetables: I combined the shredded meat, veggies, cream of chicken soup and chicken stock plus seasonings in a bowl to make the cobbler filling. This way, everything had seasoning and not just the meat.
This way the flavor was more well rounded as the vegetables and chicken were seasoned together and the cobbler top was crispier and thicker than in the original version.
The filling was more set by reducing the liquid and that made it easier to slice the cobbler.
Expert tips and troubleshooting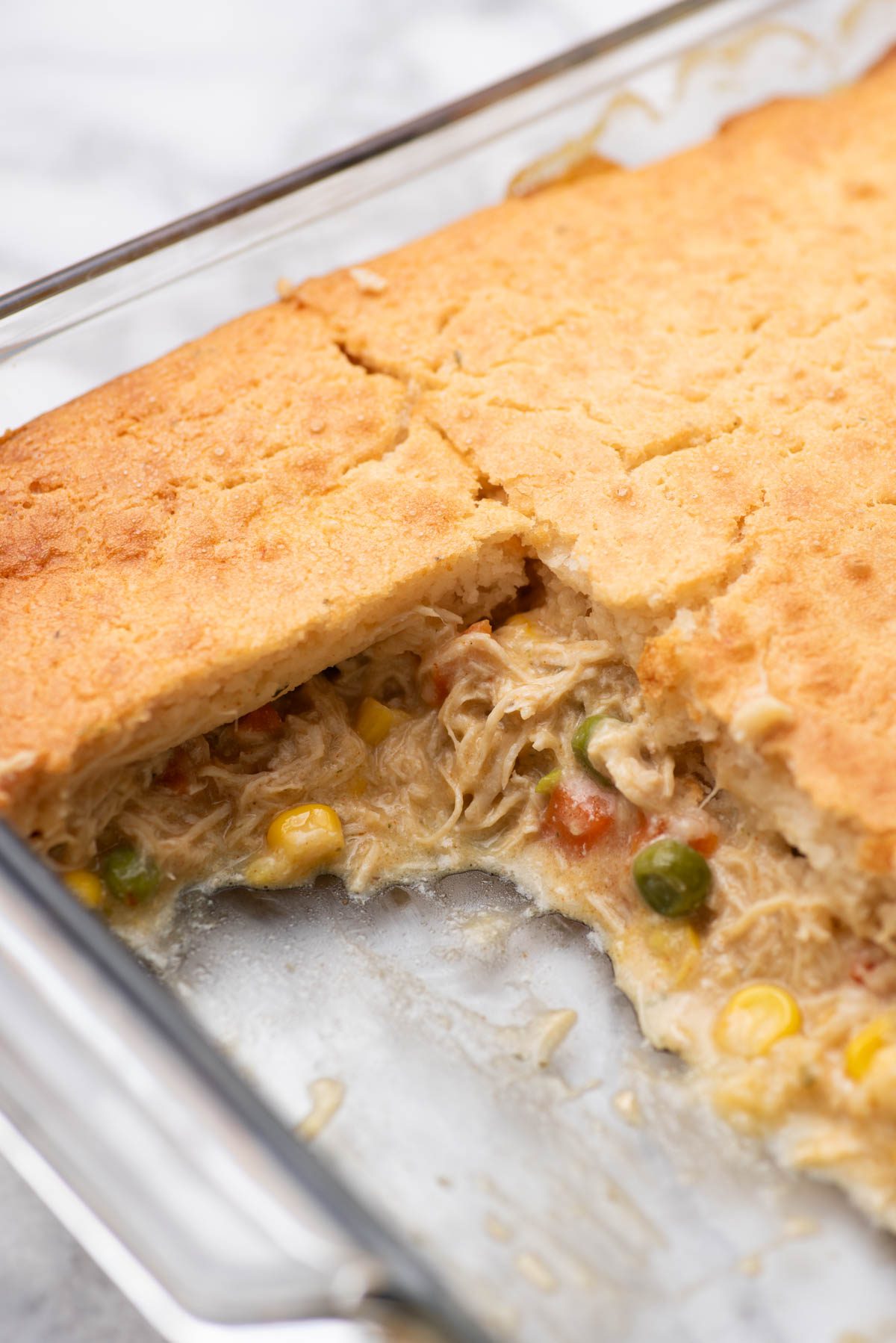 Use any aromatics or spices of your preference to enhance the flavor of the turkey. I used paprika, garlic and onion salt but feel free to add whatever you prefer.
If you want to add more depth of flavor consider adding sautéed onion, celery and carrots, also known as mirepoix and add them to the turkey, veggie and soup filling.
Adding fresh herbs like sage or thyme is also a great idea.
I have only tested this recipe in a 3 quart 9x13 glass dish. If you have another size baking pan adjustments to temperature and timing should be made.
Many people that made the original chicken cobbler, added cheddar cheese on top even when using the Red Lobster cheddar biscuit mix. One reader said he used about ½ cup of grated cheddar.
To ensure even cooking of the whole casserole, always place the oven rack in the center when baking this type of dish.
If you don't have cream of chicken you can use another condensed soup like cream of mushroom.
If you make this recipe please let me know in the comments below.
Turkey Cobbler
This Thanksgiving leftover Turkey Cobbler Casserole with Red Lobster Cheddar Bay Biscuit Mix is a delicious way to use your holiday leftovers.
Equipment
1 9x13 2 quart glass baking dish
Ingredients
3

cups

Turkey meat

shredded

2

cups

Mixed vegetables

Thawed or drain if from a can

1

box Red Lobster Cheddar Biscuit mix

2

cups

Milk

1

cup

Chicken stock

1

can

Cream of chicken soup

10.5 ounces

1

teaspoon

Garlic powder

1

teaspoon

Onion powder

½

teaspoon

Paprika

Salt and pepper to taste

½

teaspoon

Thyme

optional

½

cup

Cheddar cheese

optional

2

tablespoons

Butter
Instructions
Preheat the oven to 375 Fahrenheit.

In a bowl combine the shredded turkey, mixed vegetables, cream of chicken soup, chicken stock, salt, pepper, onion powder, garlic powder and paprika. Add herbs if using (thyme or sage would be great).

Set aside, taste for seasoning and adjust accordingly if necessary.

Grease your baking dish and pour the turkey filling and spread evenly on the casserole.

In a bowl combine the Red Lobster Cheddar Bay Biscuit Mix with the seasoning packet that comes in the box, add the milk and whisk together until well combined. Add cheddar cheese if using.

Pour the biscuit batter on top of the turkey filling. Do not mix.

Bake at 375F uncovered for about 30 to 45 minutes until the top is golden brown.

Let the turkey casserole rest for about 10 minutes before slicing to allow the filling to set.

Slice and enjoy immediately.