This easy lemony chicken is flavorful, juicy, tender and picky-eaters-approved. A light, healthy dinner that is ready in 30 minutes.
This perfectly seasoned lemony chicken can be the perfect start to any salad, rice bowl or you can just eat with your favorite steamed veggies or potatoes.
This lemony chicken versatile and goes well with pretty much everything.
What Does Lemon Juice do to the meat?
Lemon juice helps tenderize the chicken and infuses with flavor.
I love marinating my chicken with lemon juice because it also helps get rid of the poultry flavor that sometimes lingers in chicken.
Lemon juice is a great flavor enhancer that brings all the other ingredients together to create a harmonious combination.
With the addition of fresh garlic, herbs and lemon juice, this recipe is healthy but far from boring.
If you are tired of the same chicken flavor for your healthy dinners, this recipe will help you switch things up.
How do you cook chicken and make it taste good?
Getting rid of that characteristic "poultry flavor" is key to great tasting chicken.
With this recipe you will infuse the chicken with a dry rub and then a grill or skillet baste that will do the job.
How do you cook chicken without drying it out?
Using a high quality olive oil and butter will keep the chicken moist, juicy and tender and lock in all the flavor.
This chicken reheats very well, it can be stored in the fridge for up to 2 days or it can be frozen.
To reheat the chicken, add a little bit of olive oil to a pan and cook for 2-3 minutes on each side with the pan covered.
What to eat with Lemony Chicken
Lemony chicken is the perfect addition to your salads, bowls or soups.
I like making a salad with arugula base, a scoop of rice, avocado and pickled onions. I add the chicken and sprinkle with feta cheese.
This recipe is very macro friendly, it uses very little oil and it is packed with protein.
Also, this lemony chicken allows you to create different combinations, from salads to bowls to soups.
How long should I marinate chicken?
Since this recipe uses an acidic ingredient (lemon juice), I recommend marinating it for up to 2 hours.
If you wish to marinate it for longer, I recommend you switch the lemon for orange juice (less acidic), otherwise your chicken may turn out tough.
If planning on marinating the chicken overnight, mix all the marinade ingredients except the lemon.
Add the lemon one to two hours before cooking the chicken.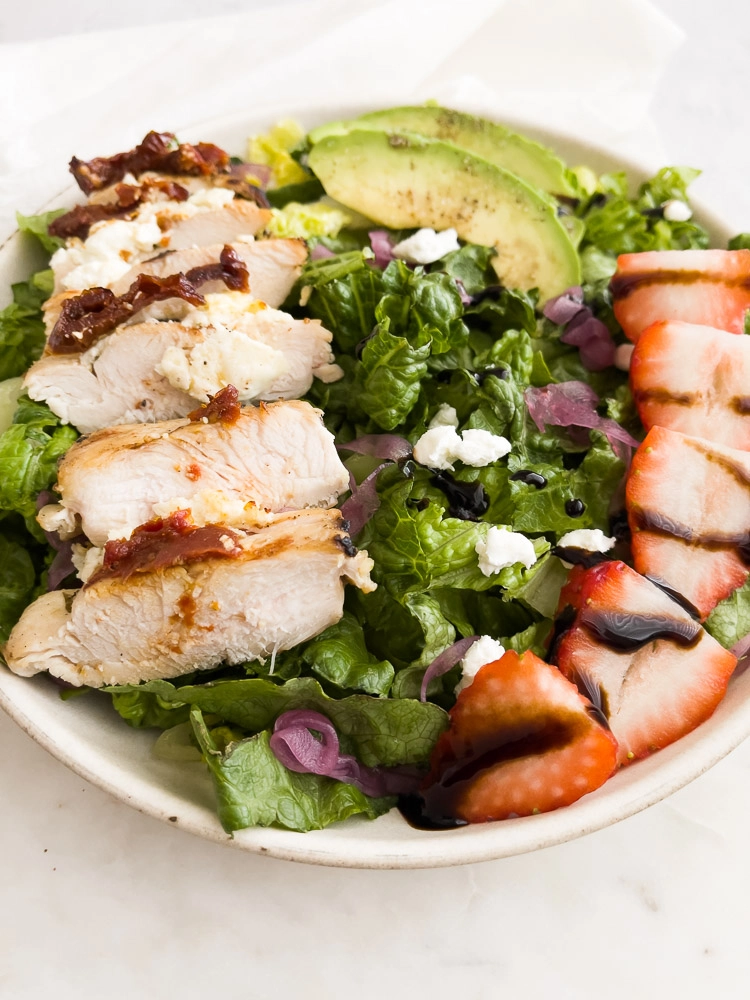 Easy Lemon Chicken
Ingredients
2

Boneless and skinless chicken breast

cut in half lenghtwise (butterfly)
For the dry rub
2

teaspoons

salt

½

teaspoon

ground pepper

¼

teaspoon

garlic powder

¼

teaspoon

onion powder

¼

teaspoon

dry oregano

1

pinch of chili flakes or crush red pepper
Lemon Sauce
1

tablespoon

unsalted butter

¼

cup

yellow onion finely chopped

4

garlic cloves minced

2

tablespoons

olive oil

1

Tablespoon

red wine vinegar

1

Tablespoon

fresh lemon juice

½

tablespoon

dijon mustard

½

tablespoon

sugar

½

tablespoon

parsley chopped
Instructions
Mix the dry rub ingredients and coat chicken breasts with it. Refrigerate until ready to cook.
Lemon Sauce
Melt butter over medium heat

Add onion and cook until translucent, about 2-3 minutes

Add garlic and cook until fragrant, 2 minutes

Whisk in the oil, vinegar, sugar and mustard until well incorporated

Add lemon juice and parsley and reduce heat. Cook for 5 more minutes and let it cool down.
Cook the chicken
Brush the chicken with the lemon sauce

Grill over high-medium heat for 5 minutes on each side

If cooking on the stove top, add 1 tablespoon of butter to a pan and cook the chicken covered, 5 minutes on each side.

Let the chicken rest for 2-3 minutes and serve.