Patacones are a staple food of the Caribbean coast of Colombia. They are green plantains that are fried twice to achieve a golden brown color and crunchy bite.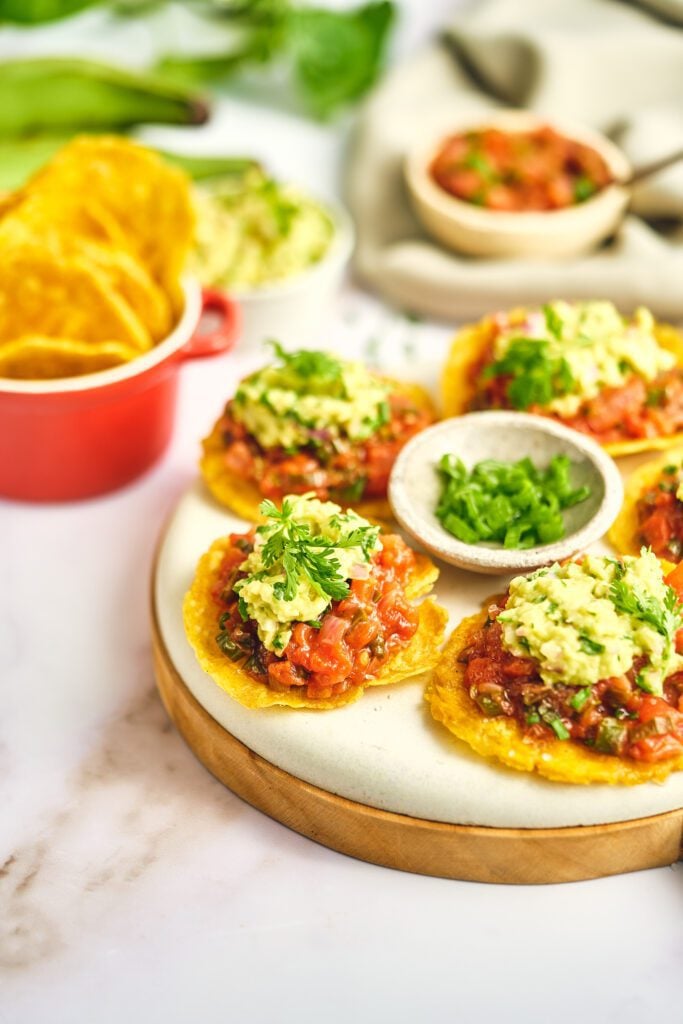 In Puerto Rico and Dominican Republic they are also popular and they know them as Tostones. They are perfect to accompany any seafood dish such as ceviche or served to scoop up guacamole or salsa.
Green Plantains
Green plantains are not hard to find. Most super markets carry them. Usually they are by the tropical fruit section where mangoes and coconuts are.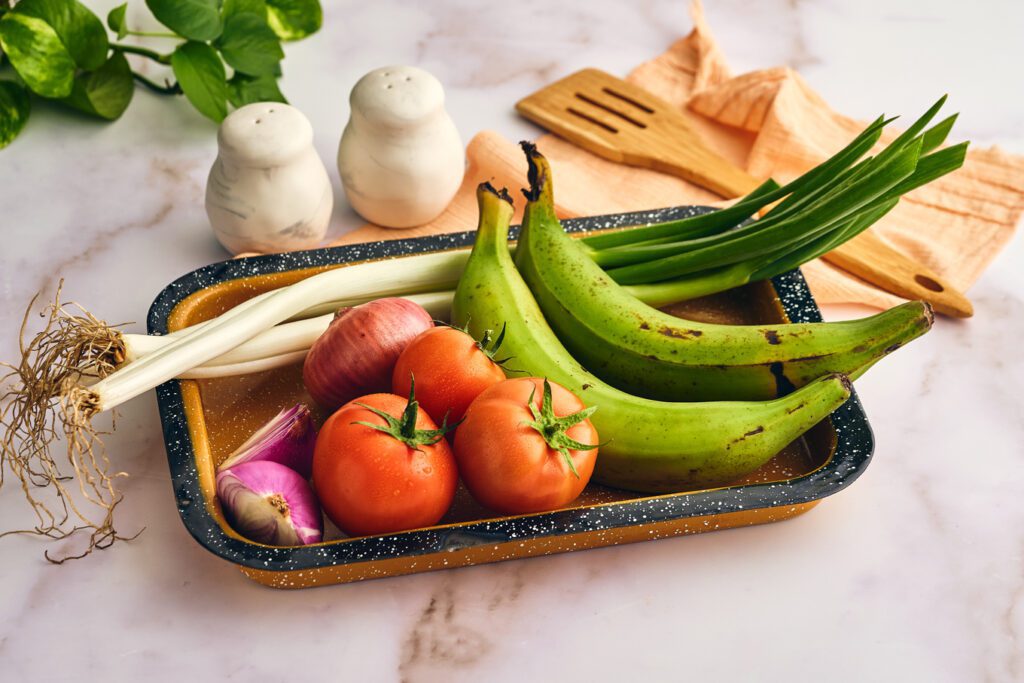 To make patacones, look for a firm, unripe green plantain.
How to make them
The first step is to cut your plantains in ½ inch circles. Deep fry them until light golden brown for about 2-3 minutes.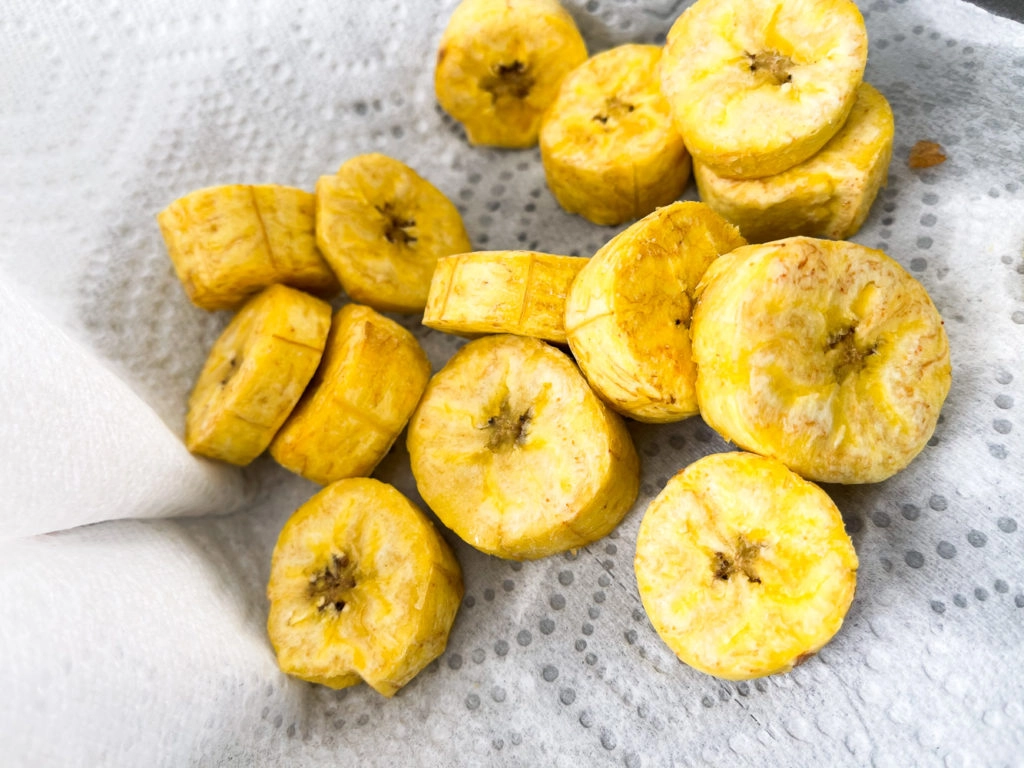 If you have a tortilla press, flatten each circle. Don't make them too thin or they will break apart when frying them again.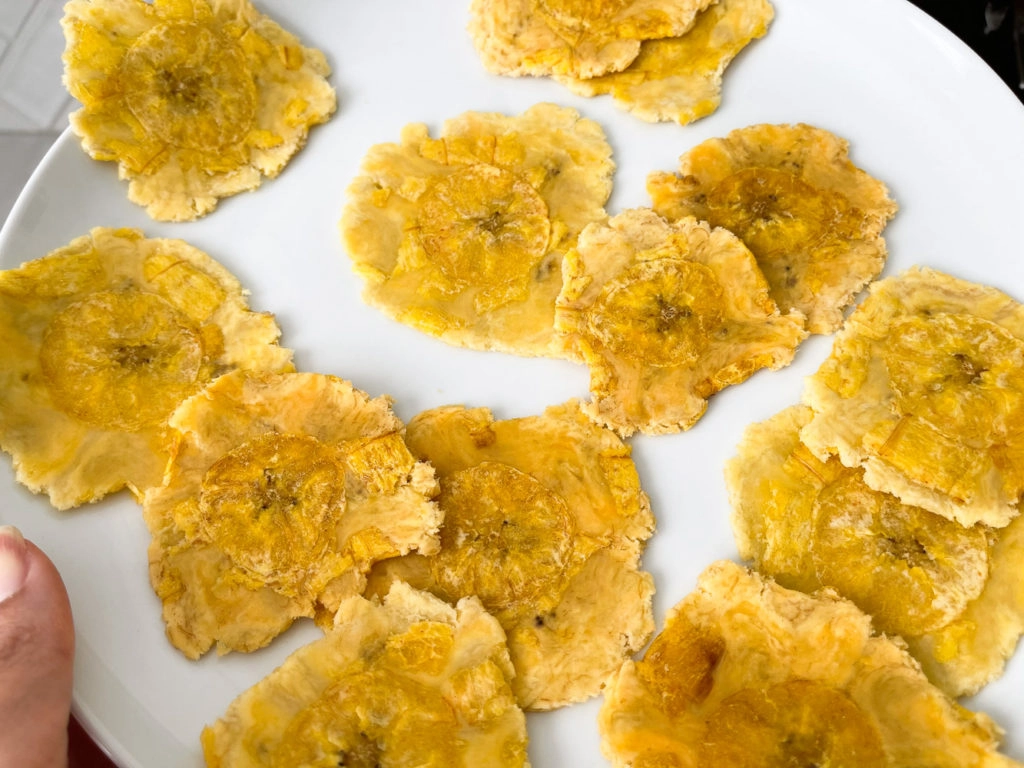 If you don't have a tortilla press, you can use a round plate to smash your patacones.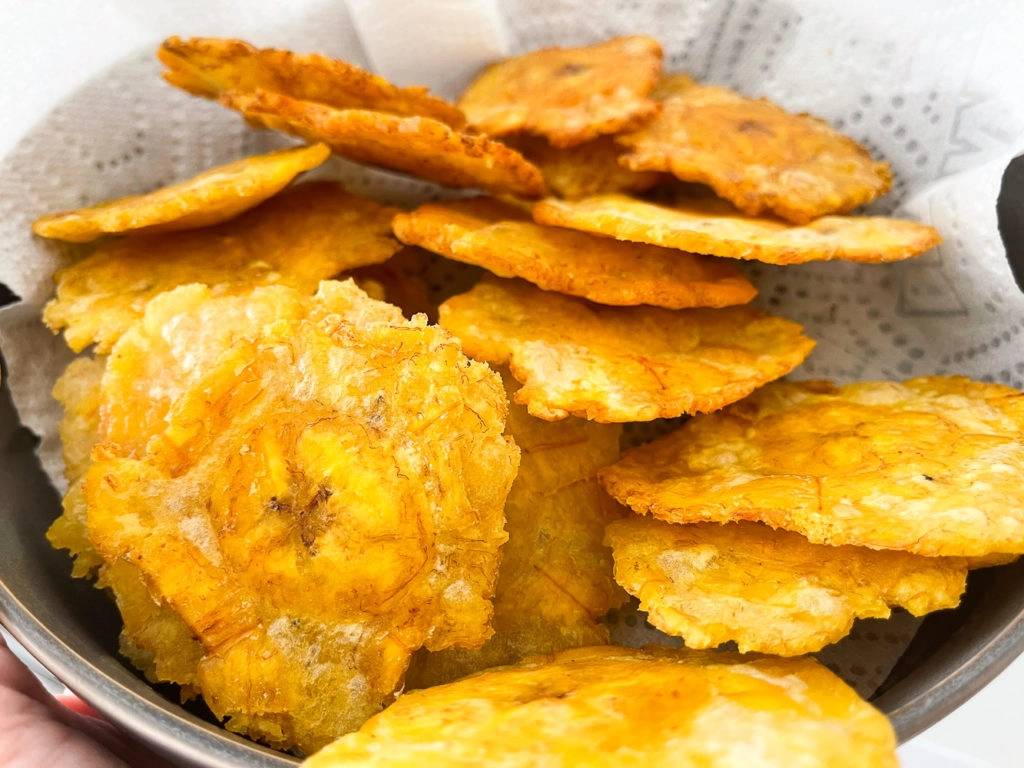 After the second deep dry, they should be golden brown and uniform in color. It shouldn't take long to achieve this look as they are almost completely cooked after the first fry.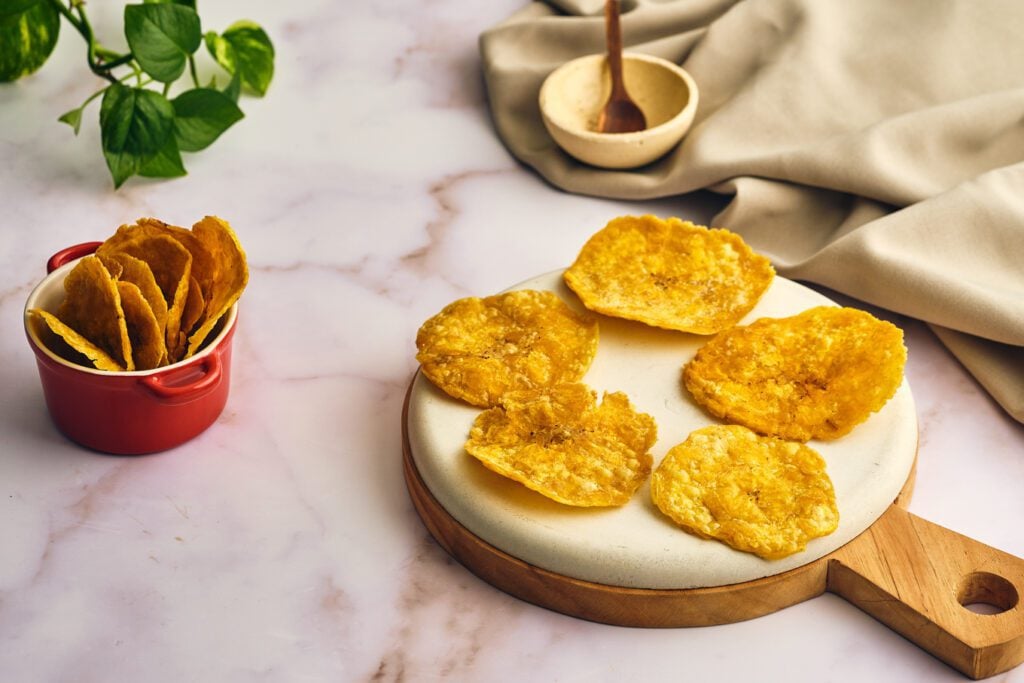 When pressing down the patacones, either with your plate or tortilla press, you can make them as thin or thick as you'd like.
I prefer thinner patacones because they have a nice crunch. They remind me or regular corn chips and are great for dipping.
If you want to add toppings such as shredded beef, chicken or shrimp, you can make the patacones a bit thicker (don't press them too hard with the plate) so they can hold the topping and not break easily.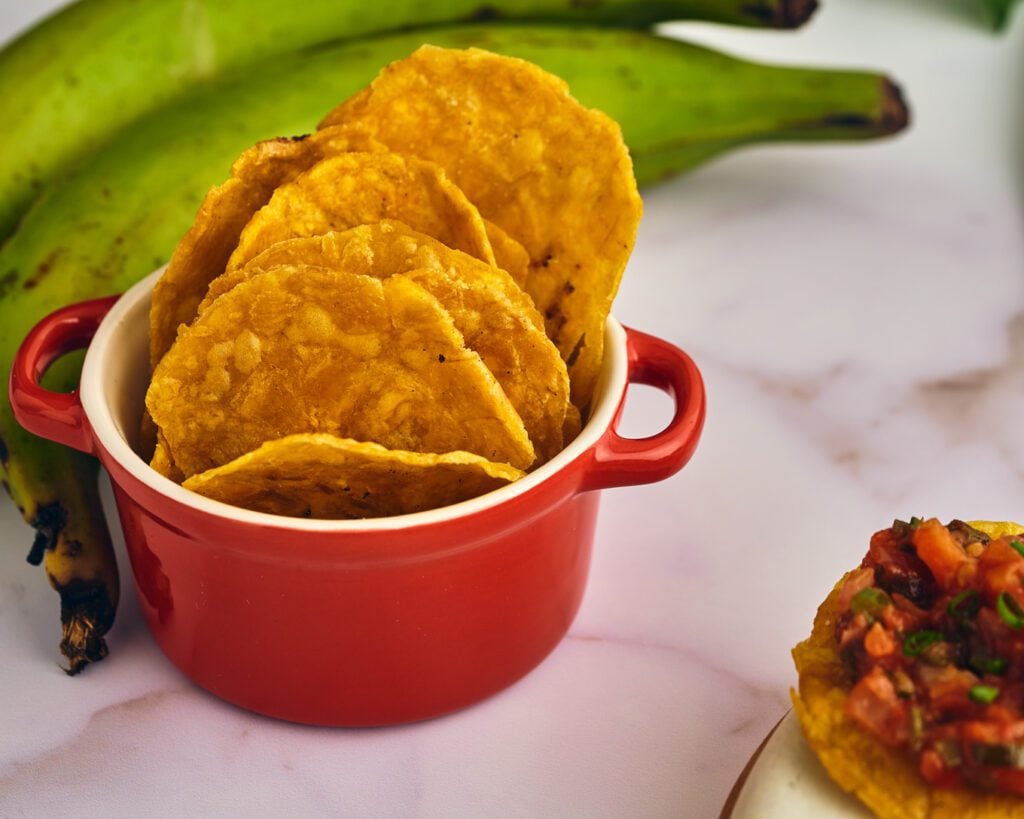 What do you serve with tostones?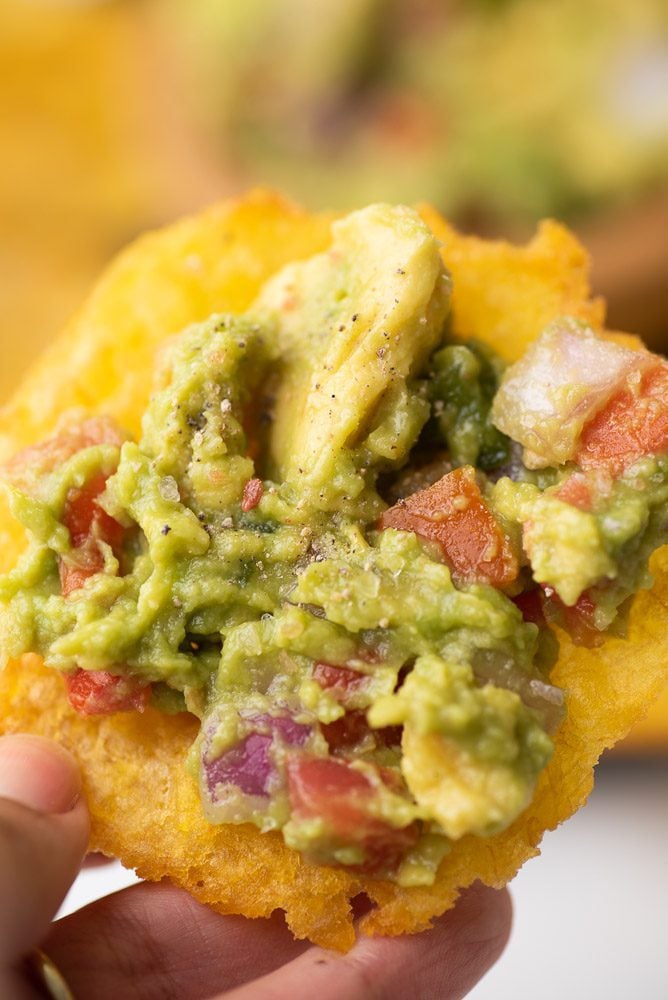 One of my favorite things to add to my patacones is garlic aioli or fresh guacamole. They are a perfect alternative to corn chips and work very well to scoop up salsa and dips.
Hogao
This Colombian creole sauce is similar to a Mexican salsa, but it is cooked.
The tomatoes form a jammy sauce similar to an Italian sofritto. It is simple to make and delicious.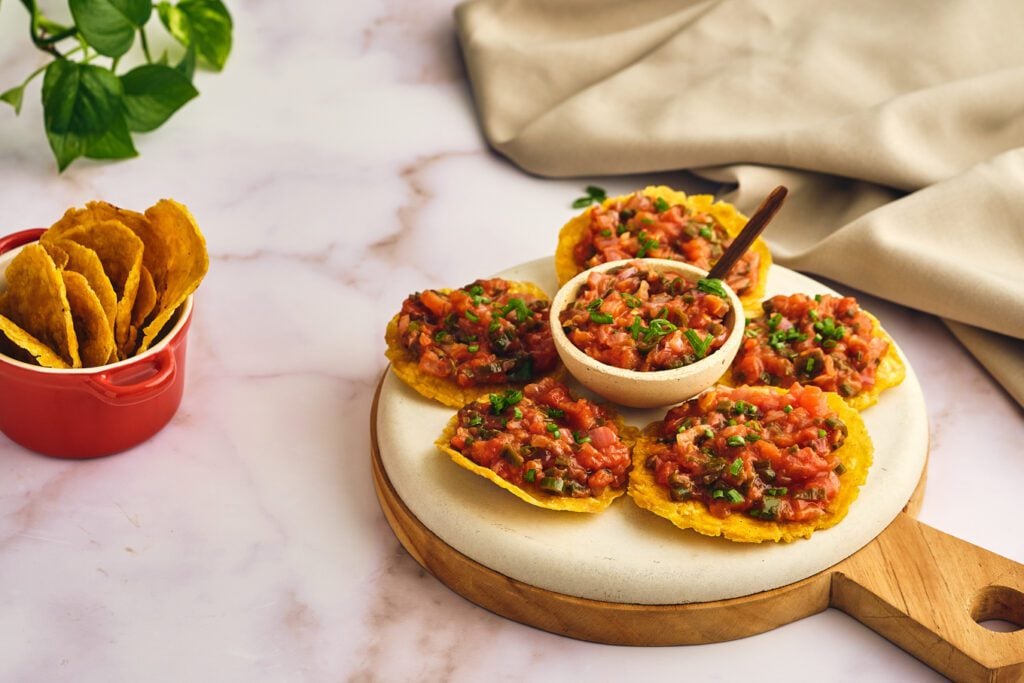 We usually spread it on top of the patacones to then top them off with guacamole. It is a divine combination.
You can definitely use hogao or guacamole. But together they take your patacones to the next level.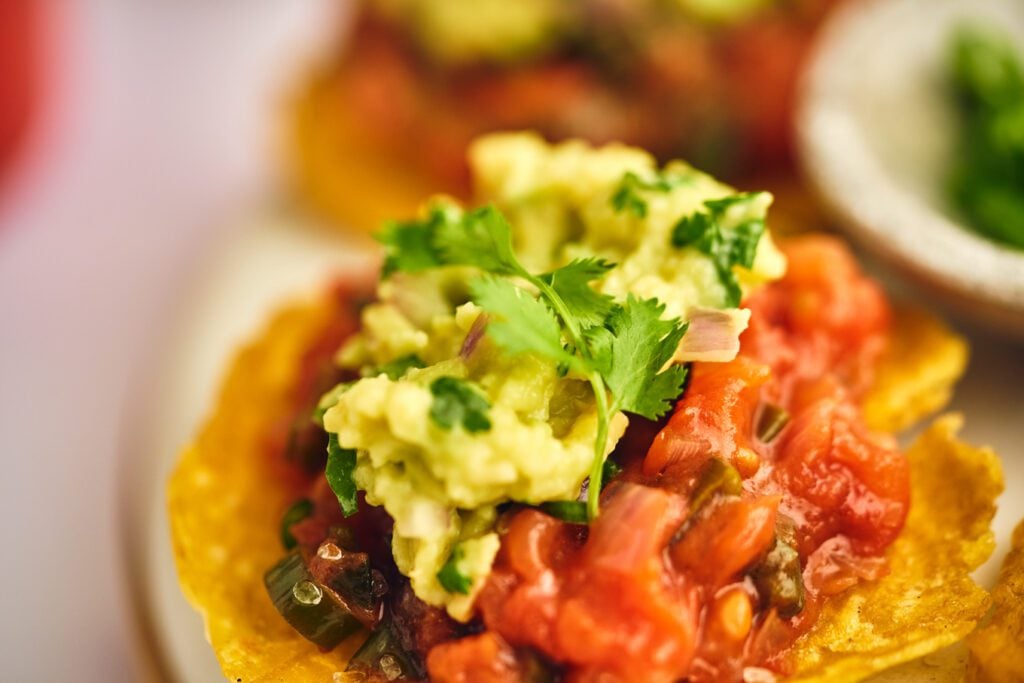 As I mentioned before, in Colombia we eat patacones with a traditional seafood meal consisting of deep fried fish and coconut rice. This is by far my favorite Colombian dish!
If you love Colombian food or would like to try more dishes, make sure to check out my list of Colombian foods you must try and my all time favorite snack; Colombian Empanadas.
Patacones are also featured in Disney's movie Encanto. These are traditional in the Colombian Caribbean coast but loved everywhere in the country.
If you are trying to cook they eat in Encanto, these tostones are a great place to start. They are easy to make and require very little prep work.
I also have an extensive list with all the food featured in Encanto and recipes for all of them.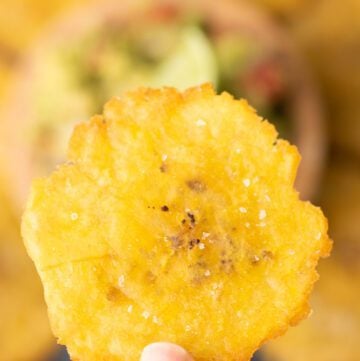 Patacones
Ingredients
2

Green plantains

2

cups

Oil for frying

I use avocado oil

Salt to taste
Instructions
Heat up to oil in medium-high heat

Cut each plantain in half.

Cut the ends of the plantains

Cut a side of the skin of the plantain and proceed to peel it by hand. The skin should come off easily.

Cut the plantains in ½ inch rounds and add them to the hot oil until they are light golden brown

Add a piece of clean plastic such as a ziplock and put the plantains in between the plastic

Smash them with a plate or tortilla press

Fry the plantains again until golden brown

Use a paper towel to get rid of excess oil and serve them with guacamale, salsa or your favorite dip
Notes
The amount of patacones you get depends on how thin or thick you cut the slices.
If you want to make these healthier, you can use the air fryer to make them. I have recipe instructions for that method.
.