Creamy Roasted Mexican Corn or Elote is a delicious side dish that should always be in your rotation. Taco Tuesday anyone?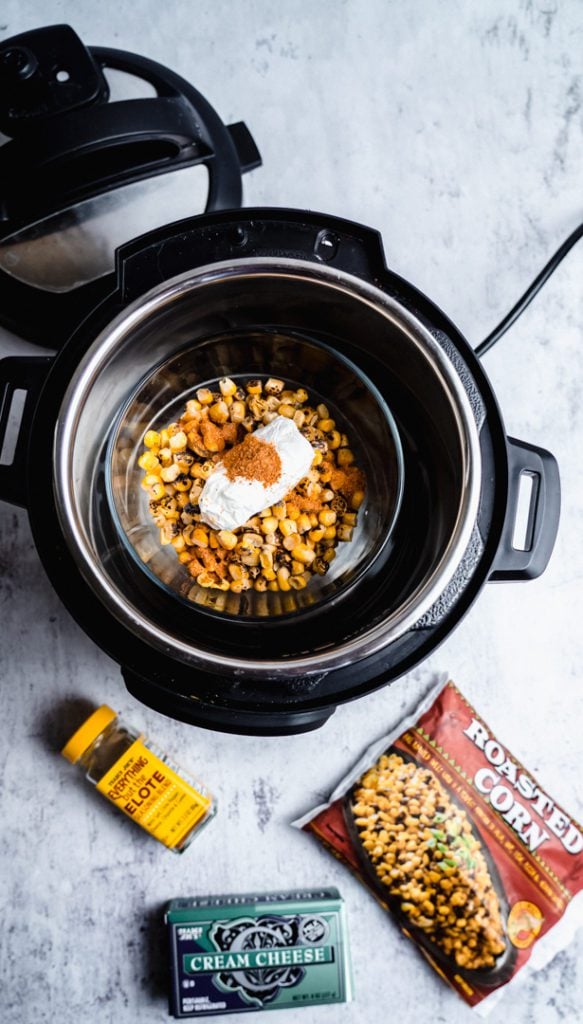 Before the purists of Mexican Food come at me, let me explain that traditional Elote is roasted corn on the cobb coated with a mayo-based sauce and chili powder topped with cheese.
In this case, I'm using frozen roasted corn because it adds flavor and texture to this recipe but you could use canned corn. But I'm using the Mexican spices to make this dish taste just like Elote.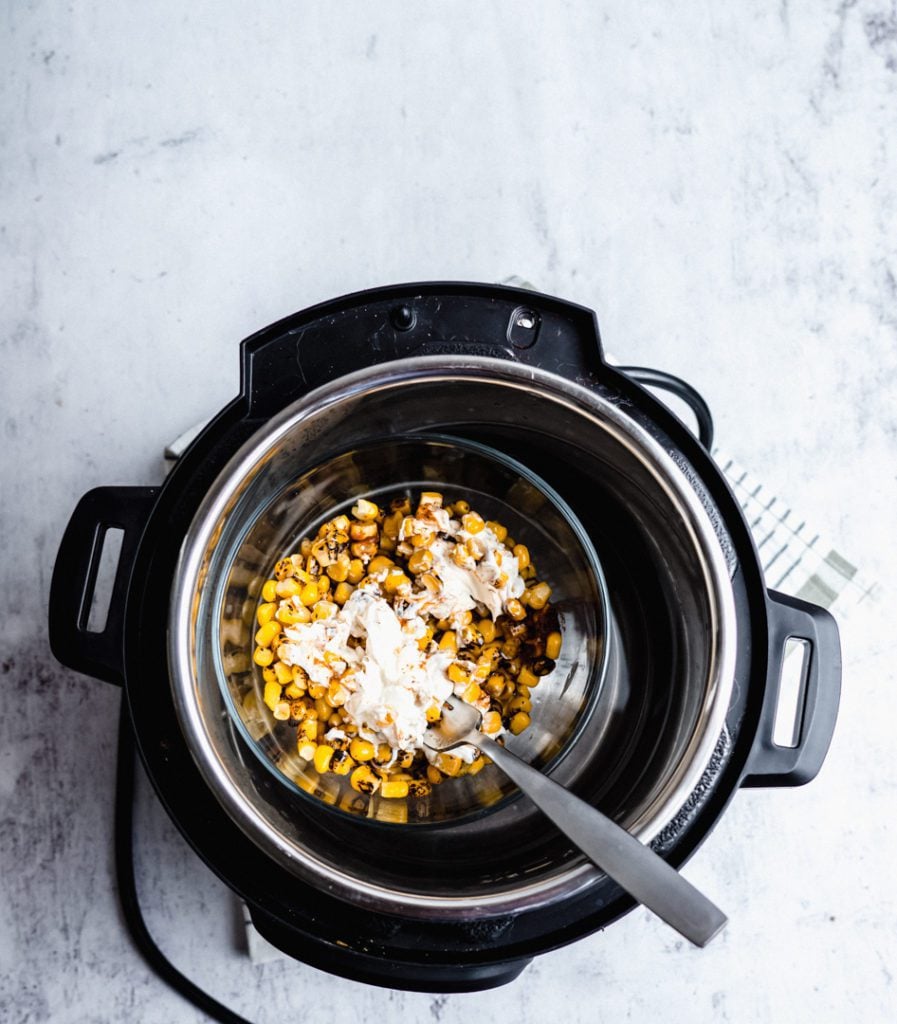 This creamy corn is easy to make, quick and very tasty. Perfect to eat as a side dish with your favorite tacos or top any salads or bowls.
Can I make this dish in the stovetop?
Absolutely! That is how I use to make it before I discovered how quick it was to make it in my Instant Pot. My friend Natasha from Salt and Lavender has the low down on how to make it in your stovetop.
I used frozen corn and cooked it for about 3-5 minutes over medium heat, then added the cream cheese and seasoning, salt and paprika.
Cook until the cream cheese melts and the corn is soft and cooked throughout for about 5-7 minutes.
What kind of seasoning can I use for Elote?
If you don't have the Trader Joe's " Everything but the Elote" seasoning, you can make your own!
Just mix ¼ teaspoon of cumin, 2 tablespoon of paprika, ¼ teaspoon chili powder, salt, and pepper to taste. If you are using your own seasoning I highly recommend using the Mexican cheese in the end.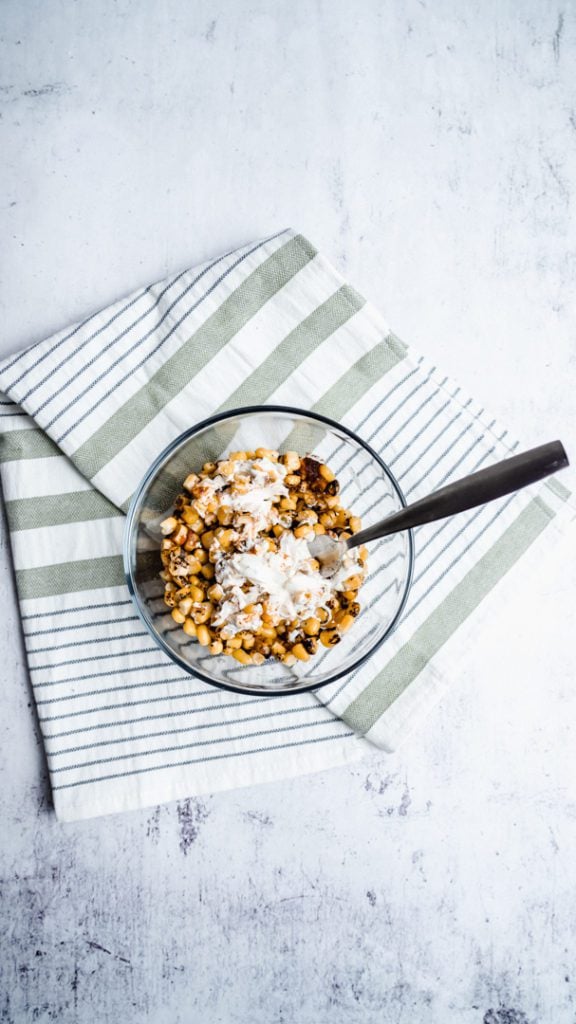 How to make fresh corn in the Instant Pot?
If you are using fresh corn kernels, I recommend cooking them ahead of time before mixing in the cream cheese and spices.
To cook your fresh kernels in the instant pot, use one cup of water, place the corn on a trivet, or in a steamer basket. Cook for two minutes at high pressure and then use the quick release.
Shave the kernels off the cob and place in the glass bowl with the cream cheese and seasoning and follow the instructions below to make the Elote.
What can I eat with this Creamy Roasted Mexican Corn?
The possibilities are many! I won't judge you if you just spoon this and eat it by itself.
I love to add it to my Mexican carne asada bowls and lately I have been obsession over my green chili salad. You can also eat it as side dish to accompany your tacos, quesadillas or enchiladas.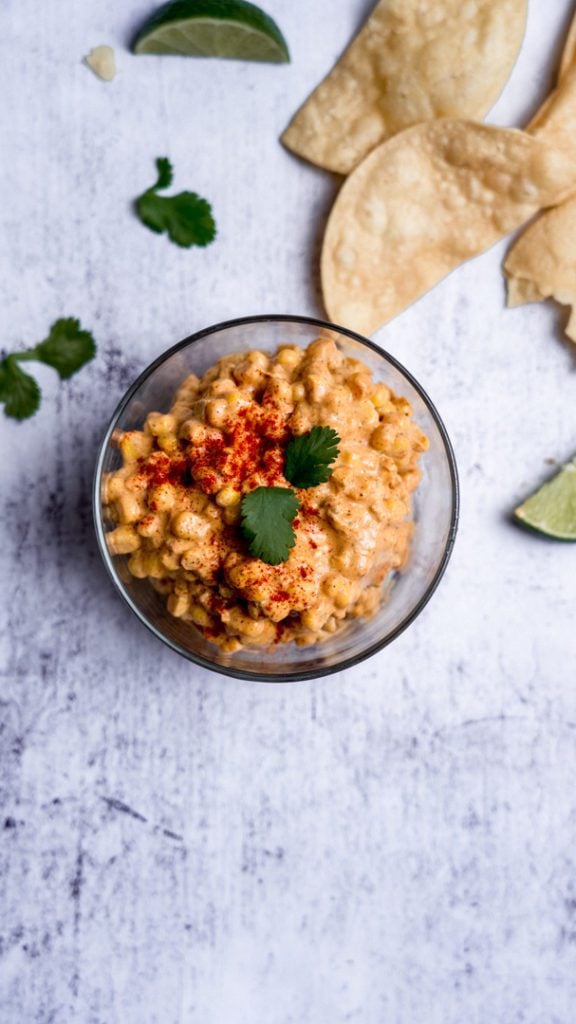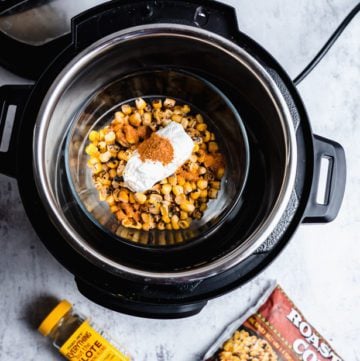 Instant Pot Creamy Roasted Mexican Corn
Ingredients
1

cup

frozen roasted corn

¼

cup

Cream Cheese

1

tablespoon

Everything but the Elote seasoning

from Trader Joe's

¼

teaspoon

Smoked Paprika

Salt and pepper to taste

1

tablespoon

mexican cheese blend

optional
Instructions
Place a trivet in your pressure cooker pot and add 1 cup of water.

In a glass bowl, mix the frozen corn, elote seasoning and cream cheese

set your pressure cooker to high pressure and cook for 2 minutes

quick release the pressure, let it cool down for 2 minutes and remove from the pot

Stir all the ingredients together, add salt, pepper and paprika.

Add the Mexican cheese and serve