I recently bought the Ninja Cream Ice Cream Maker and the only thing I regret about it is not buying it sooner!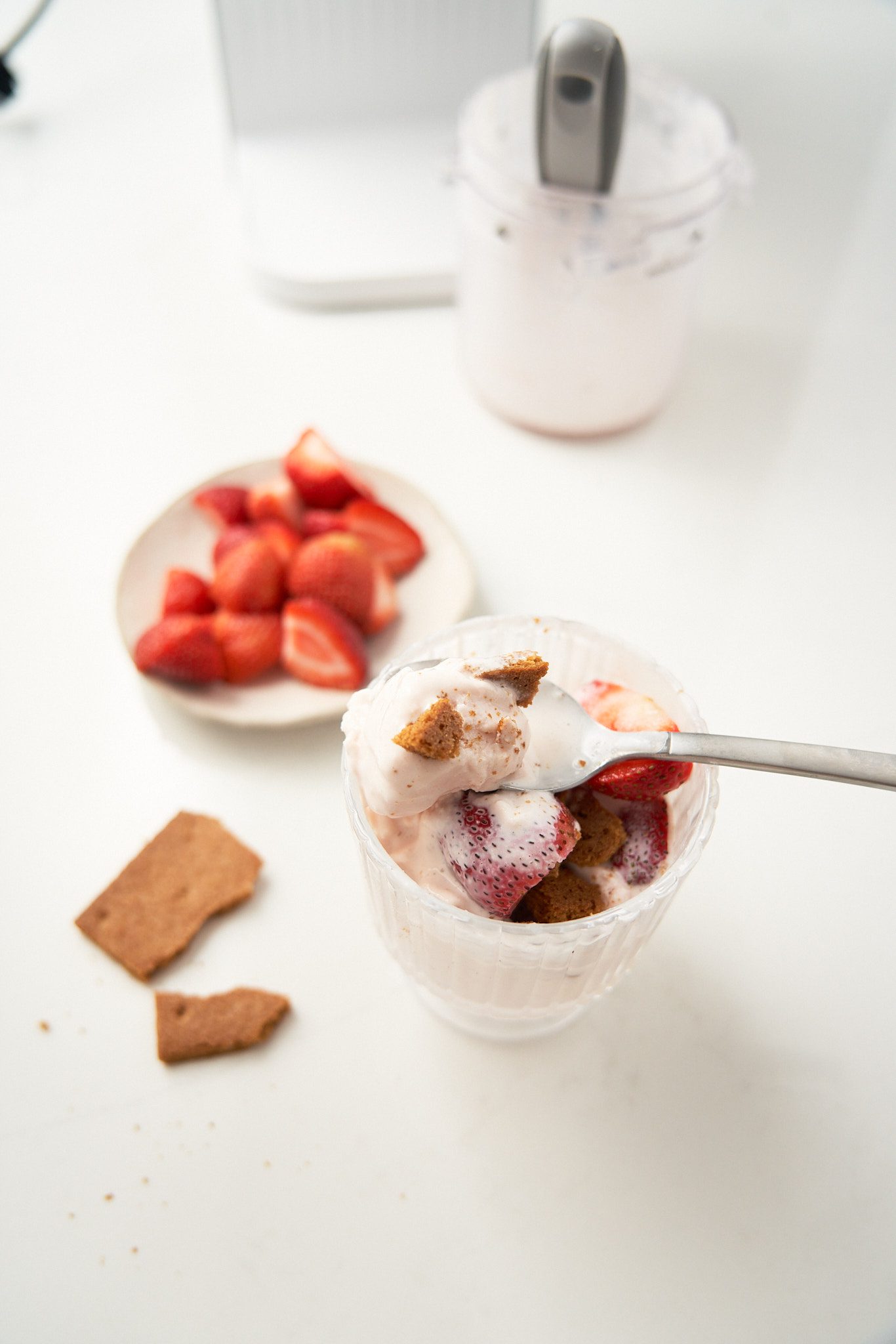 What is the Ninja Creami?
The Ninja Creami is the latest viral product to make ice cream. With its technology it can make pretty much any liquid into thick, creamy ice cream.
The way it works is pretty much magical. A special blade in the machine breaks through frozen liquid and spins it to make it creamy.
Depending on what liquid you use, the texture will vary but the Ninja Creami can make traditional ice cream, gelato and sorbet among others.
How to use the Ninja Creami
Using the machine definitely has a learning curve. Read the instructions carefully and follow directions. Each version is different but overall here are my main tips on how to use it.
Freeze the pint on a flat surface. The pint should be leveled when for best results.
When using fruits in the ice cream base, they should ideally be blended.
If using whole fruit, it should be frozen solid inside the ice cream base never as a topping, remember that the ice cream base should be a leveled solid piece.
If the ice cream turns our powdery during the first spin, use a spatula to scrape all the sides and add a splash of liquid (milk/water) before using the re-spin function.
If using toppings, add the liquid then the toppings and use the mix-in function (see instructions on the Ninja manual).
Try different bases and modes. If making a low calorie ice cream with a protein shake base, use the light ice cream function rather than the regular ice cream function.
Freeze your ice cream base for 24 hours, if you freeze for longer there is more chance of powdery ice cream, but just a add a splash of liquid and re-spin.
Is the Ninja Creami worth it?
If you love sweets, ice cream and are looking for a way to make healthier versions at home, the answer is a solid yes!
I love having control over how sweet my ice cream will be, adding the toppings I like and experimenting with new flavors.
The Ninja Creami is very popular for making protein shakes into creamy and satisfying ice cream for a fraction of the calories.
You can also make regular ice cream using heavy whipping cream and sugar to recreate your favorite store-bought flavors at home.
Ninja Creami Pros
These are the positive things about the Ninja Creami so far.
Easy to use once you read the instructions.
Perfect to create low calorie ice cream treats.
The ice cream comes out really creamy even when not using heavy cream.
You can customize and create any flavor combination you want.
Makes more than one type of treat including gelato, sorbet and ice cream.
Ninja Creami Cons
It takes up space in your countertop.
It is loud although the ice cream process takes less than 2 minutes.
It only comes with 2 pints so you will most likely need to buy extras.
Overall I would recommend this appliance! It truly makes the most amazing homemade ice cream.
Cottage Cheese Ice Cream Ninja Creami
This cottage cheese ice cream is currently going viral on TikTok and it is worth trying because it is delicious. Try it on the ninja creamy for an amazing treat.
Ingredients
1

cup

Cottage cheese

¼

cup

Maple syrup

½

cup

Strawberries

Graham crackers

for garnish/serving
Instructions
Add the cottage cheese, maple syrup and strawberries into a mason jar and use an immersion blender to mix.

Blend until smooth, add more strawberries or maple syrup to adjust to your taste.

Place in the Ninja Creami freezer-safe pint with lid and freeze for 24 hours.

Run the ice cream setting on the Ninja Creami. If the ice cream turns out powdery add ¼ cup of milk and run the re-spin function.

Add the graham crackers and more fresh strawberries for serving.
Nutrition
Calories:
223
kcal
Carbohydrates:
33
g
Protein:
12
g
Fat:
5
g
Saturated Fat:
2
g
Polyunsaturated Fat:
0.2
g
Monounsaturated Fat:
1
g
Cholesterol:
18
mg
Sodium:
335
mg
Potassium:
255
mg
Fiber:
1
g
Sugar:
29
g
Vitamin A:
151
IU
Vitamin C:
21
mg
Calcium:
137
mg
Iron:
0.3
mg