We are so excited to embark on a home renovation adventure!
4 years ago, we renovated our rental property and ever since we have been itching for an update in our current home.
While there is nothing substantially wrong with our current space, our house is 10 years old and we would love to freshen things up.
Kitchen renovation
A kitchen update increases home values like no other space in the house. Our initial thought was to just update the kitchen, paint and change the floor.
As you can see, the cabinets were in their original maple wood color, with outdated tile and black appliances.
We decided to keep the original cabinetry because it was in great shape and since we were not changing the kitchen layout it was just an easy fix to paint them.
The other major change we did was flooring. The house had a combination of carpet and tile and we had tenants with little kids and pets so we needed to change that.
We added a mosaic backsplash, quartz counter tops, cabinet pulls and new appliances.
Flooring
The floors made a major impact in the overall look. We went with engineered hardwood to give it a very clean and durable look.
Paint
We decided on a grey color for the walls to compliment the warmth of the floor and the white kitchen. We went with the color Agreeable Gray by Sherwin Williams.
Bathroom
The bathroom was the last room we decided to renovate. The house looked so good already that we couldn't just leave the bathroom behind.
We added new tile and shower cabin, changed the vanity and painted the walls.
It was a quick refresh but made all the difference. The bathroom looked more spacious and functional and it tied in perfect with the rest of the house.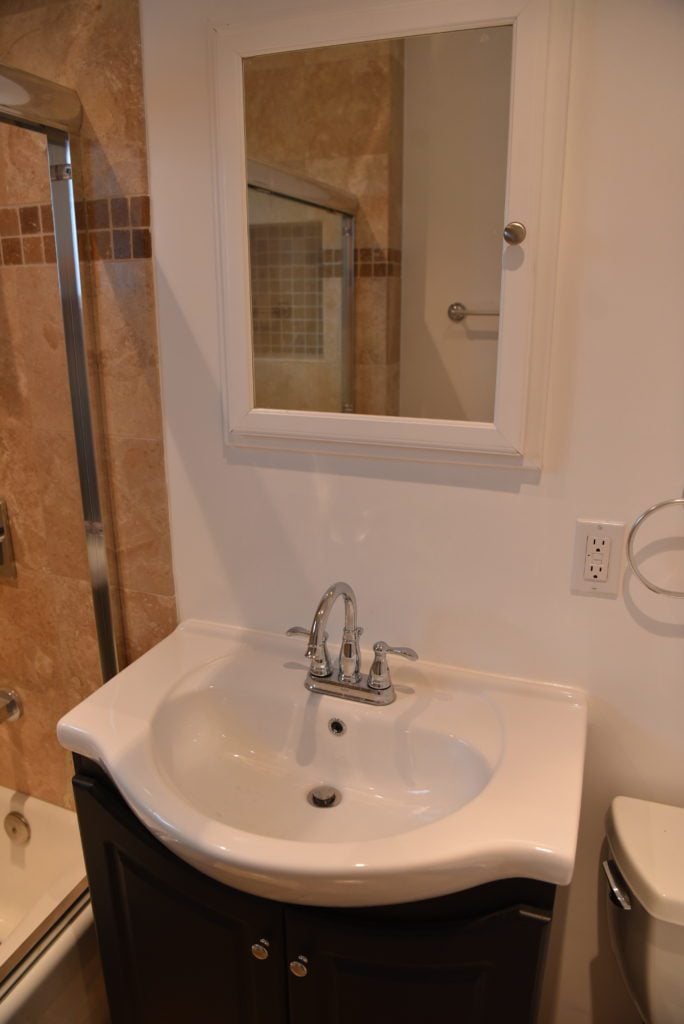 Now we are getting ready for a second remodel in our home and we couldn't be more excited.
We are going to change the floors, repaint the house and remodel the kitchen.