Pollo Asado Street Tacos are easy to make, full of flavor and a great addition to your weekly menu.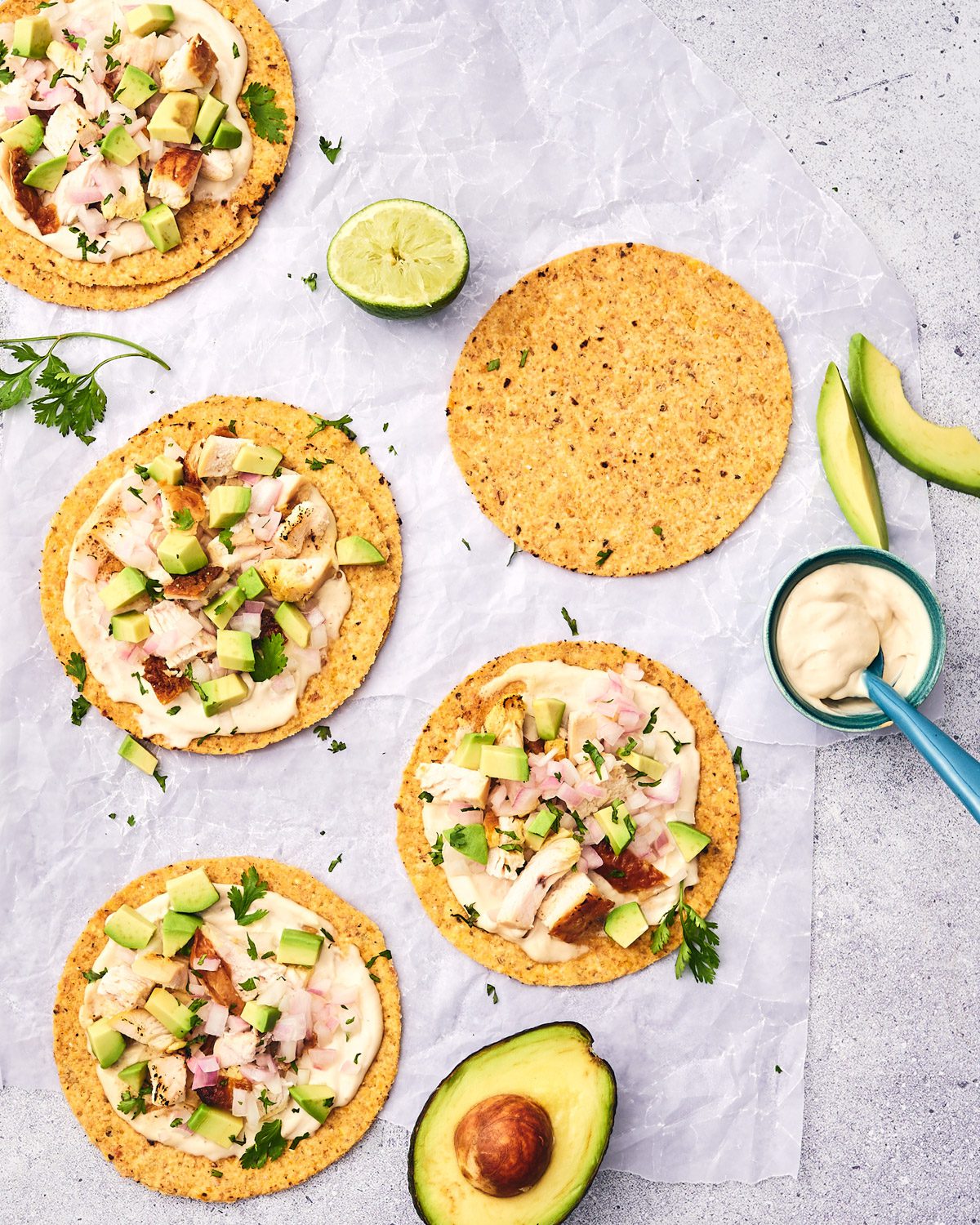 Pollo Asado is grilled chicken marinated in citrus and a mix of spices that give it a delicious flavor.
The best way to get the amazing flavors in this chicken is to grill it in high heat, giving the chicken a bit of char and smokiness.
What kind of chicken to use
Pollo asado is usually a combination of white and dark meat. Chicken breast and tight are my go-to's but you can use either or.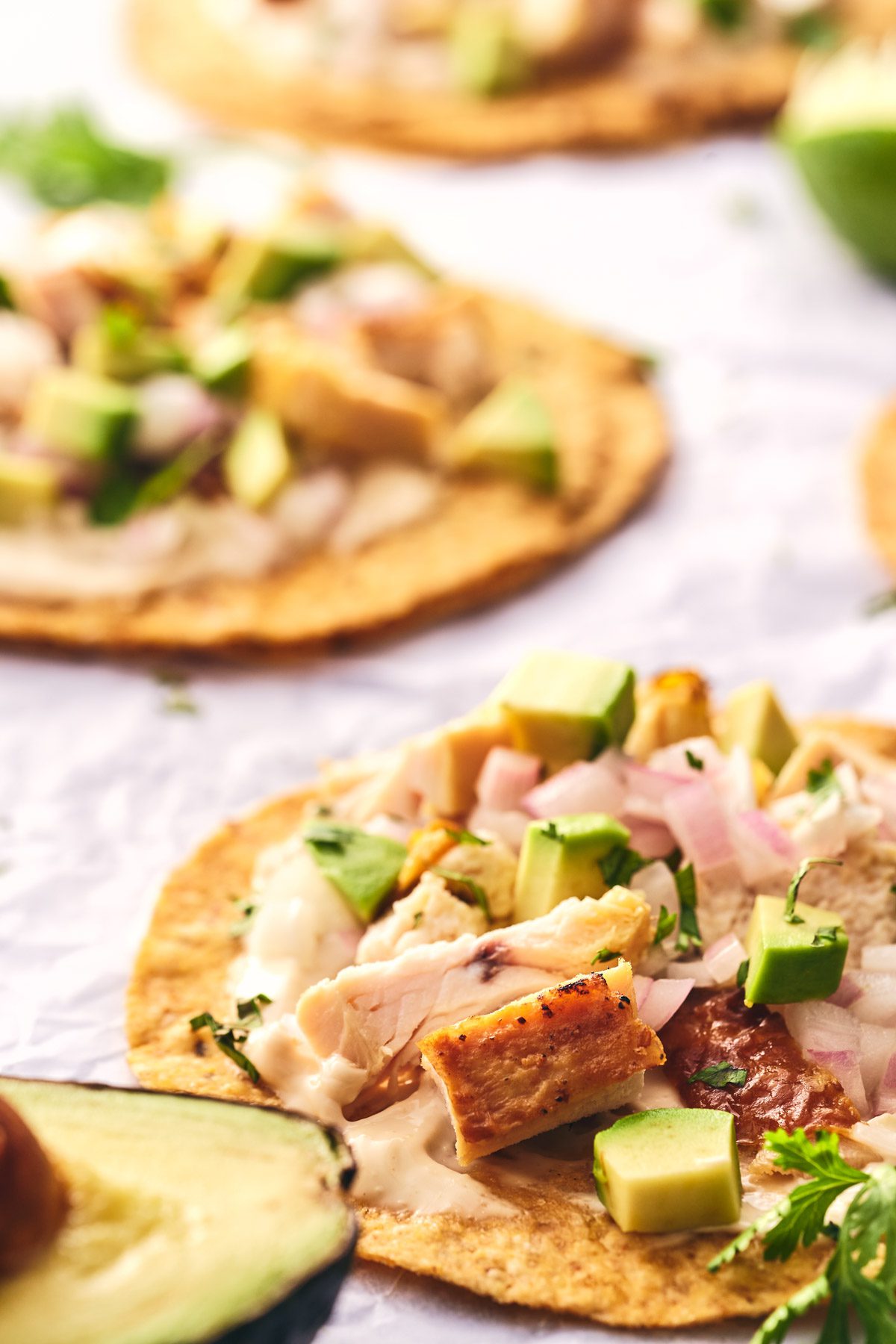 Chicken Marinade
The chicken marinate is a combination of orange, chipotle, cumin and Mexican oregano. I love to add a bit go garlic powder and smoked paprika to enhance the flavor.
I let the chicken marinate for at least two hours and up to 24 hours. The longer you let the chicken marinate, the better.
You can easily freeze this chicken in its marinade and have it ready to grill. I love doing this when I meal prep.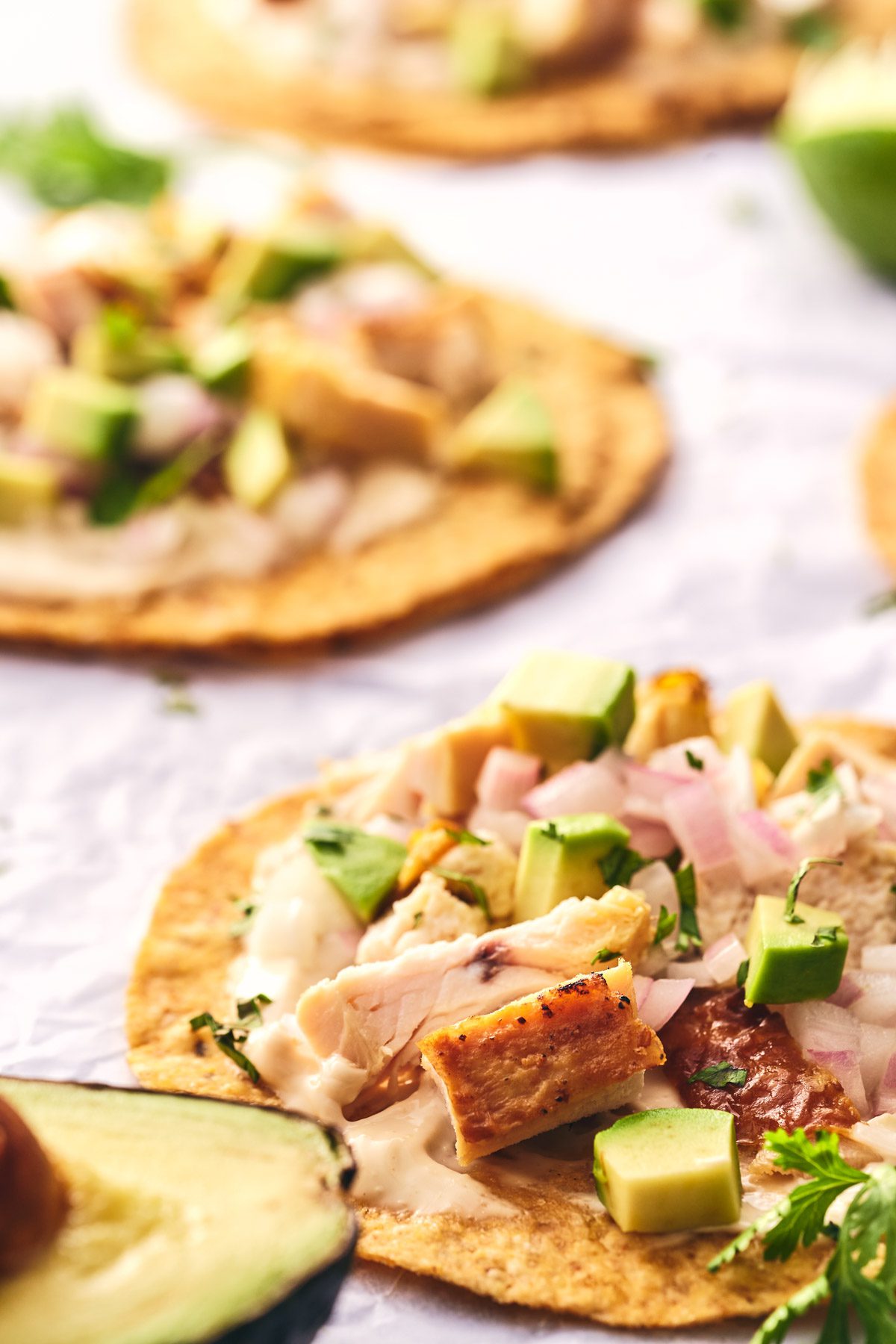 Street Taco Toppings
When talking about street tacos, the classic toppings are chopped onions with cilantro, a lime wedge and some salsa. I topped mine with an avocado salsa verde and with salsa roja.
I served these over corn tortillas but you can substitute for flour or any other type or tortilla. When doing low carb and Keto, I love to wrap these tacos in romaine lettuce or coconut flour tortillas.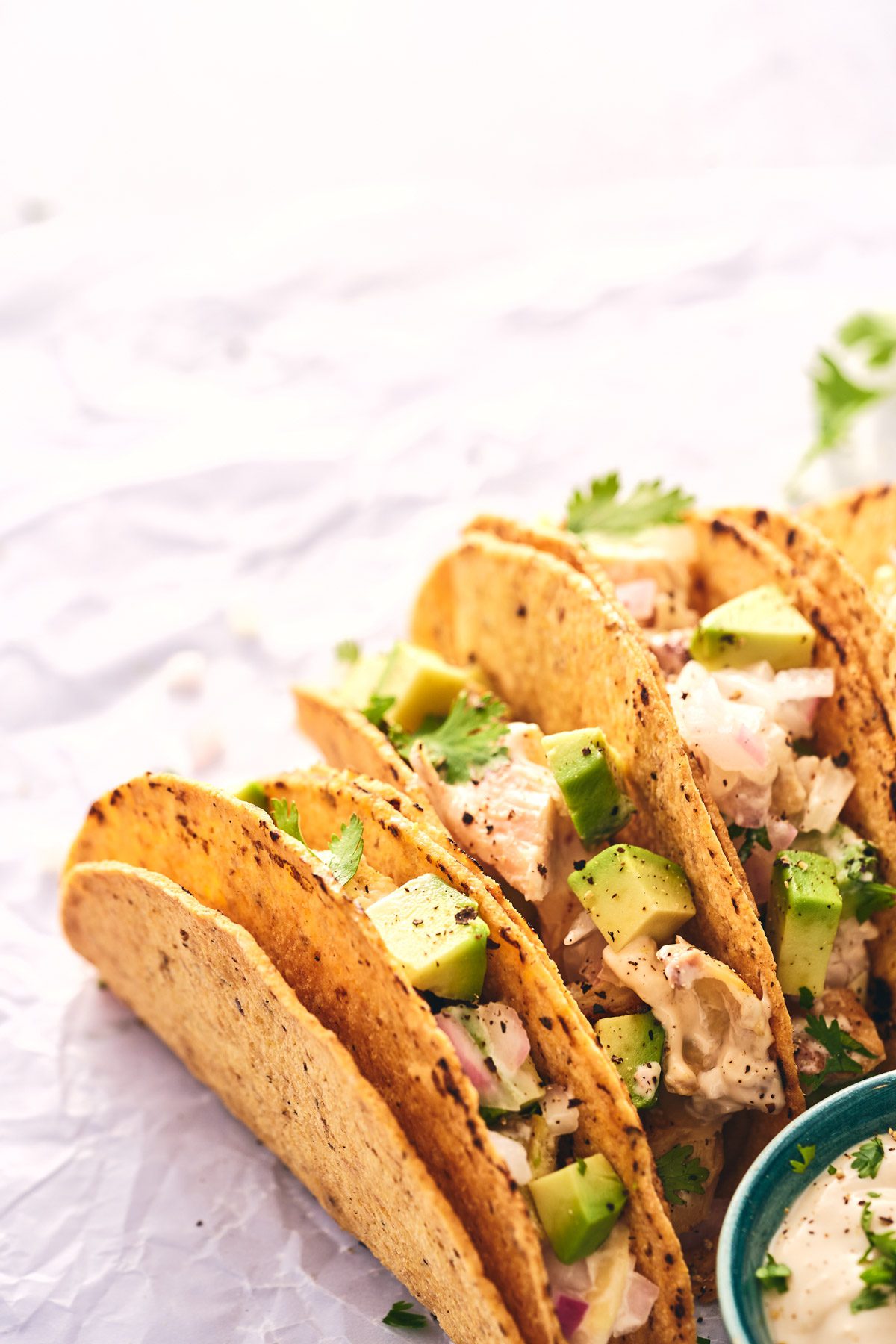 How to store pollo asado
Once grilled you can store your pollo asado in an airtight container in the fridge for up to two days. I love to have this grilled chicken handy not only for extra tacos but for salads or rice bowls.
You can also freeze it in a bag and thaw it as needed. This chicken reheats really well and its a perfect freezer meal.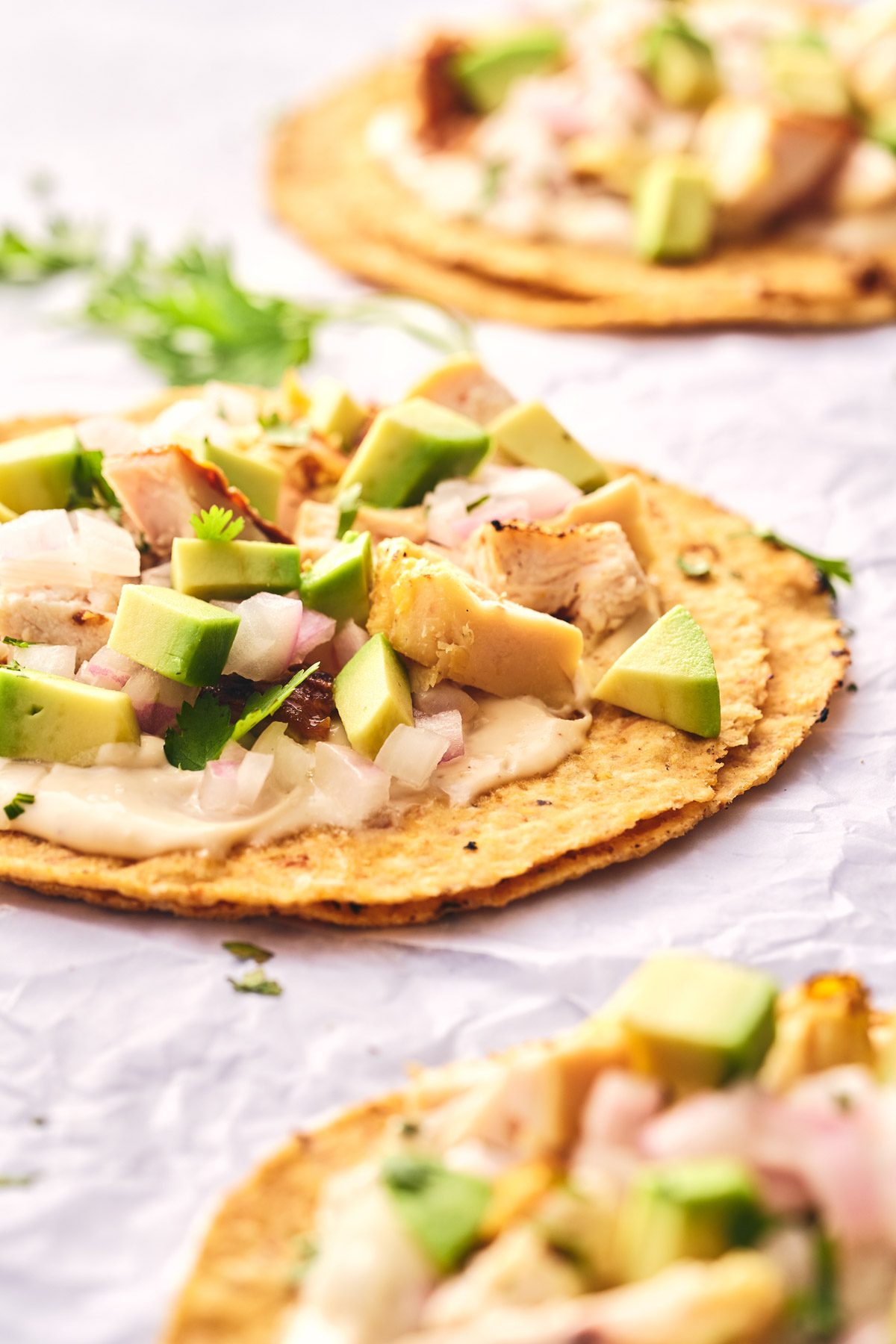 If you are more of a beef lover, check my award-winning Carne Asada recipe.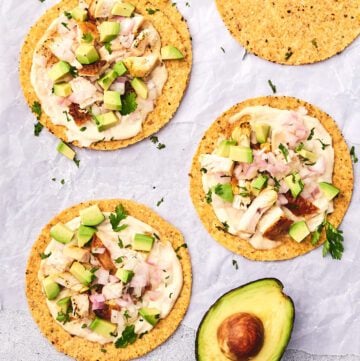 Pollo Asado Street Tacos
Ingredients
2

chicken thighs

can substitute for chicken breast

1

chicken breast

¼

cup

liquid smoke

½

cup

orange juice

1

teaspoon

garlic powder

1

teaspoon

smoked paprika

1

teaspoon

dried Mexican oregano

1

teaspoon

ground cumin

1

teaspoon

ground pepper

½

tablespoon

salt

2

chiles chipotle in adobo

chopped

1

tbsp

vegetable oil
Instructions
Blend all the marinade ingredients until well combined (except the chicken)

Add the chicken to the marinade and let rest for 2 hours

Turn the grill on high heat (450 farhenheit)

Grill on each side for about 6-8 minutes. Cook them with the lid closed as much as possible until the chicken its firm to the touch and opaque in the center.

Remove the chicken from the grill and let it sit for 5 minutes before cutting it into bite size pieces.