This authentic Carne Asada is an award-winning recipe created by executive chef Forest Hamrick of La Hacienda at The Fairmont Scottsdale Princess.
With this recipe, chef Hamrick won first place for four consecutive years at the Arizona Taco Festival in the beef category.
Authentic Carne Asada is grilled steak that has been marinated with a blend of Mexican spices and chiles.
This recipe is very versatile, you can eat carne asada in tacos, bowls, or pair it with your favorite vegetables. I love to make tacos with my homemade flour tortillas or eat it with my creamy roasted Mexican corn (Elote).
What Kind of Meat is Carne Asada?
The Carne Asada cut of meat is flank or skirt steak. This cut is perfect because it's thinly sliced, tender, and packs a ton of flavor during the marinating process.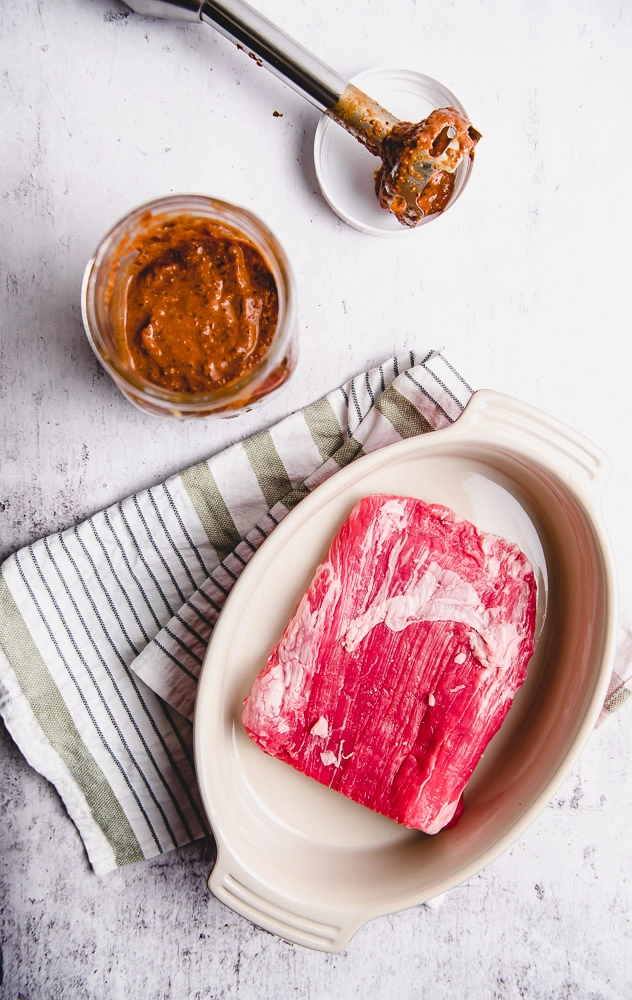 Carne Asada Marinade
Guajillo Chiles
In this recipe, the steak is marinated in a Chile Guajillo puree. You can buy these dried chiles in the Latin section of your supermarket or find them easily online.
Guajillo chile is deep in smokiness without being spicy. It adds depth and flavor to the meat without being overpowering.
I highly recommend making this marinade the day before, to allow all the ingredients to mix and add a deeper flavor.
Adobo
The recipe also calls for ¼ cup of adobo. I used the juice in the can of Chiles Chipotle in Adobo which I found easily in my supermarket in the Latin foods section.
Achiote Paste
The last ingredient that can be hard to find is the Achiote Paste also known as Annatto paste. If you have a Latin foods store nearby you will find it there or you can buy this online.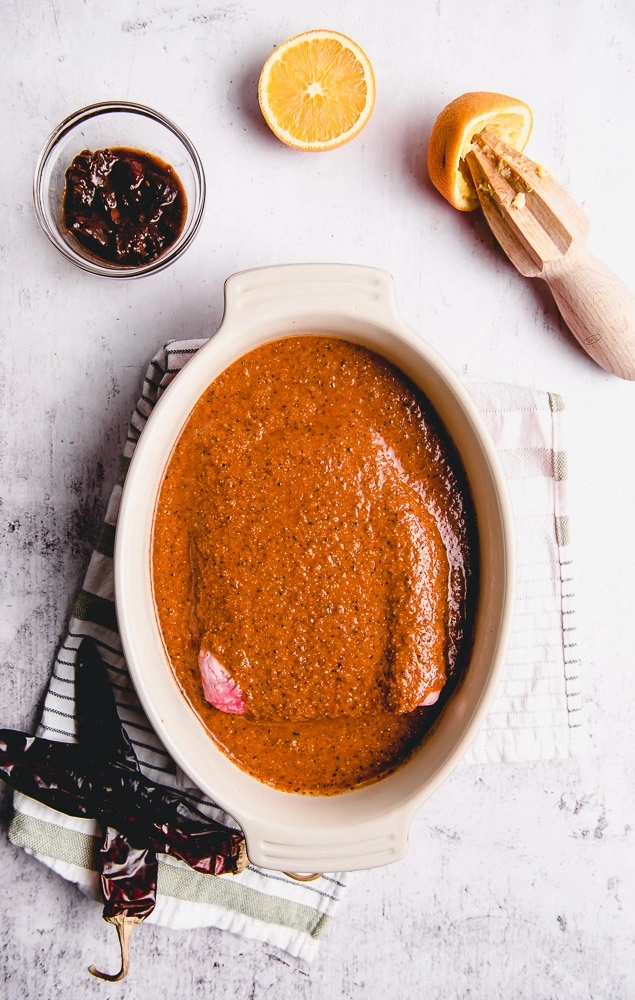 How long to cook the steak for?
Depending in the thickness of your cut of meat, you will cook the carne asada on high heat for 4-6 minutes on each side for a medium-rare temperature.
Let the steak rest for about 2 minutes before slicing.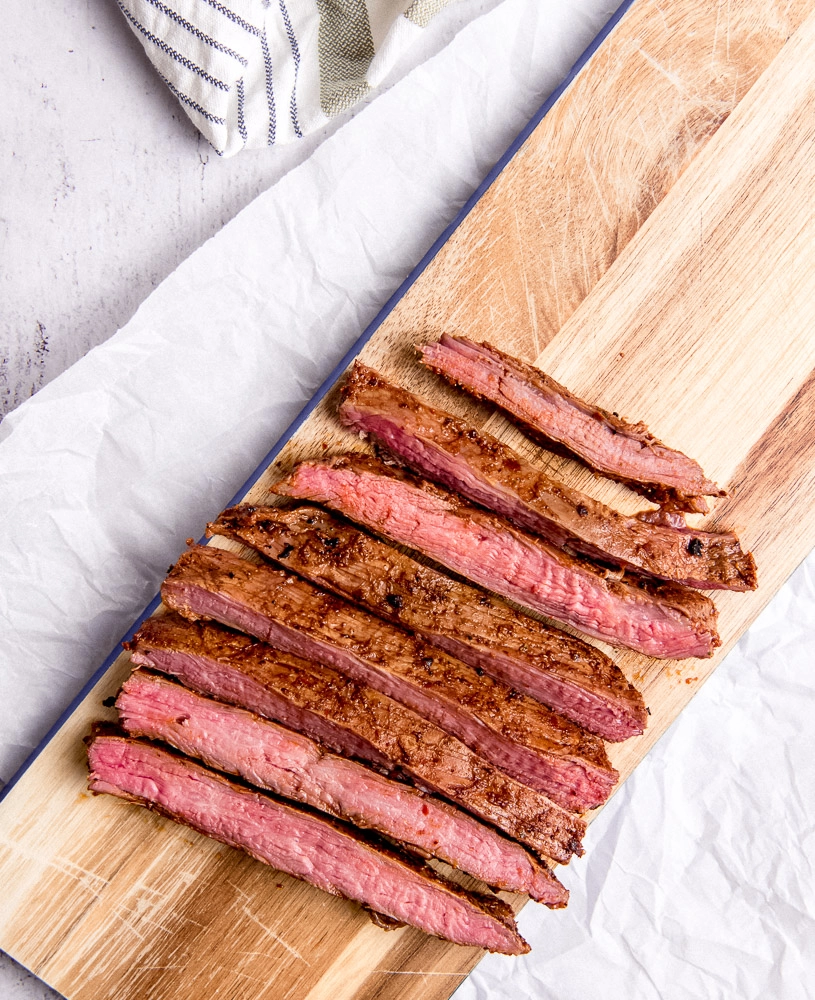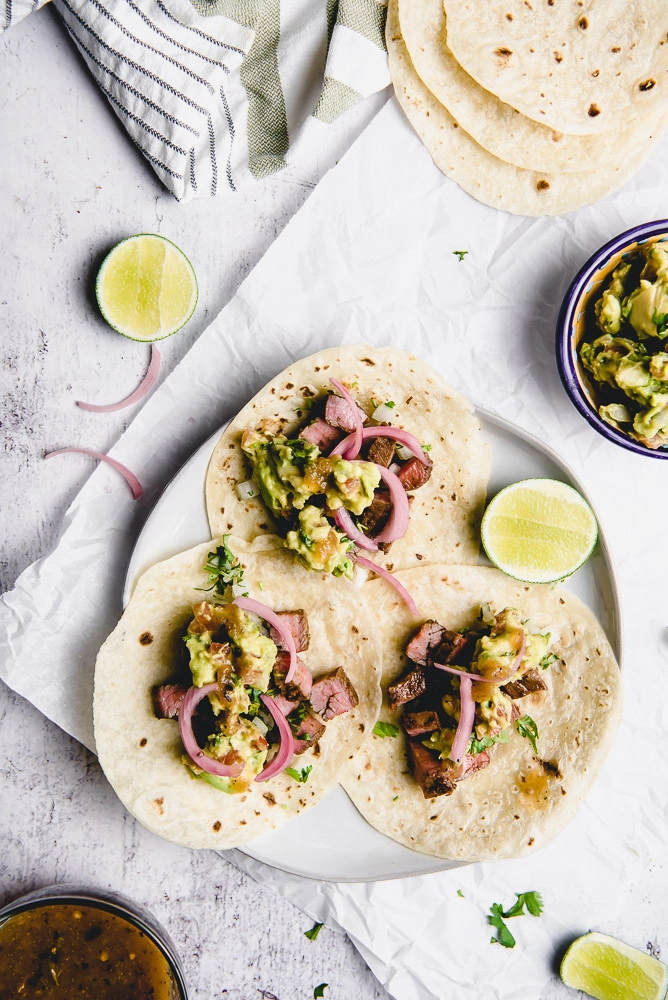 This recipe is featured in the book "Phoenix Cooks" by Christina Barrueta with Figure 1 Publishing, launching September first, 2020.
Thanks to the publishing house and author for allowing me to share this recipe with you!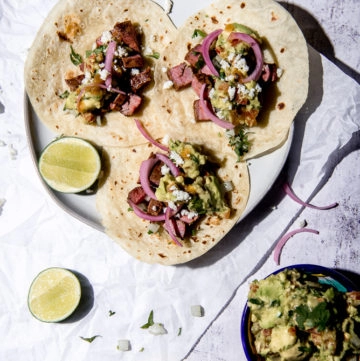 Carne Asada
Grilled skirt steak with Mexican marinade
Ingredients
1 yellow onion, roughly chopped
1 large head garlic (4 oz)
1 cup Guajillo Purée (see below)
¼ cup distilled white vinegar
1 teaspoon ground allspice
Guajillo Purée
12

Dried Guajillo Chile pods stemmed and seeded.
Instructions
Guajillo Puree
Place chiles in a medium saucepan and add enough water to cover. Bring to a boil over high heat, then reduce heat to medium-low and simmer for 30 minutes, until chiles are soft. Set aside to cool slightly.

Transfer chiles to a blender, add 1 cup cooking liquid, and purée until smooth
Carne Asada Marinade
in a blender add 1 cup of guajillo puree

Add the garlic cloves, onion, orange juice, achiote paste, vinegar, adobo sauce and all the spices including the bay leaves.

With the blender running, start addind the cup of canola oil until it emulsifies.

Place the steak in a bowl or ziplock bag and pour the marinade. Set aside for at least one hour or overnight.

Preheat the grill to high heat, remove the steak from the marinade and place on the grill. Cook for 4-6 minutes on each side for a medium-rare steak.

Let the steak rest for 2 minutes, slice and enjoy!