Liege Waffles are rich, sweet and stretchy. Their crunchy caramelized outside and the chewy inside make them a decadent treat.
They are easier to make than their name sounds and they will quickly become a favorite in your home.
What are Liege Waffles made of?
Liege waffles are made with yeast. Rather than a batter like the one you use for pancakes, these waffles are made with a rich stretchy dough similar to bread dough.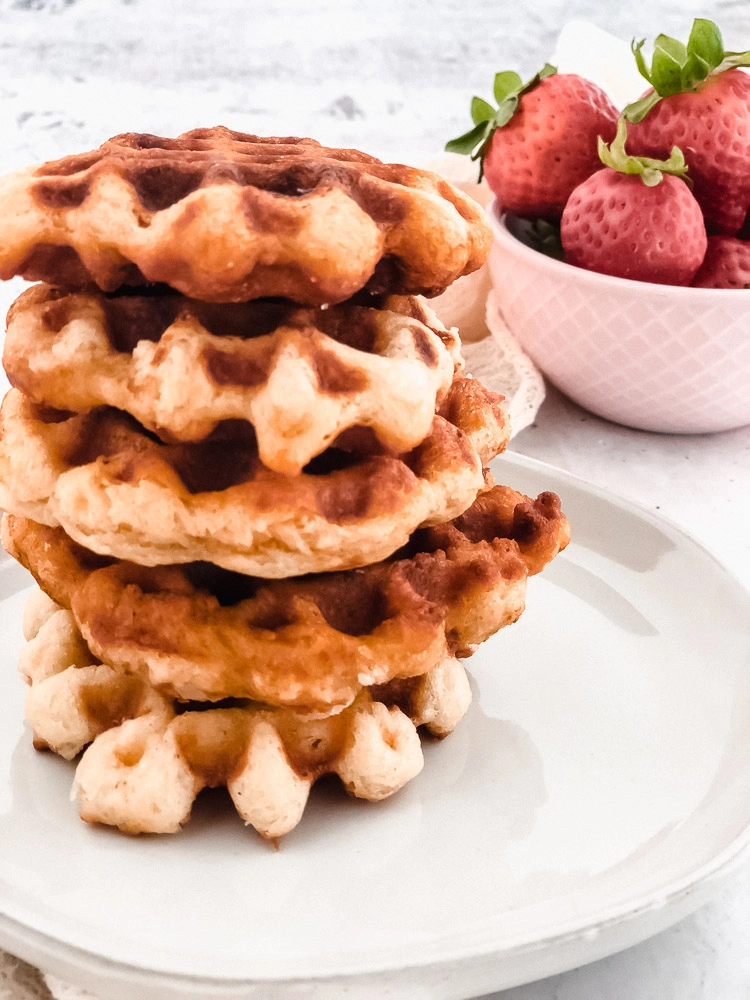 Liege Waffle Ingredients
For these waffles you will need yeast, sugar, eggs, flour, butter, brown sugar, vanilla extract and Belgian Pearl Sugar.
Belgian Pearl sugar is a coarse, chunky white sugar crystal that melts at high temperature. This is the key ingredient in liege waffles and will give them that caramelized outside texture.
You can find Belgian pearl sugar online or at gourmet specialty food stores.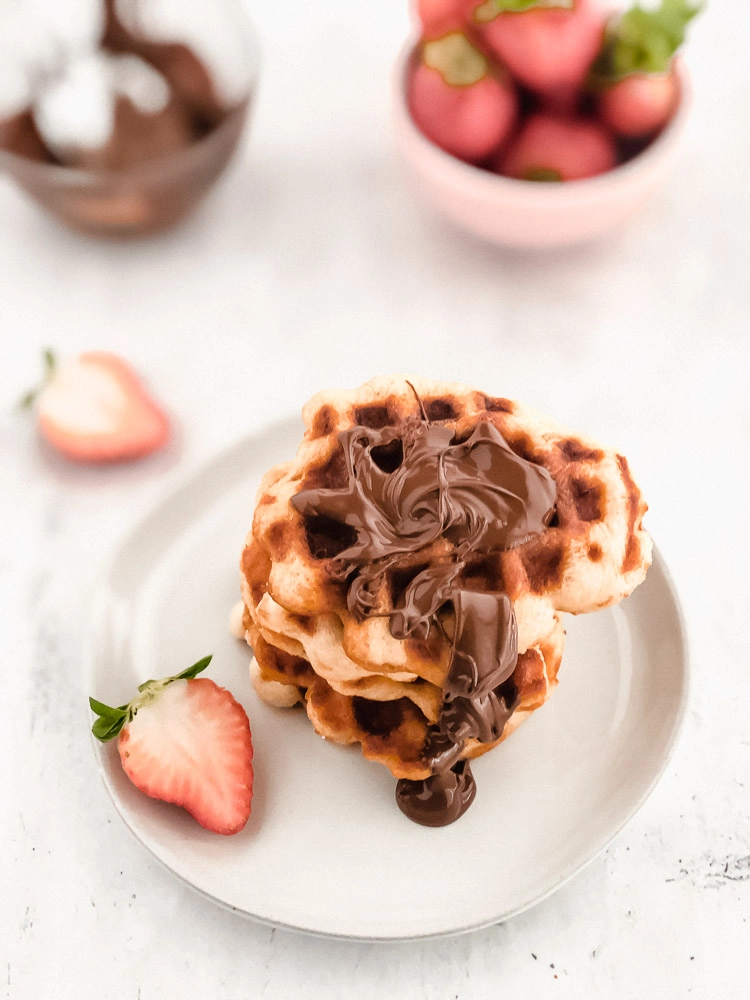 Toppings and pairings
One of my favorite toppings for these waffles are strawberries and Nutella, you can't go wrong with berries and chocolate, right?
But these are decadent with pretty much any fruit (I'm thinking of you bananas!) and whipped cream, fruit spreads, dulce de Leche or any other topping you can think of.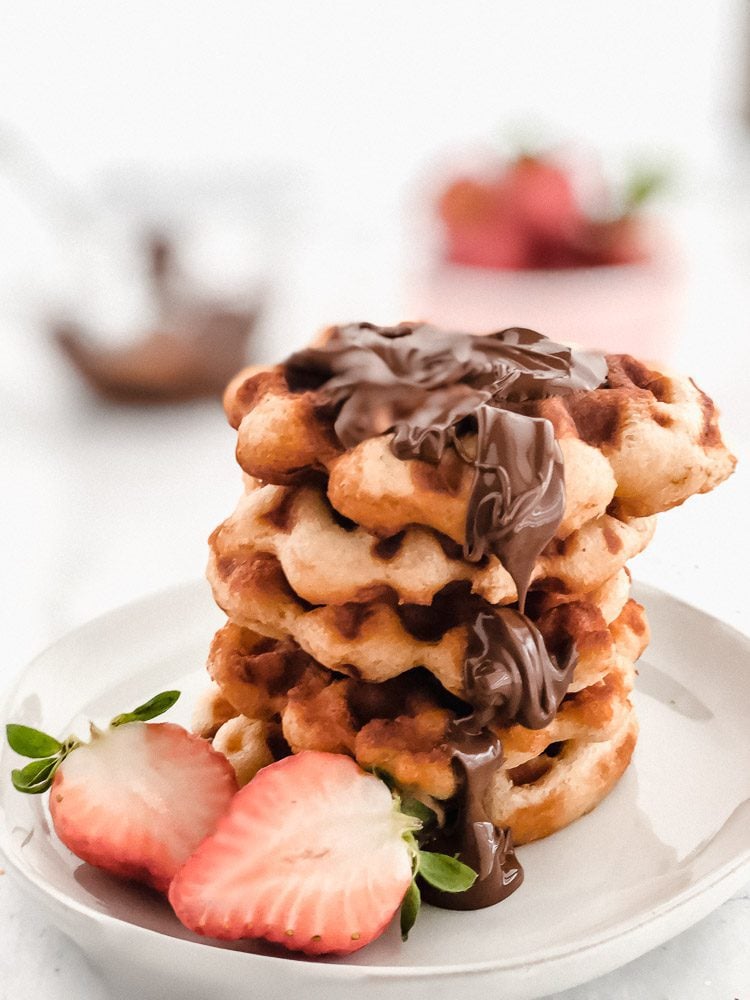 These waffles are the perfect way to elevate your brunch game, they are also great on a waffle bar or just went you want to impress your guests with your cooking skills.
As fancy as they sound, these waffles are super easy to make. Takes only 10 minutes to whip the batter and a couple of hours of patience as you let the dough rest.
I make mine in a mini waffle maker and I love that is the perfect size for them. These are very rich waffles so you want to make smaller size portions.
How to store them
These freeze really well in a ziplock, so they are the perfect make-ahead breakfast. To reheat, simply pop them in the toaster or air fryer for a couple of minutes to warm them up.
I hope you enjoy these waffles as much as I do! They are a Sunday brunch staple in our household.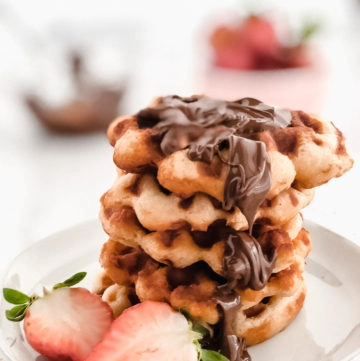 Liege Waffles
Sweet, crunchy and chewy these waffles are the most decadent breakfast or dessert
Ingredients
2

cups

All-purpose flour

2

tablespoon

Brown sugar

1

teaspoon

vanilla extract

2

teaspoon

Instant Dry Yeast

1 packet

¾

cup

butter

Melted

¼

cup

water

lukewarm

3

eggs

pinch of salt

¾

cup

Belgian peal sugar crystals
Instructions
Mix the flour, brown sugar, yeast until well combined

Add the lukewarm water to activate the yeast

Add the eggs and vanilla and mix well

Slowly add the melted butter until you form a wet, sticky dough

Transfer the dough to a bowl and cover with a towel. Let the dough rise for about 1 hour

After the 1 hour rest, add the pearl sugar to the dough folding in the sugar crystals.

Let it rest for another hour.

preheat your waffle maker and scoop a ⅓ cup of the dough and then cook the waffles until the steam from the waffle maker dissapears.

If you want the waffles more caramelized, let them cook until they get a nice golden brown color.

Serve with fresh fruit, chocolate spread and whipped cream