Renata's Hearth is an upscale, contemporary Latin restaurant located at the Arizona Biltmore hotel, focusing on the concept of smoked food and cocktails bringing together a well rounded variety of Latin inspired cuisine. This fresh-modern take on Latin flavors won't disappoint.
I have been to Renata's three times since they opened and every time I discover something new to love. Here is a recap of my three visits.
Starters
With an expansive menu covering everything from ceviche to brisket, there is something on the menu for everyone, including great vegetarian options.
We ordered the cheese and meat board featuring Spanish cheeses and cold meats including Jamon Iberico, served with almond and fruit paste.
Last time we visited we tried the guacamole with seasoned chips. This guacamole is easily one of my top three favorites in The Valley, the addition of paprika in the chips is a nice touch.
We also had the Caledonian Blue Shrimp a la Plancha in tomato sauce. These were huge shrimp and the perfect way to start our meal.
Drinks
The drink menu is very creative and includes a bit of everything from tequilas to vodka and rum. Their signature cocktail, Los Muertos, is a stunning drink featuring black salt. It is a must-order the first time visitors.
Last visit I tried the Cactus Blossom and it was my favorite. It is a blend of tequila blanco and prickly pear which gives it a hint of sweetness and a gorgeous pink color.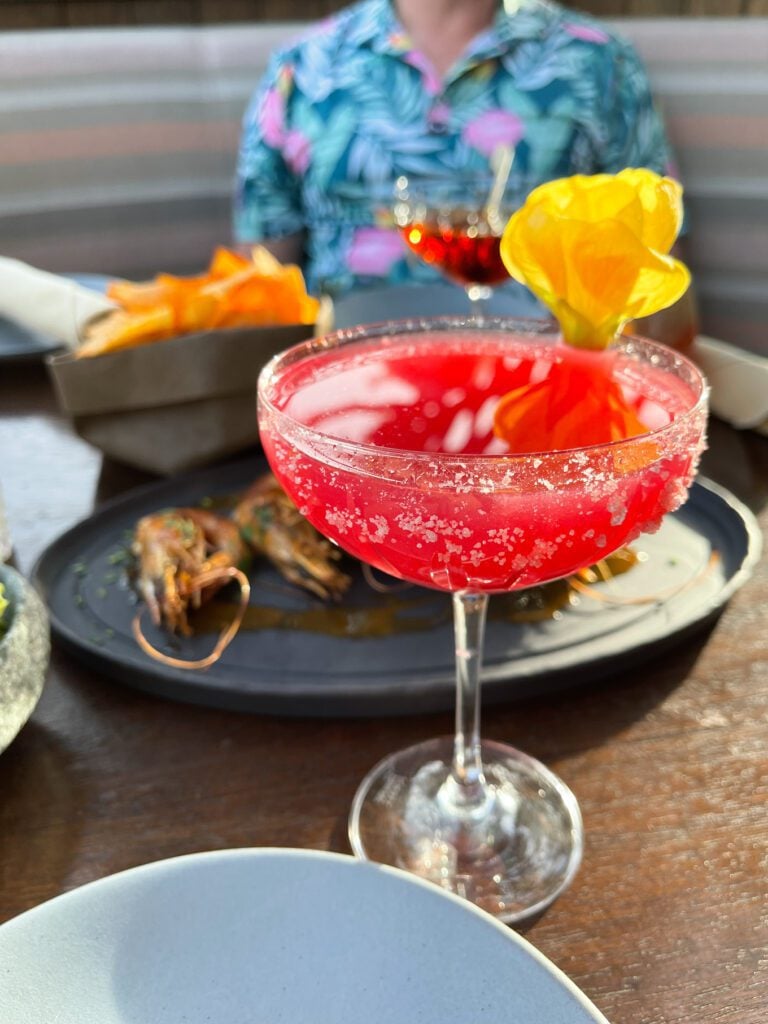 Main Dishes
Renata's main dishes are great show offs of the smoked technique and the theme of the restaurant.
I love that most dishes are served family style, which allows for sharing and ordering a bit of everything for the table.
We ordered the Crispy Slow Cooked Pork Belly Roast and without a doubt, it is the best pork belly I've ever eaten. It was crispy and tender at the same time and perfectly smoked.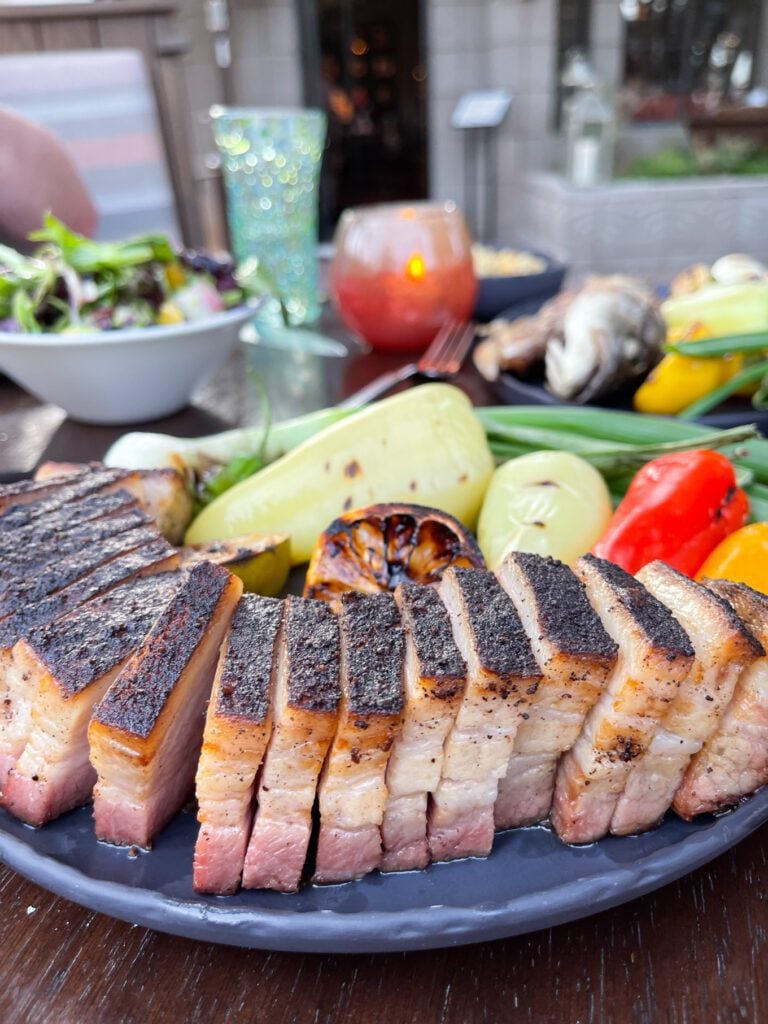 The pork belly is served with a delicious salsa trio and homemade blue corn and flour tortillas.
We also shared the Grilled Branzino, which was perfectly cooked and flaky. For side dishes we added the Peruvian Rice and the Argentine Salad.
Dessert
My favorite part of any meal, dessert! I take dessert seriously, those who know me best know that I always save room for a little something sweet.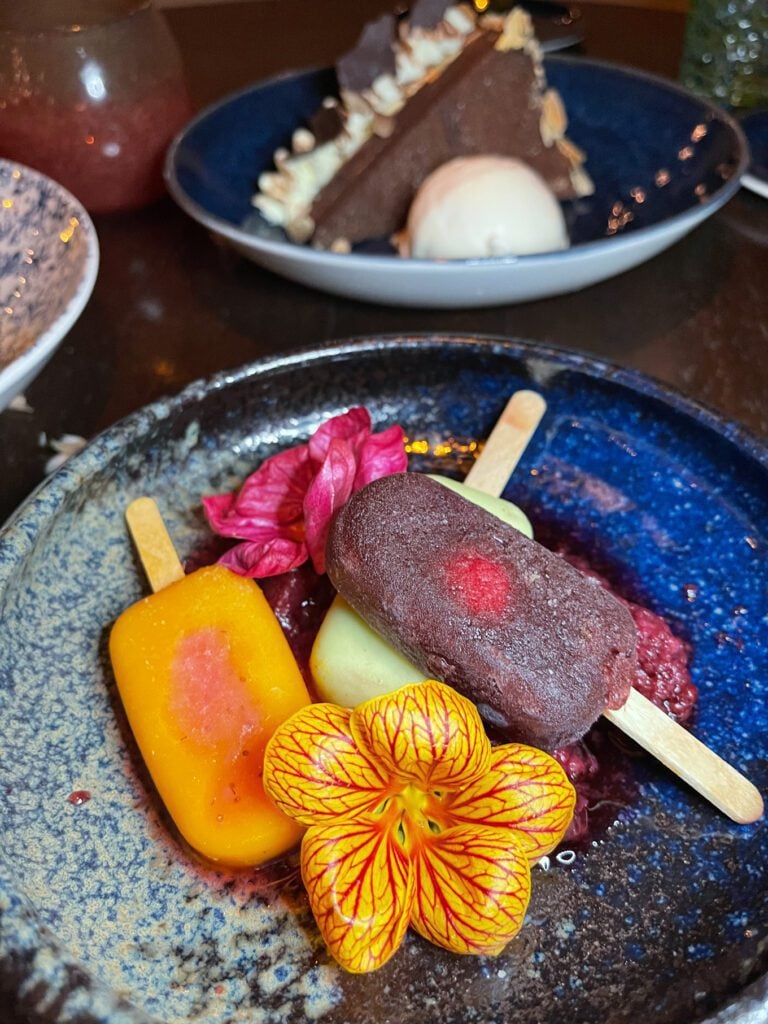 To me, dessert is like a leap of faith you take with a restaurant saying "one more bite before I go". No matter how full I am, it's a chance to seal the deal, knock my socks off and make me want to come back again and again.
Renata's Hearth does dessert right! Last time we visited, the dessert menu had a few changes and new great additions, so much so, that we ordered three desserts!
Every time I see tres leches cake in any menu I have to order it. Renata's Coconut Tres Leches Cakes is a soft sponge cake smothered in the most delicious Bavarian cream and coconut anglaise. This is my new favorite dessert!
We also ordered the Paleta Trio which is a playful dessert showcasing popsicles with unique flavors including Avocado (amazing!), Starwberry-Mango and Sangria flavors. The presentation is stunning and they are refreshing and delicious.
Last but definitely not least, the Chocotorta; a delicious chocolate cake with caramel filling and whiskey vanilla ice cream.
I can't wait to be back at Renata's, a spot I definitely would take out of town guest and friends and family to celebrate special occasions.
If weather permits, definitely sit outside and enjoy the gorgeous views of the iconic Arizona Biltmore Hotel.