This super easy sausage and biscuits with gravy is a family favorite that I make at least once a month.
This recipe was shared by my father-in-law over 10 years ago, and I make it for friends and family and always get rave reviews.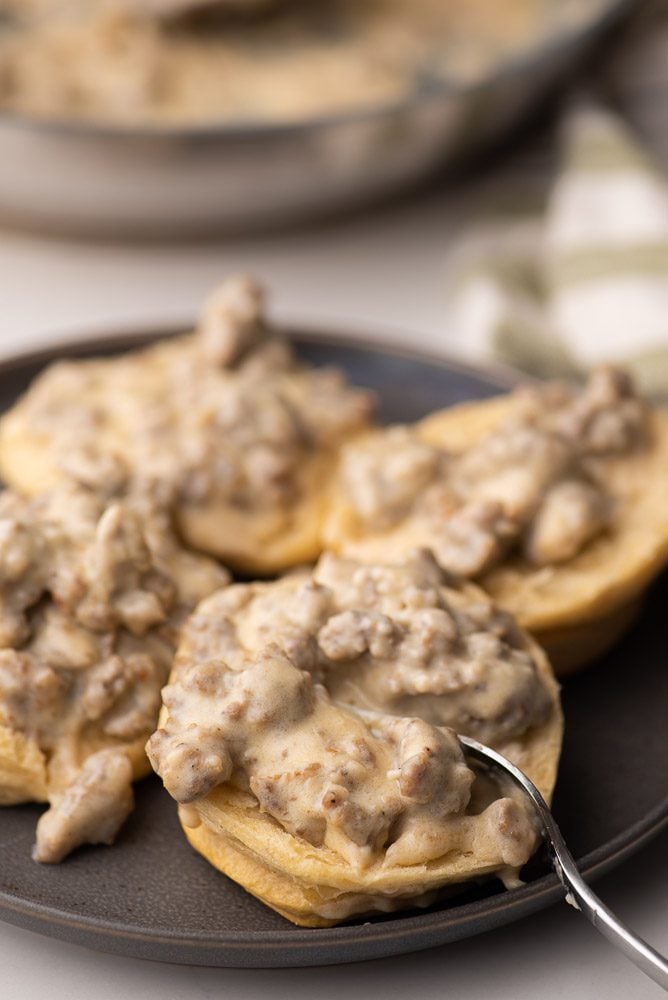 The ingredients for this recipe are simple. We are not making much from scratch except for the flavorful gravy but other than that, canned biscuits and pork sausage, milk and a bit of flour will get this dish on your table.
For this dish, we have tried different kind of sausage over the years. We like to use hot pork sausage for a bit of added heat. We like to use Jimmy Dean Hot Sausage.
For the biscuits, the ones that yield the best tasting and flakiest biscuits are the Butter Tasting biscuits by Pillsbury.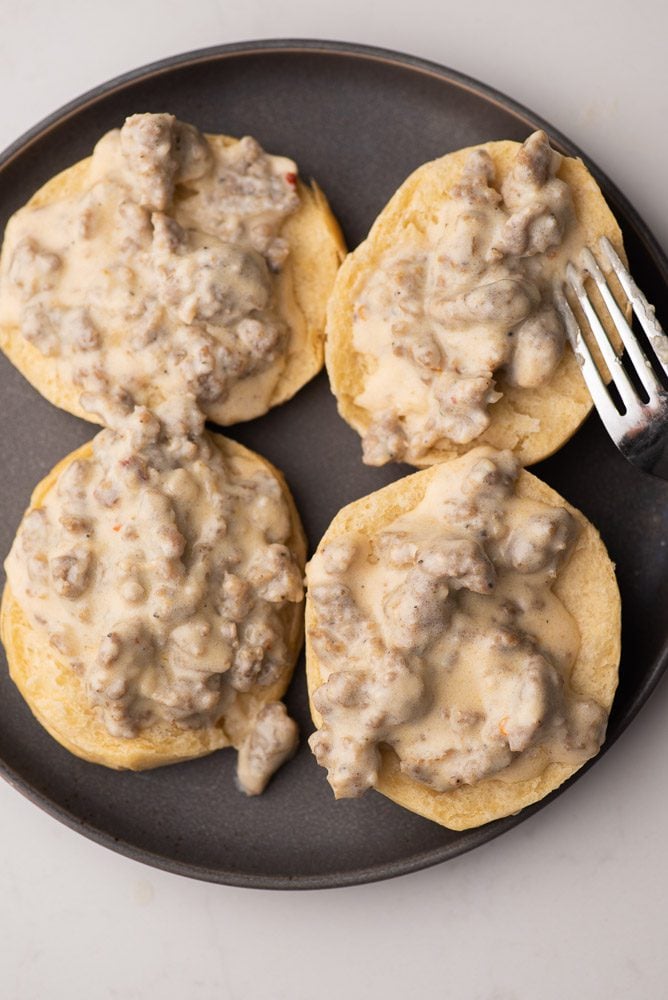 How to make sausage gravy
To make sausage gravy, I start by browning the sausage in a pan making sure I break it in to small pieces. For that I love to use a meat chopper tool.
Once the sausage is browned and has released some of the oil, remove it from the heat and use a colander to drain the oil into a container.
The oil that comes from the sausage is going to be the base to make the gravy.
Add about a tablespoon of all purpose flour to the oil and heat it until well combined, start adding splashes of milk until I form a thick paste with no lumps.
Then add the rest of the milk and bring it a gentle simmer. Then you add the sausage back to the gravy and cooked until the desired you reach the desired thickness for the gravy.
We like the gravy to be not too thin or too thick. If you need to add more flour, mix it in a bowl with a splash of milk and whisk it before adding it to the gravy.
How to store leftover gravy
This gravy will keep well in the fridge for up to two days. to reheat it, add a splash of milk and heat up in the stove top.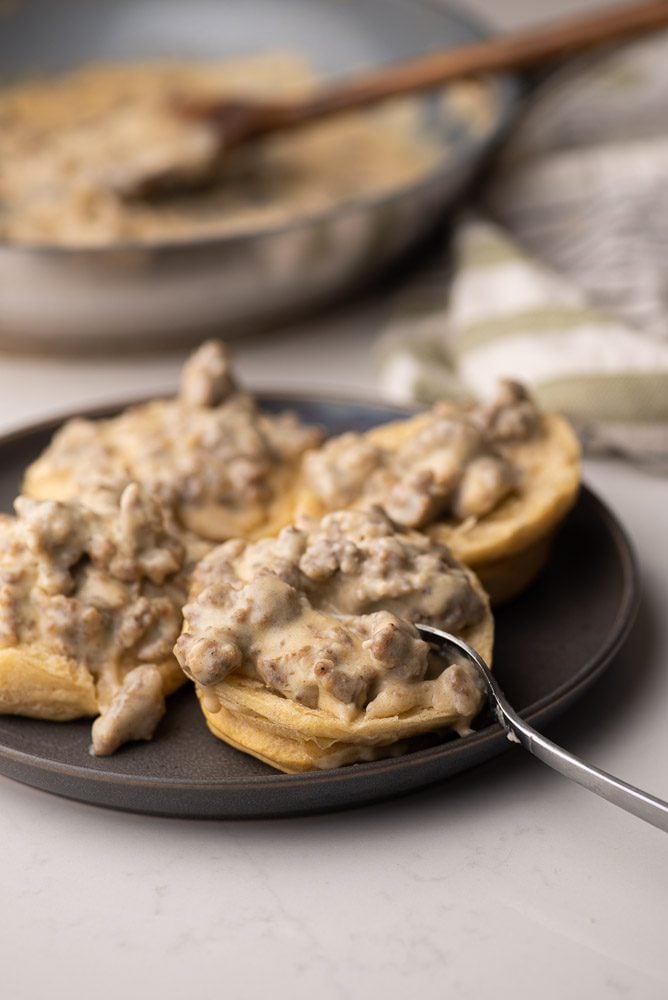 Sausage and Biscuits with Gravy
Ingredients
1

lb

Jimmy Dean Pork sausage

We like the hot variety

1

can Pilsbury Butter Tasting Biscuits

1

Tablespoon

All purpose flour

2

cups

Milk
Instructions
Pre heat the oven per package instruction on your can of biscuits and bake accordingly. Proceed to make the gravy while the biscuits cook

Brown the sausage and break it into small bite size pieces

Once the sausage renders fat, put it in a colander and collect the fat to make the gravy

Return the fat to the pan, add the flour and stir until it forms a paste. I like to use a wooden spoon or silicone spatula for this

Add a splash of milk and make sure to breakdown any lumps to get a smooth thick consistency

Add the rest of the milk and bring to a gentle simmer

add salt and pepper to taste and keep on low until ready to serve

Serve over a split open biscuit. Add some butter if you want to